John Paul Stevens, Former Supreme Court Justice, Dies At 99
Just over nine years after retiring from the Supreme Court, former Associate Justice John Paul Stevens has passed away at the age of 99.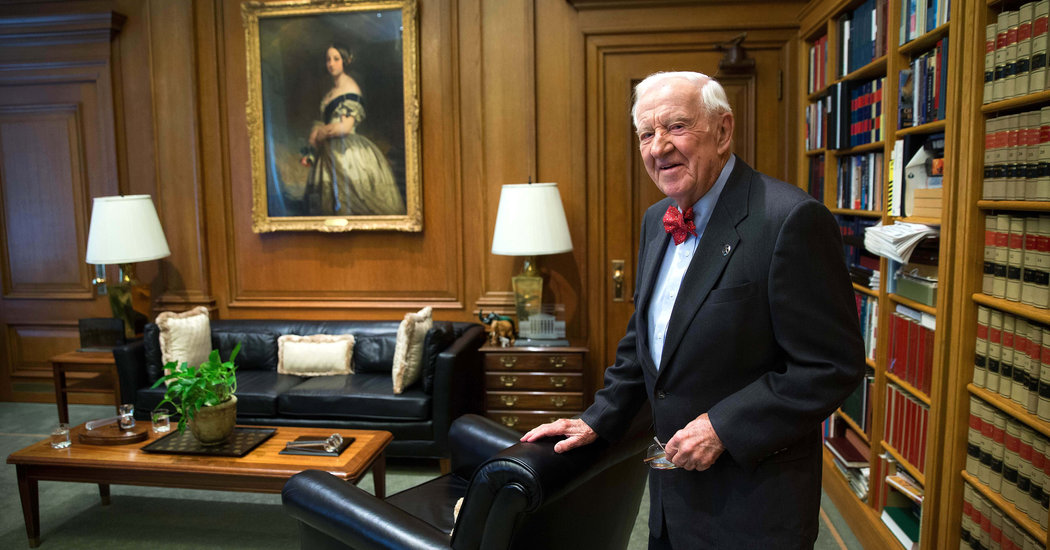 John Paul Stevens, who was appointed to the Supreme Court by President Gerald Ford and served in that position until retiring in 2010, has died at the age of 99:
John Paul Stevens, whose 35 years on the United States Supreme Court transformed him, improbably, from a Republican antitrust lawyer into the outspoken leader of the court's liberal wing, died on Tuesday at a hospital in Fort Lauderdale, Fla. He was 99.

The cause was complications of a stroke he suffered the day before, the Supreme Court announced in a statement.

When he retired in 2010 at the age of 90, Justice Stevens was the second-oldest and second-longest-serving justice ever to sit on the court. Oliver Wendell Holmes Jr. was about eight months older when he retired in 1932, and William O. Douglas had served 36 years (1939-75).

Justice Stevens spent much of his service on the court in the shadow of more readily definable colleagues when he emerged as a central figure during a crucial period of the court's history: the last phase of Chief Justice William H. Rehnquist's tenure and the early years under Chief Justice John G. Roberts Jr.

t was a time when the court took an active role in balancing individual liberty and national security and in policing the constitutional separation of powers, asserting a muscular brand of judicial authority that was welcomed by neither the White House nor Congress.

Societal debates over the rights of gay men and lesbians, the role of race, private property rights, environmental regulation and the separation of church and state also made their way onto the Supreme Court's docket, and Justice Stevens, a low-key Republican from Chicago, was as surprised as anyone to find himself not only taking the liberal side but also becoming its ardent champion.

It was Justice Stevens who wrote the court's majority opinion in Rasul v. Bush, in 2004, which brought within the jurisdiction of the federal courts the hundreds of prisoners who had been captured as enemy combatants during the war against the Taliban in Afghanistan and Pakistan and held at the United States Naval Base at Guantánamo Bay, Cuba.

It was Justice Stevens who wrote the majority opinion in Hamdan v. Rumsfeld, in 2006, which repudiated the Bush administration's plan to put some of those detainees on trial by military commissions. "The Executive is bound to comply with the Rule of Law that prevails in this jurisdiction," he declared.

On the domestic side, in 2002, it was Justice Stevens who wrote the opinion in Atkins v. Virginia, declaring that the Constitution does not permit executing the mentally disabled. Such defendants "face a special risk of wrongful execution," he said, because of their limited ability to understand their actions and participate in their own defense

Justice Antonin Scalia's dissenting opinion in that case provided an example of how deeply divided the court was during those years on both methodology and outcomes. He complained that the 6-to-3 majority had simply enshrined its own views as constitutional law. "The arrogance of this assumption of power takes one's breath away," Justice Scalia wrote.

Two years before that, Justice Stevens had his own turn at a bitter dissent, in Bush v. Gore, the case that effectively decided the 2000 presidential election by stopping the Florida recount. Justice Stevens, one of four dissenters, said the court's action "can only lend credence to the most cynical appraisal of the work of judges throughout the land."

He said that although the actual winner of the presidential election might remain unknown, "the identity of the loser is perfectly clear": It was "the nation's confidence in the judge as an impartial guardian of the rule of law." .

(…)

The court's membership turned over completely and moved indisputably to the right during Justice Stevens's long tenure on the bench. The extent to which it bridged two eras of Supreme Court history was underscored on Oct. 3, 2005, when he administered the oath of office to Chief Justice Roberts, a man 35 years his junior whom he first met 25 years earlier, when Justice Stevens was the court's most junior member and John Roberts was a law clerk.

But the emergence of John Paul Stevens as the court's most liberal justice was not simply a result of standing still amid a shifting landscape. His own views changed over time, moving to the left, particularly on the death penalty and on questions of racially conscious government policies.

He was skeptical of such policies at first, voting with the conservatives in the 1978 Bakke case to invalidate an admissions program at a University of California medical school that had set aside 16 places for minority applicants out of an entering class of 100. The court ordered the medical school to admit Allan Bakke, the white applicant who had brought the case.

Two years later, when the Supreme Court upheld a set-aside program that reserved 10 percent of federal public works money for minority contractors, Justice Stevens was one of three dissenters, along with Justices Stewart and Rehnquist. In his dissenting opinion in that case, Fullilove v. Klutznick, he warned that the "slapdash statute," as he described it, could become "a permanent source of justification for grants of special privileges."

In 1989, he voted with the 6-to-3 majority that invalidated a 30 percent minority contracting set-aside program in the city of Richmond, Va. Justices Marshall, Brennan and Blackmun dissented, with Justice Blackmun commenting, "I never thought that I would live to see the day" when the former "cradle of the Old Confederacy" would adopt a plan to help its African-American residents overcome a legacy of discrimination, only to see the effort struck down by "this court, the supposed bastion of equality."

Nonetheless, Justice Stevens's nuanced separate opinion in that case, Richmond v. J.A. Croson Company, demonstrated that he had begun to distance himself from the court's increasingly conservative center of gravity. He agreed that the Richmond ordinance had painted with too broad a brush. But he did not agree with the majority's premise that "a racial classification is never permissible except as a remedy for a past wrong"; sometimes such a classification is permissible, he said, if it takes account of race as a policy tool for building a better future.

He had said as much in a dissenting opinion in 1986 in a case challenging a collective bargaining agreement that shielded African-American teachers against layoffs in a Michigan public school district. The agreement was meant to preserve a hard-won racial balance in an economically troubled district, where the recently hired minority teachers would have been most vulnerable to seniority-based layoffs.
The 5-to-4 majority in that case, Wygant v. Jackson Board of Education, concluded that the policy violated the white teachers' 14th Amendment right to equal protection. Justice Powell explained that there was no proof of past discrimination for which the policy could be justified as an appropriate remedy.

In dissent, Justice Stevens said the majority's mistake was to look backward rather than forward. Rather than ask whether the policy could be justified "as a remedy for sins that were committed in the past," he said, "I believe that we should first ask whether the board's action advances the public interest in educating children for the future."

His views on the death penalty similarly evolved. He arrived at the Supreme Court in the aftermath of the 1972 Furman v. Georgia decision, which invalidated every death penalty statute in the country. The urgent question was whether a new generation of statutes that most states had enacted in response to the Furman ruling would now meet the court's approval.

In 1976, in Gregg v. Georgia, the newly appointed Justice Stevens voted with the 7-to-2 majority to endorse the new approach, which required special procedures to "channel" the jury's discretion and to allow the resumption of capital punishment.

With the passing years, however, Justice Stevens began to express deep concerns about how the death penalty was being administered. Recent evidence that "a substantial number of death sentences have been imposed erroneously" was "profoundly significant," he told the American Bar Association in 2005, "because it indicates that there must be serious flaws in our administration of criminal justice."

Finally, in 2008, he renounced capital punishment expressly, declaring that the time had come to reconsider "the justification for the death penalty itself." Too often, he said, court decisions and actions taken by states to justify the death penalty were "the product of habit and inattention rather than an acceptable deliberative process."

The case was Baze v. Rees, a constitutional challenge to Kentucky's method of execution by lethal injection. A majority rejected the challenge, and Justice Stevens concurred in that result, writing that he felt bound to "respect precedents that remain a part of our law." But he had made himself clear: in the court's hands the death penalty had become, for him, a promise of fairness unfulfilled.


It was during the later years of the Reagan Administration, though, that Stevens seemed to begin to change the most:
One plausible explanation for Justice Stevens's growing affinity for the liberal side was his response to the polarizing discourse about the Supreme Court that emanated from the administration of President Ronald Reagan in the mid-1980s. After Attorney General Edwin Meese III criticized a long series of Supreme Court precedents that had interpreted the Bill of Rights as binding not only on the federal government but on the states as well — a foundational premise of 20th-century constitutional law — Justice Stevens took him on directly. The attorney general, he said in a speech to the Federal Bar Association in Chicago in 1985, "overlooks the profound importance of the Civil War and the postwar amendments on the structure of our government."

Justice Stevens's own explanation for why his views had changed was simply that he had learned on the job. "I know that I, like most of my colleagues, have continued to participate in a learning process while serving on the bench," he said in 2005 at a symposium held at Fordham University Law School to mark his 30th anniversary on the court and 35th year as a judge.

"Learning on the job is essential to the process of judging," he continued. "At the very least, I know that learning on the bench has been one of the most important and rewarding aspects of my own experience over the last 35 years."

Yet in another sense he did not change very much, remaining what he had been at the start of his judicial career: a judge who looked at the facts on the ground rather than theories in law review articles, one who tended to regard doctrinal debates as a distraction from a judge's real work, which in his opinion was the application of judgment to the case at hand.
More from The Washington Post:
John Paul Stevens was born in Chicago on April 20, 1920, the youngest of four sons. The family lived in Hyde Park, near the University of Chicago. His mother was a high school English teacher. His grandfather James W. Stevens was the founder of the Illinois Life Insurance Co. and owned the LaSalle Hotel, which Justice Stevens's father, Ernest, managed.

In 1927, the family opened the Stevens Hotel in Chicago, billed as the largest hotel in the world at the time. Justice Stevens enjoyed a privileged childhood: He attended private schools affiliated with the University of Chicago, met celebrities such as aviators Charles Lindbergh and Amelia Earhart at the hotel, and was lucky enough to be in the crowd at Wrigley Field on Oct. 1, 1932, when Babe Ruth hit his famous "called shot" home run off Cubs pitcher Charlie Root.

But the Stevens businesses went bankrupt during the Depression and Justice Stevens's father, his grandfather and his uncle, Raymond Stevens, were indicted on charges of alleged financial misconduct.

Shortly after the indictment, James Stevens had a stroke and was excused from trial; Raymond Stevens committed suicide. A Chicago jury convicted Ernest Stevens in 1933 of embezzling $1.3 million. But his conviction was overturned in October 1934 by the Illinois Supreme Court, which sharply criticized prosecutors for bringing the charges, noting that "there is not a scintilla of evidence of any concealment or fraud attempted."

The experience reduced the formerly wealthy Stevens family to a middle-class lifestyle and taught Justice Stevens an enduring lesson about the harm that even well-to-do citizens can suffer from overzealous prosecution and other flaws in the justice system.

Justice Stevens graduated from the University of Chicago in 1941 with a bachelor's degree in English and was starting to study for a master's degree in the same subject when a dean persuaded him to train in naval intelligence instead.

Justice Stevens joined the Navy as an intelligence officer on Dec. 6, 1941 — the day before Pearl Harbor was attacked. He would later joke that his commissioning had provoked the Japanese to strike, because they took it as a sign of American desperation.

He spent World War II at Pearl Harbor, working as a signals intelligence officer. His specialty was "traffic analysis," the compilation of Japanese messages to discern patterns in communication that might help identify or locate enemy forces. He was awarded the Bronze Star for helping to decode a particularly difficult Japanese radio call sign.

Justice Stevens was on duty the day American pilots shot down Japanese Adm. Isoroku Yamamoto's airplane, a strategic coup made possible in part because of interception of Japanese radio transmissions decoded by naval intelligence.

The targeted killing of Yamamoto troubled Justice Stevens, who explained in a 2005 interview with law professor Diane Marie Amann that it sowed his first doubts about capital punishment, which he considered another form of deliberate killing by the state of a named individual.

After the war, Justice Stevens attended Northwestern University's law school on the G.I. Bill and graduated in 1947. He made top grades and professor W. Willard Wirtz described him as "undoubtedly the most admired, and at the same time, the best liked man in school."

At Wirtz's urging, Justice Wiley B. Rutledge, a liberal appointee of President Franklin D. Roosevelt, hired Justice Stevens as a law clerk for the Supreme Court's 1947-48 term.

Justice Stevens deeply admired Rutledge, whose most famous dissenting opinion came in 1946, when he wrote that the court's majority was wrong to deny a petition for habeas corpus by Tomoyuki Yamashita, a Japanese general sentenced to death by a U.S. military commission in the Philippines for atrocities committed by his troops.

As a law clerk, Justice Stevens helped Rutledge draft another dissent in Ahrens v. Clark, arguing that the court was wrong to deny Paul Ahrens — and 119 other U.S.-resident Germans facing deportation for alleged Nazi ties — the right to file for habeas corpus.

Rutledge's papers at the Library of Congress Manuscripts Division contain a memo by Justice Stevens in which he urges his boss to support a "fair hearing" in court for the alleged enemy Germans. "Otherwise," Justice Stevens wrote, "the attorney general would have an unlimited power over aliens and citizens alike to deport upon a finding that the party was an enemy alien."

After his clerkship, Justice Stevens practiced law in Chicago, developing a specialty in antitrust law. During the 1950s, he took a year off to serve as an aide to a congressional antitrust subcommittee that investigated professional baseball, and served two years as an aide in the Justice Department during the Eisenhower administration.

His first marriage, to Elizabeth Sheeren, ended in divorce. In 1979, he married Maryan Mulholland Simon. She died in 2015.

John Joseph Stevens, his son from his first marriage, was a Vietnam War veteran, and died of cancer in 1996 at 47. Justice Stevens later recused himself from ruling on a case involving war veterans' exposure to Agent Orange, an herbicide linked to cancer and other diseases. A daughter from his first marriage, Kathryn Jedlicka, died in 2018.

Survivors include two other daughters from his first marriage, Elizabeth Jane Sesemann and Susan Roberta Mullen; nine grandchildren; and 13 great-grandchildren.

In 1969, Justice Stevens was chosen as counsel to a special commission investigating bribery allegations against two justices of the Illinois Supreme Court. His investigation ultimately resulted in the justices' resignation and propelled Justice Stevens to statewide fame.

At the recommendation of Sen. Charles H. Percy (Ill.), a moderate Republican, President Richard M. Nixon appointed Justice Stevens to the Chicago-based U.S. Court of Appeals for the 7th Circuit in November 1970.

Five years later, again with the support of Percy and another Chicago friend, then-Attorney General Edward Levi, Justice Stevens received President Gerald R. Ford's nomination to replace retiring Associate Justice William O. Douglas on the Supreme Court. He was confirmed by the Senate 98 to 0 and took the oath of office on Dec. 19, 1975.
The Supreme Court released a statement to the press, which included a statement from Chief Justice John Roberts, the third of three Chief Justices that Stevens had served under:
Retired Associate Justice of the Supreme Court of the United States, John Paul Stevens, died this evening at Holy Cross Hospital in Ft. Lauderdale, Florida, of complications following a stroke he suffered on July 15. He passed away peacefully with his daughters by his side. He was 99 years old. Justice Stevens was appointed to the Court by President Ford in 1975, and retired in 2010, after serving more than 34 years on the Court. He is survived by his children, Elizabeth Jane Sesemann (Craig) and Susan Roberta Mullen (Kevin), nine grandchildren: Kathryn, Christine, Edward, Susan, Lauren, John, Madison, Hannah, Haley, and 13 great grandchildren. His first wife Elizabeth Jane, his second wife, Maryan Mulholland, his son, John Joseph, and his daughter, Kathryn, preceded him in death.

Chief Justice John G. Roberts, Jr. said of Justice Stevens: "On behalf of the Court and retired Justices, I am saddened to report that our colleague Justice John Paul Stevens has passed away. A son of the Midwest heartland and a veteran of World War II, Justice Stevens devoted his long life to public service, including 35 years on the Supreme Court. He brought to our bench an inimitable blend of kindness, humility, wisdom, and independence. His unrelenting commitment to justice has left us a better nation. We extend our deepest condolences to his children Elizabeth and Susan, and to his extended family."

Justice Stevens was born in Chicago, Illinois on April 20, 1920. He served in the United States Navy from 1942-1945, and was a law clerk to Justice Wiley Rutledge of the Supreme Court of the United States during the 1947 Term. He was admitted to law practice in Illinois in 1949. He was Associate Counsel to the Subcommittee on the Study of Monopoly Power of the Judiciary Committee of the U.S. House of Representatives, 1951-1952, and a member of the Attorney General's National Committee to Study Antitrust Law, 1953-1955. He was Second Vice President of the Chicago Bar Association in 1970. From 1970-1975, he served as a Judge of the United States Court of Appeals for the Seventh Circuit.
Amy Howe notes Stevens' passing for SCOTUSBlog:
During his 34 years on the Supreme Court, Stevens was the author of a diverse set of important opinions. In Chevron v. Natural Resources Defense Council, he wrote for a unanimous court in outlining the process by which courts should review federal agencies' interpretation of the laws that the agencies administer. In Atkins v. Virginia, the court – by a vote of 6-3 – ruled that the Constitution bars the execution of the intellectually disabled. In Hamdan v. Rumsfeld, the court – by a vote of 5-3, with Chief Justice John Roberts recused – ruled that the use of military commissions to try terrorism suspects violated both the U.S. Uniform Code of Military Justice and the Geneva Convention and had not been authorized by Congress. And in Kelo v. City of New London, a divided court ruled that the city's taking of private property to sell for private development as part of an economic development plan was a "public use" within the meaning of the Constitution's takings clause – even if the land was not going to be used for the public.

Stevens was equally well known for some of his dissents. In Texas v. Johnson, he dissented from the court's holding that the burning of the American flag is protected by the First Amendment. In Bush v. Gore, Stevens wrote a dissent that was joined by Justices Ruth Bader Ginsburg and Stephen Breyer. Stevens lamented that time "will one day heal the wound to that confidence that will be inflicted by today's decision. One thing, however," he continued, "is certain. Although we may never know with complete certainty the identity of the winner of this year's Presidential election, the identity of the loser is perfectly clear. It is the Nation's confidence in the judge as an impartial guardian of the rule of law."

It was Stevens' dissent in Citizens United v. Federal Election Commission, in which the court ruled that the government cannot prohibit corporations or unions from spending money to support or criticize individual candidates in elections, that led to his decision to step down in 2010. While reading his dissent from the bench, Stevens stumbled over several words – apparently, although he did not realize it at the time, because he had suffered a mini-stroke. He announced his retirement in April and officially retired on June 29, 2010.

Stevens was prolific in his retirement, writing three books. The most recent book, "The Makings of a Justice: Reflections on My First 94 Years," was released earlier this year. He also did not hide his views. In the wake of last year's shootings at Marjory Stoneman Douglas High School and the marches that followed, Stevens wrote an op-ed for the New York Times suggesting that the Second Amendment should be repealed.
As does The Volokh Conspiracy's Ilya Somin:
Justice Stevens was not a prominent advocate of any specific theory of constitutional interpretation (like Justice Antonin Scalia with originalism); nor was he primarily known for shaping one or two specific areas of legal doctrine (like Justice Anthony Kennedy in the field of gay and lesbian rights). His legacy rests primarily on his numerous opinions across a wide range of issues. That makes it harder to assess, especially at a time when many of the issues he wrote opinions on are still highly controversial.

It will, therefore, probably be a long time before we reach any consensus on his place in legal history. For example, it is possible future generations will agree with him that the Court made a terrible mistake in recognizing an individual right to bear arms on the Second Amendment, which he considered the worst decision the justices made during his time on the Court. In that event, his dissent in District of Columbia v. Heller, might go down in history as one of the great opinions of its era. But it is also entirely possible that the verdict of history will go against him on this issue or that it will remain closely contested.

While I have great respect for Justice Stevens, I also believe that two of his majority opinions—Gonzales v. Raich and Kelo v. City of New London, were among the most problematic Supreme Court decisions of the last several decades. I hope both will someday be overruled. But I should add that Justice Stevens deserves great credit for admitting that his majority opinion in Kelo was based in part on a significant mistake (though he continued to believe he got the bottom-line result right). It is extremely rare for a Supreme Court justice—or any prominent jurist—to publicly recognize he made a serious error in one of his most famous opinions. Whether we agree with his views or not, we have much to learn from Justice Stevens' honesty, integrity, and humility.
More so than other retired Justices such as Sandra Day O'Connor and David Souter, who have been relatively quiet regarding the issues that came before them on the court beyond what they wrote in their respective autobiographies, Stevens had been rather outspoken during the nine years after he retired in 2010. Among other issues, he spoke out regarding the Second Amendment and the court's decisions on that issues and he also took the somewhat unusual step of speaking out against the nomination of Justice Brett Kavanaugh. He was also a prolific writer in his reirement, writing several books about Constitutional law and his time on the Court.
Conventional wisdom will likely argue that Stevens was a precursor to Souter, an apparently conservative Judge who drifted into the court's liberal wing as his time on the Court grew longer. A closer examination of Stevens' record, though, reveals something quite different. At the time he was appointed, it was probably fair to say that Stevens was more closely alligned with the "conservative" side of the Court but it's important to remember that this was a time when the Court was far more liberal.
While the Court had moved somewhat to the right in the six years or so since Chief Justice Warren Burger, the first of the Chief Justices that Stevens served under, had replaced Earl Warren, this was a court that was still dominated by the left, and especially by liberal stalwarts such as William Brennan and Thurgood Marshall who were in some ways even more liberal than any of the "liberal" Justices on the Court today. At that point, the "conservative" wing of the Court consisted of William Rehnquist, Lewis Powell, and the Chief Justice. While the Burger Court did push back against some of the legacy of the Warren Court, it didn't really act to overturn any of its major decisions and, in some cases, even expanded on them.
The Court moved further to the right under the Reagan Administration with the appointment of Sandra Day O'Connor, Antonin Scalia, and Anthony Kennedy as well as the elevation of William Rehnquist to Chief Justice. It was at this point, I think, that Stevens appeared to move to the left, but instead of moving I'd argue that Stevens didn't change so much as the ideological balance on the court was shifting and Stevens remained where he was. This process continued throughout the years and especially picked up steam in the George W. Bush years with the appointment of Justices such as Samuel Alito and Chief Justice John Roberts. None of this is to say that Stevens didn't change his position, because as the articles above not, he clearly did on several specific issues. It's simply to say that Stevens, who was appointed by a center-right President who was closer to the center than the right, wasn't a "conservative" in the sense we understand it today so his supposed evolution was less radical than some remembrances might have you believe.