Wisconsin Waging War on Higher Education?
Wisconsin-Stevens Point is shuttering 13 majors, including English, history, political science and sociology while expanding more job-oriented programs.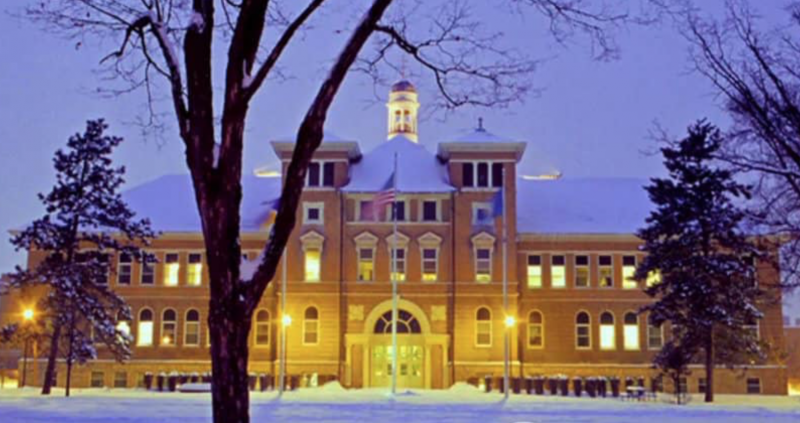 Inside Higher Ed ("'A Different Kind of University'"):
Many professors in Wisconsin saw their fears of a 2015 change to state tenure law realized last week. That's when the University of Wisconsin at Stevens Point announced its plan to cut 13 majors — including those in anchor humanities departments such as English and history and all three of the foreign languages offered — and, with them, faculty jobs. Tenured professors may well lose their positions.

The plan is part of the campus's Point Forward initiative to stabilize enrollment by investing scarce resources into programs Stevens Point sees as distinctive and in demand. Those include business, chemical engineering, computer information systems, conservation law enforcement, fire science and graphic design.

"Well, you can imagine the mood in the College of Letters and Science, which houses the humanities," said Michael Williams, chair of English at Stevens Point. Guessing that professors in the fine arts and communications are feeling similarly "grim," Williams said he and his colleagues feel "dismayed, shocked and angry."

Those in disciplines "directly affected are also apprehensive," he added, "across all ranks, tenured and untenured, since most are able to see it as a clear opportunity for the administration to test the application of [University of Wisconsin System Board of Regents Policy Document] 20-24, the new rules governing tenure."

A bit of history: before 2015, tenure was more protected on University of Wisconsin campuses than it was pretty much anywhere else in the U.S. — tenured faculty members only could be laid off in cases of true financial emergency. But with the legal weakening of tenure at the hands of the state's Republican-controlled Legislature came the rewriting of related Board of Regents policies on tenure and program discontinuance.

Those new policies, namely Document 20-24, lumped educational concerns together with financial ones in how public universities may target academic programs for closure and lay off tenured professors. They allow administrators — in the words of several regents — to run institutions more like businesses.

"Welcome to the 21st century," Regent Margaret Farrow said during a board vote on the policies, two years ago this week.

The cynical view of the new Stevens Point plan, held by many faculty members on that campus and off, is that it's exactly the kind of thing the Legislature, regents and administrators who supported those changes had in mind all along.

The less cynical view shared by others, including Provost Greg Summers, is that the changes present an opportunity for Stevens Point to fight for its future as enrollment declines and state funding dwindles. The campus faces a $4.5 million deficit over two years.

"There's absolutely some truth in there — this new [tenure] policy provides us an avenue that would perhaps not be possible otherwise," Summers said in an interview. "But there is absolutely no truth to the idea there was a purposeful agenda. Higher education institutions, no matter where they are, need to be more nimble, and we've been urging redirection for a long time."

Summers added, "We've struggled to do that in other ways because some of these decisions are gut-wrenching and difficult. But to be successful in a competitive environment, we've got to make them."
A report from the Stevens Point Journal ("UW-Stevens Point proposal to cut, expand majors draws anger, concern at town hall session") gives the specifics:
The 13 programs that would be eliminated because of low enrollment are:

American studies, art (but not graphic design), English (other than English for teacher certification), French, geography, geoscience, German, history (social science for teacher certification would continue), music literature, philosophy, political science, sociology (social work major would continue) and Spanish.

UW-Stevens Point proposes expanding eight academic programs as majors: chemical engineering, computer information systems, conservation law enforcement, finance, fire science, graphic design, management and marketing.

Another eight bachelor's or advanced-degree programs would be created: aquaculture/aquaponics, captive wildlife, ecosystem design and remediation, environmental engineering, geographic information science, master of business administration, master of natural resources and doctor of physical therapy.
I haven't followed the debate within Wisconsin that closely but certainly lean toward the cynical view here. There has long been a distrust of the academy in the conservative movement, going back at least to William F. Buckley Jr.'s breakout God and Man at Yale and, in recent years, a rising notion that universities should be job training centers rather than traditional centers of higher learning.
Still, Chancellor Bernie Stevens defends the decision ably in an op-ed:
Allow me to clarify a few points of confusion:

The liberal arts are not going way. English, Political Science, History, Philosophy, World Languages and Art will continue to be taught at UW-Stevens Point. Most of our students who take courses in these fields do not major in them. Approximately 80-percent of the humanities courses offered at UW-Stevens Point will continue under this proposal.
The proposal is a starting point for the formal decision-making that lies ahead. It is also the culmination of years of strategic planning, during which we invited input from faculty and staff. We have updated the campus community on our challenges, and our academic deans and department chairs have been involved in developing our proposal. This is the beginning of a process to prepare a formal proposal, which will be reviewed by a campus governance committee of faculty, and ultimately by the UW System Board of Regents.
All of our current students, and all who begin in the fall of 2018, will be able to complete their chosen degree path. Even if some majors are discontinued eventually, students will have every opportunity to complete their degrees in these programs. Our accrediting body, the Higher Learning Commission, requires this.

Twenty-five years of my academic career was in teaching and administrative roles at a college of arts and science, so I cannot emphasize enough: A broad liberal arts education is crucial. We remain committed to ensuring every student who graduates from UW-Stevens Point is thoroughly grounded in the liberal arts, as well as prepared for a successful career path. It is critical our students learn to communicate well, solve problems, think critically and creatively, be analytical and innovative, and work well in teams. This is the value of earning a bachelor's degree.

It is a false choice to suggest we must offer these broad skills or majors with career pathways. Both are essential, and both will continue to be offered at UW-Stevens Point.

A bit of context is helpful:

Less than 10-percent of current UW-Stevens Point students are majoring in programs proposed to be discontinued. (This is closer to 6-percent, if we focus on a student's primary major, the one that attracted the student to UW-Stevens Point.)
Of the students admitted to UW-Stevens Point for fall 2018, only 3.6-percent have indicated intent to major in one of the programs proposed to be discontinued.

Minors and certificates will continue to be offered in these programs. We will maintain a major in English with a narrower, more professional focus. Majors with teaching emphasis in English and History (broad field Social Science) will continue. Political Science will reposition to offer a program in Public and Global Affairs. Sociology will develop a new major in Criminal Justice, and Social Work will continue as a major. Graphic Design, the most popular Art program, will become a major. Several new interdisciplinary majors in the humanities, world languages and social sciences are being explored, including Environmental Studies.

As UW-Stevens Point has faced decades of declining state support, and more recently, declining enrollment, we have tried nearly every strategy, except cutting programs to address fiscal challenges. As I have noted in previous columns, open positions were left unfilled, contracts not renewed, administrative roles consolidated. We have implemented cost-savings, increased workloads, raised class sizes, reduced administrative spending, and nearly eliminated budgets for supplies, equipment, technology and facilities. We have restricted travel and professional development, reduced student activities, and declined for years to invest in salaries for our faculty, 95-percent of whom are paid below national averages. We have spent down our reserves, as the state Legislature mandated — a precarious position no business would willingly employ.

In short, we have cut everywhere else.

These are painful proposals. They affect lives and dreams, our friends and neighbors. Yet, doing nothing is not the answer. As chancellor, it is my responsibility to ensure the university continues to thrive.
The University of Wisconsin system is rather extensive, consisting of 13 universities that offer at least a bachelor's degree and 13 colleges (what most states call "community colleges" or "junior colleges") that serve as feeder schools.
The universities are shown above in circles and Wisconsin-Stevens Point is the one closest to the middle. Wisconsin-Green Bay is about 90 minutes due east and Wisconsin-Oshkosh is roughly 70 minutes to the southeast. It's certainly possible for students who want to pursue one of the canceled majors to travel to one of those institutions to complete their work. Presuming, of course, that Stevens Point isn't simply the first stop at cutting out liberal arts majors.
Having both attended and taught at universities in Alabama, I always thought we had too many universities offering too many degree programs. For a poor state, it seemed like an injudicious use of resources. In particular, it struck me that most graduate programs—outside of education and nursing—should be at the main campuses at either Alabama or Auburn. But it never really occurred to me to have a university that didn't offer core degrees like history and English.
It's good to read that, at least for now, they're not doing away with the "university" concept altogether.  Wisconsin's universities are going to have to offer freshman- and sophomore-level courses in most of these programs, anyway, simply to fulfill core curriculum requirements. Still, unless they're simply going to fill those billets with adjunct labor—which is certainly possible, albeit an incredible disservice to the students—I'm skeptical that there is tremendous budget savings in not allowing those faculty to teach upper-level courses. With a decent-sized faculty, everyone could simply offer one upper-division course a year and thus fill out a catalog.