Dan Patrick's Attack on Tenure in Texas
His attacks are, in fact, the best case for tenure.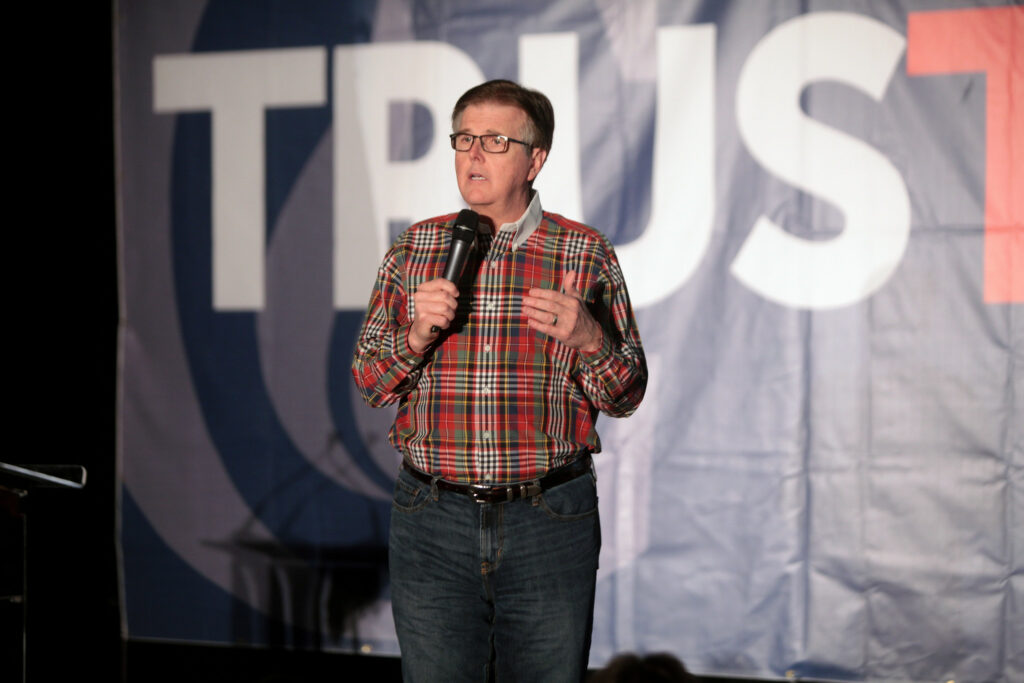 The Texas Tribune report: Lt. Gov. Dan Patrick proposes ending university tenure to combat critical race theory teachings.
Lt. Gov. Dan Patrick said Friday that he will push to end professor tenure for all new hires at Texas public universities and colleges in an effort to combat faculty members who he says "indoctrinate" students with teachings about critical race theory.

"Go to a private school, let them raise their own funds to teach, but we're not going to fund them," said Patrick, who is running for reelection. "I'm not going to pay for that nonsense."

Patrick, whose position overseeing the Senate allows him to drive the state's legislative agenda, also proposed a change to state law that could make teaching critical race theory grounds for revoking tenure for professors who already have it. His announcement tees up the next major fight at the Texas Capitol over how college students learn about the history of race and racism in the United States.
Setting aside the fact that there are legitimate arguments to be had over tenure, what Patrick is doing here illustrates why tenure needs to exist. He is explicitly stating that because an idea he and some of his political compatriots don't like might be taught, he wants the state to punish anyone who might teach about that idea. Not only is the notion that politicians ought to be targeting specific ideas that they don't like antithetical to a core purpose of education, but it is also blatantly authoritarian. This is all made the worse as Patrick and his ilk have no idea what "critical race theory" is save that they don't like the political implications of deep examinations of America's history regarding race.
"There's always been attempts to interfere in higher education, but I have never seen anything as egregious as this attack," said Irene Mulvey, president of the AAUP. "This is an attempt to have government control of scholarship and teaching. That is a complete disaster. I've never seen anything this bad."

Mulvey said Patrick had a "fundamental misunderstanding of the purpose of tenure" and his definition of academic freedom was "misguided."
Patrick is clearly engaging in typical red-meat rhetoric, but it is worth underscoring that his position as Lt. Governor of Texas gives him a significant amount of power to set the legislative agenda of the state's Senate, so he does have some bite to go along with his bark.
"I will not stand by and let looney Marxist UT professors poison the minds of young students with Critical Race Theory," Patrick wrote on Twitter. "We banned it in publicly funded K-12 and we will ban it in publicly funded higher ed. That's why we created the Liberty Institute at UT."
As someone who has spent my whole life in academia, I always find characterizations like "looney Marxist" professors to be so very ridiculous. I honestly cannot think of a professor that I had in class (or even in the faculty) at either my undergrad or graduate institutions (and UT was where I went to grad school, albeit some time ago now) who were doctrinaire Marxists (or, really, Marxists at all). And keep in mind, I studied Latin American politics, where one is more likely to encounter actual Marxists, at least in part during the Cold War. While I encountered some Marxists talking to ex-guerrillas in Colombia during my field research and knew a few grad students who thought of themselves as Marxists, the idea that there are Marxists everywhere is just cartoonish in the extreme. Keep in mind, I was fairly conservative from a personal political POV during college and grad school and the degree to which that made me uncomfortable or was in any way problematic was pretty limited. (I was certainly more conservative than my peers).
But I digress.
Patrick on Friday also proposed making tenure review an annual occurrence instead of something that takes place every six years. At the press conference, he said his proposals already have the support of state Sen. Brandon Creighton, R-Conroe, who chairs the Senate Higher Education Committee.

Last legislative session, Creighton filed a bill that would have reduced tenure review periods to every four years and expanded the reasons universities could revoke tenure to include sexual harassment, fiscal malfeasance, plagiarism, conduct involving moral turpitude and "other good causes." That bill never got out of committee. Nor did another bill that proposed revoking tenure for faculty members who file civil lawsuits against their students. Creighton's office did not immediately respond to a request for comment.
I think what this is referring to is post-tenure review (PTR). If so, the six-year interval mirrors the typical probationary period prior to tenure for an Assistant Professor.* This makes a lot more sense than a one-year interval because in PTR the goal would be to deal with problems for faculty who aren't performing in areas of teaching, research, and service in a way that is commensurate with their rank and tenured status. A given annual review (which they are probably getting also) is not going to be able to comprehensively evaluate, say, the given faculty's research output in a way that would justify revocation of tenure given the time horizons on such things.
Further, it is already the case that faculty, tenured or not, can be fired for things like fiscal malfeasance and other kinds of behavior. There is no need to link that to tenure revocation. It is as if people think that Professor Smith can be caught stealing, but since he has tenure we can't fire him. That's not how this works.
The absurdity of all of this is that it ignores at least two important facts about tenure. The first is that a given state exists in a broader market for faculty. If Texas were to eliminate tenure for new hires or to create laws that allow the revocation of tenure based on what ideas one discusses then it would disadvantage itself in terms of attracting faculty.
"Your top-tier talent has lots of options," Harris [a professor at Southern Methodist University studying higher education] said. "And if you hurt your ability to hire the best, you're not going to do that. … I guarantee you there are university leaders across the country that are making a shopping list of who they're going to try to steal from the University of Texas if this goes through."

Harris said even the headlines to propose ending tenure could hurt Texas universities that are hiring faculty members for next year who might think twice about whether to take a job at a public university.
And while focusing on CRT and racial politics might primarily affect sociologists, I guarantee that other disciplines, even well outside of social sciences and humanities, will take notice of a state legislature willing to behave this way. And sure, it may not have much impact on UT Permian Basin or Texas A&M Kingsville, the major research schools will absolutely be affected.
A second part of the tenure debate that always gets lost amidst tales of lazy professors with lifetime appointments deadwooding their way to retirement is that tenure is baked into the compensation structure of higher education in ways that most people do not understand or appreciate. From the point of view of the faculty, the idea of the chance at tenure is part of their compensation package—there is a trade-off of security for more pay. The brutal nature of the academic job market (for anyone other than the top of the top) is such that having to prove oneself over a particular set of years in exchange for not having to go back on the market unless one wants to is appealing in ways that are difficult to fully give justice to here. The willingness to accept what will be a fixed salary with modest, at best, increases over a career in exchange for enhanced job security is simply a key part of the appeal of these jobs that cannot easily be discarded without consequences to colleges and universities (more on that in a moment). It is also hard to overemphasize that the culture of this profession dictates that the key goal is a tenure-track job with the acquisition of tenure as proof of value after the probationary period (along with promotion to Associate Professor). Taking that away because some politicians don't want Prof X talking about subject Q is more major of a blow to the structure of American academia than is appreciated.
I would note, too, that a huge chunk of the work (beyond teaching) of a college/university is done by the faculty and tenure creates long-term buy-in that has real value. (If I know I am going to be at State U for a long time, that incentives certain kinds of work that I might not engage in if I don't have the time perspectives that tenure creates).
Let me caveat that there are legitimate arguments to be made about changing the way tenure works in the United States But I will say that most of the things that anti-tenure advocates think that getting rid of tenure will fix, probably won't (one that comes to mind is the idea that universities would be more innovative and flexible without tenure and for reasons that I won't go into detail here, but I do not think this is the case—mostly because more successful endeavors require multi-year work to achieve, something that tenure actually helps as noted above).
Another aspect of this that people like Patrick and other anti-tenure types don't understand is that because, as per above, tenure is baked into the compensation structure such that it actually helps keep labor costs down. The reason is a little something called salary compression (just Google "salary compression higher ed" and you will get page after page on the topic). Consider the following scenario: I am hired as a tenure-track Assistant Professor at State U at a specific salary commensurate with the market at the time. I may get a very modest cost of living increase per year (again, maybe), but I likely do not get any merit increases. I can teach an extra course to make some extra money, by my base pay remains the same. I likely will get only a modest raise when I earn tenure and promotion to Associate Professor. If I work my entire career at State U the salary I retire with will have been based on the salary I was hired with plus the modest COLA raises and a couple of promotion bumps. Meanwhile, it is very likely that every single faculty member hired after me had a higher salary than what I received when I was hired, and depending on various circumstances, it is extremely likely that a new Assistant Professor may be getting more money than I make as a tenured full Professor.
Put another way: schools give security, rather than pay enhancements, as an employee retention tool. Do away with tenure and those schools will have to pay more to retain more.
There are really only two ways to get a major increase in income in academia: change schools or go into administration.
Now, I could leave and look for another job, and I might. But keep in mind that one of the reasons I don't is because I am tenured and giving that up is a risk. Most schools don't want to risk giving tenured status to a new hire unless a person is a superstar of some kind. So, again, tenure is part of the broader compensation package and actually has benefits to the institution granted it, not just to the holder of tenure. Note that in this scenario the university does not have to offer me more money to stay, I decide to stay because tenure is too valuable to give up.
Note, too, that if a lot of the faculty are in this boat, it keeps overall labor costs down. If faculty were moving around all the time, each new hire that replaced someone who left would have to be higher, causing increases in personnel budgets. Sure, if everyone, everywhere got rid of tenure a new equilibrium would be reached in the broader labor market for faculty, but there would be definite short-to-medium term issues. It would change the labor market for faculty in ways that people like Patrick simply don't bother to think about.
I would note, too, the notion that replacing faculty members is like firing the fry guy at McDonald's** and hiring a new one is just another example of people not understanding academic administration. First, people seem to forget that the product (so to speak) is basically the faculty. You can't teach without teachers and the main thing higher education does is teach. No faculty, no classes. Second, people just don't think through something that is obvious once noted: the academy functions on lengthy timeframes: semesters (sometimes quarters) and years. Plans for what is going to be taught are made six months to a year in advance and finding expert personnel to teach is not always easy. Further, the action of removing someone in the middle of a given semester requires pretty significant malfeasance to justify.
Does Patrick think that if Dr. Smith talks about CRT in her SOC 101 course that the university is going to fire her the next day under these proposed laws? Who is going to teach those 600 freshmen at UT Austin for the rest of the semester?
I won't even begin to get into the complexities of dealing with real personnel or performance issues of faculty.
The whole thing is just absurd.
And, I would stress again, all of this is just the anti-intellectual, authoritarian ramblings of a politician who just wants to score political points with his base.
To conclude: there is plenty that can be legitimately debated about how higher education is run in the US, and even about specific content like CRT, but this is certainly not the way to do it. Moreover, I find these petty political attacks to be quite frustrating given that, as a whole, the American academy, imperfect though it may be, is still at the pinnacle of scientific and intellectual productivity globally and is a major export product of the United States. Could we take some provide in that instead of using higher education (something like people like Dan Patrick needed to launch their own careers) as the enemy of the people?
---
*For those unfamiliar: full-time faculty come in two basic flavors: non-tenure-track and tenure-track. Those not on the tack, often called Lecturers (although titles can vary) are on fixed-year contracts (one year, three years, etc., depending on the school) that may or may not be renewable. Any given year a person in this category may not be renewed at the end of an academic cycle.
Tenure-track faculty typically are hired as Assistant Professors and have 6 years to demonstrate that their teaching, research, and service is at a level that is commensurate with the standards of the given institution. During that period they have yearly contracts, but usually (unlike non-tenure-track) would be given a years' notice if they are not renewed. If they are granted tenure, they are promoted to Associate Professor and essentially have a permanent contract at that point. They go through a similar process at least six years later to be promoted to Full Professor. Some schools have post-tenure review to evaluate if faculty are maintaining work levels commensurate with rank; others don't. I would expect apart from such reviews most faculty are evaluated annually, although full Profs perhaps only every few years.
None of this, by the way, precludes actions against a faculty member engaged in malfeasance or who don't do their jobs (tenure is not a "get out of jail free" card).
**FWIW, I was once the fry guy at McDonald's.