When Does A University Stop Being a University?
West Virginia University may be the canary in the coal mine.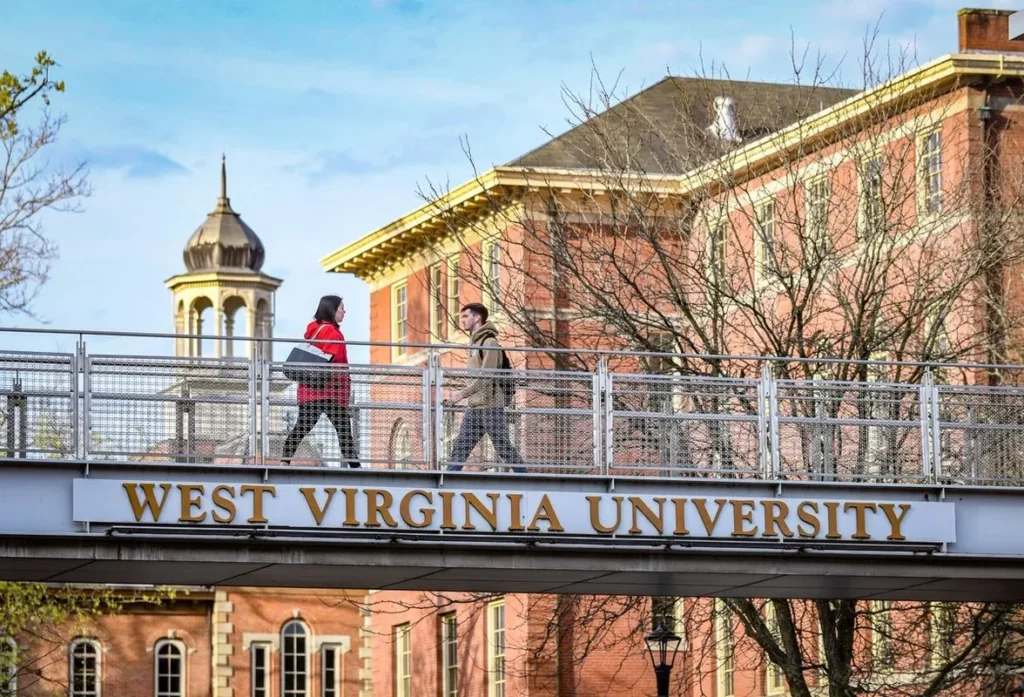 Earlier this week, University of Arkansas communication professor Lisa M. Corrigan took to The Nation to decry "The Evisceration of a Public University."
Last week, West Virginia University (WVU) announced a plan to raze some of its core programs. The public land-grant university intends to eliminate 9 percent of its majors (32 programs total), all of its foreign language programs, and 16 percent of its full-time faculty members (169 in total). The departments targeted for these massive cuts count Truman, Marshall, Fulbright, and Rhodes scholars among their alumni. These cuts were recommended by the consulting firm rpk GROUP, and there's every reason to believe they're a trial balloon for doing this elsewhere. Anyone who cares about higher education should be alarmed about what this portends for public universities.

These changes are the functional equivalent of an atomic bomb at WVU, and stand to make it increasingly difficult for the institution to meet its stated mission to create "a diverse and inclusive culture that advances education, healthcare and prosperity for all by providing access and opportunity." So why is it doing this?

WVU is the largest university in West Virginia. It is labeled an R1 university under the Carnegie Classification of Institutions of Higher Education, meaning it is in the top tier of high research activity among US universities; it is the state's only R1 school. Like other land-grant universities, it was created by the Morrill Act in 1862, which allocated land and financial support from the federal government to help reshape education in response to the Industrial Revolution. Land-grant institutions were charged with educating rural students across the country outside of the elite private universities, which were driven by tuition and legacy admissions.

Today, like many land-grant universities, WVU sits at the convergence of several cultural and economic tectonic shifts that are working in tandem to radically transform education. Foremost among these shifts is the changing economic climate of higher ed. WVU, like many higher-education institutions, has been plagued by gross financial mismanagement by administrators and consultants who have funneled money into massive administrative bloat and capital projects at the expense of faculty hires and support for faculty and graduate students. The university is currently facing a $45 million budget gap, and is seemingly uninterested in shrinking administrator salaries, creating artificial conditions for austerity.

This shift to massive administrative salary costs and, relatedly, software and tech expenditures, came about as federal funding of higher education massively slowed, particularly after George W. Bush's cuts in 2007–08. Fifty years of cuts to higher education have accounted for losses of between 30 to 50 percent of funding for some land-grant schools. Facing state austerity and a culture war on public goods, especially public education, state funding for higher education continues to decline, forcing public universities to rely more on private donors, who impart new controls on higher education professionals.
The trend long predates Bush and is mostly a function of state governments spending less on higher education as demands to lower taxes and spend more on everything from prisons to schools to healthcare have squeezed budgets. This was already a big problem with Steven Taylor and I started teaching at Troy in 1998 and got much worse after the Great Recession a decade later.
Naturally, all of this resulted in fewer and fewer tenure-track positions and the shifting of teaching responsibilities to cheap adjunct ("contingent") faculty who aren't invested in the institution or its students.
While Corrigan's essay devolves into a rant against Republicans, she's right that there has been an increasing push from politicians and the public, mostly but not entirely from the right, against the traditional mission of higher education, shifting the focus almost entirely to "What job does that degree prepare graduates to hold?"
NYT higher education correspondent Anemona Hartocollis focuses on this issue ("Slashing Its Budget, West Virginia University Asks, What Is Essential?") in today's edition.
In a move that shocked the faculty, students and their families, West Virginia University announced last week that it was proposing laying off 169 faculty members, or 7 percent of the faculty on its main campus in Morgantown.

Thirty-two of the university's 338 majors would be shut down, and some other programs would be consolidated, like those dealing with the state's historically important but declining mining industry, which will probably be converted into an "energy" program, officials said. The cuts will affect 147 undergraduates and 287 graduate students, or less than 2 percent of student enrollment.

The administration is calling the plan a "transformation." Some professors are calling it a "blood bath."

The budget cuts have ignited debate about some of the biggest issues facing higher education. As students flee the humanities — interest in English and world languages is declining nationally — how much money should universities continue to put into them? Is it time to make tough choices about what students really need in order to be educated?

And what should be done about declining public trust in the value of higher education? "We simply have lost the support of the American public," said E. Gordon Gee, the president of West Virginia University.

Dr. Gee contends that his school is a canary in the coal mine, and is being candid about its financial problems. Other public universities, he said, confront similar challenges. Penn State, for instance, faces a $63 million deficit this year, despite a hiring freeze and other savings. Rutgers University in New Jersey has been slashing budgets and raising tuition to help close a $77 million deficit.

"A lot of higher education institutions in the country have had a deficit in some form or other — ours is sort of in the middle," Dr. Gee said in an interview.

Some faculty members in Morgantown lament that the state's flagship university, a respected research institution, is turning its back on the liberal arts by closing programs like creative writing. They say that it is a low blow to a state known for Appalachian poverty and lack of opportunity, one that will accelerate the brain drain that drives many of its most talented young people out of the state.

The cuts, they say, will have ripple effects that will give students fewer course options and larger classes. And, they say, students will lose a precious commodity: the ability to try Russian or fiction writing, even if they are not majoring in the subjects.

The university's problems, they say, stem from fiscal mismanagement. Over the last decade, the university has invested in projects like new buildings for agriculture, engineering, student health, student housing and recreation, conferences and labs, and it has renovated its athletic facilities. Faculty members say that capital spending was imprudent when West Virginia's population was declining.
I would note that university faculty, myself included, have very strong opinions about how their institutions are managed despite most of us having no training or experience managing said institutions. Gee, who is a very controversial figure, has been running universities continuously since 1981! (West Virginia 1981-1985; Colorado 1985-1990; Ohio State 1990-1998; Brown 1998-2000; Vanderbilt 2000-2007; Ohio State again 2007-2013; and West Virginia again since 2014.) He may well be an arrogant son of bitch but he knows something about running a major university.
And this is a familiar theme that we've addressed here more than once:
The university has answered critics of the capital spending by saying that it was needed to maintain the campus and to attract students and faculty members, and that the university's bond rating is good. The athletic department must raise money and "is expected to carry its own weight," according to April Kaull, a university spokeswoman.

Dr. Gee said that pandemic aid had provided a false sense of security. "We were given a lot of relief during the pandemic, and some of that free money sometimes doesn't bring about the best results," Dr. Gee said. "But the real issue is the fact that there's a post-pandemic world that we're dealing with, which is dramatically different."

As it did at many universities, the pandemic accelerated enrollment declines at the Morgantown campus, where the number of students has fallen by 2,101 students, or almost 8 percent, since August 2020.

One budget analysis said a long-term decline in state support was to blame for much of the university's financial trouble. Higher education funding in West Virginia has dropped by about 24 percent, or $146 million, over the past decade, adjusted for inflation, according to the analysis by Kelly Allen, executive director of the West Virginia Center on Budget and Policy.

Nationally, public colleges and universities have doubled their reliance on tuition since 1980, but in West Virginia, the figure has nearly tripled, according to the analysis. More than half — 56 percent — of total revenue for the state's public colleges and universities now comes from tuition; in 1980, the figure was 19 percent. If West Virginia lawmakers had maintained education funding at the level of a decade ago, most of the current deficit would be erased, the report said.
Again, this is the core issue: public universities are no longer meaningfully funded by the public. This, combined with the arms races for better facilities to attract faculty and students means that the shortfall has to come from somewhere, and that somewhere is usually tuition and fees. Which is more challenging in a poor state like West Virginia.
W.V.U.'s tuition and fees for in-state undergraduates this academic year is $9,648, which is steep for many families. The state's median household income was a little more than $50,000 in 2021.

Dr. Gee, whose contract was recently renewed for one year, until 2025, is known for his charm, outspokenness and fund-raising skills, qualities that have propelled him to lead five universities: Ohio State (twice), Vanderbilt, Brown, West Virginia (twice) and Colorado.

But he has also made unpopular decisions. He said he had been involved in making budget cuts at all three of the public universities where he has served. At Ohio State, he restricted enrollment, merged departments and cut jobs through attrition, while beginning a fund-raising campaign. He once joked that he wore his trademark bow tie because "it's much more difficult to be hung by the faculty with a bow tie than with a long tie."

At West Virginia University, professors complain that the proposed changes will be more destructive than Dr. Gee makes them out to be.

"Other universities have closed particular languages," said Lisa Di Bartolomeo, a professor of Russian, Slavic and East European Studies. "But nobody has closed an entire department of world languages that we know of. The word that we're hearing over and over again is 'unprecedented.'"

But the university says the student body has changed, as it has elsewhere. The number of bachelor's degrees in world languages, literature and linguistics awarded annually fell by 25 percent nationally and by 30 percent in the states where W.V.U. focuses on recruiting students between 2010 and 2021, the university said.

Language requirements for graduation, it says, have been eliminated at Amherst College, the University of Alabama, Johns Hopkins, George Washington University and Duquesne University, among others, as students have shifted to fields like computer science.

For West Virginia students who are still interested in learning French or Mandarin, the university has a possible solution: taking language courses online.
I honestly don't know how a state flagship university, let alone a "doctoral university with very high research activity," can exist without a world languages department. In most disciplines, proficiency in a second language is a minimal requirement for a doctorate. But, again, Gee has been running such institutions since I was a freshman in high school, so it's possible that he has a keener insight on these matters than I do.
UPDATE: WaPo's Nick Anderson ("WVU's plan to cut foreign languages, other programs draws disbelief") weighs in:
Modern flagship universities occupy a special place in the market, serving many regional and national needs. They are simultaneously a rallying point for pride in academics and athletics; a source of comprehensive degree offerings in the humanities, social sciences, natural sciences, engineering and professional fields; and a center of high-level research that advances knowledge and applies it to pressing global problems. They must do all that while offering heavily discounted rates to in-state students, responding to volatile political environments, and recruiting aggressively elsewhere in the country and internationally.

The upheaval at WVU, as it is known in the Mountain State, raises questions about what the minimum academic offerings should be at a prominent public research university and how to deal with ebbing financial support from the state government while the head count of students — and the tuition revenue they represent — is also decreasing.

Budget troubles have also flared recently at public Rutgers University in New Jersey, Pennsylvania State University and the University of Kansas, among other places. Options in such cases typically boil down to more state funding, tuition increases, program cuts, or some mix of those. But the solutions that Gee's top lieutenants have advanced at WVU strike some observers as radical.

"I can tell you that no other state flagship university has forsaken language education for its students or made the kinds of cuts to the humanities that WVU is undertaking," Paula M. Krebs, executive director of the Modern Language Association, wrote in an Aug. 11 letter to Gee. Krebs said study of language, literature and culture is essential to the mission of a major university. "Access to these courses is especially important in public higher education, which is often the only route to a degree for many state residents," she wrote. "The humanities should not be reserved for students who can afford private higher education."
Indeed. But, as has been the case at other state flagships competing for prestige (including my graduate alma mater), the original goal of serving the students of the state has become secondary:
For several years before the coronavirus pandemic struck in 2020, the university was thinking big. When Gee arrived in 2014, WVU had 29,175 students in Morgantown and nearly 3,000 more at two sister campuses. Gee predicted system enrollment would reach 40,000 by 2020 — a massive increase for a state where the annual flow of high school graduates has stagnated in recent years and is projected to decline significantly. The university, which is northwest of Washington and south of Pittsburgh, counted on drawing students from other states and overseas. It expanded student housing and built and renovated other facilities.

But enrollment has slid nearly every year for the past decade, with the pandemic exacerbating the problem. In fall 2022, the system head count was little more than 27,000, with 24,741 on the flagship campus. About 42 percent of undergraduates in Morgantown are from West Virginia. The in-state charge this year for tuition and fees is about $9,600. Those from out of state pay about $27,000. Those figures don't count housing and food.
Gee's bet didn't pan out. But he surely can't be expected to have forecast the COVID pandemic.