Why More Americans Don't Major in Math and Science
A dwindling proportion of students are majoring in STEM fields. They're likely making the wise choice.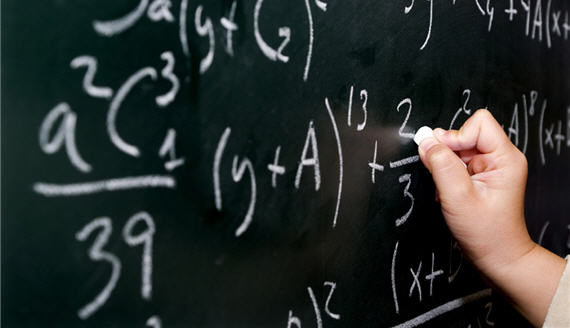 The Wall Street Journal has an interesting feature entitled "Generation Jobless: Students Pick Easier Majors Despite Less Pay."
Although the number of college graduates increased about 29% between 2001 and 2009, the number graduating with engineering degrees only increased 19%, according to the most recent statistics from the U.S. Dept. of Education. The number with computer and information-sciences degrees decreased 14%. Since students typically set their majors during their sophomore year, the first class that chose their major in the midst of the recession graduated this year.

Research has shown that graduating with these majors provides a good foundation not just for so-called STEM jobs, or those in the science, technology, engineering, and math fields, but a whole range of industries where earnings expectations are high. Business, finance and consulting firms, as well as most health-care professions, are keen to hire those who bring quantitative skills and can help them stay competitive.
So, more people are going to college and even fewer of them are studying the subjects most likely to lead to high paying jobs–or, in the current economy, jobs, period. Presumably, this is because American kids today are fat, stupid, lazy, and entitled, right?
Students who drop out of science majors and professors who study the phenomenon say that introductory courses are often difficult and abstract. Some students, like Ms. Zhou, say their high schools didn't prepare them for the level of rigor in the introductory courses.

Overall, only 45% of 2011 U.S. high-school graduates who took the ACT test were prepared for college-level math and only 30% of ACT-tested high-school graduates were ready for college-level science, according to a 2011 report by ACT Inc.

"If you haven't been given the proper foundation early on, you fall farther and farther behind as the material gets more difficult. It's discouraging, demoralizing," says Claus von Zastrow, the chief operating officer and director of research at Change the Equation, a Washington, D.C., nonprofit group that seeks to improve science and math education. It has led professors to anticipate the high levels of attrition.
So, a lot of students who are trying to take STEM classes are finding themselves unprepared for the challenge. American University law professor Kenneth Anderson (JD, Harvard) isn't surprised and argues that these students are probably making the prudent choice.
I'm basing this on my current experience as a law professor who talks a lot with students at a mid-tier law school and what led them there, as well as my experience as a parent of a student who will be doing humanities as her major at Rice, a school with world class STEM and world class humanities.

There are a lot of smart students out there who will nonetheless not be able to compete in world class institutions in STEM. Why? They might have, say, near 800s in verbal and writing, and mid 600s in math on the SAT. (This matches up, btw, to Gene Expression blog's mapping of the GRE scores of various college majors for the highest testing of the humanities majors — the philosophy students, who have about exactly those scores. I'll put up the charts in a later post, but very roughly the verbal and math scores flip for the highest scoring of the sciences — physics, and are somewhere in the middle for the highest scoring of the social sciences, economics.) At a school like Rice — and any university ranked above it — specialization has already taken place, sorting by subject area. A tiny handful of students can be true polymaths, but that's hardly the norm. Instead, the STEM students are sought competitively on a world-wide basis, and it will be academic suicide and frankly impossible for a student who is not at the top of those competitive areas even to pass the classes.

In that case, if you are a smart but not brilliant student in STEM, you might tell yourself until you are blue in the face that you must study STEM to be employable and have real skills. But the reality is that you will flunk out or come close to it, or be lucky to get by with Cs. Moreover, at that level of performance, it is not clear that you are actually acquiring STEM skills, just at a C level compared to an A level. Pedagogically, it doesn't work that way. The bottom end students wind up not really learning anything, because the class moves at a pace and in a way that they can't keep up with, even to get a lesser grounding in it.
This comports pretty well with my personal experience. I was strong enough in math and the sciences in high school that I did what most of the bright kids starting college in the mid-1980s did and declared that I was going to be an engineering major. Now, the vagaries of starting my college career at West Point were such that I was juggling more balls than I was prepared to handle but I rather quickly found that I was struggling to keep up in the math and science courses and breezing through the social science and humanities courses. The latter subjects came naturally to me while, at a particular level of abstraction, I simply no longer understood the material in the former, which were therefore reduced to me memorizing formulas and applying steps by rote. I quite literally learned nothing in those classes; it was all, to use the cadet phrase, "spec and dump." (And by "nothing," I mean "nothing." One hopes I got some vague analytical benefit from the exercise but I retained zero subject matter knowledge. I quite literally don't even know what the hell calculus is about and took two semesters of it. )
In hindsight, that shouldn't have been surprising. I was preternaturally fascinated with politics going back as far as junior high and was in the 99th percentile on my English and Social Science ACTs and only in the 80s somewhere in Math and Science. I retook the test hoping to improve my math scores and instead gained two points on Social Science–despite having been in the 99th percentile to begin with. (Oddly, my SAT scores were almost identical for Math and Verbal; I'm pretty sure that was a fluke rather than a major difference in the tests themselves.)
While I don't know that, as a 19-year-old, my calculations were as complicated as Anderson's, my basic sense was that I was better off doing something that I was interested in and had natural aptitude for rather than continue to struggle doing something where I was destined to be, at best, mediocre and miserable.
Why do the STEM departments grade so strictly, compared with other departments? There are reasons why the liberal arts departments tend to grade inflation; treat that separately. The STEM departments have their own incentives for holding grades down, especially in the introductory courses. Basically, the reputation of the department rests disproportionately on the very top performers. Less on the average, and not at all on what general ed classes are offered to the rest of the university. If that's the case, then better to relentlessly winnow down in the first classes, and concentrate resources on the top performers. Reputation is measured mostly at the top margin.

From the standpoint of a student who says, I don't want to be an engineer or research chemist or computer scientist — I want to get a strong grounding in those fields, in a genuinely technical way — but I want to be a manager or someone with a non-technical job that requires interaction with the technical fields — how do I do that? At the top range of universities, the STEM departments simply don't have a place for you. The university might require that the departments offer general ed courses — and so you will be offered, "rocks for jocks." It won't be technical; it will be gee-whiz, without the math. What you are looking for is a technical track designed for a student who is Yale quality in history or philosophy, but who needs something more like State College for technical skills. That would be the ideal mix — but there is little incentive for the STEM departments to create such a thing.
This is an interesting and completely plausible explanation. My gut explanation was always much simpler: In math and science, you're either right or wrong and there's very little room for subjectivity. Sure, there's partial credit for getting the concepts right and making calculation errors but the student either fundamentally grasps the concept or not. By contrast, the humanities and social sciences are "softer," with the ability to score points for a half-assed understanding of the material and with the difference between an A, B, and C answers being a matter of nuance, detail, and construction.
Anderson also hits on a pet peeve about the selection process:
Why, going back to the WSJ article, do they gravitate to the easiest majors that provide the fewest skills? Because they understand that in many cases, in today's world no liberal arts major — apart from economics — will be taken very seriously to gain entry level to management, corporate consulting, etc. You will eventually be looking at professional school — business school or law school. And those schools care only about the GPA/LSAT-GMAT. That's because those two figure so heavily in the USNWR rankings. So the GPA matters fantastically much — and, perhaps surprisingly to outsiders, the difficulty of the major is not taken into account.

These professional schools have traditionally accepted any major, and do not differentiate. So, a friend here in DC asked me about two recent interns of his who had gone on to law school — he was astonished and troubled to find that the MIT grad with the B average in STEM had fared far less well than the NYU English major. As in: the NYU lit grad went to Harvard and the MIT grad was wait-listed at American. That might seem surprising, but in addition, USNWR takes a generally hands off attitude toward the ranking of the undergraduate institutions. Meaning (and if someone in admissions processes wants to correct me on this regarding how USNWR treats the undergraduate institutions in law or b-school rankings, I would be very interested to know about it): a law school taking a bunch of B+ students from Harvard undergrad will be worse off than taking A students from University of Arizona. The law or b-school admissions offices might want to have some number of Ivy graduates, but so far as I know, that does not count in USNWR rankings of the professional schools.

The top universities have many reasons for grade inflation in liberal arts, but this fact counts among them. Undergraduates who realize that they cannot compete with global specialists in STEM, particularly at the top universities, opt for liberal arts subjects. They and the universities realize that GPA is all that matters, and unsurprisingly, GPAs rise. How much? Well, just this week the University of Illinois College of Law was forced to restate downwards its false GPA and LSAT data for the last couple of years. Illinois is a darn fine school, with one of the great faculties in law — a leading top 25 school — but it is still not Harvard, Yale, or Stanford. Its average GPAs were restated downwards from 3.8 to … 3.7. I regard that as an astronomical GPA, and that's average.

Overlooked in all this is the immensely damaging effect of grade inflation on risk-taking among our supposedly brightest elites. Grade inflation is really grade compression against a top line. And grade compression means that mostly you have nowhere to go but down. How do you avoid that? When falling below, in effect, an A- at worst average easily drives you out of the top ten law schools? Or out of the top 20? And when you know, and your parents know, that in addition to the 50k a year you've paid to study some liberal arts subject that only has a return on investment if you double down the bet on law school or b-school — at another 50k a year? And further, when you know that outside of the top 25 or so law schools at this very moment, the job opportunities are sufficiently iffy that you are not so much making an investment as placing a bet on employment … well, you are going to not just rationally, but desperately, seek every way of ensuring that your GPA is as close to 4.0 as humanly possible.

It is not, in other words, that you made irrational, foolish, or bad choices as a sophomore to study liberal arts, and the easiest majors among them, rather than STEM. Nor is law school then a way of merely making a more rational best of a bad and irrational situation. It is, rather, that you figured out that precisely because you had managed to get into a highly regarded university, you could not compete with the worldwide competition that the engineering school sees as its reputational guarantor — and in any case, your desire was not to be purely a technical STEM person, in research or pure engineering. Getting a C in courses in engineering at Rice or Stanford is not the equivalent of getting As at Cal Poly; getting Cs in these subjects probably means you didn't learn anything substantial at a level you could understand and apply. So you switch to liberal arts, and immediately notice that your GPA goes up. Then you notice that top 25 law schools are basically demanding a near 4.0 GPA.

At that point (if not before, way back in high school), serious risk aversion kicks in. You do not take any class, if possible, where you aren't pretty assured of getting an A or at worst an A-. That will lead you to fields in which the major offers no job prospects, by the way, and so the tradeable currency of the department (all the ethnic and gender studies programs, anthropology, globalization studies, and many more) turns out to be As as a mechanism for continuing to get majors to come to the department. If anyone does not believe that university administrations monitor closely the numbers of majors, think again; many of these majors will come under serious pressure as students realize there is nothing on the other side. They will offer students As. And so long as the professional schools and USNWR treat all grades as fungible, there will be an market in arbitrageable As as surely as Greece depended on it being treated as well as Germany.
Now, again, I'm not sure if schools and departments are as craven about the USNWR rankings as Anderson suggests. I was frankly never at institutions high enough on the prestige ladder where it would have been a significant factor. But the student calculus here strikes me as exactly right. I often half-joked that getting my degree was interfering with getting an education. Stretching outside one's comfort zone by taking courses that will be inordinately difficult is a high risk, no reward proposition in all but the existential sense. Not only does the student risk getting a non-A, which can be a significant barrier to admissions and merit-based scholarships, but they risk the extra effort going into that class sucking energy away from their other classes and making getting A's in them more difficult. And, since a class is a class is a class on the transcript–to the extent that anyone ever looks beyond the GPA–it's just not worth it. Indeed, that's Anderson's advice to his own daughter:
[I]s there a serious possibility that you plan to go on to law school or b-school? If so, then the strategy is completely different — go with classes and majors that maximize GPA, period. No other priority in any class that has a grade. If that means Sustainable Development in Latin America, go for it; if it means anthropology as human rights activism, go for it; if it means Global Justice, go for it. The professional schools won't care; all that matters is the GPA.
If this seems contrary to the very notions of higher education, it's because it's contrary to the very notions of higher education. I'd strongly prefer a system that rewards students for expanding their horizons and risking failure, but we don't have such a system. Every game has its rules and the winners conduct themselves with them in mind.
A handful of schools, MIT most notable among them, don't award letter grades in introductory courses, simply going Pass/Fail. I like the idea, although I have no empirical knowledge of whether it works to encourage experimentation or laziness.