The Politicization of Math Class
The least controversial subject in school is suddenly controversial.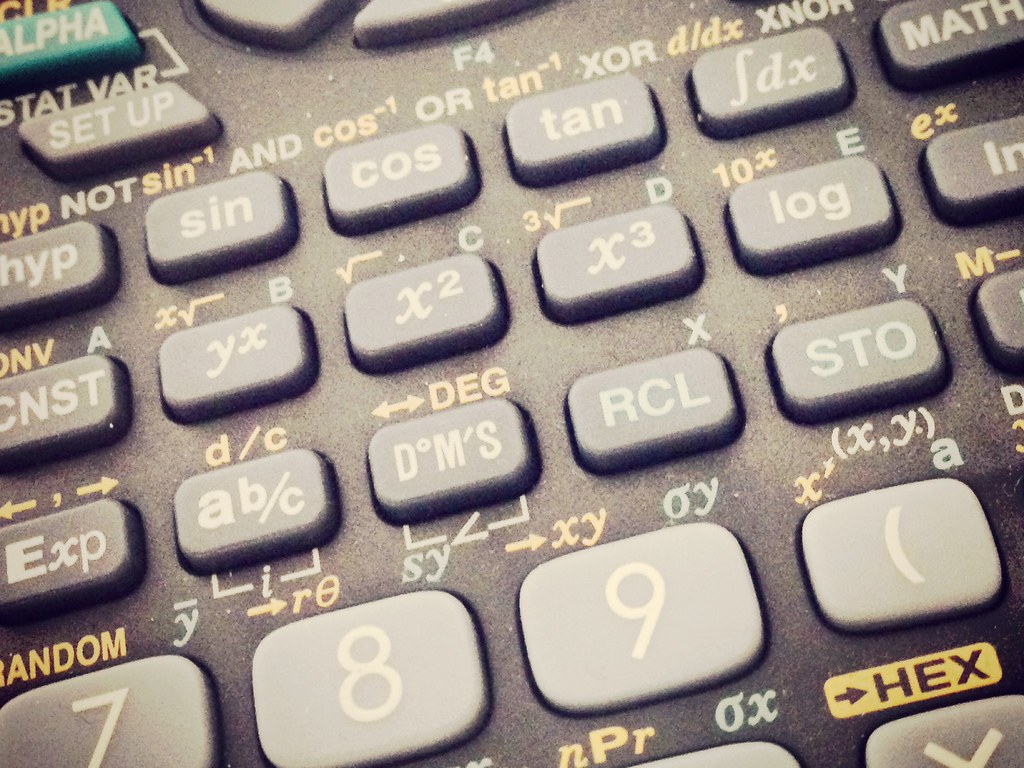 For as long as I can remember, there has been a fight between liberals and conservatives over school curricula. The former tend to want more focus on diversity and identity issues, while the latter want schools to stick to readin', 'ritin', and 'rithmetic. The biggest struggle has been over history and social science textbooks, with Texas and California often dictating the curriculum of other states because they're such massive purchasers. We've seen this most recently with the controversies over the 1619 and 1776 projects.
In recent weeks, though, we're seeing a kerfuffle over mathematics curricula. One would think that it would be hard to politicize something as concrete as numbers but it turns out to be more complicated than that.
It first came to my attention a couple weeks ago when my home state of Virginia seemed to be doing away with tiered math classes, keeping all kids on the same track until 11th grade. Except it turned out not to be quite true. As WaPo reported,
The kerfuffle began when Loudoun County School Board member Ian Serotkin (Blue Ridge) posted on his public Facebook page about the initiative. He wrote on April 22 that he had received a briefing on the initiative, which he wrote promised to "revamp the K-12 math curriculum statewide."

He praised the initiative for "some noble goals," including the fact that it "provides a pathway for every student to be able to take calculus or higher math by the end of high school if they so choose." But he criticized it for what he said it would do to advanced math classes, claiming the proposal would force all seventh-graders to take the exact same math class, all eighth-graders to take the exact same math class, and so on through 11th grade.

"As currently planned, this initiative will eliminate ALL math acceleration prior to 11th grade," Serotkin wrote. "That is not an exaggeration, nor does there appear to be any discretion in how local districts implement this."
As best I can tell, Serotkin was acting in good faith and the problem was some incredibly awful workshopping of proposals that were being considered as part of the regular review process.
Superintendent James Lane said the Virginia Department of Education is in the early stages of a regularly scheduled revision of its mathematics Standards of Learning, which guide school systems in their course offerings across all areas of instruction. As part of that revision process, which takes place every seven years, state officials recently began workshopping some ideas as to how Virginia could teach mathematics in a way that better prepared children for college and the workforce, Lane said.

The ideas — detailed online as part of a program called the Virginia Mathematics Pathways Initiative — include rejiggering eighth-, ninth- and 10th-grade math courses to place a greater emphasis on fields including data science and data analytics, Lane said. Schools would still offer traditional courses such as Algebra I, Geometry and Algebra II, the superintendent said, but these courses would now "incorporate stronger foundations in data analytics," for example.
Long story short and probably too oversimplified: no final decisions have yet been made but there's a strong likelihood that the eventual policy will be delay getting students ready for college mathematics, particularly calculus, and instead focus more on "practical" math like statistics. This is outside my expertise but, offhand, that's probably a sensible policy.
Another report, in the Virginia Mercury, notes that this is part of a nationwide rethinking of how we teach our kids math. And, naturally, equity and inclusion are a big part of the puzzle.
In webinars, VDOE officials have been upfront that the initiative is based on data, especially standardized test scores that show Black, Hispanic and low-income students have lower pass rates on state math assessments than White and Asian students. Those critical of the initiative have argued that Virginia is lowering its standards in favor of certain students instead of improving instruction to help more children reach advanced courses.

The idea of reforming math education, though, isn't new, and it wasn't pioneered in Virginia. At least 22 states have explored the idea, which is based on decades of research on how traditional math coursework is failing students from many backgrounds.

In Virginia, like much of the country, most math curriculum follows one traditional route. The Charles A. Dana Center at the University of Texas — whose research has informed pathways initiatives in multiple states — describes it as "a course in geometry sandwiched between two courses in algebra." The larger goal is to send as many students as possible down the path toward calculus.

That's because upper-level algebra courses are viewed as more rigorous by many colleges and often required for admission or to transfer credits. But over the years, educators have found that they alienate students who don't need those courses in their future careers. Some, for example, might be better served by statistics classes that provide a strong foundation for the classes they'll take in college. Other students might make the decision to stop taking math classes as soon as they can because the information just doesn't apply to them.

"For some students, it's just not relevant," said Patricia Parker, who serves as an adviser for the Virginia initiative on behalf of the State Council of Higher Education for Virginia and Virginia Community College System. But even for advanced-track students, the status quo doesn't always lead to success. According to the Dana Center, roughly a third of students at all public four-year colleges are placed in a remedial math course before they go on to college-level classes. That includes students who have taken courses like Algebra II and calculus in high school.

"What parents don't know, or maybe don't realize, is that so much mathematics gets retaken when you get to college," Parker said. In 2015, VCCS embarked on its own effort to reform math education at the community college level after learning that many students weren't gaining the background they needed in high school.

"What we learned was that it wasn't the students' ability to do calculus or not that was preventing them from being stellar engineers or stellar scientists," Parker said. "It was that they were coming with weak foundational skills."
I came through elementary school in the heyday of the much-derided New Math movement and came away with what I think was a pretty strong foundation. I was good at it. Until the more advanced mathematics classes in high school and college. I did fine, especially in high school, in terms of grades. But I didn't really learn it. I memorized formulas and when to apply them but retained almost none of it. I took two semesters of college calculus and literally couldn't tell you what the courses were about. Conversely, I still utilize things like the commutative and distributive properties I learned in early elementary school on a daily basis.
I'm quite amenable, then, to the idea that most people don't need trigonometry and calculus in high school. For that matter, those who are going on to STEM degrees can probably wait until college—or, certainly, the last couple of years of high school—to master those skills.
That debate is inherently political, simply because it's happening in a political arena. But the real controversy isn't about how best to teach math but in an underlying philosophical dispute. That became clear a couple of days ago when California's curricular review came under scrutiny.
The treatment in the press has been all over the place, mostly seen through ideological lenses, but you can read the official site for yourself. I draw your attention in particular to "Chapter 2: Teaching for Equity and Engagement."
In California, all teachers strive to ensure every child has an equal opportunity to succeed. Teachers of mathematics can provide equitable education by making sure all students receive the attention, respect, and resources they need to achieve their potential. California classrooms combine diverse communities and students who bring a rich variety of cultural and linguistic resources that teachers can draw on to create culturally-relevant lessons (Ladson-Billings, 2009; Hammond, 2020; Milner, 2011). Cultural relevance is important for learning and also for expanding a collective sense of what mathematical communities look and sound like to reflect California's diverse history. A focus on equity recognizes that mathematics, over the years, has developed in a way that has excluded many students (see Chapter 1). Because of these inequities, teachers need to work consciously to counter racialized or gendered ideas about mathematics achievement (Larnell, Bullock, & Jett, 2016). It is common for people to claim that avoiding aspects of race, culture, gender, or other characteristics as they teach mathematics, means they are being equitable; but the evolution of mathematics in educational settings has resulted in dramatic inequities for students of color, girls, and students from low income homes (Joseph, Hailu & Boston, 2017; Milner & Laughter, 2015). These inequalities include not only access to high-quality curriculum and resources, but also to instruction that appropriately leverages students' diverse knowledge bases, identities, and experiences for both learning and developing a sense of belonging to mathematics (Langer-Osuna & Esmonde, 2017). A "color-blind" approach allows such systemic inequities to continue (Battey, 2013; Martin, 2007). The examples that follow are provided to help educators utilize and value students' identities, assets, and cultural resources to support learning and ensure access to high achievement for all students in California—particularly English learners, who are linguistically and culturally diverse, and those who have been disenfranchised by systemic inequities.
In many circles, this alone will set off alarm bells. Math is math, damn it, and can't possibly be racialized or gendered! But the basic idea that we need to provide examples that students can relate to is pretty uncontroversial. Some of the ways in which they propose to do this, though, may well be.
Beyond that, there is a basic questioning of the larger focus of the math curriculum, as exemplified by the Chapter 1 subtopic, "Mathematics as a Gatekeeper or a Launchpad?" And it results in a proposal that gets at the controversy over both the Virginia and California proposals:
Mathematics continues to play a role in how we conceive of our careers, evidence-based civic discourse and policy-making, and the examination of assumptions and principles underlying action. All students are capable of making these contributions and achieving these abilities at the highest levels. As a guide to implementing the Standards, this framework outlines innovative mathematical learning experiences with the potential to help all California students.

To develop learning that can lead to mathematical power for all California students, the framework has much to correct; the subject and community of mathematics has a history of exclusion and filtering, rather than inclusion and welcoming. There persists a mentality that some people are "bad in math" (or otherwise do not belong), and this mentality pervades many sources and at many levels. Girls and Black and Brown children, notably, represent groups that more often receive messages that they are not capable of high-level mathematics, compared to their White and male counterparts (Shah & Leonardo, 2017). As early as preschool and kindergarten, research and policy documents use deficit-oriented labels to describe Black and Latinx and low-income children's mathematical learning and position them as already behind their white and middle-class peers (NCSM & TODOS, 2016). These signifiers exacerbate and are exacerbated by acceleration programs that stratify mathematics pathways for students as early as sixth grade.

Students internalize these messages to such a degree that undoing a self-identity that is "bad at math" to one that "loves math" is rare. Before students have opportunities to excel in mathematics, many often self-select out of mathematics because they see no relevance for their learning, and no longer recognize the inherent value or purpose in learning mathematics. The fixed mindset about mathematics ability reflected in these beliefs helps to explain the exclusionary role that mathematics plays in students' opportunities, and leads to widespread inequities in the discipline of mathematics. Some of these include:

*Students who are perceived as "weak" in mathematics are often informally tracked before grade seven in ways that severely limit their experiences with and approaches to mathematics (Butler, 2008) and their future options (Parker et al, 2014). See also Chapter 8.

*Students who do not quickly and accurately perform rote procedures get discouraged and decide not to persist in mathematically-oriented studies.*Students who are learning the English language are deemed incapable of handling, and denied access to, grade-level authentic mathematics.

*Students with learning differences that affect performance on computational tasks are denied access to richer mathematics, even when the learning differences might not affect other mathematical domains (Lambert, 2018).

*Students who are tracked into lower mathematics courses in middle and high school can be denied entry into prestigious colleges.

Many factors contribute to mathematics exclusion. As one example, consider a system described in more detail in Chapters 7 (Grades 6-8) and 8 (Grades 9-12): Though many high schools offer integrated mathematics, high school mathematics courses are often structured in such a way (e.g., algebra-geometry-algebra 2- precalculus) calculus is considered the main course for Science, Technology, Engineering, Arts, and Mathematics (STEAM)-oriented students, and is only available to students who are considered "advanced" in middle school—that is, taking algebra in eighth grade. In order to reach algebra in grade eight, students must cover all of middle grades math in just two years (or else skip some foundational material). This means that many school systems are organized in ways that ultimately decide which students are likely to go into STEAM pathways when they begin sixth grade. This reality leads to considerable racial- and gender-based inequities and filters out the majority of students out of a STEAM pathway (Joseph, Hailu, Boston, 2017). Moreover, English learners have disproportionately less access, are placed more often in remedial classes and are steered away from STEAM courses and pathways (National Academies of Sciences, Engineering, and Medicine, 2018). High school mathematics courses such as data science should exist as a viable option whether students consider STEAM or non-STEAM career options.

Considering that many competitive colleges and universities (those that accept less than 25 percent of applicants) hold calculus as an unstated requirement, the inequitable pathway becomes even more problematic. Many students remain unaware that their status at the end of fifth grade can determine their ability to attend a top university; if they are not in the advanced mathematics track and on a pathway to calculus in each of the subsequent six years of school, they will not meet this unstated admission requirement. This mathematics pathway system, typical of many school districts, counters the evidence that shows all fifth graders are capable of eventually learning calculus, or other high-level courses, when provided appropriate messaging, teaching, and support. The system of providing only some students pathways to calculus, or statistics, data science or other high-level courses has resulted in the denial of opportunities too many potential STEAM students—especially Latinx and African American students. At the same time, arbitrary or irrelevant mathematics hurdles block too many students from pursuing non-STEAM careers. Mathematics education must support students whether they wish to pursue STEAM disciplines or any other promising major that prepares them for careers in other fields, like law, politics, design, and the media. Mathematics also needs to be relevant for students who pursue careers directly after high school, without attending college (Daro & Asturias, 2019). Schooling practices that lead to such race- and gender-based disparities can lead to legal liabilities for districts and schools (Lawyers' Committee for Civil Rights of the San Francisco Bay Area, 2013). A fuller discussion of one example is included in Chapter 8. The middle- and high-school chapters (Chapters 7 and 8), and the data science chapter (Chapter 5) outline an approach that enables all students to move to calculus, data science, statistics, or other high level courses, with grade level courses, 6, 7, and 8 in middle school. The new provision of a data science high school course, open to all students (not only those considered "advanced" in middle school), that can serve as a replacement for algebra 2, has the potential to open STEAM pathways to diverse groups of students, both through its engaging content and its openness to all students—as described further in Chapter 5, and Chapters 7 and 8. [emphases all mine-jhj]
So, again, I don't claim to be an expert in primary and secondary education, much less mathematics education. That we stigmatize students as "bad at math" if they struggle early and that this becomes self-reinforcing and thus self-fulfilling strikes me as more than plausible but likely.
But, like Robbie Soave, I'm exceedingly skeptical at the foundational claim that every single student is capable of achieving at the highest levels.
The framework's overriding perspective is that teaching the tough stuff is college's problem: The K-12 system should concern itself with making every kid fall in love with math.

Broadly speaking, this entails making math as easy and un-math-like as possible. Math is really about language and culture and social justice, and no one is naturally better at it than anyone else, according to the framework.

[…]

Contrary to what this guidance seems to suggest, math is not the end-all and be-all—and it's certainly not something that all kids are equally capable of learning and enjoying. Some young people clearly excel at math, even at very early ages. Many schools offer advanced mathematics to a select group of students well before the high school level so that they can take calculus by their junior or senior year. It's done this way for a reason: The students who like math (usually a minority) should have the opportunity to move on as rapidly as possible.

For everyone else… well, advanced math just isn't that important. It would be preferable for schools to offer students more choices, and offer them as early as possible. Teens who are eager readers should be able to study literature instead of math; young people who aren't particularly adept at any academic discipline might pick up art, music, computers, or even trade skills. (Coding doesn't need to be mandatory, but it could be an option.)

The essence of good schooling is choice. Individual kids benefit from a wide range of possible educational options. Permitting them to diversify, specialize, and chart their own paths—with helpful input from the adults in their lives—is the course of action that recognizes vast differences in interest and ability. Holding back kids who are gifted at math isn't equitable: On the contrary, it's extremely unfair to everyone.

Yet the framework seems to reject the notion that some kids are more gifted than others. "An important goal of this framework is to replace ideas of innate mathematics 'talent' and 'giftedness' with the recognition that every student is on a growth pathway," it states. "There is no cutoff determining when one child is 'gifted' and another is not." But cutoffs are exactly what testing and grading systems produce, and it's absurdly naive to think there's nothing innate about such outcomes, given that intelligence is at least partly an inherited trait.

If California adopts this framework, which is currently under public review, the state will end up sabotaging its brightest students. The government should let kids opt out of math if it's not for them. Don't let the false idea that there's no such thing as a gifted student herald the end of advanced math entirely.
Now, I think this overstates things. While I agree that we ought to let the gifted kids move faster lest they grow bored and that we shouldn't torture those who are incapable of learning calculus by pretending otherwise, there's obviously a foundational level of math that every high school graduate needs to possess. How to best achieve that is debatable but that should be the goal.
The notion that every kid is a potential Einstein is just absurd, though. We recognize that not everyone can be LeBron James. Or even make the high school basketball team. Why do we need to pretend otherwise with academic subjects?