1776 Report Should be 86'd
A parting shot from the Trump administration.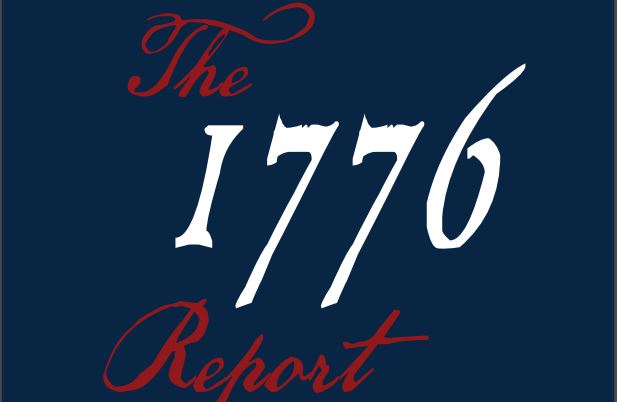 On their way out the door, the Trump administration released a bizarre "report" from a "blue-ribbon" commission arguing for better treatment of America's Founders.
The headline of the official release, "1776 Commission Takes Historic and Scholarly Step to Restore Understanding of the Greatness of the American Founding," should be enough to alert even the modestly-savvy reader that the report is not even the slightest bit "scholarly" and instead a hack job. The release, in its entirety below, confirms that suspicion in spectacular fashion.
1776 Commission—comprised of some of America's most distinguished scholars and historians—has released a report presenting a definitive chronicle of the American founding, a powerful description of the effect the principles of the Declaration of Independence have had on this Nation's history, and a dispositive rebuttal of reckless "re-education" attempts that seek to reframe American history around the idea that the United States is not an exceptional country but an evil one.

A copy of the report can be found here.
From the last page of the report itself, we see the "distinguished" "scholars" who comprised the commission:
Larry P. Arnn, Chair
Carol Swain, Vice Chair
Matthew Spalding, Executive Director
Phil Bryant
Jerry Davis
Michael Farris
Gay Hart Gaines
John Gibbs
Mike Gonzalez
Victor Davis Hanson
Charles Kesler
Peter Kirsanow
Thomas Lindsay
Bob McEwen
Ned Ryun
Julie Strauss

Ex-officio Members
Michael Pompeo, Secretary of State
Christopher C. Miller, Acting Secretary of Defense
David L. Bernhardt, Secretary of the Interior
Ben Carson, Secretary of Housing and Urban Development
Mitchell M. Zais, Acting Secretary of Education
Brooke Rollins, Assistant to the President for Domestic Policy
Doug Hoelscher, Assistant to the President for Intergovernmental Affairs
Leaving aside that the ex-officio members are hacks, traitors, yahoos, or some combination of the three, the only academics on the list whose names I recognize are Victor Davis Hanson and Charles Kesler. It doesn't take much Googling to find that pretty much everyone on the list is a right-wing hack. Even those, like Hanson, who are serious scholars have long since sold out for fame on the conservative pundit circuit.
The report's Introduction begins thusly,
In the course of human events there have always been those who deny or reject human freedom, but Americans will never falter in defending the fundamental truths of human liberty proclaimed on July 4, 1776. We will—we must—always hold these truths.
From the outset, then, we see that the conclusion came before the scholarship. This will be a polemic, not a serious study.
The declared purpose of the President's Advisory 1776 Commission is to "enable a rising generation to understand the history and principles of the founding of the United States in 1776 and to strive to form a more
perfect Union."
Again, this sounds like some tripe from a Trump speech. The two purposes could potentially go together but "and" doesn't do the trick of explaining how.
This requires a restoration of American education, which can only be grounded on a history of those principles that is "accurate, honest, unifying, inspiring, and ennobling." And a rediscovery of our shared identity rooted in our founding principles is the path to a renewed American unity and a confident American future.
Again, this isn't scholarship. This isn't history. It's not even "civics."
It assumes facts not in evidence. Do we really have a "shared identity"? If so, when did we undiscover it? Were out "founding principles" really one that promoted "unity"? On what basis is teaching the founding—about which genuine scholars and historians are still debating to this very day—"inspiring" and "ennobling"? And is that really the purpose of education?
The Commission's first responsibility is to produce a report summarizing the principles of the American founding and how those principles have shaped our country.
For starters, the country was founded twice: With the Declaration in 1776 (although, arguably, with the Articles of Confederation the year before) and with the Constitution of 1787 ratified in 1789. The two are in conflict. And the Framers of the latter had very bitter disputes as to its goals.
That can only be done by truthfully recounting the aspirations and actions of the men and women who sought to build America as a shining "city on a hill"—an exemplary nation, one that protects the safety and promotes the happiness of its people, as an example to be admired and emulated by nations of the world that wish to steer their government toward greater liberty and justice.
There are just too many unproven and disputed assumption in that absurdly convoluted sentence to dissect.
The record of our founders' striving and the nation they built is our shared inheritance and remains a beacon, as Abraham Lincoln said, "not for one people or one time, but for all people for all time."
Again, this is highly disputed. It can't be a starting point for serious scholarship.
I'll stop there, even though that's maybe a third of the Introduction. The rest is more of the same: an incredibly narrow view of America's history that assumes a shared, unified vision that toward which we have strived ever sense.
There are ways in which I'm sympathetic to this viewpoint. I tend to think that, at the elementary school level, we really should teach something of a rose-colored view of "civics" and the American experiment, adding nuance and complexity as they progress through the higher grades. And I resist the movement exemplified by the 1619 project to frame racism and injustice as the core of our history rather than a blight on it.
But this report is ostensibly aimed at adults. And it goes too far in excusing slavery and Jim Crow and, frankly, veers too far into white nationalism.
While this is too rosy—and gives too little credit to Black Americans for securing their own freedoms— it's not terrible:
It would take a national movement composed of people from different races, ethnicities, nationalities, and religions to bring about an America fully committed to ending legal discrimination.
But it quickly devolves into this nonsense:
The Civil Rights Movement was almost immediately turned to programs that ran counter to the lofty ideals of the founders. The ideas that drove this change had been growing in America for decades, and they distorted many areas of policy in the half century that followed. Among the distortions was the abandonment of nondiscrimination and equal opportunity in favor of "group rights" not unlike those advanced by Calhoun and his followers. The justification for reversing the promise of color-blind civil rights was that past discrimination requires present effort, or affirmative action in the form of preferential treatment, to overcome long-accrued inequalities. Those forms of preferential treatment built up in our system over time, first in administrative rulings, then executive orders, later in congressionally passed law, and finally were sanctified by the Supreme Court.
The degree to whether "affirmative action" and the like are helpful and where to draw the line are perfectly debate-worthy issues. But this reads like something from a Dinesh Dsouza column, not a blue-ribbon government commission. Indeed, this would have received a D, at best, in a lower-level American Government class.