Turmoil On Team Romney
The Romney campaign infighting is becoming public.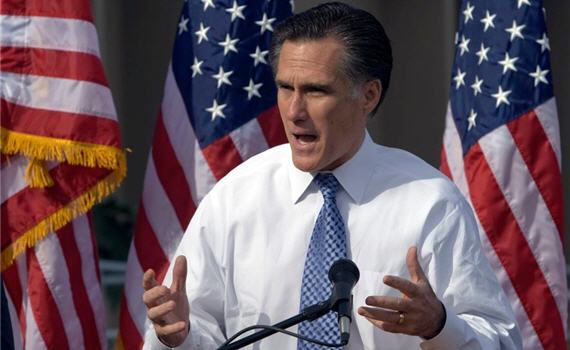 Politico's Mike Allen and Jim Vandehei are out today with a longish piece that's grabbing much attention in the political world this  morning for the manner in which it lays bare the infighting that seems to be developing among Mitt Romney's advisers and close supporters, much of it directed toward top strategist Stuart Stevens:
Inside the Romney campaign, Stevens has preached a gospel of caution and consistency: Keep the candidate tightly focused on a bad economy and a worse president. In an interview last year with Robert Draper for The New York Times Magazine, Stevens explained his theory of the case this way: Philadelphia Eagles quarterback "Michael Vick's not a real good pocket guy … So don't tell him he can't roll out. Try to make him the best rollout guy that's ever played."

A growing number of conservatives are blaming Stevens for advocating a campaign of caution, one that puts all the emphasis not on how good Romney could be but how bad Obama is. "Credit for this fog goes to that inner circle of Romney advisers who never liked the Ryan pick and have reasserted their will over a candidate who is naturally cautious," conservative columnist Kimberley Strassel wrote in Friday's Wall Street Journal. "In the la-la land where adviser Stuart Stevens presides, Mr. Romney wins by never saying a single thing, ever, that might rock a single boat, ever."'

Stevens was a big, early advocate of a bland vice presidential candidate, privately talking up former Minnesota Gov. Tim Pawlenty and pushing the idea of an outsider, anti-Beltway ticket. But Stevens is hardly to blame for what many conservatives consider a campaign that is specifics-free and lame. That blame goes straight to the man running his own campaign: Romney himself, according to a number of people in and out of the campaign.

Some Romney loyalists think Stevens never fully appreciated what a good and unique candidate they had in Romney, and pleaded early on to showcase what they saw as a generous, wise and gifted leader. Still, for reasons not fully understood by those around Romney, the candidate not only went with Stevens but gave him tremendous authority.
More than just disagreements about strategy, though, consider the story that campaign insiders tell about the drafting of Mitt Romney's convention speech:
Stuart Stevens, Mitt Romney's top strategist, knew his candidate's convention speech needed a memorable mix of loft and grace if he was going to bound out of Tampa with an authentic chance to win the presidency. So Stevens, bypassing the speechwriting staff at the campaign's Boston headquarters, assigned the sensitive task of drafting it to Peter Wehner, a veteran of the last three Republican White Houses and one of the party's smarter wordsmiths.

(…)

As the Tampa convention drew near, Wehner, now a "senior adviser" and blogger for the campaign, was laboring under an unusual constraint for the author of a high-stakes political speech. He was not invited to spend time with Romney, making it impossible to channel him fluently.

Nevertheless, Wehner came up with a draft he found pleasing, including the memorable line: "The incumbent president is trying to lower the expectations of our nation to the sorry level of his own achievement. He only wins if you settle." It also included a reference to Afghanistan, which was jettisoned with the rest of his work.

Instead, eight days before the convention, at a time when a campaign usually would be done drafting and focused instead on practicing such a high-stakes speech, Stevens frantically contacted John McConnell and Matthew Scully, a speechwriting duo that had worked in George W. Bush's campaign and White House. Stevens told them they would have to start from scratch on a new acceptance speech. Not only would they have only a few days to write it, but Romney would have little time to practice it.

McConnell and Scully, drawing on their experience writing for Vice President Dick Cheney, were racing to finish the convention speech for Romney's running mate, Ryan (R-Wis.), the House Budget Committee chairman. It was the Wednesday before convention week. Ryan was to speak the following Wednesday, followed by Romney on Thursday.

The two finished Ryan's text the next day and started crashing on Romney's. That weekend, Stevens accompanied Romney as he went to a school auditorium in New Hampshire with his wife, Ann, to practice yet another version of the speech. Only one paragraph from the McConnell-Scully draft wound up being used, about a rose that Romney's father had put on his mother's bedside table each day. The speech that was actually delivered, it turned out, had been cobbled together by Stevens and Romney himself.

When asked about the various versions of the convention speech, Stevens said: "The governor writes his speeches." Pressed on whether he does so with no help, Stevens added: "He reaches out to a lot of people. … We don't discuss who works on what. It's all just the Romney campaign. Everything is just the Romney campaign."

(…)

The hasty process resulted in a colossal oversight: Romney did not include a salute to troops serving in war zones, and did not mention Al Qaeda or Afghanistan, putting him on the defensive on national security just as the Middle East was about to erupt. It was also very light on policy specifics, much to the chagrin of conservatives who were certain the addition of Ryan and inclusion of Wehner meant a real battle of ideas was about to begin.
Some on the right are pushing back on this part of the Politico article by arguing that the Convention speech accomplished what it needed to and that this is much ado about nothing. Even if you happen to be one of those people who think that Romney's RNC speech was a smashing success, though, and there are many who do not, what this tale tells about the campaign and the candidate should be of concern to anyone who supports the Romney campaign.
In the week or so before the Republican National Convention, Mitt Romney was asked about the status of his convention speech. He responded that they were still working on it, a comment that a few commentators took not of simply because it seems so surprising that the most important speech of Romney's political career wouldn't already be done and in "polishing" mode with so little time to go before the convention. I didn't even bother making note of the comment myself because I simply assumed it was just an effort by the Romney campaign to keep details of the speech close to the vest. Little did I know that Romney was basically telling the truth, they didn't have a speech yet and the basically wouldn't for several days more. What's more, they would end up rejecting completely two drafts written by two different speech writing teams. Now, you can tell me that none of this matters, that the candidate is the final arbiter of what's in a speech, and you'd be right. However, the fact that the process surrounding the most important speech of the Republican National Convention was this chaotic and haphazard, and the fact that it resulted in a speech that was light on details and failed to even mention anything about the Afghan War or the troops. It says something not only about the speech, but also about the way the campaign is being run. More importantly, the fact that Romney insiders were completely comfortable going to Politico to trash one of Romney's closest advisers is yet another sign that there's trouble inside the campaign, most likely because people are looking at the polls and getting profoundly disturbed.
There's more in the article that's worth taking note of. For example, for some reason, Stevens seems to be playing three different roles on the campaign at the same time. He's acting as chief strategist, chief ad maker and chief speechwriter, jobs that are normally held by different people. As Allen and Vandehei state, it's as if one person had been doing the jobs of Karl Rove, Mark McKinnon and Michael Gerson in Bush's 2000 campaign . Or if one person were doing the jobs of  David Axelrod, Jim Margolis, Robert Gibbs and Jon Favreau in the President's 2008 campaign. It seems like a horrible way to organize a campaign, and it arguably leads to the mistakes of one person being amplified while also depriving the candidate of the benefit of hearing different points of view.
This article comes as conservatives outside the campaign are starting to evidence frustration with the way things are being run out of Boston. Jennifer Rubin, normally someone who is reflexively pro-Romney, was out with a post yesterday detailing what she sees as the problems with the Romney campaign and how to fix them. This morning, Erick Erickson came out with a similar piece on Red State:
Contra Dick Morris, Mitt Romney is not winning this election. At least Mitt Romney is not winning the election right now. Conservatives are obsessing over every poll, the turn out models used, and the media bias that is on ful display. Yes, some of the polling models seem screwy, though we all forget the pollsters apply a secret sauce known only to them on top. Yes, reporters are fully beclowning themselves to get their god-king re-elected. But while we may be focused there, the fact is the Romney campaign isn't functioning well. Lucky for you and me the election is not today. But something needs to happen in Boston and I am less and less hopeful anything will happen.

It would be easy to dismiss me by saying I never cared for Romney or I'm somehow actually rooting against him. So let me put it to you this way: Jenn Rubin and I are on the same page.That's either a sign of the apocalypse or there is something really dysfunctional happening within the Romney campaign.

Having refused to get on the "campaign shake up" bandwagon when Rupert Mourdoch and Jack Welch were claiming a shake up needed to happen, count me in now. Like it or not, spin it or not, put your head in the sand or not, attack me as the messenger or not, the very simple truth is that Mitt Romney has failed to close any deal with the voters and his message is so muddled no voter really knows what they are getting.
In the end, though, this isn't just about the campaign itself. The Politico article makes clear that this campaign is running the way Mitt Romney wants it to be run. If mistakes are being made and the campaign disorganized, that says something about the guy who set it up to begin with. Based on everything we know about Romney, it seems unlikely that he will listen to these calls for a campaign personnel reboot, but even if he did I'm not sure that it would make any difference. Campaigns are a reflection of the candidate, and the disorganization we're seeing from Team Romney does not speak well of the candidate.  Besides, there are only 50 days to go in the campaign and there are three debates to prepare for, it's a bit late to start over again from scratch.