Another Republican Congressman Accuses Benghazi Committee Of Being Partisan
Another Republican Congressman has said that the Select Committee investigating the Benghazi attack is primarily concerned with scoring political points against Hillary Clinton.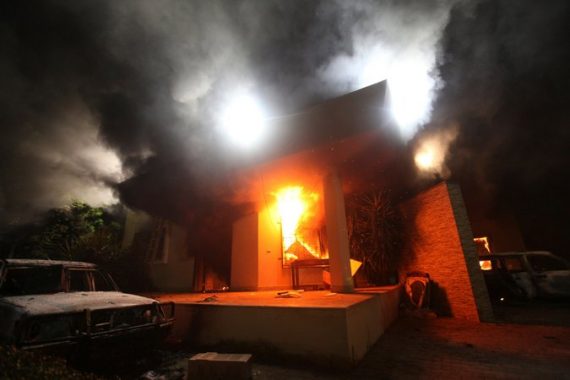 Mere days after he announced his candidacy to replace John Boehner as Speaker of the House California Congressman and House Majority Leader Kevin McCarthy made headlines when he cited the House Select Committee investigating the Benghazi attack as something that had succeeding in harming Hillary Clinton in the polls. Inevitably, McCarthy's comments quickly became news and led the Clinton campaign and others to say that it proved their long-standing accusation that the committee's investigation was more of a partisan attack than a legitimate investigation. Republicans, of course, were pretty displeased with McCarthy's comments and they ended up being one of the things that galvanized the opposition to him that led him to withdraw from the Speaker's race mere minutes before a vote was set to begin. Now, another Republican Congressman seems to have essentially confirmed what McCarthy said mere days before Hillary Clinton is set to appear before the committee in what is sure to be a contentious hearing:
Another Republican lawmaker says the House Select Committee on Benghazi is meant to go after former Secretary of State Hillary Clinton.
Rep. Richard Hanna, R-New York, said Wednesday on New York's' WIBX 950, "Sometimes the biggest sin you can commit in D.C. is to tell the truth."

"This may not be politically correct, but I think that there was a big part of this investigation that was designed to go after people and an individual, Hillary Clinton," said Hanna, who is not a member of the committee. "After what Kevin McCarthy said, it's difficult to accept at least a part of it was not. I think that's the way Washington works. But you'd like to expect more from a committee that's spent millions of dollars and tons of time."

Clinton is scheduled to testify before the panel on October 22.

At the first Democratic debate on Tuesday night, Clinton slammed Republicans, telling the audience that the committee is "basically an arm of the Republican National Committee."
"It is a partisan vehicle, as admitted by the House Republican majority leader, Mr. McCarthy, to drive down my poll numbers. Big surprise. And that's what they have attempted to do," Clinton said, adding later, "But I'll be there. I'll answer their questions."

Brian Fallon, the Clinton campaign's press secretary, said Wednesday that Hanna's comment show that "House Republicans aren't even shy anymore about admitting that the Benghazi Committee is a partisan farce."

"Hillary Clinton will still attend next week's hearing," Fallon said, "but at this point, (Chairman) Trey Gowdy's inquiry has zero credibility left."

While McCarthy walked back his comments, Democrats quickly seized on his gaffe and it ultimately contributed to the derailing of McCarthy's brief speaker bid.

"Everybody thought Hillary Clinton was unbeatable, right?" McCarthy had said. "But we put together a Benghazi special committee, a select committee. What are her numbers today? Her numbers are dropping. Why? Because she's untrustable. But no one would have known any of that had happened had we not fought."
Hanna, who has been in Congress since being elected to represent New York's 24th Congressional District in 2010 (he now represents the 22nd District after the post-Census redistricting), isn't exactly a hard right member of the House GOP caucus so on some level it isn't entirely surprising to see him breaking ranks with the more conservative wing of his caucus even on an issue such as this. In no small part because of the area he represents, Hanna splits with GOP orthodoxy on several issues, including gay rights and abortion rights, and recently made news back home when he criticized the effort by many on the right to block Federal Government funding for Planned Parenthood as "political theater." Notwithstanding that, though, it is somewhat surprising to see any Republican make a comment like this on the eve of what will unquestionably be a the most high profile event of the 2016 campaign to date. Additionally, when combined with the recent assertions by a former Committee staffer that the committee's work was being diverted into avenues that had little to do with investigating the Benghazi attack and everything to do with attacking Hillary Clinton these latest statements only seem to undermine the credibility of the Committee's work just before what is arguably its most important hearing.
As I've said before, there seems to me to be at least some merit to the idea that the Select Committee is largely a waste of time and potentially motivated purely by partisanship rather than a desire to discover some previously unknown truth about what happened in Benghazi on September 11, 2012. There have been at least five separate Congressional Committees that have looked into the attack, what led up to it, and the Administration's security preparations and response to the aftermath of the attack. None of those investigations have found any evidence of any wrongdoing on anyone's part, and no real evidence that there was something that the Administration could have done on the night of the attack that would have prevented the deaths of Ambassador Stevens and the three others. The most comprehensive of these investigations was conducted by the House Intelligence Committee, which released an extensive report on the attack and its aftermath that found no evidence of wrongdoing. Additionally, the committee itself has acted in a way that makes it seem as though its more concerned with the 2016 election than an impartial investigation, including the fact that it was announced months ago that no final report would be released this year and that we likely wouldn't get one until the Presidential campaign is in full swing. Given all of that, unless it comes up with some kind of earth-shattering smoking gun that changes the narrative regarding the Benghazi attack as we know it, it's hard not to view the entire process surrounding this committee as an extension of the effort to prepare the battleground for 2016 by undermining Hillary Clinton.
Not surprisingly, those sympathetic to Clinton are jumping on Congressman Hanna's comments in much they same way that they jumped on McCarthy's, and it's likely to set the tone for how this issue will be discussed over the coming week. Kevin Drum, for example, suggests that the admissions from people like McCarthy and Hanna have played right into Clinton's hands by allowing her to galvanize support among Democrats who will rally around her as a perceived victim of Republican attacks and making it impossible for the press to discuss the committee's work going forward without getting into the issue of partisan motivations. At the same time, though, Greg Sargent argues that the admissions are not likely to have much of an impact on the committee's work itself, though they will likely tend to reassure Democrats who may have been nervous about the political impact that the investigation could have on Clinton. Along the same lines, The Washington Post's Daily 202 notes that Benghazi is still likely to be a problem for Clinton because of the questions it raises about her time as Secretary of State:
Libya is where the Obama administration tried "leading from behind," as an administration official memorably put it at the time. In the years since, we've seen the country fall into chaos and become a hotbed for Islamic radicals.

Hillary bragged Tuesday night that Libya held its first free elections since 1951 after a multilateral coalition helped topple Moammar Gaddafi. As The Post's David Fahrenthold notes in a story about the many ways Clinton's debate opponents let her off the hook, she alluded to the country's problems in a single passive-voice sentence: "Because of the Arab Spring, because of a lot of other things, there was turmoil to be followed." It is remarkable that none of her opponents had the wherewithal (or foreign policy chops) to call her out for this.

Conservative operatives said earlier this year that they intended to launch a fall campaign slamming Clinton for various foreign policy failures during her State tenure. But they postponed those attacks, and a larger effort to try raising questions about Clinton's competence, because of the continuing media spotlight on the e-mail scandal and poll numbers showing that voters think Clinton is dishonest.

But even after next week's testimony is behind her, Benghazi will remain a ticking time bomb due to explode again just two weeks before the Iowa caucuses. Action film director Michael Bay, known for "Transformers" and "Armageddon," is working on a movie about what happened to the U.S. compound that is set for release on Jan. 15 . The New York Times obtained the script for "13 Hours: The Secret Soldiers of Benghazi" and notes in today's paper that actor John Krasinski at one point says: "We got nobody backing us up here. Nothing!" 
Because of all of this, it's likely that, like the questions regarding Clinton's use of a private email server, what happened in Benghazi is something that will follow Clinton for the rest of this campaign and all the way to the General Election. This is especially true given that, leaving aside all the partisan diversions surrounding the Benghazi attack, there are legitimate questions that the attack raises regarding the Administration's policy in Libya that Clinton played an important role in forming. It's entirely possible, of course, that the Committee's hearings will end up being perceived as so blindingly partisan that they will be entirely discredited, but given the way the election has gone so far it seems unlikely that this will deter the GOP from making Benghazi an issue. Whether it will work or not, of course, is an entirely different issue.