House Benghazi Investigation Seems More Concerned With 2016 Than Investigating Anything
Not surprisingly, the House Committee re-investigating the Benghazi attack seems more concerned with scoring political points than fact-finding.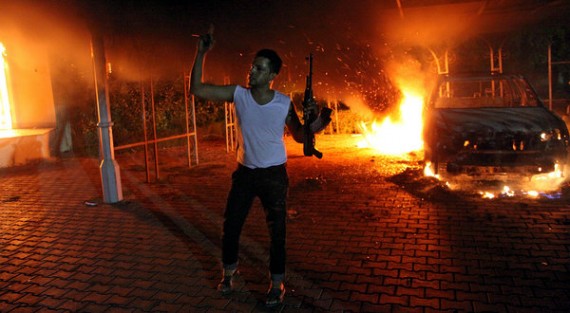 The Hill notes that the House Select Committee that was formed to investigate, yet again, the attack on the American diplomatic outpost in Benghazi in September 2012 is taking it time in such a deliberately slow manner that it's obvious that Republicans want to keep the issue around through the 2016 elections:
Presidential hopeful Hillary Clinton has agreed to testify before the Benghazi committee this month but don't expect Republicans to be satisfied with her appearance.

House Republicans have now spent a full year investigating the 2012 terrorist attacks in Libya — including whether any of the former secretary of State's actions may have contributed to the incident — and there are few indications there will be a speedy conclusion to their inquiries.

Rep. Trey Gowdy (R-S.C.), chairman of the Select Committee on Benghazi, signaled he's prepared to drag out his investigation well into 2016 if Clinton and the Obama administration continue to stonewall his requests for documents and answers.

That would mean the probe would not conclude until the homestretch of Clinton's long campaign for the White House.

"Chairman Gowdy said early on in this investigation that there is no statute of limitations on the truth. Our job is to get to the truth," Rep. Jim Jordan (R-Ohio), a leading House conservative who serves on the Benghazi panel, told The Hill. "I wish we could already be there but based on the way this administration has conducted themselves has just made it difficult.

"They're the ones who've been driving the pace and the timing of all this."

So far, there's no agreement on when exactly Clinton would appear on Capitol Hill. In an interim report on of the Benghazi committee's first year of work, Gowdy wrote Friday that the panel would call Clinton to testify once she and the State Department had provided all relevant information.

Since Speaker John Boehner (R-Ohio) created the Benghazi committee a year ago this week, the panel has adopted a go-slow approach. Gowdy, a former federal prosecutor, has been thorough and methodical, while being careful not to make his investigation appear too overtly political or partisan.

When the committee discovered that Clinton had used a personal email account while leading the State Department, Gowdy called for her to turn over her email server to the agency's inspector general or another neutral third party, GOP aides noted. That way an independent arbiter could separate the private emails from the public ones.

"The goal here is not pomp and circumstance or show hearings," said a GOP leadership aide familiar with the investigation. "The goal is to get facts and a full and complete record of what happened before, during and after the attack. And that is the mandate Gowdy has steadfastly pursued."

But Republicans are also fully aware the investigative panel — and the Benghazi issue in general — is proving to be a major political headache for the 2016 presumptive Democratic presidential nominee. Boehner, whom Gowdy briefed last week on the Benghazi probe, has used recent news conferences to bring attention to the Clinton email scandal.

"Of course this is all detrimental to her political ambitions," said one House GOP lawmaker.
None of this should come as much of a surprise, of course. As I noted when the committee was first formed, it was apparent that its purpose was far more partisan than investigatory, especially given the fact that several Congressional Committees had already investigated the circumstances surrounding the attack. In fact, it was apparent even when the committee was formed a year ago that its hearings would likely last through 2016, something that was seemingly confirmed last month when it was announced that the committee's final report should not be expected until some time well into 2016 . Added into all this, of course, is the fact that none of the previous investigations have found any of the kind of wrongdoing or deliberate decisions not to act to stop the attack that conservatives have been alleging for the better part of the past two years. This includes a rather thorough investigation by he House Intelligence Committee, that debunked the major conspiracy theories surrounding the Administration's actions before, during, and after the attack, and concluded that there was "no intelligence failure, no delay in sending a CIA rescue team, no missed opportunity for a military rescue, and no evidence the CIA was covertly shipping arms from Libya to Syria."
To a large degree, of course, the committee was energized to some extent by the revelations regarding Clinton's use of a private email server during the time that she served as Secretary of State, and the revelation that tens of thousands of emails were deleted after she left office because she deemed them to be unrelated to State Department business. Committee Chairman Trey Gowdy, along with Speaker Boehner and other members of Republican leadership have called on Clinton to make the server itself available to the committee for investigation, but it's been made fairly clear by Clinton's representatives that she would not be doing so. As a result, it appears likely that the House will eventually vote to issue a subpoena for the server since the committee apparently lacks the authority to do that on its own. At that point, presuming Clinton fails to comply, we will likely be headed into a showdown in Federal Court over the propriety of the subpoena that will be cited as a reason to further delay the committee's work and stretch the matter even further into 2016. In other words, it's a virtual guarantee that the investigation will still be going on, and will likely hit some kind of crescendo, just in time for the 2016 General Election.
What's unclear is whether all of this attention on Benghazi, and by extension on the issue of the email server and other issues, will have a real impact on the 2016 race in general or Clinton in particular. At the very least, it does appear that the issue has resonated with the voters and become something about Clinton that concerns them. An ABC/Washington Post Poll from last June, for example, found that 50% of Americans disapproved of Clinton's handling of the attacks but it did not appear at that time to have any real impact on either their opinion of her as a leader or as someone who could be trusted to be honest. A Quinnipiac poll from roughly a year earlier l,found similar numbers, and also found that Clinton's handling of the attack had had a negative impact on her favorability rating. More recently, polling from the Associated Press and Quinnipiac has shown that Clinton's trustiworthiness among voters has suffered significantly due, it seems to the combined impact of, Benghazi, the email story, and the new revelations about the Clinton Foundation. Despite all of that, though, Clinton continues to lead in both the Democratic nomination and in head-to-head matchups against her prospective Republican opponents. Perhaps Benghazi and all these issues will become a problem for Clinton as the race goes on, but there's no evidence of it happening just yet. Given that, Republicans who think spending the next year talking about Benghazi even though there's nothing new to talk about are most likely wasting their time.