After A Summer Of Doldrums, Hillary Clinton's Campaign Seems To Be Back On Track
For much of the summer, the story of the Democratic race for President was the story of Hillary Clinton's seemingly endless problems. Those days seem long gone if the latest polls are any indication.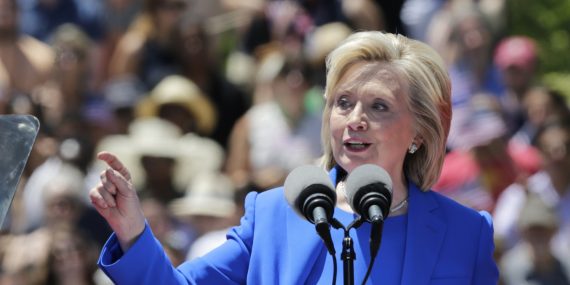 For much of the summer, the story of the race for the Democratic Presidential nomination was one of bad news for Hillary Clinton and speculation over whether or not Joe Biden would enter the race. Early in the summer, Vermont Senator Bernie Sanders, whose candidacy had largely been dismissed by many professional political observers, began to rise in the polls to the point where he had overtaken Clinton in New Hampshire. To some extent, that rise was dismissed by the observation that Sanders was a Senator representing a neighboring state who was very familiar to New Hampshire Democrats, but the logic of that argument faded when Sanders also began to rise in the polls in Iowa and nationally. While that was going on, Clinton was being hit with repeated reports regarding her use of a private email server while Secretary of State, revelations about donations to the Clinton Foundation, and, starting in August, the very open calculations by Vice-President Biden about his Presidential intentions. Given all of that, it wasn't all that surprising that Clinton's poll numbers, and her general favorability numbers, began to fall from the heights that they were at when Clinton entered the race. Even though Clinton's campaign still had all the advantages it did before the summer, there were those who wondered if the candidate was headed for another choke as she had seen in 2008.
Last week, ahead of the first Democratic debate, Clinton got some good news in the form of poll numbers that seemed to show her halting her decline in the polls. In the debate itself, Clinton seemed to perform quite well and dispelled many of the arguments that others had made for why Vice-President Biden might enter the race. Now, we have a series of new polls that show Clinton getting a significant bump from the debate. The first signs came yesterday in a pair of polls from CNN/ORC and Monmouth University. In the CNN poll, Clinton got a slight bump up to 48%, with Bernie Sanders at 29% and Vice-President Biden at 18%, giving Clinton a sixteen point advantage over Sanders and a thirty point advantage over Biden. In the Monmouth University poll, Clinton is also at 48%, but Sanders is down at 21% and Biden at 17%, giving Clinton a twenty-seven point lead over Sanders and a 31 point lead over Biden. In their own ways, both polls seemed to show that Clinton had accomplished a lot in her debate performance and was in a far better position than she had been beforehand.
Today, Clinton got even more good news.
First up, the new NBC News/Wall Street Journal poll has Clinton leading Sanders by twenty points and Biden by thirty-four points:
Hillary Clinton has widened her lead in the Democratic primary race after a strong performance in the party's first televised debate, a new Wall Street Journal/NBC News poll finds.

The poll offered little encouragement for Vice President Joe Biden as he wrestles with whether to enter the contest. For all the respect the vice president enjoys within his party, just 30% of Democratic primary voters said they would like to see him run for the presidential nomination, with 38% saying he shouldn't run.

The survey, conducted Oct. 15-18, found Mrs. Clinton leading the primary field with 49% support, compared with 29% for Sen. Bernie Sanders, and 15% for Mr. Biden.

Without the vice president on the ballot, Mrs. Clinton's lead over Mr. Sanders opened to 58% to 33%—a margin 10 percentage points wider than in a Journal/NBC News poll taken in late September, before the Oct. 13 Democratic debate.

Mrs. Clinton was the only Democratic candidate whose standing improved significantly in the post-debate poll. Support for Mr. Sanders dropped 6 percentage points, from 35% in September, on a ballot that included Mr. Biden, and it fell by about the same amount without Mr. Biden in the race.

The widely watched debate had little impact on the three lesser-known candidates, who had hoped for a boost from the national exposure.

(emphasis added)
Then, we got a new poll from ABC News and The Washington Post that puts Clinton back above 50% for the first time in awhile and seemingly insurmountable leads over both Sanders and Biden:
Aided by her performance in the first Democratic debate, Hillary Rodham Clinton has regained much of the ground she lost during a summer of controversy and holds a dominating lead nationally over Sen. Bernie Sanders (I-Vt.) in the contest for her party's presidential nomination, according to anew Washington Post-ABC News poll.

Vice President Biden, who has yet to announce whether he will join the Democratic race in the coming days or weeks, runs third amid signs of slippage over the past month. If he were to decide not to run, the poll indicates that much of his current support would go to Clinton rather than Sanders.

By a margin of better than 2-to-1, Democrats and Democratic-leaning independents rated Clinton over Sanders as the winner of last week's debate in Las Vegas. The debate was the first of three events this month that are seen as important tests for Clinton, whose candidacy has been hurt by questions about the security of the private e-mail server and account she used while serving as secretary of state.

On Thursday, Clinton will testify before the House committee that is investigating the attacks in Benghazi, Libya, on Sept. 11 and 12, 2012, which led to the deaths of four Americans. Then, on Saturday, she will join other Democratic presidential candidates at the Jefferson Jackson Dinner in Iowa, a quadrennial testing ground that eight years ago provided a significant boost to then-Sen. Barack Obama's candidacy.

Clinton currently leads the Democratic race with the support of 54 percent of registered Democrats and Democratic-leaning independents. That compares with 42 percent in September, by far her lowest level of support over the past two years, and 63 percent in July.

Sanders runs second at 23 percent, almost identical to his September number. The senator from Vermont, who has tapped energy among those in the progressive wing of the Democratic Party, saw his support rise steadily through the spring and summer. The latest results mark the first time that his support has not moved from one month to the next.

Biden's possible candidacy draws the support of 16 percent of Democrats, halting a rise to 21 percent in September. That puts him back about where he was when speculation about a possible candidacy began to ramp up in midsummer.

Without Biden in the field, Clinton's support jumps 10 points to 64 percent among Democratic-leaning voters. Sanders picks up just 2 points to 25 percent.

None of the other candidates included in the poll — former Maryland governor Martin O'Malley, former senator Jim Webb of Virginia or former Rhode Island senator and governor Lincoln Chafee — registered more than 2 percent.

(emphasis added)
In the RealClearPolitics national average, Clinton is now at 47.0%, giving her a 21.6 point lead over Sanders, who is at 25.4%, and a 29.7 point over Biden who's at 17.3%. In the Pollster average of all polling other than Internet-based polls, which includes a larger universe of polls than RealClearPolitics, Clinton leads Sanders by just over twenty-two points and Biden by more than thirty points. The real story of what has happened in the national Democratic polls, though, can be seen in the charts, such as this from RealClearPolitics:

And this chart from Pollster: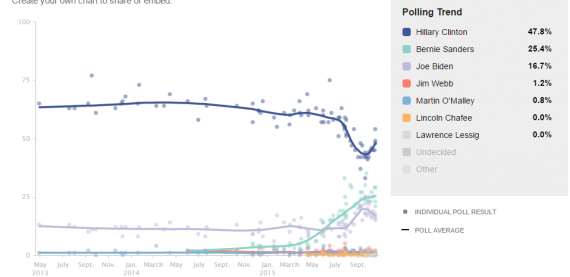 In both poll averages, we can clearly see that Clinton seems to have stopped the decline that was plaguing her campaign over the summer, and even begun to reverse it. To some degree, this can attributed to this plethora of post-debate polls that contain very good news for her, but the truth is that it now appears that the decline had halted several weeks ago. Whatever the case, though, it certainly throws the Democratic race in a new light. Instead of the story of a well-funded and well-organized campaign by a seasoned candidate that was seemingly hitting the skids, and a Vice-President apparently plotting behind the scenes to possibly get into the race, we now seem to clearly see the race returning to the status quo it was at before Sanders began chipping away at Clinton's lead and negative stories began hurting the campaign. Additionally, it's notable that Vice-President Biden's numbers have been basically flat, and that most polling now shows that Clinton would benefit significantly if the Vice-President ultimately decides to stay out of the race. If Biden does get in the race, and we still don't know the answer to that question, it's probable that these numbers will be upset again but the fact that this polling doesn't really show a longing for Biden to get into the race and that Clinton seems to be recovering from a bad summer suggests that there wouldn't be as much momentum to a Biden bid as some observers might think.