Hillary Clinton And Bernie Sanders Clash In First One-On-One Debate
With the Vermont Senator holding a seemingly insurmountable lead in New Hampshire, Bernie Sanders and HIllary Clinton clashed last night in their most contentious debate yet.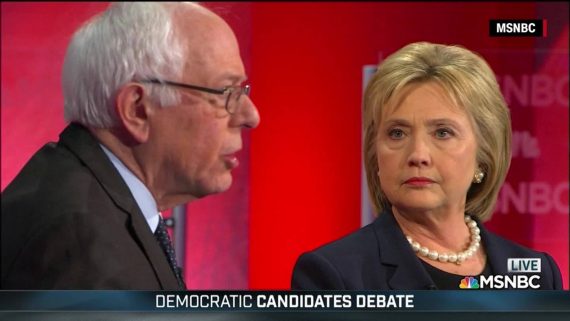 With the race for the Democratic nomination now officially down to the only two serious contenders that have ever really been in the race, last night's debate in New Hampshire between Hillary Clinton and Bernie Sanders proved to be quite contentious, with the two candidates essentially battling over which one of them was the true "progressive," and over Clinton's ties to Wall Street and her past votes in favor of the Iraq War:
DURHAM, N.H. — In a caustic debate on Thursday night, Hillary Clinton accused Senator Bernie Sanders of leveling "attacks by insinuation and innuendo" against her integrity and her credentials as a progressive by portraying her as beholden to wealthy interests and corporations.

Mrs. Clinton, lobbing her harshest assault yet in their race for the Democratic presidential nomination, said months of criticism by Mr. Sanders over her taking speaking fees from Wall Street banks amounted to a suggestion that she was corrupt — or, as she put it, a "very artful smear." It was the sort of cutting remark she usually reserves for Republicans, and it drew boos from many in the audience at the University of New Hampshire.

"There is this attack that he is putting out, which really comes down to, anybody who took donations or speaking fees from any interest group has to be bought," she said. "And I just absolutely reject that, senator. And I really don't think these attacks by insinuation and innuendo are worthy of you. Enough is enough. If you've got something to say, say it directly."

Mr. Sanders, who largely kept his cool in the debate, ignored the broadside and instead reiterated his familiar critique that a "super PAC" supporting Mrs. Clinton is funded in part by banks.

"There is a reason why these people are putting huge amounts of money into our political system," Mr. Sanders said. "It is undermining American democracy and it is allowing Congress to represent wealthy campaign contributors and not the working families of this country."

The ferocity of Mrs. Clinton's remarks in the debate was risky, given that many voters, including some Democrats, already have an unfavorable opinion of her. She is also running far behind Mr. Sanders in the polls leading up to Tuesday's primary in New Hampshire, and her attacks — while geared toward undercutting his popularity here — might backfire with some undecided voters who have positive feelings about Mr. Sanders.

Mrs. Clinton, appearing tense and even angry at times, was particularly sensitive about receiving millions of dollars in speaking fees, including $675,000 for three speeches from Goldman Sachs. She downplayed her turn on the lecture circuit, noting that she had also addressed other groups such as the American Camping Association and that the banks merely wanted to hear her views on world affairs.

But she did acknowledge that she had not "done the job I should in explaining my record" about financial regulation, suggesting that is why she had been unable to beat back questions about her speaking fees. Yet when asked if she would release all the transcripts of her speeches to banks, she hedged.

"I will look into it," she said. "I don't know the status, but I will certainly look into it."

From its opening moments, the debate devolved into a series of searing exchanges over one overarching theme: which of the two Democrats was the most progressive, an issue that they have been fighting over in recent days as they compete in New Hampshire. On one level, the debate was over semantics: The candidates share a similar worldview about aggressive government support for universal health care, public education and aid to the poor, and both of them used the word "rigged" to describe the American economy.

But they kept putting their own personal spin on the word "progressive," with Mrs. Clinton deriding Mr. Sanders as the "self-proclaimed gatekeeper for progressivism" and accusing him of judging her unfairly. Rebutting Mr. Sanders's claim that she is a political moderate, Mrs. Clinton sought to align herself with some of the most popular names in Democratic politics to suggest that Mr. Sanders was impugning them, not just her, with what she described as a purity test.

"The root of that word, progressive, is progress, but I've heard Senator Sanders's comments and it's really caused me to wonder who's left in the progressive wing of the Democratic Party," Mrs. Clinton said. "Under his definition, President Obama is not progressive because he took donations from Wall Street."

Mr. Sanders, asked if President Obama was a progressive, at first did not answer the question, instead bringing up a comment by Mrs. Clinton when she called herself a moderate. But he ultimately took on the question. "Do I think President Obama is a progressive? Yeah, I do," Mr. Sanders said. "I disagree with him on a number of issues, including the trade agreement, but, yes, I think he has done an excellent job."

Mrs. Clinton, who is leading in national polls and narrowly won the Iowa caucuses on Monday, departed from the approach she used at Democratic forums late last year when she largely ignored Mr. Sanders and focused her fire on Republicans. On Thursday, though, there was only a fleeting mention of Donald J. Trump as she went after Mr. Sanders with an intensity that reflected a nomination fight worthy of the name.

She portrayed herself as a veteran of the country's political wars who is better equipped to enact a progressive agenda than her more uncompromising rival. It was not a message likely to resonate among Mr. Sanders's idealistic young legions in New Hampshire, but it presaged the one she is likely to carry when the primary moves to Nevada and South Carolina, more moderate states, later this month.

(…)

While their disagreements were more muted, the two also clashed over foreign policy. And, once again, it was Mrs. Clinton going on the offensive. She suggested the senator was naïve for wanting to insert Iranian troops into Syria and suggested he would be too hasty to normalize relations with the government of Iran.

"You are voting for both a president and a commander in chief," she said, speaking directly to voters.

Mr. Sanders responded by invoking her 2002 vote to authorize the Iraq war to question her judgment and recalled that, in the 2008 Democratic primary, she had called Mr. Obama naïve "because he thought it was a good idea to talk to our enemies."

Mrs. Clinton, asked if Mr. Sanders could win the general election, said she had "great respect" for the Sanders campaign but believed he would "face the most withering onslaught from Republicans." She then tacitly suggested that Mr. Sanders's left-wing views would not be popular in some states in November.

"It will put the nominee into the spotlight," she said. "I've been vetted. There's hardly anything you don't know about me."

Mrs. Clinton said she was "100 percent confident" that she did not face any legal threat from the federal investigations into her use of a private email server as secretary of state. Mr. Sanders, in turn, said he would stand by his past pledges not to politicize the issue.
The Washington Post's summary of the night is largely similar:
DURHAM, N.H. — Hillary Clinton and Bernie Sanders, meeting Thursday night for their last debate before the New Hampshire primary, squared off fiercely on the question of whether the party should strive toward its liberal aspirations or set its sights on the achievable.

The dynamic between the two contenders for the Democratic presidential nomination was far more intense — and far more personal — than it has been in their previous face-offs. That reflected how close their race has become in the wake of a virtual tie in Monday's Iowa caucuses. The debate was sponsored by MSNBC and the New Hampshire Union Leader.

Clinton used her opening statement to needle the senator from Vermont, who describes himself as a democratic socialist, over what she has contended are unrealistically liberal plans for universal health care, free college and other programs.

"I'm fighting for people who cannot wait for those changes, and I'm not making promises that I cannot keep," the former secretary of state said.

Sanders replied that a number of European countries had approved single-payer health-care systems. "I do not accept the belief that the United States of America cannot do that," he said.

As they had at a town hall forum the night before, the two remaining Democratic presidential contenders also squabbled over the modern definition of the word "progressive," which has become the preferred term for the Democratic left.

"A progressive is someone who makes progress," Clinton said.

Sanders, who enjoys enormous enthusiasm among the party's liberal base, continued to make the argument that Clinton is too heavily dependent on those who have financed her campaign and made her personally wealthy. He said that he does "not only talk the talk, but walk the walk. I am very proud to be the only candidate up here that does not have a super PAC."

Clinton accused Sanders of engaging in a "very artful smear" of her character. She insisted she had never changed her position on any issue based on having received contributions from special interests.

"Senator Sanders has said he wants to run a positive campaign. I've tried to keep my disagreements over issues, as it should be. But time and time again, by innuendo, by insinuation, there is this attack that he is putting forth," Clinton said.

Defending the paid speeches she gave in the period between leaving the State Department and announcing her presidential campaign, Clinton said she may not have done a good job of explaining what she was doing.

"They wanted me to talk about the world" and how she saw threats and challenges, Clinton said of the groups that paid her fees of $200,000 and more.

Asked whether she would release transcripts of closed-door, paid speeches, Clinton replied, "I will look into it."

[Annotated transcript of the Democratic debate]

The two contenders, voices raised, argued over whose plan and ideas would more effectively police Wall Street and the larger financial system.

"Break them up!" Sanders thundered, referring to the nation's biggest banks.

Clinton said leading economists have judged her regulation proposals to be tougher.

But Sanders kept bringing the argument back to her ties to Wall Street. Through the end of December, the financial industry had given at least $21.4 million to support Clinton's 2016 presidential run — more than 10 percent of the $157.8 million amassed to back her bid, according to an analysis of Federal Election Commission filings by The Washington Post.

Clinton also was asked whether she could guarantee that repercussions from her use of a private email system at the State Department would not "blow up" her campaign. She said she is "100 percent confident" that an FBI security review will come to naught.

"I have absolutely no concerns about it," she said.
With the debate stage cleared of candidates who were never really serious contenders to begin with, Clinton and Sanders seemed to feel freer to attack each other more directly, and more sharply, than we've seen in the past. On Clinton's part, the renewed ferocity with which she went after Sanders was reminiscent of the style she adopted during the height of the battle against Barack Obama eight years ago. This was a contrast with the more hands-off approach she had been taking with the Senator from Vermont up until now and suggests quite strongly that her campaign both sees Sanders as more of a threat than they probably did in the past and that they realize that they need to act quickly to regain the narrative in the race lest the battle for the Democratic nomination start to mimic 2008 and drag out for most of the Spring rather than wrapping itself up sooner. Much like Clinton had trouble eight years ago countering the message and the image that Barack Obama was sending during their campaign, though, Clinton and her campaign still seem to be somewhat perplexed about how to best counter Sanders message and his attacks on Clinton's record and her ties to Wall Street. Additionally, one can see at least some similarities between Sanders' campaigns and the Obama 2008 campaign in that both candidates seem to have hit a nerve with younger voters and progressive Democrats, who have enthusiastically rallied around their candidate, in this case even though every bit of campaign logic would tell you that Bernie Sanders is not the kind of candidate who can win a General Election.
Looking at the polls, it's easy to see why the Clinton campaign is likely getting concerned that the Sanders campaign may evolve into something that will force them to relive the 2008 battle for delegates that didn't end until the very last contest in June. The immediate focus of the debate, though, was the primary next week in New Hampshire, which Clinton continues to face a seemingly insurmountable Sanders lead with only a few more days of campaigning left. A new CNN/ORC poll, for example, shows Sanders leading Clinton by a two-to-one margin 60% to 31%, while a new poll from NBC News and Marist College shows Sanders with a slightly smaller twenty point lead at 58% to 38%. Sanders' lead is somewhat smaller in the two New Hampshire tracking polls, but still quite substantial. The ARG tracking poll puts the race at 54% to 38% in favor of Sanders, while the UMass Lowell poll has the race at Sanders 55% Clinton 40%. All of this gives Sanders an average 20.5 point lead according to RealClearPolitics, a number that suggests that while Clinton may be able to close the gap between now and Tuesday it seems unlikely that she'll be able to pull of a win absent massive movement in the polls. For what it's worth, last night's debate does not seem as though it will move the needle very much at all. On top of all of that, Quinnipiac is out with a new poll that puts Sanders within two points of Clinton nationally, a significant dent in Clinton's lead in national polling. Clearly, to the extent there has been momentum coming out of Iowa, it's all been toward Sanders.
If Sanders wins in New Hampshire as expected, then the Clinton campaign is likely to be thrown back on its heels even more than it already has been and the first task for the team will be to look for wins that can push back against the narrative of a campaign in crises. Fortunately for Clinton, the next two contests are in Nevada and South Carolina, where polling shows her in a comfortable lead, although its worth noting that polling in both states has been minimal at best and neither state has been polled since the results in Iowa so it's unclear what impact the events of the past week or so has had on the race in those states. If Clinton can hold on to her strong leads there, though, she should be able to right the ship fairly quickly. The question at that point is how well Sanders will be able to compete in multiple states at one time. Based on his fundraising, he seems to have the resources to at least mount a credible campaign, but it's unclear if he has any real ground operation to speak of in the states that will be the focus of the nation when March rolls around. Whether he does or not, though, at the very least it's clear that Sanders is giving Clinton a far sharper, harder battle than she probably thought she'd face.