Hillary Clinton Trounces Sanders In South Carolina
Hillary Clinton crushed Bernie Sander last night in South Carolina, pushing the race further down the path that leads to an inevitable outcome.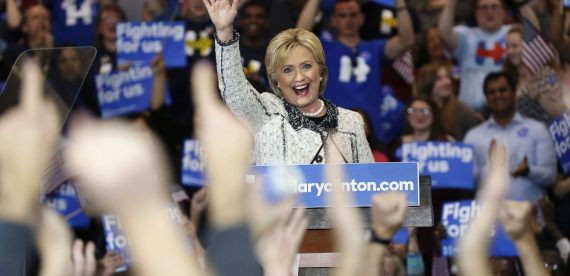 As expected for some time now, Hillary Clinton not only beat Bernie Sanders in South Carolina yesterday, she absolutely decimated him:
COLUMBIA, S.C. — Drawing overwhelming support from the African-American voters who deserted her here eight years ago, Hillary Clintonwon her first resounding victory of the 2016 campaign in South Carolina on Saturday, delivering a blow to Senator Bernie Sanders of Vermont as their fight turns to the 11 states where Democrats vote on Tuesday.

After supporting Barack Obama in 2008, black voters, who will be the dominant force in the coming Southern primaries, turned out in droves for Mrs. Clinton here. They chose her over Mr. Sanders by more than six to one, while white voters narrowly favored her as well, according to exit polls.

The rout was both politically and psychologically meaningful for Mrs. Clinton and her allies, who have been waiting for a moment that validated her candidacy with the level of unqualified intensity that South Carolina delivered. The huge margin of victory — she won nearly 74 percent of the vote — will extend her lead over Mr. Sanders in delegates needed to clinch the Democratic nomination. But the results also helped her extinguish any doubts about her ability to win big with Democrats and about her broad appeal among minority voters, who will be decisive in many delegate-rich primaries in March.

Mr. Sanders vowed to fight on, expressing confidence Saturday night that he would notch some victories and win delegates on Tuesday. But Mrs. Clinton and her supporters were elated, describing South Carolina as a turning point in the campaign.

"We, tonight, have started Hillary Clinton on her way to the White House," said Representative James E. Clyburn, the state's most powerful black Democrat, as he introduced Mrs. Clinton at a victory rally here.

Taking the stage at the University of South Carolina to cheers of "Madam President," Mrs. Clinton promised to continue courting voters aggressively in the coming weeks, but she also began looking past Mr. Sanders to the leading Republican candidate, Donald J. Trump.

"Tomorrow, this campaign goes national!" Mrs. Clinton said as she dedicated her victory to parents, teachers and "the entrepreneur who told me more dreams die in the parking lots of banks than anywhere else," particularly among women and minorities.

Without mentioning Mr. Trump by name, Mrs. Clinton repeated a biblical anecdote from I Corinthians and said the country needed more "love and kindness." (Mr. Trump botched a reference to II Corinthians last month.)

"Despite what you hear, we don't need to make America great again," Mrs. Clinton said to raucous applause as she took aim at Mr. Trump's slogan. "America has never stopped being great."

Mr. Sanders, speaking at a rally on Saturday night in Minnesota, which he hopes to win on Tuesday, spent less time criticizing Mrs. Clinton than reciting his familiar themes decrying Wall Street greed and calling for a $15 minimum wage. At times he sounded more like a passionate spokesman for a series of liberal causes than a ferocious competitor determined to defeat Mrs. Clinton in the next round of voting.

"What this campaign is about — and it's not easy — is trying to force discussion on issues that Congress chooses not to talk about and the media chooses not to talk about," Mr. Sanders said, citing seniors and veterans who are struggling to live on minimal Social Security payments.

Among Mr. Sanders's allies and even some of her own, the scope of Mrs. Clinton's victory here was startling. She did it by assiduously cultivating the support of black voters, not least by showing her devotion to President Obama and by promising to build on his legacy. She capped off months of campaigning here with stops on Friday at a popular soul food restaurant and bakery in Charleston and a rally at a historically black college in Orangeburg, alongside black surrogates including the TV personality Star Jones and Mr. Clyburn.

"I don't think President Obama gets the credit he deserves for digging us out of the ditch Republicans put us in," Mrs. Clinton said, a line she often used in South Carolina, where Mr. Obama defeated her by 29 points in 2008.

This time it was Mrs. Clinton who emerged from the first southern primary with a clearer path to the nomination. With 99 percent of the vote counted, Mrs. Clinton won 73.5 percent, to 26 percent for Mr. Sanders. Turnout was about 370,000, according to Edison Research — modest compared with the 532,000 ballots cast in the Clinton-Obama primary race here in 2008, and well below the record 743,000 votes cast in South Carolina's Republican primary last Saturday, which Mr. Trump won.

Mrs. Clinton was expected to win 39 of South Carolina's delegates to Mr. Sanders's 14. If she continues to accumulate delegates by such a sizable margin, as many Democrats expect, it will be hard for Mr. Sanders to catch up. Going into the South Carolina primary, Mrs. Clinton had 52 pledged delegates to 51 for Mr. Sanders. Pledged delegates are awarded proportionally in state primaries and caucuses.

Under party rules, most delegates are awarded proportionally to Mrs. Clinton and Mr. Sanders based on their shares of the vote in congressional districts. The most Democratic-leaning districts are accorded the most delegates; in many places these are majority black and Hispanic districts, and Mrs. Clinton is far more popular with those voters than is Mr. Sanders.

"Support from African-Americans is going to be the key for Secretary Clinton across the South, and South Carolina is a good indication of that," said former Gov. Richard Riley, who was the secretary of education under President Bill Clinton and is a supporter of Mrs. Clinton.

Mrs. Clinton's strong support among black voters will serve as the biggest roadblock to Mr. Sanders's chances for a surge in the weeks ahead. Clinton advisers believe she will trounce Mr. Sanders in Alabama, Arkansas, Georgia, Tennessee, Texas and Virginia, which have contests on Tuesday, and, in doing so, move even further ahead of him in their race to capture the 2,383 delegates needed for the Democratic nomination. About 880 Democratic delegates are at stake on Tuesday, the largest number on any single day during the primary season.

Mrs. Clinton also has backing from 453 superdelegates — party officials whose support counts toward the nomination — while Mr. Sanders has support from 20. Superdelegates can switch candidates at any time, and their support does not become official until the Democratic convention in July.

Mrs. Clinton edged ahead of Mr. Sanders among white voters, although he prevailed with white men, according to exit polls by Edison Research. Mrs. Clinton lost among white voters in the last two states, New Hampshire and Nevada, but South Carolina allies like former Gov. Jim Hodges had said they were confident that her message about creating economic opportunities would appeal to white voters even though it was often targeted to black voters.

But in interviews last week, several white Democrats were sharply critical of Mrs. Clinton and said they did not trust her, chiefly because of her use of a private email account and the American deaths in Benghazi, Libya, when she was secretary of state. While exit polls showed Mrs. Clinton and Mr. Sanders running evenly among voters who valued honesty and trustworthiness more than any other candidate qualities, some Clinton allies are deeply concerned that she could struggle with white men in the general election, and Republicans like Mr. Trump have made clear that they intend to sweep white Americans.

Mr. Sanders had tried to make inroads among African-American voters, including highlighting a grainy black-and-white photo published in The Chicago Tribune that showed a young Mr. Sanders being arrested in Chicago in 1963 while protesting segregation.

In a radio ad that aired here, the director Spike Lee urged the state's black voters to "Do the right thing!" and elect Mr. Sanders. "Bernie takes no money from corporations. Nada. Which means he is not on the take," the director said, a jab at Mrs. Clinton's paid speeches and perceived ties to Wall Street.

But in the end, Mr. Sanders's populist message proved no match for Mrs. Clinton's strategy of embracing President Obama. Both she and Mr. Clinton heaped praise on the president during their recent stops in the state, in jarring contrast to the South Carolina primary eight years ago. In that race, Mr. Clinton infuriated African-Americans here by lashing out at the Obama campaign and comparing Mr. Obama's success to the victories here by the Rev. Jesse L. Jackson in the 1984 and 1988 primaries. Many Democrats, especially black voters, viewed those comparisons as diminishing to Mr. Obama.
More from The Washington Post:
COLUMBIA, S.C. — Hillary Clinton easily defeated her rival, Sen. Bernie Sanders, in the Democratic primary here Saturday, the first broad test of whether the strong challenge from Clinton's political left has eroded crucial support among African American voters.

With the victory in South Carolina, Clinton can claim a powerful advantage among black voters who could determine the outcome in a half-dozen Southern states that vote next.

For Clinton, this was the first comfortable victory of a Democratic primary season that just a year ago was supposed to be comfortable from end to end, with Clinton waltzing through as a front-runner.

Instead, Sanders — the senator from Vermont who calls himself a democratic socialist and has electrified young voters and white liberals — beat Clinton handily in New Hampshire and came unexpectedly close to beating her in Iowa and Nevada.

The victory in South Carolina will give Clinton momentum as the contest heads toward Super Tuesday, where she and Sanders will compete in 11 states.

A slightly hoarse Clinton came out to cheers of "Hillary! Hillary!" in a room full of jubilant supporters in Columbia.

"Today, you sent a message: In America, when we stand together, there is no barrier too big to break," Clinton said. Acknowledging that South Carolina was the end of the one-state-at-a-time early phase of this campaign, she exclaimed: "Tomorrow, this campaign goes national!"

Exit polls reported by ABC News showed that Clinton's advantage with black voters was, indeed, decisive: Black voters accounted for about 6 in 10 of Saturday's Democratic electorate, and an overwhelming 8 in 10 of those black voters supported Clinton.

That would set a record. The previous record was 55 percent, set in 2008 as then-Sen. Barack Obama campaigned — against Clinton herself — to become his party's first African American nominee.

Minutes after the polls closed, Clinton changed her Twitter profile picture to a poster-style drawing of her with the words "Thank You South Carolina."

Sanders was in the air when the race was called for Clinton, flying from one campaign stop in Texas to another in Minnesota.

"In politics, on a given night, sometimes you win, sometimes you lose. Tonight we lost," Sanders told reporters after getting off his chartered jet in Rochester, Minn., where he was staging an evening rally. "I congratulate Secretary Clinton on her very strong victory. Tuesday, over 800 delegates are at stake, and we intend to win many, many of them."

(…)

Sanders could not make much headway against Clinton's long ties and enduring loyalty among many black voters here. He had hoped to do well enough to claim he had dented Clinton's "firewall" of Southern states, which Clinton allies have claimed would put an end to Sanders's early momentum from liberal, majority-white states.

But unlike in Iowa, New Hampshire and Nevada, Clinton's once-impressive double-digit lead over Sanders never faltered much in South Carolina. With nearly all precincts reporting, Clinton was beating him by nearly 50 percentage points — by far the largest margin for any victory so far this year.

Clinton sent surrogates including Rep. James E. Clyburn (D-S.C.) — the top-ranking black Democrat in the House — to polling places to make one last pitch. In many places, it seemed that the voters didn't need it: Black voters, especially, praised her long experience in Washington.

"We've made a lot of progress in the last eight years, and Hillary is the best person out there to continue the progress," said Al Tucker, a 67-year-old African American in Columbia, the state capital. "You look at South Carolina, and we're at the bottom in anything you can think of: education, poverty. I think Hillary would be good because she's going to look out for us."

A majority of black voters this time said they saw Clinton as trustworthy and honest — a marked change from New Hampshire, where she lost badly amid voter concerns about her honesty.

The same exit polls showed that Sanders had vastly beaten Clinton among white voters younger than 45, but there were many fewer of these voters in the South Carolina primary than in other early states. Additionally, according to ABC News, Clinton dominated in a demographic that Sanders had hoped to win in this state: black voters younger than 45. Clinton won that group by 3 to 1. Clinton won by a narrow margin whites who were 45 and older, and she won nearly all of the vote among blacks 45 and older, according to ABC News.
Clinton's win last night was, of course, not unexpected as she had held on to a massive lead in the polls in the Palmetto State for months now thanks in large part to her seemingly insurmountable firewall of support from the African-American community. Indeed, Clinton's victory had been called by every major news outlet within one minute of the polls closing last night, and the only real question left was how big that victory would be, an answer that could say a lot about what may happen across the South on Super Tuesday, which is now just 48 hours away. As it turned out, Clinton out performed all of the recent polls, and my own projection, and beaten Sanders by more than forty percent, a margin anticipated by only one poll prior to Election Day, a poll released by Clemson University late last week. To a large degree, this margin is attributable to the fact that Clinton easily won virtually every demographic group among the voters as a whole and, more importantly, overwhelmingly won among the most important demographic groups in South Carolina, and in many of the Super Tuesday states going forward, African-Americans. Most importantly, she won this demographic at every single level — men, women, older voters, younger voters, as well as every level of income and education. Sanders, meanwhile, continued to be rejected by African-American voters despite the outreach efforts that his campaign had made in recent weeks, a fact that does not bode well for his campaign going forward. Of course, Clinton's claim to fame among African-Americans goes back some twenty years to her husband's time in office while Sanders, as a Senator from Vermont, has never had a need to have much of a history of any kind with African-Americans, and a few weeks of outreach isn't going to make up for decades of a relationship that has created a real sense of loyalty among voters that led to the numbers we saw at the end of the night.
Clinton's decisive win in South Carolina is important because, like her narrower win last Saturday in Nevada, it seemingly puts an end to the momentum that Bernie Sanders had been building up since the beginning of this year, and sets the race on a course that makes her ultimately victory largely inevitable. To a large degree, of course, Sanders' early success was due in no small part to the fact that the states in which he has done well in so far are in many respects unrepresentative of the nation as a whole, and, perhaps most representative of the Democratic Party coalition that will ultimately choose the party's next nominee. Most importantly, of course, Sanders' win in New Hampshire and his near-win in Iowa masked the weaknesses among African-American and other minority groups that are likely to hurt him now that the race is headed into the southern and other states that will be in the forefront for Super Tuesday and beyond. For example, on Tuesday Sanders and Clinton will be competing in states such as Arkansas, Georgia, Tennessee, Texas, and Virginia, all of whom have substantial African-American populations. Assuming Clinton does as well there among this group as she did in South Carolina, she should win those states easily. Of the remaining states on the dock for Tuesday, Sanders is only expected to do well in Vermont, which Clinton has essentially conceded to Sanders, and possibly Minnesota, Massachusetts, and Oklahoma. By the end of the night on Tuesday it's probable that Clinton will have won in the majority of these states and that, more importantly. she will walk away with the majority of the delegates that will be up for grabs Tuesday night. At that point, it will become increasingly likely that Sanders' path to victory will be all but completely foreclosed. Clinton didn't completely get there last night, but she got one step closer and Bernie Sanders would, it seems, be well advised to acknowledge that his quixotic campaign is coming near its end.