Third Democratic Debate Establishes That The Democratic Nomination Fight Is Over
If you were looking for evidence that the race for the Democratic nomination is basically over, you need look no further than last night's Democratic Debate.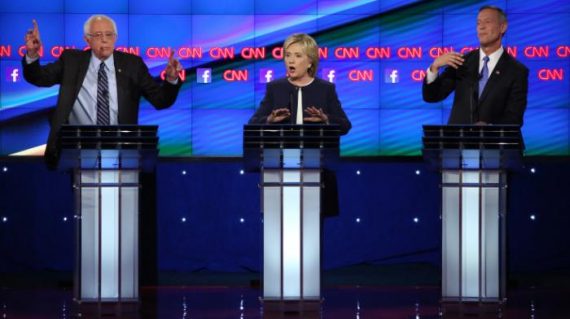 Given the fact that it was the last Saturday before Christmas, that many Americans were apparently at the movie theater, and that there was an N.F.L. game between the New York Jets and Dallas Cowboys that actually had playoff implications for both teams, it may come as news to some people that there was a Democratic Presidential Debate last night. As it turned out, though, it doesn't appear that those who didn't watch really missed much of anything at all. Former Maryland Governor Martin O'Malley continued to be a non-entity, Vermont Senator Bernie Sanders continued to run a campaign that is seemingly deliberately failing to hit on the party front-runner very hard, and Hillary Clinton seemed to spend more time taking aim at Republicans than either of the men running against her:
Hillary Clinton largely looked past her Democratic rivals in Saturday night's debate, instead repeatedly assailing the Republican field, led by Donald J. Trump. She called Mr. Trump a threat to the nation's safety, saying he was fast "becoming ISIS' best recruiter."

Deflecting persistent attacks from Senator Bernie Sanders of Vermont and former Gov. Martin O'Malley of Maryland over gun control, Wall Street and foreign military entanglements, she accused Mr. Trump of undermining the fight against terrorism.

Mrs. Clinton, the former secretary of state, sought to frame next year's election as a choice between her cleareyed approach to national security and the recklessness of Republicans who have demonized Muslims since the recent attacks on Paris and San Bernardino, Calif.

"I worry greatly that the rhetoric coming from the Republicans, particularly Donald Trump, is sending a message to Muslims here in the United States, and literally around the world, that there is a clash of civilizations," she said, "that there is some kind of Western plot or even war against Islam, which then, I believe, fans the flames of radicalization."

Mrs. Clinton defended herself forcefully when she came under assault from Mr. Sanders and Mr. O'Malley.

But from her opening statement on, she took every opportunity — and even created some — to ignore her adversaries onstage and go after what she suggested was the true opposition.

Her above-the-fray posture in the debate, held at St. Anselm College in Goffstown, N.H., signaled Mrs. Clinton's confidence, just weeks before the first votes in Iowa, that neither of her Democratic rivals would prove a significant obstacle on her march to the nomination.

"Bringing Donald Trump back into it," she said at one point, "you don't want to alienate the very countries and people you need to be part of the coalition" — referring to the Muslim nations that would be sought as military allies in fighting the Islamic State, also known as ISIS or ISIL.

Mr. Sanders and Mr. O'Malley both did their best to anger Mrs. Clinton. Mr. O'Malley claimed that she changed her views on guns "every election year," and Mr. Sanders reminded viewers of her 2002 vote to authorize the use of force in Iraq.

"Our differences are fairly deep on this issue; we disagreed on the war in Iraq," Mr. Sanders said, accusing Mrs. Clinton of being overly hawkish in embroiling the United States in overseas conflicts. "Secretary Clinton is too much into regime change and a little bit too aggressive without knowing what the unintended consequences might be."

Mrs. Clinton criticized Mr. Sanders for his previous opposition to bills backed by supporters of gun control, but was at her fiercest after he challenged her on national security.

"With all due respect, senator, you voted for regime change with respect to Libya," she said, before mentioning the former Libyan dictator, Col. Muammar el-Qaddafi. "You joined the Senate in voting to get rid of Qaddafi, and you asked that there be a Security Council validation of that with a resolution."

Both her rivals argued that the United States needed to fight the Islamic State, but not necessarily to depose President Bashar al-Assad of Syria.

"It is not Assad who is attacking the United States," Mr. Sanders said.

Mr. O'Malley agreed. "We shouldn't be the ones declaring Assad must go," he said. "We have a role to play, but it is not the role of traveling the world looking for new monsters to destroy."

Mrs. Clinton all but accused her rivals of naïveté. "I think it's fair to say Assad has killed, by last count, about 250,000 Syrians," she said, adding that she had wanted to arm the moderate Syrian opposition years ago to avoid the creation of a dangerous power vacuum. "I wish it could be either-or," she said.

Mr. O'Malley, who has been lagging badly behind both of his rivals, proved an irritant to Mr. Sanders and Mrs. Clinton. He faulted them both for being insufficiently courageous on gun control and made a point of noting his relative youth next to Mr. Sanders, 74, and Mrs. Clinton, 68.

"May I offer a different generation's perspective on this?" Mr. O'Malley, 52, interjected at one point.

Later, in an exchange about assault weapons, he said, "ISIL training videos are telling lone wolves the easiest way to buy a combat assault weapon in America is at a gun show, and it's because of the flip-flopping political approach of Washington that both of my two colleagues on the stage have represented there for the last 40 years."

Mrs. Clinton has spent much of this year repositioning herself to appeal to her party's progressive base, but she bypassed the best chance she had Saturday to embrace the sort of populism that is Mr. Sanders's calling card.

When she was asked, "Should corporate America love Hillary Clinton?" — a reference to a magazine article during her 2008 presidential campaign — she spread her arms.

"Everybody should," she said, grinning. "I have said I want to be the president for the struggling, the striving and the successful." She spoke at length about wanting to strengthen the economy and offered praise for responsible employers, noting that her father had been a small-business man.

Mr. Sanders, finally stepping in after Mrs. Clinton was finished, was blunt about his views but only glancingly criticized her ties to corporate interests.

"They ain't going to like me," Mr. Sanders said of the business community. "And Wall Street is going to like me even less."

Mr. O'Malley did criticize Mrs. Clinton for her Wall Street connections, recalling that at the Democratic debate last month in Iowa, she defended her fund-raising from the financial industry by suggesting those donors supported her efforts to rebuild Manhattan after the Sept. 11, 2001, attacks.

Mrs. Clinton said again on Saturday that donations from Wall Street made up a small percentage of her contributions, then turned the question around by noting that Mr. O'Malley had gladly raised money from Wall Street as head of the Democratic Governors Association.

There were a few such tense moments, but the disputes were tamer than those that have become routine on the Republican debate stage, and were entirely on policy grounds.

Mrs. Clinton criticized Mr. Sanders for proposing expensive government programs without providing details of how to fund them. She estimated that his proposals to make health care and college free would require a 40 percent increase in federal spending, or $18 trillion to $20 trillion. "I think we've got to be really thoughtful about how we're going to afford what we propose," she said. "Which is why everything I propose, I explain exactly how I'm going to pay for it."

Mr. Sanders said his plans would help middle- and working-class families and likened them to Social Security and the New Deal. Pressed repeatedly on how he would pay for them, Mr. Sanders cracked a wry smile and said, "Now, this is getting to be fun."

(…)

At another point, Mr. Sanders attacked Mrs. Clinton's ties to Wall Street. But he also pointed to the policies of the presidential administration of her husband, Bill Clinton, including the dismantling of part of the 1933 Glass-Steagall Act, leading to the commingling of commercial and investment banks. "I led the effort," Mr. Sanders said, "against Alan Greenspan, against a guy named Bill Clinton — maybe you know him, maybe you don't."

But Mrs. Clinton scarcely wanted to engage her rivals, except when sharply attacked, and the three Democrats found much to agree on. Mr. Sanders and Mrs. Clinton both, for example, proposed building a coalition of Muslim countries to help fight the Islamic State.

"Tell Yemen, go to war against ISIS," Mr. Sanders said. "I would tell Qatar, instead of paying $200 billion on the World Cup, spend it on fighting ISIS, which is at your doorstep."

There were even moments when undiluted comity broke out.

Asked whether it was time for the role of the presidential spouse to be redefined, Mrs. Clinton said that her husband would not, as first gentleman, pick out the china or flowers for state dinners, but would offer advice on policy issues, particularly "how we're going to get the economy working for everybody, which he knows a little bit about."

Mr. Sanders used the question to heap praise on Mrs. Clinton, saying she "not only did an outstanding job as our first lady but redefined what that role could be."
The Washington Post's coverage emphasizes the conflict just a bit more, but even its summary makes clear that the debate was seemingly reflective of the fact that the outcome of the race for the nomination is all but officially confirmed:
MANCHESTER, N.H. — The Democratic presidential candidates presented competing visions for defeating Islamic State terrorists and clashed passionately at a debate here Saturday night over tax policy, the power and wealth of Wall Street, gun control and other domestic issues.

In a nomination contest being shaped in part by who would be the toughest champion for
middle-class Americans facing wage stagnation and growing income inequality, front-runner Hillary Clinton was put on the defensive by two challengers who portrayed her as beholden to corporate America. But Clinton pushed back effectively against both her rivals.

Saturday's two-hour debate on ABC zig-zagged from issue to issue but focused heavily on national security, coming in the wake of the recent terrorist attacks in Paris and San Bernardino, Calif.

The three Democrats sought to show strength and resolve in extinguishing the terrorist threat. Collectively, they drew a sharp contrast with the Republican field, especially front-runner Donald Trump, by saying that they would keep dangerous individuals out of the United States while ensuring that Muslim Americans do not feel marginalized.

The debate exchanges revealed few differences among the Democrats in their approaches to terrorism, though Sen. Bernie Sanders (Vt.) accused Clinton of being too quick to reach for a military solution in Syria and not mindful enough of the lessons of Iraq or Libya. He repeatedly noted that he voted against the Iraq war resolution in 2002 while Clinton, then a senator from New York, voted for it.

"Our differences are fairly deep on this," Sanders said. "I worry . . . that Secretary Clinton is too much into regime change and a little too aggressive without knowing what the consequences may be."

Clinton, a former secretary of state who once considered Libya a success story largely of her making, acknowledged the political chaos that now exists there but protested that "we did as much as we could."

Using the debate to showcase her foreign-policy credentials, Clinton said it was a "false choice" to question whether the military and diplomatic prescriptions she has proposed might lead to a wider war. She brought up the most significant policy difference between her position and those of her rivals, calling a no-fly zone both a humanitarian necessity and a diplomatic lever against Russian aggression.

All of the Democrats condemned Trump's controversial proposed ban on Muslims entering the United States. Clinton, more so than her Democratic opponents, showed that she was looking ahead to the general election by training her attention on the Republicans. She accused them repeatedly of stoking bigotry and delivered sweeping indictments of their agendas.

Clinton said Trump was becoming "ISIS's best recruiter" and that the GOP rhetoric about a "clash of civilizations" was fanning the flames of radicalization around the world.

The Democrats were careful not to criticize President Obama's handling of the Islamic State, though the third candidate, former Maryland governor Martin O'Malley, suggested that the president had been too timid.

"The president had us on the right course, but it's a lack of battle tempo," O'Malley said, echoing a regular criticism from Republicans. "We have to bring a modern way of getting things done and forcing the sharing of information and do a much better job of acting on it in order to prevent these sorts of attacks in the future."
Heading into the debate, the Democratic race for the nomination was in roughly the same state that it was in at the end of November when I declared the race to be effectively over. Hillary Clinton continues to show strong, seemingly insurmountable leads in the national polling, as well as in early states such as Iowa, South Carolina, in Florida. Things are slightly more competitive in New Hampshire, where Bernie Sanders has been doing well since the summer thanks in no small part to both the fact that he has been a long-term political figure in neighboring Vermont and to the fact that the ability of independents to vote in the Granite State's primary allows Sanders to reach to voters who might not typically vote in a Democratic Primary, although it's not clear how many of those voters would actually be inclined to turn out on Primary Day. In any case, the important point is that Sanders appeal in New Hampshire is not showing up anywhere else in the country, not even in Iowa where Clinton's summer doldrums included the sight of Sanders seemingly rising to challenge her in Iowa, thus at least for a moment presenting Clinton with the prospect of facing a real fight in the first two contests of the year. Over the past two months, though, Clinton has revived her campaign in Iowa significantly and now holds a seventeen point lead in the polling average in Iowa according to RealClearPolitics and in the Pollster average.
The debate started out with a conflict between the Sanders campaign and the DNC hanging over everyone's head, but in the end that story didn't seem to matter very much. As I noted on Friday, the Sanders campaign had found itself locked out of a shared database that the party provides to all of the Presidential campaigns when it was discovered that at least one Sanders staffer had accessed Clinton campaign data after a firewall intended to keep the campaign's access limited to their own data apparently failed. While that staffer was fired, the Sanders campaign responded to the DNC's action by alleging unfair treatment and ultimately filed a lawsuit late Friday. The dispute was resolved overnight, though, and the campaign regained access to the data. While the Clinton campaign had issued statements that strongly condemned what the Sanders staffers had done, Clinton herself refrained from aggressively addressing the issue last night. Instead, Sanders ended up apologizing for the whole matter as two more Sanders staffers were suspended. It's unclear what impact, if any, this incident may have on the race, but as some analysts have noted the story does deprive Sanders of the 'squeaky clean' image he had clothed his campaign in from the beginning.
That moment aside, the consensus seems to be that this debate will largely be inconsequential when it comes to the impact it is likely to have on the race for the Democratic nomination. Patrick Healy at The New York Times noted that the fact that the debate spent so much time focusing on national security, although not to the extent of the second debate, was a problem for Bernie Sanders since this is clearly an area where Clinton is far ahead of both of her opponents and where there don't really seem to be any areas that Sanders can take advantage of going forward. Indeed, to the extent there was any foreign policy-based attack on Clinton last night it appears to have been limited to her vote in favor of the Iraq War, which happened more than a decade ago now, and Clinton quite effectively rebutted that when she pointed out that Sanders voted in favor of the intervention in Libya in 2011 when it came up for a vote in the Senate. For the most part, though, as with past debates the Sanders-Clinton showdown that many were expecting once again failed to materialize, and probably never will:
If a face-to-face throw­down full of per­son­al at­tacks was ever in the cards, they would be on the table already. Both can­did­ates have now had a chance to go for a crush­ing per­son­al at­tack—and both not only passed, they came to their rival's aid: Sanders waived away Clin­ton's private email serv­er, Clin­ton dis­missed the Sanders cam­paign's data peek as a non­is­sue. (Yes, their cam­paigns did some snip­ing, such as this agress­ive tweet from a Sanders ad­visor. But both times when giv­en a high-pro­file stage for a face-to-face at­tack, the two played nice.)
What ac­counts for the lack of per­son­al an­im­us?

In short: Sanders can't win with per­son­al at­tacks, and Clin­ton can win without them.

For Sanders, it may be that he just can't bring him­self to use the tac­tics that re­semble those of a stand­ard cam­paign. Or it may be that he knows that many of his sup­port­ers are with him spe­cific­ally be­cause he doesn't re­semble a stand­ard cam­paign. He prom­ised not to go neg­at­ive, he swore off su­per PACs, and he has built his cam­paign around sup­port for a spe­cif­ic set of policy po­s­i­tions. If he strays too far from that, he risks los­ing the luster of ideal­ism that pulls sup­port­ers to him to be­gin with. (It's not for noth­ing that, im­me­di­ately after apo­lo­giz­ing to Clin­ton, Sanders offered a second apo­logy, this time to his sup­port­ers, telling them it was not the kind of cam­paign tac­tic he sup­por­ted.)

Sim­il­arly, Clin­ton has little to gain from at­tempt­ing to bury Sanders by un­der­cut­ting his char­ac­ter. She's still the clear fa­vor­ite to win the party's nom­in­a­tion, and after a sum­mer in which Sanders put a scare in­to her camp with some sol­id poll num­bers, she again ap­pears well on her way to a primary win. After that, she'll need sup­port from the lib­er­al base that's back­ing Sanders when she gets to the gen­er­al elec­tion. That doesn't just mean votes, it also means con­vin­cing people to vo­lun­teer, or­gan­ize, and donate with the same vig­or that they're now do­ing for Sanders. And when Clin­ton asks Sanders's fol­low­ers for their zeal­ous sup­port, she'll have a much bet­ter chance of get­ting it if she de­feats their can­did­ate without de­mon­iz­ing him.
Most broadly, I would suggest that the main reason that we were ever unlikely to see a real Clinton-Sanders fight is because neither candidate really wants it. Regardless of whatever comments he may make publicly, it's always been clear to me that Sanders was running mostly to put his ideas on domestic policy in the forefront of the debate and that the idea of winning the nomination was never really in the cards, especially since he's not really taken any steps to create the kind of national organization that would be capable of doing that. Furthermore, while Sanders not a Democrat in terms of party nomination, he clearly would prefer that Clinton win the General Election than any of the potential Republican nominees, therefore he is likely reluctant to do anything that would damage her going forward. Similarly, Clinton doesn't aggressively go after Sanders because she knows she will need his supporters come next November and attacking him doesn't really help that. In the end, I expect that what we'll see is Sanders endorsing Clinton in exchange for a prime time speaking slot at the Democratic National Convention where he'll get to put forward his progressive economic ideas to a national audience.
In the end, then, to the extent anyone actually watched last night's debate it's incredibly unlikely that it will have any real impact on a race that has seemed as though it's over for the better part of two months now.