The Race For the Democratic Nomination Is Basically Over
Barring some event that would essentially be historically unprecedented, Hillary Clinton will be the Democratic nominee for President in 2016.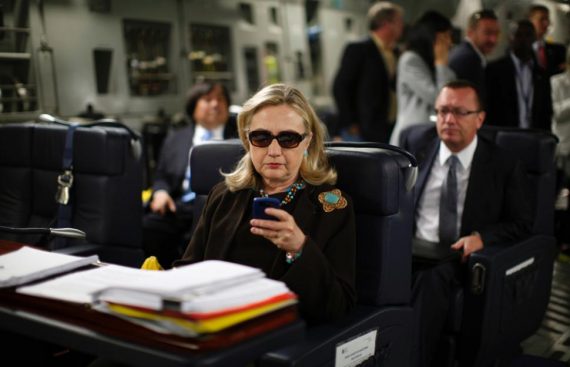 Hillary Clinton is continuing to solidify her lead over Vermont Senator Bernie Sanders, indicating rather strongly that the race for the Democratic race is entering a phase of inevitability that many observers have expected from the start:
Hillary Clinton surged to a 25-point lead over Bernie Sanders in the latest Bloomberg Politics national poll out Friday, as the former secretary of state continues to solidify her advantage among the Democratic base.

Clinton grabbed 55 percent, while Sanders took 30 percent. Former Maryland Gov. Martin O'Malley polled within the 5-point margin of error with 3 percent, while 8 percent said they were not sure and 4 percent said they were uncommitted.

Roughly six in 10 of the Democrats surveyed, however — 62 percent — said that they could still be persuaded on their choice for the nomination, while 37 percent said their mind is made up. Among Clinton supporters, 46 percent said they are set on their decision, while 54 percent said they could be persuaded. But among Sanders supporters, just 36 percent said they are decided and 64 percent could be persuaded in another direction.

Asked to answer a series of 15 questions about the candidate's qualities, those surveyed gave Clinton an advantage in 11, including on foreign policy, gun control and life experience. Voters preferred Sanders on issues related to reining in Wall Street, honesty and trustworthiness.

In the previous iteration of the survey conducted in September, Clinton picked up 33 percent to Sanders' 24 percent, while Vice President Joe Biden, who has since ruled out a presidential run, earned 25 percent.
One thing this poll seems to show, of course, is that the vast majority of the people who had been saying in previous polling that they supported Vice-President Biden notwithstanding the fact that he was not officially in the race, were more naturally inclined toward Clinton than Sanders. With Biden having taken himself out of the race, these voters seem to be accepting the inevitable and lining up behind Clinton. As I was saying at several points during the Biden speculation in August and September, it was always likely that people inclined to support Biden would be more likely to lean toward Clinton than Sanders as a second choice given the fact that Biden was more like Clinton than the Vermont Senator. This poll seems to confirm that, and to indicate that race is essentially over unless something happens to really shake the Clinton campaign to its foundations.
This can be seen in the national poll averages, where Clinton's advantages have become apparent. Over at RealClearPolitics, Clinton holds an average 23.6 point lead over Sanders, with the trend showing her heading up while Sanders loses some ground but otherwise stays relatively stable wiith an average of, at most, roughly one-third of those polled. Clinton's lead over Sanders in Iowa is an average of 24 points, which is where she was before the summer and where she returned after Biden announced he would not be entering the race. Clinton's lead in New Hampshire is smaller at an average 7.7 points, but again this reflects a significant surge on her part since October and, perhaps, the beginning of the end of Sanders regional advantage in New England. In South Carolina, there isn't even a contest since Clinton has an average lead of more than fifty-two points, which isn't entirely surprising since Sanders is not the kind of candidate that would seem to play well in the Palmetto State, not the least because he has made absolutely no headway against Clinton among African-American voters. The situation is much the same in Florida, where Clinton has an average lead of more than forty-one points. The situation looks much the same at Pollster, both nationally and in each of the individual early primary states. Unfortunately for former Maryland Governor Martin O'Malley, there is no indication at all that voters are even paying any attention to him at this point.
If nothing else, all of this would seem to indicate that Clinton's path the the Democratic nomination is basically clear, something that actually became clear after an October in which she had a successful first debate, the news that Vice-President Biden was not running, and an appearance before the House Benghazi Committee in which she pretty much decimated the Republican effort to cause her political harm. Unlike 2008, there doesn't really seem to be any obstacle in Clinton's path to victory at this point and one gets the impression that, eventually, both Senator Sanders and former Governor O'Malley will realize that continued attacks on her will only do the Democratic Party more harm than good. Barring something that would at this point be historically unprecedented, I would expect the race for the Democratic nomination to be basically over by mid-March at the latest. The Republicans, meanwhile, are likely to continue their fight well into April.
In all likelihood, absent a major change in the direction of the race, this will likely be the last real look at the 2016 Democratic horse race that I'll post. There's not really any point in spending much more time looking at a race that is, for all intents and purposes, over.