Martin O'Malley Launches Quixotic Run For The White House
Martin O'Malley is running for President for some reason.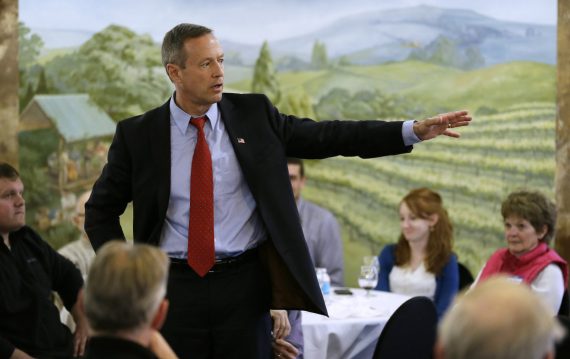 Former Maryland Governor Martin O"Malley became the latest entrant into the Presidential race today, but like most of the other recent entrants, his campaign seems to be rather obviously quixotic:
BALTIMORE — In another campaign year, Martin O'Malley's résumé and good looks might be irresistible to Democratic primary voters. He is a former big-city mayor whose story of renewal in Baltimore seemed well tailored to an increasingly urban and minority party. He is a former two-term governor of Maryland — and the lead singer and guitarist in a rock 'n' roll band.

But Mr. O'Malley is running in an election cycle in which Democratic elected officials and donors have overwhelmingly focused attention onHillary Rodham Clinton. And he already faces competition from SenatorBernie Sanders of Vermont for the support of liberals who dislike Mrs. Clinton or merely want to see her pushed further to the left.

After a two-year exploratory phase, Mr. O'Malley, 52, on Saturday began to make a case for why Democrats should bet on him instead of on Mrs. Clinton or Mr. Sanders, who has captured early enthusiasm among progressives as an authentic populist.

His argument was both economic and, in a clear contrast with his significantly older Democratic rivals, generational.

"Today, the American dream seems for so many of us to be hanging by a thread," he said in formally announcing his candidacy before hundreds of supporters under a baking sun in Federal Hill Park in Baltimore's Inner Harbor, with the towers of the city's downtown behind him.

"This is not the American dream," he added. "It does not have to be this way. This generation of Americans still has time to become great. We must save our country now. And we will do that by rebuilding the dream."

His aides say Mr. O'Malley is a true progressive, one who became involved early on the issue of same-sex marriage, and a scrappy underdog who takes to tough political fights. He staked out early ground on an immigration overhaul in 2014, accusing the Obama administration of heartlessness in deporting children who had crossed the border from Mexico.

But Mr. O'Malley was also a staunch supporter of Mrs. Clinton in her 2008 presidential campaign, and he rose to prominence as a tough-on-crime mayor in Baltimore, a city scarred by drugs and violence. In two years of travels to Iowa and New Hampshire, he has frequently been reluctant to discuss Mrs. Clinton or to draw a pointed contrast with her, doing so only obliquely — faulting unnamed politicians for "triangulation," for example, a word associated with the Clintons' up-the-middle political calculations since the 1990s.

It is also unclear whether Mr. O'Malley can aggressively raise funds without a devoted base of support, which Mr. Sanders can draw on, or a raft of major donors, which Mrs. Clinton enjoys. His aides have declined to say whether he has a single backer who would be willing to contribute millions of dollars to a "super PAC" to keep him afloat.

In his remarks on Saturday, Mr. O'Malley seemed to have made peace with that, as he portrayed the financial industry in harsh light.

"Recently the C.E.O. of Goldman Sachs let his employees know that he'd be just fine with either Bush or Clinton," Mr. O'Malley said, referring to Jeb Bush, a likely Republican candidate, and Mrs. Clinton. "I bet he would!"

"Well, I've got news for the bullies of Wall Street," Mr. O'Malley added as the crowd cheered. "The presidency is not a crown to be passed back and forth, by you, between two royal families. It is a sacred trust to be earned from the American people and exercised on behalf of the people of these United States."

Still, Mr. O'Malley faces challenges gaining traction even in his home state: Maryland's two senators, Barbara A. Mikulski and Benjamin L. Cardin, have already endorsed Mrs. Clinton.

But his team believes he fills a natural void in the Democratic primary, and Mrs. Clinton's aides acknowledge that a significant portion of the primary electorate is likely to favor someone else.

"Here you've got a clear generational divide, and a lot of Americans think about that," said Gary Hart, a former Colorado senator and Democratic presidential candidate. "They are less inclined to divide themselves in the world between 'liberals' and 'conservatives,' and more between the past and the future."

That, Mr. Hart said, would give Mr. O'Malley an advantage.
As a general rule, Gary Hart is hardly a person from whom I would take political analysis without a very large grain of salt, and in this case he couldn't be more incorrect in his perception of O'Malley's chances. To put it simply, there's absolutely no indication that Democratic voters are at all displeased with the idea of Hillary Clinton being their presumptive nominee. There are segments of the party that have backed people such as Elizabeth Warren, or who are currently backing Bernie Sanders and may back O'Malley himself, but for the most part these are not people who are opposed to the idea of Hillary Clinton being the Democratic nominee in 2016. Instead, they are by and large people who are to Clinton's political left and want to see her pushing issues such as income inequality and banking reform that she isn't necessarily emphasizing. Backing Warren, Sanders, or O'Malley himself is basically their way of trying to push the debate inside the party to the left and force Clinton to be more forceful on the issues that they care about. Given that, it seems incredibly unlikely that O'Malley's arguments are going to resonate with many Democrats other than those who want to use his candidacy for these purposes. In the end, O'Malley could only become a contender if there was a sizable segment of the Democratic electorate that was opposed to the idea of Clinton as the nominee. Since that doesn't seem to be the case, the idea that O'Malley, or anyone else for that matter is going to be anything other than a token opponent for Clinton is hard to believe.
Even if there were Democrats looking for an alternative to Clinton, O'Malley seems particularly ill-suited to be the person that they would rally around. As Dan Balz notes, there really isn't anything about O'Malley that distinguishes him from Clinton on the record, and the fact that he was a strong supporter of Clinton's campaign seems to be a pretty good indicator of that fact. Additionally, it's unclear what t is about O'Malley's record that Democratic voters would find compelling. His time as Baltimore's Mayor was also the time during which many of the worst practices of the Police Department in that city became entrenched, and he did very little about them. While he was elected twice as Maryland's Governor, that is hardly an impressive accomplishment in a state that is generally reflectively Democratic, and it becomes even less impressive when you look at his actual record, which left the state's budget a mess and was apparently so bad that his own Lieutenant Governor was unable to win election. Finally, for a two-term Governor he is, as Harry Enten notes, decidedly unpopular among the Maryland voters that would seem to know him best. Given all of this it is not surprising that O'Malley is at the bottom of the polls both nationally and in early primary states such as Iowa, New Hampshire, South Carolina, and Florida. Absent something entirely unexpected, these numbers will probably not change very much going forward.
O'Malley isn't the only person who entered the Presidential race this year. Earlier this week, former New York Governor George Pataki and former Pennsylvania Senator Rick Santorum entered the race on the Republican side, and Bernie Sanders, who had already announced his candidacy, had what I suppose passes for his first campaign rally in his native Vermont. Much like O'Malley, these candidates are also-rans who are unlikely to have any real impact on the Presidential race. We'll get some more of this next week when Rick Perry and Lindsey Graham enter the Republican race and Lincoln Chafee enters the Democratic race. Much like O'Malley, these areha all men who are unlikely to have any real impact on the race but which we will nonetheless be forced to pay attention to for some brief period of time.