Martin O'Malley To Enter Presidential Race
Maryland's former Governor will announce his candidacy for President next week. Don't expect him to go very far.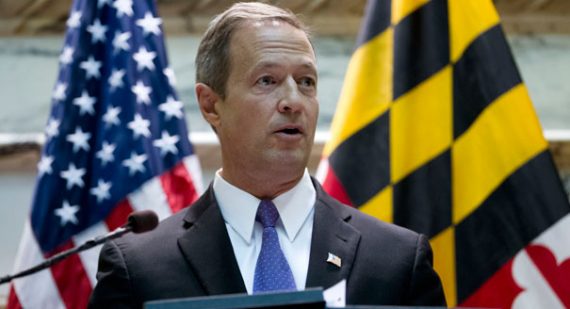 Former Maryland Governor Martin O'Malley will be getting into the race for the Democratic nomination for President shortly after Memorial Day:
Martin O'Malley's likely presidential launch will occur on the morning of May 30 in Baltimore's Federal Hill Park, the Democrat said Tuesday.

The former Maryland governor and Baltimore mayor, who is all but assured to announce a bid at the event beginning at 10 a.m., revealed his plans on Twitter and in a Snapchat video released at noon. The park, near the city's Inner Harbor, overlooks downtown Baltimore. The short video, which didn't have any audio, showed various scenes of downtown Baltimore, ending with a sign at Federal Hill Park.

The likely presidential hopeful also linked to a website advertising a "special announcement." If he enters the race, O'Malley will become the third declared Democratic candidate in a field that includes Hillary Clinton and Vermont Sen. Bernie Sanders.

O'Malley supporters view the two-term governor as the most electable liberal alternative to Clinton, the establishment front-runner. The potential candidate held an off-the-record meeting in New York City last week with about 30 progressives, telling the group that he's the most viable option for progressives who support liberal icon Elizabeth Warren, the Massachusetts senator who has said repeatedly that she won't run in 2016.

(…)

O'Malley, 52, has been the most active Democratic hopeful in the early nominating states, spending a significant amount of time in Iowa, New Hampshire and South Carolina since the 2014 election cycle. Still, he has yet to show much traction in the polls — recent national and Iowa and New Hampshire polls show O'Malley in the low single digits, behind Sanders, who announced last month, and far behind Clinton.

O'Malley's team views him as a liberal insurgent in the mold of Gary Hart, who rose from the bottom of the polls and nearly defeated establishment front-runner and then-Vice President Walter Mondale in 1984. (O'Malley worked on that campaign as a 20-year-old staffer, and Hart has said that he bought O'Malley his first legal beer when he turned 21.)
Absent some sort of bizarre and presently unforeseeable turn of events, Martin O'Malley is not going to be the Democratic nominee for President. Primarily, of course, this is because the Democratic race is currently dominated in an historically unprecedented fashion by Hillary Clinton, who presently has a massive lead over any of her actual or potential opponents in the national and early state polls. Indeed, O'Malley isn't even anywhere near the top of the polls among the Clinton challengers, Depending on which poll you look at, that title either belongs to Elizabeth Warren, who is not running for President, or Vermont Senator Bernie Sanders, who entered the race last month. In a recent Public Policy Polling poll, O'Malley showed up in last place behind Sanders, former Virginia Senator Jim Webb, and former Rhode Island Governor Lincoln Chafee. The former Maryland Governor garners simlar showings in the polls out of Iowa, New Hampshire, South Carolina, and Florida. Part of the reason for this, of course, is due to the fact that he is little known outside the Washington, D.C. area but one suspects that O'Malley's numbers won't look all that much better even after voters get to know him better.
It's possible, I suppose, that O'Malley could catch fire among the "progressive" wing of the Democratic Party that, while it won't win him the nomination, will give him more media coverage and voter support than he might have gotten otherwise. If that's going to happen for any of Clinton's opponents, though, I suspect that it would be more likely to happen to Bernie Sanders, who clearly has nothing to lose in this race, or Jim Webb, who has been making inroads with Democratic "progressives" on his own. For one thing, O'Malley's record as Governor of Maryland leaves much to be desired, a fact that seems to be aptly demonstrated by the fact that he was unable to get his own Lt. Governor elected to succeed him in one of the most traditionally blue states on the East Coast. In addition to that, though, O'Malley  was Mayor of Baltimore before he was Governor of Maryland and he was responsible for many of the police policies that helped spark the protests in that city in the wake of the death of Freddie Gray last month. How a candidate like that can have serious appeal with minority voters is beyond me.
Stranger things have happened in politics, but Martin O'Malley doesn't seem to me to be going anywhere.