Bernie Sanders To Enter Race For Democratic Presidential Nomination
Bernie Sanders is running for President. He's not going to win, but he's not running because he thinks he can win.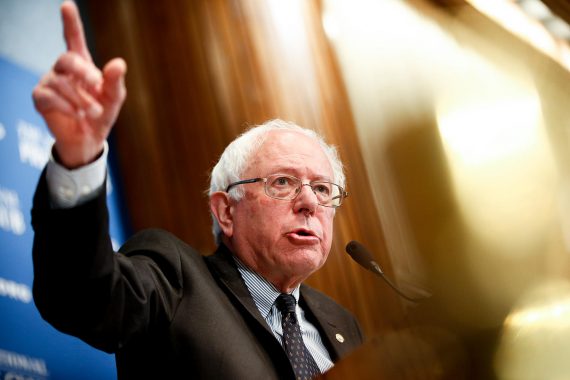 Vermont Senator Bernie Sanders, the self-described socialist who has served as an Independent in the Senate and House of Representatives, will launch a largely quixotic bid for the Democratic Presidential nomination on Thursday:
Sen. Bernie Sanders, an independent from Vermont, plans to enter the race for the Democratic presidential nomination on Thursday, a person familiar with his thinking said, presenting competition from the political left to front runner Hillary Clinton.

Mr. Sanders, one of the Senate's most consistent liberals, will join Mrs. Clinton as a formal candidate for the Democratic nomination. He is expected to make a statement online Thursday and hold a kickoff event at the end of May in Burlington, Vt.

Mr. Sanders has been a senator since 2007 and is a senior member on the Senate Budget Committee.

As one of the Senate's foremost liberals, Mr. Sanders could become the favored candidate of Democrats who hoped Massachusetts Sen. Elizabeth Warren would enter the race. He has pledged to run a campaign that takes on big banks and focuses on issues such as income inequality.

In December, Mr. Sanders released a 12-point economic agenda in which he pledged to push for a minimum-wage increase, more-affordable higher education, a "major investment" in infrastructure and rules to help workers more easily form labor unions. Mr. Sanders, who opposes expedited congressional review of the 12-nation Pacific trade deal now under negotiation, also called for a changed course on trade policies.

He also said big financial institutions should be broken up. "The greed, recklessness and illegal behavior of major Wall Street firms plunged this country into the worst financial crisis since the 1930s. They are too powerful to be reformed," he wrote in his policy document.

His comments were similar to those from Ms. Warren, who has made Wall Street her primary target as senator.

Mr. Sanders's campaign plans were first reported Tuesday by Vermont Public Radio.

It isn't clear whether Mr. Sanders, a longtime independent, will join the Democratic Party. The Democratic National Committee requires a candidate seeking the party nomination to be a "bona fide Democrat," according to a document that outlines the party's convention rules, but the document doesn't define the term.

The senator has traveled recently to states that hold the earliest presidential nominating contests, among them South Carolina and Iowa.

One factor playing into Mr. Sanders's decision was how much money he would be able to raise for his campaign. "When you think about undertaking a national presidential campaign, you have to be talking about sums of money which are almost incomprehensible," he told The Wall Street Journal in an interview in February. "The first question is: Can you raise enough money to run a winning campaign? I'm trying to figure that one out."
Like many political gadfly's, Sanders is an interesting character, a self-described socialist who has managed to get elected statewide in Vermont several times and has managed to find a way to play along with the Democratic Caucus in the Senate well enough that they have given him the Chairmanship of the Committee on Veterans Affairs as well as several other committee assignments despite the fact that he isn't officially a Democrat. On policy issues, he takes positions that are likely quite appealing to many Democrats, especially those on the left who may not be entirely comfortable with the idea of Hillary Clinton as their party's standard bearer in 2016, but who have also come to realize that Elizabeth Warren isn't going to run for President after all. Perhaps the thing he's most well known for in recent years is the "filibuster" that he conducted in 2010  in what was an ultimately vain attempt to stop the renewal of the Bush Tax Cuts. He has also been heavily critical of Democrats like Clinton who have cultivated ties with Wall Street and the banking community over the past decade or more and his political rhetoric harkens back to the more populist Democrats of the 1970s such as George McGovern.
At the same time, though, it's fairly obvious that Bernie Sanders has no chance at all of being the Democratic nominee for President, and he's not likely to be any kind of a serious challenger to Clinton going forward. For one thing, he's old, by the time the Presidential race starts Sanders will be 74 years old and he'd be 75 years old by the time a new President takes office. People can say that age doesn't matter in a President all they want, but the American people aren't going to elect a 75 year old to the White House. Beyond his age, though, there's the simple fact that Sanders is simply too far left politically to be a viable candidate for President. Yes, there is a certain segment of the Democratic Party that will like what they hear from him, and Sanders will probably get a lot of press coverage during the course of the campaign as the "gadfly" candidate but, at the end of the day, he's not going to appeal to very many people outside of that rather small progressive wing of the Democratic Party. In addition to age and politics, Sanders will also be hampered by the fact that he will not be able to put together the kind of campaign that would be able to out manuver a the Clinton campaign, or indeed even a campaign run by other potential Democratic candidates like Martin O'Malley and Jim Webb, both because he will not be able to raise the same amount of money and because he won't be able to hire the same caliber of professional campaign workers that other candidates will. The reality of all of this is reflected in his position in the polls. Nationally, Sanders is averaging 5.6% in the RealClearPolitics poll, and while that puts him behind two candidates who aren't running, Warren and Biden, it likely reflects something close to the apex of his support. Sanders does a little better in Iowa, where he's averaging 7.0%, and in New Hampshire, where the fact that he represents a neighboring state is likely helping him reach 11.3% in the polls. This is likely about as far as Sanders is going to rise in the polls, though. Candidates like O'Malley and Webb, if they enter the race, will likely rise far higher than they are now simply because their position now is largely a reflection of a lack of name recognition. That's not really the case with Sanders, who is pretty well known among those people who would be likely to vote in a Democratic Primary. So, yes, the media will pay attention to Sanders, but don't delude yourselves into believing he's going anywhere.
It occurs to me that Sanders likely knows all of this. He may be an iconoclast and an idealist, and he may have what I'd described as some fairly kooky ideas, but he nonetheless strikes me as being enough of a realist to know that, even in a year where there wasn't a political juggernaut named Hillary Clinton in the race, he has no realistic chance of winning a Presidential nomination or even being a serious contender. Instead of running to win, though, it's rather clear that Sanders is running in order to have a platform to speak about the issues that he cares about and, more importantly, to push Clinton to talk about issues such as income inequality, the power of banks, and other issues that she'd likely rather avoid. To that extent, maybe Sanders actually will succeed.