Mr. Sanders Goes To Washington
Bernie Sanders took to the floor of the Senate yesterday to rail against President Obama's tax cut deal. It was history in the making, but it's not clear that it actually accomplished anything.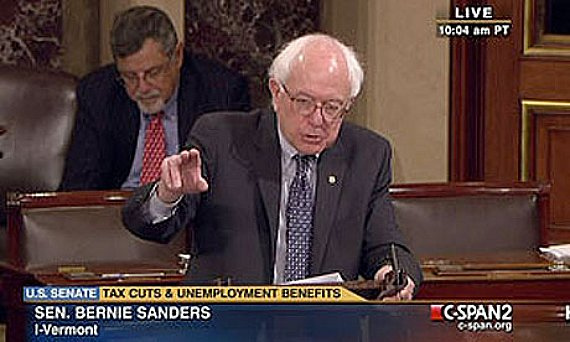 With the possible exception of Bill Clinton's bizarre late afternoon appearance in the White House press room, the biggest story in Washington yesterday was the 8 1/2 hour long speech given by Vermont Senator Bernie Sanders on the floor of the Senate:
At 10:24 Friday morning, Sen. Bernard Sanders of Vermont took to the floor of the Senate to share a few thoughts about the tax-cut plan brokered by President Obama and Republican leaders.

Well after the sun had set and most of his colleagues had flown home, Sanders was still sharing – about taxes, bad trade deals and "the crooks on Wall Street," among many other topics.

"China, China, CHINA!" he yelled at one point, stressing that the $14 trillion national debt was largely being financed by the Chinese government's decision to continue buying U.S. bonds.

By early evening Sanders took to reading letters from constituents who had been hit hard by the Great Recession.

Sanders yielded at times to Democratic colleagues who wanted to speak briefly against the plan, but otherwise he held the floor until nearly 7 p.m., his thick Brooklyn-born accent filling the chamber.

It looked a lot like a good old-fashioned filibuster, only Sanders wasn't actually stopping anything. Under a bipartisan deal reached Thursday, a vote would be held Monday on the tax deal no matter how long Sanders spoke or what he said Friday.

"You can call what I am doing today whatever you want, you it [sic] call it a filibuster, you can call it a very long speech," said Sanders, an independent who caucuses with Democrats. "I'm not here to set any great records or to make a spectacle. I am simply here today to take as long as I can to explain to the American people the fact that we have got to do a lot better than this agreement provides."

The last time any senator spoke as long as Sanders did was in November 2003, when Sen. Harry M. Reid (D-Nev.), then the minority whip, spoke more than nine hours all by himself to protest a proposal by Republicans to eliminate filibusters on judicial nominations. To help fill the hours, Reid even read from his autobiography.

Before that, the only other attempt at an old-school filibuster in the past two decades came from Sen. Alfonse M. D'Amato (R-N.Y.) in 1992, when he spoke for more than 15 hours against a tax provision that would close a typewriter plant in his state. D'Amato sang "South of the Border" at times, protesting how the typewriter plant was headed for Mexico.
While technically not a filibuster and apparently done largely with the prior consent and knowledge of Senate leadership, Sanders' speech nonetheless garnered much attention online:
Sen. Bernie Sanders went from filibuster to Twitter-buster hours into his nine-hour stand Friday against the proposed tax cut deal, the first genuine filibuster seen in the Senate since 1992.

Twitter users flocked to Sanders' page to express their support for the independent senator from Vermont, a longtime critic of extending tax cuts for America's wealthiest and a vocal critic of the deal President Obama negotiated with Republicans, as he stood talking for hour after hour with only water as sustenance.

Sanders added more than 4,000 new Twitter followers, and his name trended at No. 1 on  Twitter throughout much of the afternoon. His name was also a top search term on Google Trends.

Sanders took the floor at 7:25 a.m. PST and eventually ceded it just after 4 p.m. His staff tweeted continually through his stand, the latest being: "Sen. Bernie Sanders is now in his 9th hour of …

…non-stop #filibuster. Sanders has not left the floor once in that time."
Here at OTB, the little one-off post I did yesterday morning noting that Sanders had been on the floor for about an hour and a half and showed no signs of stopping ended up generating more traffic via social networking sites and search engines than any single post in quite some time. Clearly, people were interested in something that you don't see very often to begin with.
The question is whether Sanders' marathon speech will accomplish anything. Michael Tomasky at The Guardian suggests it could stiffen the resolve of Democrats opposed to the tax cut deal between President Obama and Senate Republicans:
Still, it'll be enough to make Sanders a hero to the left. "Bernie for President" talk will … heck, there's probably already a website. Let's hope he doesn't drink any Ralph Nader juice. He's a good senator and should stay there.

However, let's also hope that there arises a popular groundswell behind his efforts today, enough that some other Democrats and – God help us – a few Republicans see that his view is a responsible one. It is one, after all, that majorities typically support in polls.

People, especially liberals, need to remember that even if or when this deal passes, the tax fight is a long way from over. Obama and the Democrats have a mulligan here, a 2012 do-over. Sanders and simpatico colleagues like Sherrod Brown can lead a progressive charge to strengthen the no-upper-bracket-cuts position when all this comes up again. Two years will pass quickly enough.

In the meantime, even though I disagree with Sanders' position, I do like his style.
I do have to agree with Tomasky there. I pretty much disagreed with everything Sanders said yesterday, but you've got to have  certain am0ut of admiration for the chutzpah of someone who's willing to speak, largely extemporaneously, for eight hours about something they believe in passionately. It's part of a grand tradition in American politics and, as I've noted before, it's the kind of filibuster I'd like to see return to the Senate.
As for the tax debate itself, I'm not sure what impact Sanders tour de force will have. He isn't the only Senator with doubts about the deal, and with House Democrats in open revolt against the White House, the odds against passage seem to be rising by the day. If that happens, Sanders will not have lit the fire, but he sure as heck helped it spread.