Progressives And Moderates Clash In First Night Of Second Democratic Debate
The first night of the second Democratic debate consisted largely of clashes between the party's progressive wing and more moderate elements.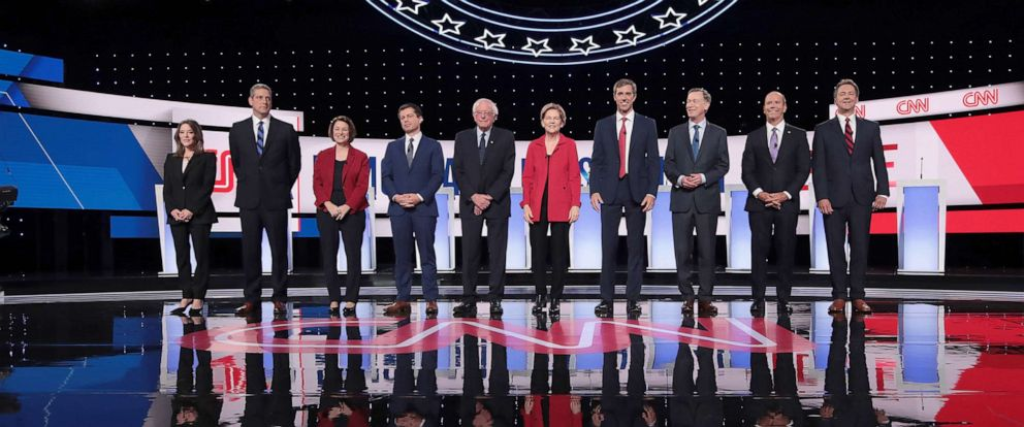 With 188 days left until the first votes of the 2020 election cycle are cast in the Iowa Caucuses, ten of the Democratic candidates for President clashed in the first night of the second debate of the election cycle. As a preliminary matter, I must again confess that I didn't watch the entire debate. While an earlier start time of 8:00 p.m. Eastern was far more reasonable than the 9:00 p.m. time of NBC's debate last month, that didn't make up for the fact that the format of the debate was quite simply atrocious. In short, there are simple too many candidates on the debate stage at this point for anything approaching a useful exchange of ideas and positions, or for any candidate to get off anything more than short statement that is hardly useful in making any rational judgment about whether or not that candidate would make a good President or a good nominee capable of beating Donald Trump. In the end, I made it about an hour before giving up and caught the remainder of the debate when I woke up far too early this morning.
In any case, to the extent there was any excitement last night it was the extent to which many of the lower-tier candidates, led more or less by South Bend Mayor Pete Buttigieg, went after the two candidates at the top of the polls that were on the stage, Senators Elizabeth Warren and Bernie Sanders. It was, as The New York Times out very much a clash between the leading progressives in the race and the more moderate candidates at or near the bottom of the polls:
DETROIT — The leading liberals in the Democratic presidential primary, Senators Bernie Sanders and Elizabeth Warren, strenuously fought back on Tuesday against accusations of making fanciful promises and imperiling the party's prospects against President Trump, as a group of moderate underdogs sought to slow their momentum in the second round of debates.

On an evening that could have produced explosions in their own political rivalry, Mr. Sanders and Ms. Warren instead formed something of an ideological tag team to defend their shared agenda, above all on health care. Though each is seen as the other's chief obstacle in the Democratic race, Mr. Sanders and Ms. Warren did not at any point clash directly.

Instead, they battled an array of comparatively obscure candidates who used the debate as an opportunity — and for some of them, likely a last chance — to express alarm about their party's embrace of immense liberal policy goals, like the creation of a "Medicare for all"-style health care system, Mr. Sanders's No. 1 issue, and a broad liberalization of the immigration system.

There was former Representative John Delaney of Maryland, who accused Mr. Sanders and Ms. Warren of making "fairy tale" promises; Gov. Steve Bullock of Montana, who lamented liberal "wish-list economics"; and former Gov. John Hickenlooper of Colorado, imploring the left not to overreach and "FedEx the election to Donald Trump."

Arguing in somewhat subtler terms was Senator Amy Klobuchar of Minnesota, who declined multiple chances to lash her liberal rivals by name but questioned the viability of their progressive stances on health care and education.

"I have bold ideas," Ms. Klobuchar said, "but they are grounded in reality."

With Mr. Sanders and Ms. Warren refusing to yield an inch, the debate laid bare the stark choice before Democratic primary voters: whether to embrace an agenda of transformational economic change in an effort to motivate young and nonwhite voters, or to proceed more cautiously by embracing more incremental appeals that could win over moderates.

Both Ms. Warren and Mr. Sanders insisted that their more daring approach would lead Democrats to victory, and depicted their more moderate critics as bereft of ambition and political courage.

Democrats, Mr. Sanders said, had to wage a campaign "of energy and excitement, and of vision," or risk losing to Mr. Trump a second time.

"We need to bring millions of young people into the political process in a way that we have never seen, by among other things, making public colleges and universities tuition free and canceling student debt," Mr. Sanders said.

Ms. Warren, likewise, warned the party not to nominate "a candidate we don't believe in, just because we're too scared to do anything else," and in an exchange with Mr. Delaney expressed exasperation with what she portrayed as his electoral doomsaying.

"I don't understand why anybody goes to all the trouble of running for the president of the United States just to talk about what we really can't do and shouldn't fight for," Ms. Warren said to applause. "I don't get it."

The most protracted exchanges of the night, and by far the most substantive ones, concerned Mr. Sanders's signature proposal to replace private health insurance with a single-payer system of the kind employed in Canada and a number of European countries. Mr. Delaney and the other moderates attacked the proposal from the first minutes of the debate, calling it a politically toxic idea that would void the health care plans of union members and of employees of private businesses.

"We don't have to go around and be the party of subtraction, and telling half the country, who has private health insurance, that their health insurance is illegal," Mr. Delaney said.

Mr. Sanders defended his plan ferociously, with periodic help from Ms. Warren. He cast Mr. Delaney and other Democratic doubters as champions of an indefensible system, and argued that opponents of the single-payer format tended to brand it with traits — like costliness and unpredictability — that the American health care system already possesses.

"The answer," Mr. Sanders said, "is to get rid of the profiteering of the drug companies and the insurance companies, move to 'Medicare for all.'"

Responding to pointed criticism from Representative Tim Ryan of Ohio about the impact of the single-payer proposal on union members, Mr. Sanders grew testy for a moment: "I wrote the damn bill," he said.
After being overshadowed in the first debates last month, Mr. Sanders found himself in the spotlight for much of the evening.

Both he and Ms. Warren depicted skeptics of single-payer health care as being in league with the G.O.P.: Mr. Sanders accused a CNN moderator, Jake Tapper, of using a "Republican talking point" when raising questions about his plan, and noted that "the health care industry will be advertising tonight on this program." In a similar complaint, Ms. Warren urged Democrats to "stop using Republican talking points" on the issue.
There were other signs of impatience on the debate stage. Moderates offered cautionary warnings about how Republicans might brand Democrats in the general election as outside the political mainstream.

But Mayor Pete Buttigieg of South Bend, Ind., drew applause with the prediction that Republicans would brand the eventual Democratic nominee as a wild-eyed extremist no matter what policies that person endorsed.

"Let's just stand up for the right policy," said Mr. Buttigieg, who has endorsed a liberal health care policy more modest than "Medicare for all."

(…)

The evening seemed to expose the rifts in the party that might ultimately define the Democratic race once the party's primary field narrows, and Mr. Biden comes face to face in future debates with Mr. Sanders and Ms. Warren. Most of the men criticizing the two populists on Tuesday are at risk of failing to qualify for future debates, leaving them to act as a kind of preliminary stand-in crew for the centrist side of the party's ideological battle.

Mr. Ryan, another such marginal candidate, at one point delivered something of a cri de coeur for the party's dwindling constituency of blue-collar men. Democrats risked eliminating that slim part of their base, Mr. Ryan said, if they did not "talk about the working class issues."

"We've talked about taking private health insurance away from union members in the industrial Midwest, we've talked about decriminalizing the border, and we've talked about giving free health care to undocumented workers when so many Americans are struggling to pay for their health care," Mr. Ryan said. "I quite frankly don't think that that is an agenda that we can move forward on and win."

Yet Mr. Sanders and Ms. Warren, faced with such unsparing criticism, did not back off. Indeed, perhaps the most notable conflict in Detroit was the one that did not happen, as the two populists locked arms rather than trading blows.
The Washington Post's coverage of the debate also emphasizes the clashes between progressives and moderates that took place last night:
DETROIT — Ambitious proposals for health care, climate change and other policies backed by liberal Democratic presidential contenders came in for sharp critiques from a cadre of moderate candidates jousting for prominence in the second round of debates here Tuesday night.

Sens. Elizabeth Warren (D-Mass.) and Bernie Sanders (I-Vt.), positioned at the center of the stage at Detroit's Fox Theatre, faced a barrage of challenges from other candidates vying to make a name for themselves while pushing back against the party's leftward shift.

Warren and Sanders are promoting "bad policies" and "impossible promises," said former congressman John Delaney (Md.), the first candidate to mention them by name in what would become a string of attacks throughout the night.

"I share their progressive values, but I'm a little more pragmatic," former Colorado governor John Hickenlooper said, referring to the two liberal senators.

Sen. Amy Klobuchar (Minn.) described her own policies as "grounded in reality." Montana Gov. Steve Bullock warned against "wish-list economics" and said struggling teachers and farmers "can't wait for a revolution," an implicit reference to Sanders.

Warren and Sanders were emphatic in defending their proposals — and each other — joining forces to brand their moderate detractors as too timid for the moment.

"We're not going to solve the urgent problems that we face with small ideas and spinelessness," she said. "We're going to solve them by being the Democratic Party of big, structural change."

Responding to charges that his proposals were unworkable, Sanders said, "I get a little bit tired of Democrats afraid of big ideas."

Tuesday's debate kicked off the second round of 12 scheduled Democratic debates, and its sometimes contentious tone underscored the pivotal moment for the historic field of candidates.

Ten more candidates, including former vice president Joe Biden, are scheduled to appear on the stage Wednesday, on the second night of this round of debates hosted by CNN. Yet Biden, whose lead in the polls has been one of the most enduring aspects of the Democratic primary contest, was not mentioned by name Tuesday night. Instead, other moderates were used as stand-ins for some of the ideas he espouses.

Of the 10 candidates on the stage, half are at risk of not meeting the polling and donor thresholds to qualify for the next round of debates in September. The prospect of being left out of future debates heightened the pressure on them to stand out and make what was potentially a last plea for their relevancy in the crowded field.

While the candidates engaged in tense but mostly academic verbal tussles over issues such as immigration, student loans, climate change and racial disparities, the subtextual issue of electability quickly rose to the surface.

The battle lines were drawn in the first half-hour of the debate, as an impassioned and prolonged exchange broke out over whether to abolish private health insurance in favor of a single-payer system favored by Sanders and Warren. When Sanders was asked how he would respond to Delaney, who described Medicare-for-all as bad policy, the senator offered a blunt retort: "You're wrong!"

"Why do we got to be the party of taking something away from people?" Delaney asked him in return. "We don't have to do that. We can give everyone health care and allow people to have choice."

Warren quickly jumped in, saying candidates who favor Medicare-for-all are not trying to take anything away from the American people.

"That's what the Republicans are trying to do," she said. "And we should stop using Republican talking points in order to talk with each other about how to best provide that health care."

"That is a disaster at the ballot box," Hickenlooper said of Sanders's health-care proposals and his support of the Green New Deal. "You might as well FedEx the election to Donald Trump."

After Sanders noted that he was leading in many polls, Rep. Tim Ryan (Ohio) chided him by referring to the 2016 Democratic nominee. "Hillary Clinton was winning in the polls, too," he said.

"We do have to win back some of those places we lost and get those Trump voters back if we're ever going to win," Bullock said.

"What I don't like about this argument right now," Klobuchar said, " . . . is that we are more worried about winning an argument than winning an election."

Some of the biggest applause during the night came in response to impassioned statements by self-help author Marianne Williamson, the only person on the stage who has never held elected office.

"The racism, the bigotry and the entire conversation that we're having here tonight — if you think any of this wonkiness is going to deal with this dark psychic force of the collectivized hatred that this president is bringing up in this country, then I'm afraid that the Democrats are going to see some very dark days," Williamson said. "We need to say it like it is . . . And if the Democrats don't start saying it, then why would those people feel that they're there for us, and if those people don't feel it, they won't vote for us. And Donald Trump will win."

Warren and Sanders, the two liberal stalwarts in the race, appeared on the debate stage together for the first time Tuesday. They largely voiced support for each other's policies and declined to draw distinctions with one another.

The two have long been ideologically aligned. When Warren was a Harvard professor arguing for consumer protections, she would appear as a guest on the Vermont senator's radio show, and they met with each other privately before either one announced they were running.

They have voted with each other more than 94 percent of the time since Warren became a senator in 2013, according to records compiled by ProPublica.

Warren has also embraced Sanders's Medicare-for-all plan, insulating her from a potential attack from him on one of his signature issues.
But the two candidates appear to be in a head-to-head contest for the party's liberal voters, some of whom have migrated to Warren in recent months as she has unveiled comprehensive plans on a host of issues.

Earlier Tuesday, Warren announced a slate of endorsements, including from Rep. Raúl M. Grijalva (D-Ariz.), who was the first member of Congress to support Sanders against Hillary Clinton in 2016.

The debate marked a crucial moment for former Texas congressman Beto O'Rourke, whose campaign has sputtered to the low single digits in polls after launching with a burst of enthusiasm. He has struggled to capture the viral energy of his unsuccessful U.S. Senate race last year in Texas and has seen much of his support drift toward South Bend, Ind., Mayor Pete Buttigieg, who has made a similar argument for a generational shift.

After a widely panned performance in the June debate, O'Rourke has attempted to retool his approach by focusing less on talking points and speaking with more raw passion.

Klobuchar has done little to hide her disdain for candidates such as O'Rourke and Buttigieg, whom she views as having little experience to justify their campaigns.

Tuesday marked a debut for Bullock, who did not qualify for the first debate. He came out swinging, warning Democrats against "wish-list economics" and calling on the party to prioritize U.S. citizens over undocumented immigrants.

Speaking about struggling Americans, Bullock said: "They can't wait for a revolution. Their problems are in the here and now."

Several of the more moderate candidates have had trouble distinguishing themselves in a crowded field that includes a former vice president and liberal stars. Some of the loudest voices in the primary race have been from candidates who want to abolish private health insurance, decriminalize unauthorized border crossings and raise taxes, a formula that has raised alarms among moderates.

The debate in the party — on full display Tuesday night — continues the turmoil over what went wrong for Democrats in 2016, and whether the prescription now is to appeal to liberals who didn't turn out or attempt to win back moderates and independents who voted for President Trump.

Klobuchar, Hickenlooper and Delaney have been among the most vocal in trying to push back against the party's leftward tilt. But the moderates opened themselves to charges of timidity as they amplified their warnings against bold changes backed by Sanders and Warren.

"I don't understand why anybody goes to all the trouble of running for president of the United States just to talk about what we really can't do and shouldn't fight for," Warren said, in a biting reference to Delaney.

"I've heard some people here tonight — I almost wonder why you're Democrats," Williamson said. "You seem to think there's something wrong about using the instruments of government to help people."


In addition to health care, there was also a heated exchange over clashing ideas about immigration. All of the candidates on the stage and all the candidates who will be on the stage tonight were obviously in agreement that the policies of the Trump Administration are wrong and needed to be combatted. However, there are clear lines of disagreement on what should be done not only with regard to the current crisis involving migrants seeking asylum on the southern border but also broader issues such as DACA and the Dreamers, what to do about the people living here illegally, and fixes to the legal immigration system.
The most pointed controversy, though, came when the discussion turned to an idea first brought up in the first debate last month, the argument that the criminal penalties for illegal border crossing should be repealed. Advocates for the idea, which include Julian Castro, who will be on stage tonight, as well as people such as Sanders and Warren, argue that it is this criminal penalty that gives the Trump Administration the legal basis for its family separation policy. Many of the more moderate candidates on the stage, though, make the completely valid point that taking this position in a General Election would likely be political suicide for Democrats due to the fact that it would play right into President Trump's hands and that it is far to the left of where polling shows most Americans stand when it comes to immigration. In that regard, while it's true that Americans tend to support a more open immigration system than what the President is advocating they are likely to react negatively to an idea like decriminalizing illegal border crossing. Which way the Democratic party goes on ideas like this could go a long way toward determining the direction of the 2020 campaign as a whole.
Overall, the biggest takeaway from last night was the extent to which the rift between progressives represented by Sanders and Warren and the generally more center-left candidate further down in the polls was on display. Some of the most notable clashes came from among the candidates near the bottom of the polls, such as former Congressman John Delaney, former Colorado Governor John Hickenlooper, Montana Governor Steve Bullock, and Senator Amy Klobuchar. As I said in my preview post yesterday, this debate was likely the last time that many of these candidates will have to make an impression on a national audience. If they don't rise in the polls after last night and tonight, then they may as well pack it in and, in some cases, look at the idea of running for Senate in races where they could potentially flip a red state to the Democratic Party.
In this regard, I think that many of these candidates did a very good job at getting their points across. This is especially true for Senator Klobuchar, Governor Bullock, and former Governor Hickenlooper, all of whom took issue which what they essentially said were proposals from candidates such as Sanders and Warren that have no realistic chance of becoming law and which could end up harming Democratic chances of winning in November 2020. What's uncertain, though, is whether or not the audience they are speaking to will listen, and whether it will enure to their benefit in terms of support and campaign donations. If anything, the center-left in the Democratic Party is likely looking more toward Joe Biden than it is John Delaney or the other lower-tier candidates on the stage.
Leaving the substance aside, I have to say that, as was the case in the first debate, the format of last night's debate made meaningful discussion rather impossible under the circumstances. To make matters worse, the moderators seemed to be too strict in enforcing time limits than allowing the candidates to put together anything resembling a coherent response to whatever question was on the floor. Obviously, this is in no small part due to the size of the field on the stage and the need to be "fair" to each candidate. That being said, though, this hopefully won't be as big an issue in future debates, which are likely to feature fewer candidates than we've seen so far. In the end, though, we're not going to get to the point where more substantive discussions can occur until the field is cleared of all the irrelevant candidates and voters, and moderators can focus on the candidates most likely to win the nomination or at least be considered a contender once voting starts on February 3rd, 2020 in Iowa.
As I said at the top of the post, the format of last night's debate was frustrating because it didn't give any of the candidates a chance to give any kind of substantive answer to questions that were on the floor. Additionally, as James Joyner noted in his own debate roundup, the moderators kept going back to Bernie Sanders to comment even when he wasn't necessarily at the center of an ongoing conversation. Given that he's one of the top-tier candidates, I suppose that's understandable, but it was nonetheless jarring and likely frustrating for the other candidates on the stage. We're likely to see the same thing tonight with regard to former Vice-President Biden. If there were fewer candidates on stage, this would not be an issue. With ten candidates on the stage, though, it means that viewers don't really get a fair view of the other candidates. Hopefully, this will change in the future when there are fewer candidates on the stage.
In any case, as I said I didn't watch the full debate last night and I'm not really a member of the voting group that these candidates were speaking to. Therefore, I'll leave it to the readers who did watch to make their own case for "winners" or "losers." For the most part, though, I'd suggest that to the extent that there was a clash between Sanders and Warren last night that Elizabeth Warren had a much better night than the Senator from Vermont. Expect to see her numbers continue to rise post-debate. I'd also suggest that Buttigieg, Klobuchar, Hickenlooper, Bullock, and Delaney also had good nights and did a good job of differentiating themselves from Warren and Sanders. With Biden looming as the center-left alternative to the progressives, though, I tend to doubt that they will make much progress advancing their campaigns. On the losing side, I'd put Beto O'Rourke at the top of the list. He needed to do something to jumpstart a dying campaign and I think he came up short. Expect to see him fade in the polls as he has since June.
Here's the full debate video: