Explaining the Sanders-Warren Flap
Two progressives enter. One progressive leaves.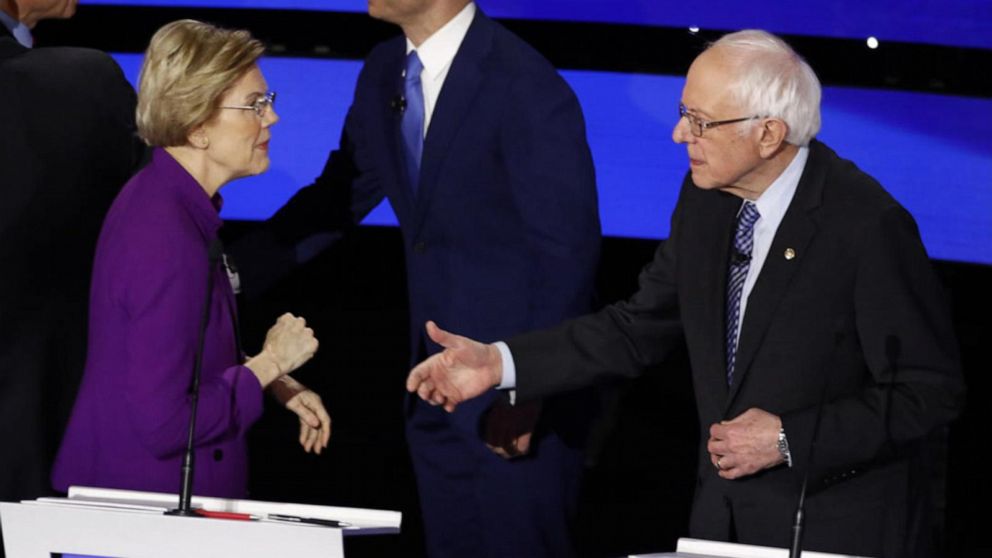 Elizabeth Warren and Bernie Sanders entered the 2020 presidential race as favorites. They're both leaders of the progressive movement. Their policy preferences are almost identical. While they were going to have to clash at some point, they had been shrewdly been working in tandem in directing fire at more moderate candidates like Joe Biden and Pete Buttigieg. Until last week.
On the day of the most recent Democratic debate, the Warren camp claimed that Sanders had told Warren that a woman could not be elected President. Challenged at the debate, Sanders denied the claim, pointing out numerous instances where he had publicly said the opposite decades earlier. After the debate, Warren refused to shake his hand, pretending that he had called her a liar.
The Nation's Elie Mystal argues, as have many others, that it's quite possible that both are telling the truth.
People say hurtful things all the time. Often, they don't mean it. Language is an imperfect tool for communicating thoughts. But when you are an "other," when you are a minority or part of a disadvantaged group that has historically been shut out from power, and when the person saying it is a member of an advantaged group, you notice the hurts. You notice them because you always have to assess where the hurtful comment lands on the spectrum between merely inelegant to actively dangerous. Did the person misspeak? Or did the person just accidentally reveal deep antipathy for your kind of people? Or was it something in between?

[…]

I believe Warren heard what she heard. But I also believe Sanders doesn't remember saying it. Sanders isn't lying when he said, "I didn't say it." Lying requires at least some minimal intent to dissemble or deceive. I believe Sanders is being forthright. He says he didn't say it because he has no memory of saying such a thing, and it doesn't sound to him like something he would say. From his perspective, that's the end of the discussion. He doesn't remember it, doesn't agree with it, and so it didn't happen.
It's possible that Sanders made an offhand comment that the country isn't ready to elect a woman and didn't caveat that he thinks that's a shame because he assumed that was understood. Regardless, like Mystal, I believe Warren found it hurtful at the time and Sanders thought nothing of it because he's supported women in politics his entire adult life.
But there's obviously more to the rift than some offhand comment and hurt feelings.
Jonathan Martin and Sydney Ember, writing for The New York Times, argue it reflects deep fissures in the movement.
A sizable, loud swath of left-wing activists are now furious at Warren for criticizing and challenging Sanders over gender and for employing hardball campaign tactics this week. Meanwhile, some progressive women and backers of Warren are angry at Sanders for disputing her and for not denouncing the #NeverWarren campaign by some of his online supporters.

Both candidates and their advisers have come to believe that the other camp is fighting dirty, according to interviews with campaign officials and surrogates. They have not spoken since their postdebate confrontation in Iowa on Tuesday night, and many liberals are starting to feel a painful sense that they've been here before.
The story references the bitterness after 2016, in which some sizable number of Sanders supporters believe they were screwed over by a party establishment that rigged the game in favor of Hillary Clinton and refused to turn support her, perhaps making the difference in putting Donald Trump in the White House. But it's also reminiscent of 2008, in which upstart Barack Obama narrowly defeated Clinton for a nomination many believed was her due. The resulting PUMA (party unity my ass) movement obviously didn't cost Obama the presidency but it took quite a time for that resentment to dissipate.
Ill will between Sanders and Warren supporters is now exploding on social media, with angry memes, conspiracy theories and harassing commentary mostly aimed at Warren. Negative attacks and doubts about party unity are exactly what Democratic leaders do not want to happen in 2020, for fear of handing ammunition to Trump, as the heated contest between the Vermont senator and Clinton did four years ago.

Many Warren advisers and allies think the Sanders camp has long tolerated public attacks on her from his surrogates and believe he is not reining in divisive and in some cases sexist attacks against her among Sanders supporters on Twitter.

And the Sanders camp is even more frustrated over what they see as an orchestrated, dayslong campaign by Warren to revive her bid by suggesting Sanders is a misogynist.
While social media was thriving in 2008, Twitter was relatively new and certainly didn't drive politics in the way it did in 2016 and has in 2020. The news cycle never ends and is less in the control of the candidates than it used to be. And the attacks are meaner, more direct, and more personal. And that makes healing the rift harder than it was in the days of "it's just politics."
Compounding matters is the fact that both campaigns represent broader movements that go beyond policy goals:
But even if one of them claims the nomination, the rupture between the two senators could be difficult to repair because of the nature of their two coalitions: If Sanders emerges as the nominee, he may find it difficult to energize the female Democrats who were already uneasy with him because of the 2016 race. And should Warren become the party's standard-bearer, she could find it hard to win back the most fervent Sanders backers, who hardly needed any further evidence to claim that the nominating process is stacked against him.
Warren has had Sanders' back for quite some time, deferring to him as the leader of a movement who put bold ideas like Medicare for All in the realm of the possible. She, not unreasonably, thought that, at the ripe old age of 77, would bow out and throw his support to her. He and his supporters, meanwhile, see her as a convert piggybacking on his momentum and trying to deny him a nomination that they, incorrectly, believe should have been his last go-round.
FiveThirtyEight's Clare Malone also sees identity at work here.
What's curious, though, is that the rift isn't over policy particulars. The Warren vs. Sanders progressivism fight seems to be more stylistic, an unexpectedly tense class war of sorts within the broader progressive class war. Should progressive populism be wonky and detail-oriented and appeal to college-educated former Clinton voters? Or a more contentious outsider assault on the powers-that-be from the overlooked millions of the middle and lower-middle class?

—"What The Sanders vs. Warren Battle Is Really About"
One would think the obvious answer would be Yes. There's no way to win the nomination—much less the White House—without bridging that gap. But Warren and her people think the problem is a with the rules by which the game is played while Sanders and his people think the game itself is the problem.
America is a country whose politics are pheromonal; voters are largely attracted to certain candidates not for their policy positions but for the cut of their jib or the familiarity of the story at the heart of their self-mythology. And among the Sanders-committed, there seemed to be a sense that the candidate's famous frankness was his greatest asset — and it could well be with certain groups.
Further, Sanders believes Warren is just a repackaged Hillary Clinton:
The other part of the controversial Sanders campaign talking points on Warren was that her supporters — the wealthy, well-educated ones — would already "show up and vote Democratic no matter what … she's bringing no new bases into the Democratic Party." At his rallies, Sanders was putting his electability foot forward — supporters waved "Bernie beats Trump" signs while he spoke. In November, The New York Times polled battleground state voters and found that persuadable, white working-class voters had policy views that aligned with some Sanders/Warren proposals, but "by a margin of 84 percent to 9 percent, they say political correctness has gone too far. They say academics and journalists look down on people like them." Nonwhite persuadable voters supported systemic change candidates and single-payer health care, but 50 percent approve of Trump, a man known for pushing the boundaries of correctness, political or otherwise.

The anti-political-correctness voters and Trump-approvers are perhaps the demographics where Sanders has the greatest chance to make inroads. While his trademark directness isn't anti-PC, it's of a sympatico strain, in a way: "I don't care what you think, I'm going to say and do what I please." The Sanders brand is based entirely on that slippery, overused quality that politics so prizes: authenticity. He has believed in the same things for decades and advocated for them in the same polemical style. Even his heavy Brooklyn brogue remains unchanged despite his having left the borough in the '60s. It speaks to being from a place, not a rootless cosmopolitan class
Warren is fundamentally an academic—and a Harvard one at that. And, despite humble origins of her own, that makes her an elite and therefore suspect to Sanders' people.
While they share so many policy goals, it's obvious their appeal is somewhat divergent. There is certainly a gap between the demographics of Sanders and Warren supporters. According to FiveThirtyEight/Ipsos polling, conducted using Ipsos's KnowledgePanel,1 about 34 percent of people considering voting for Warren's have household incomes of over $125,000, compared to around 22 percent of potential Sanders supporters. And Warren's potential backers are particularly skewed toward college-educated Democrats, while people considering Sanders and Biden are more evenly distributed across education levels.
There are some interesting graphics showing these disparities and I commend them to your attention. But the bottom line is that, despite offering similar policy ideas, they arrive at them in fundamentally different ways and there's therefore a deep distrust.
Sanders is not wrong in pointing out that Warren's populism — and make no mistake, it is that; she does her fair share of billionaire-bashing — has resonated with a different audience than his. In part, it's because her packaging of populism is meant to extend an ideological hand to the establishment Democratic voters who cottoned to Clinton in 2016 but regretted, perhaps, their inability to see that the country was ravenous for system-busting talk. She scratches the itch of big 'ole change but understands that the Democratic Party is filled with people who are still comfortable within the system, even if they have intellectual critiques of it.
As someone on the outside of the tent looking in, it's rather bizarre and frustrating. But it's understandable, too.
Not surprisingly, I much prefer Warren to Sanders. While I find her annoying at times, she's fundamentally decent and likable whereas Sanders comes off as a bitter old man. His supporters are not dissimilar to Trump's and they employ many of the same unseemly tactics online and elsewhere. And, while I think he's a far better man than Trump, he hasn't exactly bent over backward to stop the Bernie Bros' nasty and misogynistic attacks.
I, too, am an academic and am naturally drawn to her wonkishness. Her command of detail and hard-wired tendencies to curiosity and intellectual honesty would serve her well in the White House. His angry bluster and shoot-from-the-hip style, by contrast, are downright Trumpian. Unlike Trump, I think his heart is mostly in the right place. I think he genuinely cares about other people. But governing is about compromise and bringing people with divergent views and backgrounds together. Those are not his strong suits.
But I'm not the target audience. While I'd prefer a Biden or Buttigieg or even a Yang to Warren, I'd vote for her or even Sanders over Trump. And in that sense Sanders is right: he expands the universe of possible Democratic voters in November in a way she does not.
Then again, it's not obvious whether that's necessary. Clinton, after all, won three million more votes than Trump in 2016. The stars aligned perfectly for him in that direction, to the surprise of just about everyone. The demographics continue to move in the Democratic direction, as old whites die off and are replaced by younger, Hispanic voters.
Sanders is more likely than Warren to take some of Trump's disaffected white voters away. But she'd be a better President.
But the rift, and the forces behind it, make it much more likely that Biden will win the nomination despite his weak performances on the stump and in the debates. And may well make it easier for Trump to get re-elected if the losers sit another one out.