Joe Biden Announces He's Not Running For President
To the surprise of nobody who was actually paying attention to political reality, Vice-President Biden announced today that he will not be a candidate for President.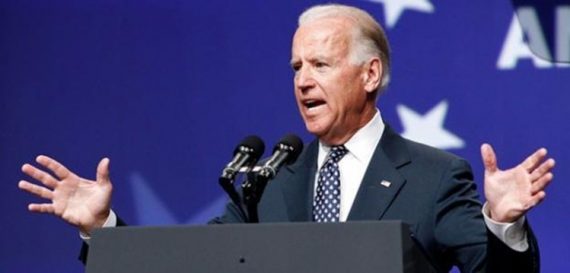 After two months of media speculation and stories and rumors, Vice-President Biden announced shortly after noon today that he will not be a candidate for President of the United States:
WASHINGTON — Vice President Joseph R. Biden Jr. said Wednesday he will not be a candidate in the 2016 presidential campaign, bringing to a close a three-month exploration that began shortly after the death of his eldest child and threatened to fracture the Democratic Party.

Mr. Biden's decision, announced in the White House Rose Garden with President Obama looking on, ends one of the most public episodes of indecision about a political path since Gov. Mario Cuomo of New York left a plane bound for New Hampshire idling on a tarmac in 1991 as he fretted over whether to run for president.

It also closes the door on one of the biggest potential challenges to Hillary Rodham Clinton's second attempt at capturing the Democratic nomination.

Mr. Biden's ambivalence was rooted in raw, and understandable, emotion: According to long-serving aides and friends, and even to hear him tell it in public, the vice president has been not entirely himself since his son Beau, the former Delaware state attorney general, died of brain cancer in May.

He was the second child Mr. Biden had lost: His daughter and his first wife died in a car accident decades ago.

At the wake for his son, Mr. Biden told friends that Beau, in his final days, had said he hoped his father would run for president. Mr. Biden shared that story repeatedly in the weeks to follow. It struck many who heard it as a form of therapy for a grieving man.

But over the summer, lingering questions about Mrs. Clinton's use of a private email server, combined with the emergence of Senator Bernie Sanders of Vermont as Mrs. Clinton's strongest opponent in the primary, helped persuade Mr. Biden that there could be an opening for him.

(…)

Questions persisted, as they have throughout his career, about whether Mr. Biden could put together a strong enough team to be successful. Never known as a good fund-raiser, he did not begin courting donors until September, and he did not always do so in earnest. And though many potential campaign aides were approached about jobs, the planning remained haphazard until the moment the vice president made his decision.

A television commercial put together by Draft Biden, a "super PAC" — which relied entirely on Mr. Biden's biography and on a speech he gave this year, days before his son's death, about the 1972 accident that killed his first wife and their daughter — seemed both to signal the enormous interest around his pending decision and to telegraph the potential blowback he could encounter if he went forward. Some Democrats called the ad exploitative, and Mr. Biden's aides — who made clear that he had not approved of it — quickly requested it be pulled, which it was.

At the same time, Mrs. Clinton's allies prepared for what would have been a messy, grueling campaign against a rival whose greatest political calling card has been his authenticity. Mr. Biden would most likely have faced difficult questions about his record as a senator, including his role in passing anticrime legislation in the 1990s that has now come under attack by proponents of criminal justice reform, like the Black Lives Matter movement. And he risked having his family — including his son, Hunter, a lawyer and businessman who was discharged from the military after testing positive for drugs in 2014 — pulled into the fray.
The Washington Post's Paul Kane has more, including some behind the scenes details:
Vice President Biden announced today he has decided against entering the Democratic contest for the 2016 presidential nomination, ending months of speculation that he might roil the Democratic race.

"I have concluded that it has closed," he said of the window to enter the Democratic contest, speaking in a hastily called Rose Garden appearance, with President Obama and his wife Jill Biden by his side.

"Beau is our inspiration," the vice president said of his son who died earlier this year of brain cancer. "Unfortunately, I believe we are out of time. The time necessary to mount a campaign for the nomination."

Biden pledged that he will remain involved in the presidential race and encouraged Democrats to run on Obama's record. Biden proudly described himself as "middle class Joe" and described income inequality in America as "a fundamental threat to our democracy."

Biden spent the weekend with his family in Delaware, a final, critical gut-check moment to decide whether to launch a late-breaking entry into the Democratic race.

Despite a growing public show of support, Biden had repeatedly said in appearances over the past five weeks that he and his family had not reached the emotional standing that would make possible the daunting challenge of mounting a competitive White House bid.

In a letter to current and former staff late Thursday, before the decision was made, Biden's longest serving adviser reiterated that the family pain remained a central block against launching a national campaign.

"All of you know well that the first and foremost consideration will be the welfare and support of his family. That's Joe Biden. He has been clear about this and it is as true today as it has been for the past several months. He is determined to take, and to give his family, as much time as possible to work this through," Ted Kaufman, Biden's former chief of staff who once filled his Senate seat, wrote to the vice president's alumni network.

On the eve of Pope Francis's historic visit to Washington late last month, Biden said he was "not quite there yet" and was not sure that his family would ever be ready, suggesting that he might be done with electoral politics after a career spanning more than four decades in the nation's capital.

"If that's it, that's it. But it's not like I can rush it," Biden said of his grief in an interview with "America," the nation's leading Jesuit news organization.

Biden's decision came as former secretary of state Hillary Rodham Clinton reasserted herself in the Democratic nominating contest with a dominating performance in the party's first presidential debate, viewed by nearly 16 million people. Polls in the days after the faceoff showed her the clear winner, although Sen. Bernie Sanders (I-Vt.) also won high grades from Democratic voters who tuned in.

Without Biden, the field is likely to settle into a head-to-head contest pitting an establishment favorite, Clinton, against the iconoclastic outsider, Sanders.
Notwithstanding the fact that we have spent the better part of nearly three months watching the speculation regarding Biden's intentions unfold, starting with a report in The New York Times and Maureen Dowd column that included details that allegedly came directly from the Vice-President himself, this decision is entirely surprising. Even before the 2016 campaign had started, it seemed unlikely that Biden would enter the race as long as Hillary Clinton was running absent some kind of extraordinary circumstances. For one thing, if he ran Biden would be turning 74 just about two weeks after the 2016 General Election, making him among the oldest people ever to run for President and the oldest elected to a first term if he won. While age has certainly not seemed to slow Biden down as Vice-President it is certainly a factor that any candidate would take into account in deciding on whether or not to enter into a grueling race for the White House, something that Biden had already done twice before. In addition to that, though, there is the simple face that it was never clear what kind of constituency Biden would have inside the Democratic Party if Clinton ran and he competed against her. Female voters would obviously flock to Clinton, as would many younger voters if only because of the novelty of her likely becoming the first female President, and African-American voters would seem more likely to rally around Clinton as well. The party's progressive wing, meanwhile, was looking for other candidates such as Elizabeth Warren before settling on Bernie Sanders, and it was unlikely that they would warm to someone like Biden, whose record includes positions on criminal justice issues not exactly in tune with their positions today. Combine all of that with the fact that Biden's previous Presidential campaigns did not make him out to be a very good national campaigner on his own, and the arguments against a run certainly outweighed those in favor of it.
If anything changed the calculus for Biden, it was the fact that Clinton's campaign seemed to falter over the summer. Thanks largely to the continuous reports about her use of a private email server and donations to the Clinton Foundation, Clinton saw her poll numbers and favorability numbers fall to the point where her once formidable national lead had come to an end and Vermont Senator Bernie Sanders was leading her in New Hampshire and catching up in Iowa. As many pundits suggested, Biden likely saw it as his obligation to at least take a look at the race before giving his supporters and his Democratic Party a final answer. It's also clear that Biden likely wanted to run for President all along. There were reports of him as a potential Presidential candidate as far back as 1984, but he passed that up in no small part due to President Reagan's immense popularity at the time. Biden threw his hat in the ring in 1988, but that campaign faltered on the rocks of a scandal involving alleged plagiarism and other issues. Notwithstanding that, though, there were some rumors of Biden getting into the 1992 race as well, especially when it seemed as though no major candidates would come along to challenge President George H.W. Bush, but again Biden passed. It wasn't until 2008 that Biden threw his hat as a candidate for President again, and that campaign ended when he finished in fifth place in the Iowa Caucuses. Indeed, were it not for President Obama selecting him as his running mate later that year, it's likely that Iowa in 2008 would have been the end of any speculation that Joe Biden could one day be President of the United States. Given that long history, I'm sure it wasn't easy for Biden to pass on an opportunity that he had worked for so many times before. Above all else, though, Biden is a politician and he no doubt saw how Hillary Clinton's performance in the first Democratic debate last week had effectively closed the door to a real challenge by a candidate like him, something that was confirmed in the polling released earlier this week.
Going forward, of course, the question will be what impact Biden's decision will have on the race for the Democratic nomination. Based on the polling that has been done in recent weeks, it seems most likely that this decision will benefit Hillary Clinton and increase the gap between her and Senator Sanders both nationally and at the state level. While not all of the polls have done this, most recent polling the Democratic race has asked respondents who they would support if Biden didn't run, and the responses to that question have shown that the vast majority of support that Biden garnered in the polls, which typically averaged between ten and fifteen percent, went to Clinton. This makes sense for many of the reasons I stated above, and because it was apparent at some point that many of the people backing Biden were long time Democrats most concerned about putting forward a strong candidate for November 2016. Backing Biden, at least on paper, allowed them to take a "wait and see" attitude toward Clinton, who faltered a few times during the summer. Now that Biden's out, it's likely that a good portion of this group will rally around Clinton, especially as we get to the actual voting and the party becomes eager to wrap the nomination up and unite behind a candidate while Republicans will still likely be fighting what promises to be a contentious primary battle. This could change, of course, if Clinton falters again, or if her testimony tomorrow before the House Select Committee investigating the Benghazi attack becomes a political problem, but for the most part it seems clear that Biden's decision to forego a third run for the White House has made Clinton's inevitable victory in the race for the Democratic nomination even more inevitable.
Update: Here's the text of Vice-President Biden's remarks, and here's the video: