Bernie Sanders Pulls Ahead Of Clinton In New Hampshire Poll
A new poll shows Bernie Sanders ahead of Hillary Clinton, but within the margin of error, in New Hampshire. But a deeper examination suggests that Bernie-mentum is a mile wide and an inch deep.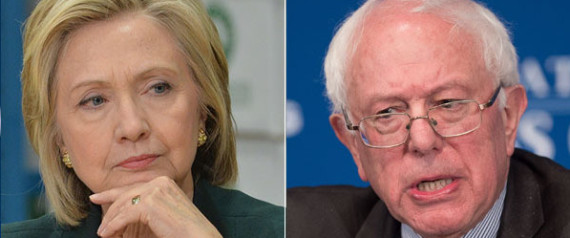 A new poll out of New Hampshire shows Bernie Sanders continuing to surge in the Granite State, and leaves many wondering if Hillary Clinton may have more problems than she anticipated:
Democratic presidential hopeful Bernie Sanders has rocketed past longtime front-runner Hillary Clinton in New Hampshire, a stunning turn in a race once considered a lock for the former secretary of state, a new Franklin Pierce University/Boston Herald poll shows.

Sanders leads Clinton 44-37 percent among likely Democratic primary voters, the first time the heavily favored Clinton has trailed in the 2016 primary campaign, according to the poll of 442 Granite-Staters.

Vice President Joe Biden got 9 percent support in the test primary match-up. The other announced Democrats in the race, former Maryland Gov. Martin O'Malley, former Rhode Island Gov. Lincoln Chafee and former Virginia Gov. Jim Webb, barely register at 1 percent or below.

The live interview phone poll was conducted Aug. 7-10 and has a margin of error of plus or minus 4.7 percentage points.

Clinton is still viewed overwhelmingly by voters as the likely Democratic nominee, but the results suggest she faces an unexpectedly difficult fight to prevent an embarrassing opening loss in the first-in-the-nation primary.

The Franklin Pierce/Herald poll shows that most New Hampshire Democrats are lukewarm to Clinton, despite her campaign's concerted effort to soften her image and connect with voters.

Just 35 percent of likely primary voters say they are "excited" about Clinton's campaign, according to the poll. And 51 percent of voters say that while they could support her, they aren't enthusiastic about her White House bid.

And while 80 percent of likely Granite State Democrats view her favorably, just 38 percent of those say they have a "very" favorable impression.
This poll comes in the wake of a new poll released earlier this week by WMUR-TV that has Clinton only holding on to a six point lead over Sanders in the state, as well as past polling that has shown the Vermont Senator surging in New Hampshire. Sanders' surge in the polls in New Hampshire began shortly after he entered the race, and ever since it has drawn the attention of political pundits eager to find a story in an otherwise predictable race for the Democratic nomination. To a large degree, it was clear even back then that Sanders' rise in the polls was attributable to some combination of the fact that he has been a political figure in neighboring Vermont for decades and the latent support we saw in the polls for Elizabeth Warren before it was clear she wasn't running. Additionally, notwithstanding the surge of interest in Sanders, which included drawing huge crowds to events in the Pacific Northwest and on the West Coast this past weekend, it seems unlikely that Democrats would actually nominate someone that seems more at home in the party of George McGovern than Barack Obama. This latest poll though, along with the one from WMUR, is leading some to wonder if Clinton may be in more trouble than previously realized.
Looking at this on this surface, there certainly seems to be at least some cause for concern on Clinton's part. Four months ago, Clinton had an overwhelming and seemingly insurmountable lead in New Hampshire over any of her actual or potential opponents. Since then, she has seen that lead slip away to the point where the RealClearPolitics average has her with just a 3.2 point advantage in the Granite State. Additionally, we've seen her favorability numbers slip significantly in the wake of revelations about her private email server and the Clinton Foundation. At the same time, though, it's worth noting that there's not much evidence of Clinton's vulnerability outside of New Hampshire right now. Nationally, she continues to hold an overwhelming lead over Sanders and her other opponents in the polls, and the same is true in Iowa, where a new PPP poll has her with a 27 point lead over Sanders, South Carolina, and Florida. She continues to dominate Sanders in the money race as well. Even this poll that showed her behind this poll showing her behind in New Hampshire, although, within the margin of error, shows that the overwhelming majority of Democrats see her as the inevitable nominee. That fact alone suggests that a lot of this Sanders surge is really just excitement about someone who, while he may be saying things they like, is in the end really just a novelty candidate. If even the people who say they support Sanders don't see him as the eventual nominee, then that suggests that his support is a mile wide and inch deep and won't last for very long.  Hillary Clinton may become vulnerable at some point, but if she does other Democrats will step into the race to challenge her, the idea that Bernie Sanders has a realistic shot at being the nominee is somewhat laughable.