Bernie Sanders Jumps Ahead Of Hillary In Latest Iowa Poll
Bernie Sanders has jumped ahead of Hillary Clinton in the Hawkeye State.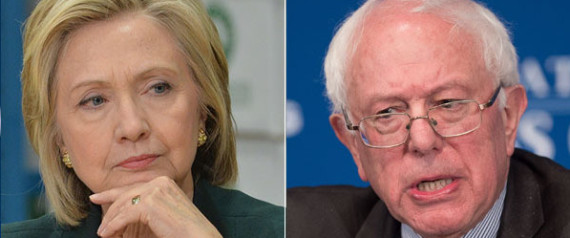 Bernie Sanders continues to surge in the polls, and cause more headaches for Hillary Clinton:
Hillary Clinton's Iowa edge is gone.

Bernie Sanders leads the former secretary of state for the first time among Iowa Democrats likely to caucus in February, according to a new Quinnipiac University poll unveiled Thursday morning — the latest in a string of surveys that show a tightening race in the Hawkeye State.

The Vermont senator's advantage is within the margin of error — he took 41 percent compared with Clinton's 40 percent — and another 12 percent said they would support Vice President Joe Biden, who has yet to declare his 2016 intentions. (Former Maryland Gov. Martin O'Malley picked up 3 percent, while no other candidate registered above that mark, and 3 percent were undecided.)

But the shift is a significant one, coming on the heels of polls showing Sanders edging Clinton in New Hampshire, too. Together, the results suggest a candidate reeling from the controversy over her emails and struggling to put down a rebellion on her left flank.

While Clinton remains the front-runner for the nomination, and pollsters caution against reading too much into one survey, the results reflect serious movement for Sanders: He trailed the former secretary of state by a 52-33 percent margin in Quinnipiac's last poll of Iowa's likely Democratic caucus-goers, in July.

Clinton fared better in the latest NBC News/Marist polling of Iowa released last weekend, drawing 48 percent to Sanders' 37 percent. (With the vice president in the mix, Clinton stood at 38 percent, Sanders at 27 percent and Biden at 20 percent.)

Thursday's less favorable results are unlikely to surprise many in her Brooklyn headquarters: People close to Clinton's camp have recently been warning that Sanders could win both Iowa and New Hampshire before her massive organizing infrastructure kicks in among the next wave of nominating contests on March 1, when Clinton hopes to sew up the nomination. Her allies have also long noted that no non-incumbent candidate has broken the 50 percent mark in the Iowa caucuses other than Iowa's own Tom Harkin in 1992.

But the new Quinnipiac poll is nonetheless likely to send shockwaves through the Democratic establishment, which is increasingly nervous about Clinton's inability to put the email flap to rest, and worried about her seeming difficulty connecting with voters.

The fact that Thursday's result effectively shows a tie will hardly quiet the doubters, particularly given Clinton's heavy investment in her Iowa field operation — she has 78 paid organizers in the state, compared with more than 50 for Sanders — and her consistent lead until now.
Unlike the NBC News/Marist Poll released last week, Quinnipiac does not appear to have asked voters to chose from the candidates who have actually declared their candidacy for the Democratic nomination, leaving Biden out of the mix. However we can get a sense of how that question would be answered by digging deeper into the poll. A question that was directed solely to those people who said they would back Vice-President Biden if he entered the race showed that 47% of those voters would go to Clinton and 44% would go to Sanders, with the remainder going elsewhere. While this is an admittedly small sample size to work with, it does tend to corroborate other polling that shows that Biden's entry into the race would hurt Clinton, at least initially.  The poll also shows a significant gender gap between Sanders and Clinton, with Sanders leading among Democratic men by 49% to 28%, with 16% going to Biden, while Clinton leads among Democratic women by 49% to 35%, with 9% going to Biden. Sanders also unsurprisingly holds a lead among those who describe themselves as being strongly liberal but the two candidate are roughly evenly matched among other ideological groups. Sanders also holds large leads among those without a college education and younger voters, which could be a problem for him because those are two voting blocs that don't necessarily turn out to vote in the same numbers that other segments of the Democratic coalition do.
If there is good news for Clinton in this news out of Iowa, it is that she is still very highly regarded by Iowa Democrats:
[S]he remains popular with Iowa Democrats as a whole. Likely caucus participants said they have a favorable view of Clinton by 76 percent to 20 percent, earning trustworthiness marks of 64 percent to 30 percent and 78 percent to 18 percent saying she cares about their problems. By a count of 92 percent to 7 percent, voters said the former secretary of state has strong leadership qualities and 89 percent said she had the right temperament to tackle an international crisis, compared with 9 percent who did not think so.

But Sanders fares better. He drew a higher net favorability rating of +72 points (78 percent to 6 percent), and a higher share (86 percent to 4 percent) of those saying he is trustworthy than they did of Clinton. By a count of 85 percent to 5 percent, people said the senator cares about their issues. Asked about Sanders' leadership qualities, 76 percent said they were strong, compared to 9 percent who said they were not. On his temperament in times of crisis, voters approved of him by 65 percent to 15 C;percent.

Biden drew a net favorability rating of +70 points (79 percent to 9 percent), while 91 percent said he is honest and trustworthy, compared to 5 percent who did not think so. By a count of 84 percent to 11 percent, likely caucus-goers said Biden cares about the needs and problems of people like them. On the leadership front, 81 percent to 14 percent gave him high marks, while in terms of his ability to handle crises, 81 percent to 13 percent said they approved of his capabilities.
The fact that Clinton's favorability numbers in the Hawkeye State is good news for her because it suggests that this dip in the polls may end up being temporary and that she'll end up winning back much of the support she had before. The fact that Sanders and Biden's numbers are higher is likely troublesome for the campaign team in Brooklyn, of course, but in Sanders case he hasn't really been hit with any negative campaigning yet, and in Biden's case he hasn't even entered the race yet. Both men have nowhere to go but down from the currently high esteem that Democratic voters hold them in, and when that happens, many of those voters are likely to turn back to Clinton as the candidate with the most experience who is also most likely to win in November 2016.
That good news notwithstanding, though, this is certainly not the direction that the Clinton campaign would like to see this race going. It was just a few months ago, after all, that Clinton had a seemingly insurmountable lead over her opponents in the Hawkeye State, and the fact that her campaign was putting together a massive ground operation seemed to indicate that the state may well be out of reach for anyone else. Just as Bernie Sanders surged in New Hampshire and finally overtook Clinton last month, though, he has also risen in Iowa and now has a lead over Clinton there, albeit within the margin of error. Clinton still hold a sizeable lead in the RealClearPolitics average in Iowa, but that's because the average still includes several polls where she had double digit leads. The trend in that state can be seen quite clearly, and it seems to be matching the trend we saw in New Hampshire. At this point, I suppose, we need to start wondering if Clinton will start showing weakness in any other states, and what that might mean for the Democratic race.