Sanders Continues To Cause Trouble For Clinton, Biden Could Cause More
Bernie Sanders continues to cause Hillary Clinton problems, and Joe Biden could cause more if he enters the race.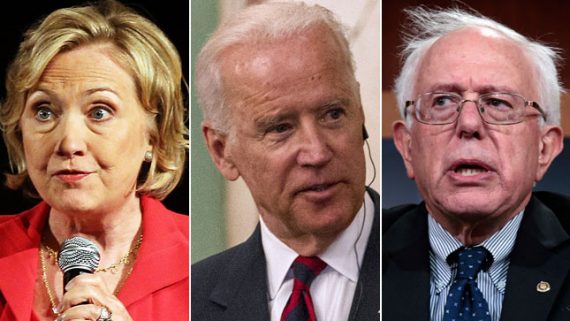 New polling out of New Hampshire and Iowa shows that Bernie Sanders continues to pose problems for Hillary Clinton, and we're starting to get some data about what impact Vice-President Biden would have if he entered the race:
Bernie Sanders has a solid lead over Hillary Clinton among New Hampshire Democrats five months ahead of the Granite State's first-in-the-nation primary, and the Vermont senator is also gaining on Clinton in Iowa, according to NBC News/Marist polls released on Sunday.

In New Hampshire, Sanders had the support of 49 percent of Democrats when Joe Biden's name was not included as a choice, with Clinton in second with 38 percent support.

Sanders maintained his lead when Biden was included as a choice, with 41 percent picking Sanders, 32 percent choosing Clinton and 16 percent picking Biden, who is still weighing whether or not to enter the race.

None of the other Democratic candidates — former Maryland Gov. Martin O'Malley, former Rhode Island Gov. Lincoln Chafee and former Virginia Sen. Jim Webb — attracted more than 1 percent support in the poll.

(…)

In Iowa, Clinton's lead over Sanders has narrowed significantly. The former secretary of state now leads Sanders, 48 percent to 37 percent, down from a 29-point lead in an NBC News/Marist poll earlier this summer. (With Biden included as an option, Clinton earns 38 percent, compared to 27 percent for Sanders and 20 percent for the vice president.)
Sanders' lead in New Hampshire isn't really a surprise at this point, of course. For the better part of the summer, we saw the Vermont Senator's poll numbers in the Granite rising consistently and in early August he overtook Clinton for the lead in that state, a lead he has maintained in subsequent polling. Right now, RealClearPolitics shows Sanders ahead of Clinton at 42.3%, with Clinton in second place at 34.7% and Vice-President Biden in third place at 12.5%. For most of the summer, the conventional wisdom about Sanders' rise in New Hampshire was that it was a result of a combination of his populist appeal and the fact that he was well-known in the state thanks to having spent some three decades in Vermont politics. The fact that we weren't seeing Sanders make any moves against Clinton anywhere else in the country seemed to support that conclusion, but that theory largely had to be abandoned when we saw Sanders starting to close the gap in Iowa, something that is confirmed in this poll. Clinton still leads in the Hawkeye State, of course, with an average of 42%, with Sanders at 24.3% and Biden at 15.8%.  The trend in that state, though, is starting to match what we saw in New Hampshire starting in June. Whether it means that Sanders will overtake Clinton in Iowa in the coming months is something that only time will tell.
Perhaps the more interesting thing about these polls, though is what they show about what impact Vice-President Biden would have on the race if he actually get in. In New Hampshire, Sanders actually sees his lead over Clinton increase with Biden in the race. In Iowa, the gap between Sanders and Clinton is unchanged with Biden in the race but it nonetheless seems clear from the raw numbers that Clinton would be hurt more by Biden entering the race than Sanders, something that Patrick Egan found when looking at other polling as well:
Polling averages show Biden as currently the first choice of about 15 percent of Democratic voters, and it's likely that this number would climb higher following an official announcement of his candidacy.

Which of the current contenders for the Democratic nomination has the most to lose from a Biden run? Front-runner Hillary Clinton and her main rival for the nomination, Sen. Bernie Sanders of Vermont, could both conceivably find their supporters defecting to the vice president.

(The three other candidates in the race—Lincoln Chaffee, Martin O'Malley and Jim Webb—are polling at such low levels right now that it's hard to say much about the votes they might lose to Biden.)

To the extent that Sanders is relying upon "anybody but Hillary" voters for his support, an entry by Biden — who would be a much better-known alternative to Clinton — could cause Sanders's poll numbers to decline.
Egan went on to examine all of the national polls that have been conducted of the Democratic race since May, only 11 of which did not include the Vice-President as an opinion, and the data resulted in the production of this chart: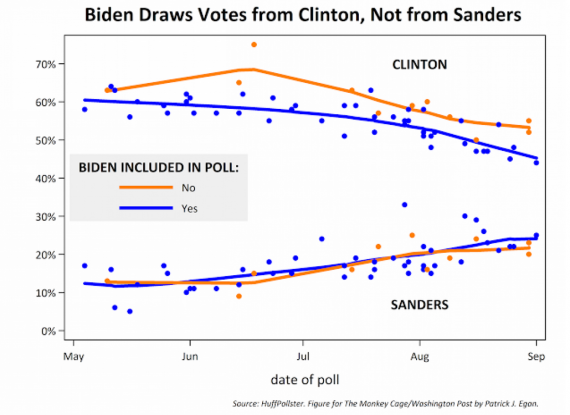 What this shows us, of course, is that Clinton consistently polls worse in polling that includes Vice-President Biden as an option. Given the fact that she and the Vice-President both come from the same wing of the Democratic Party, this isn't entirely surprising, of course. Notwithstanding the pundits who talking about Joe Biden's "working class appeal," he obviously has more in common with Hillary Clinton than he does with Bernie Sanders. Additionally, to the extent that Clinton is benefiting from her association with the Obama Administration, Biden would obviously draw some of that same support himself. Add into all of this, Clinton's ongoing problems regarding the stories about her use of a private email server and her declining favorability numbers, and it's easy to see why the Clinton campaign would be nervous about the idea of Biden getting into the race. Obviously, if he does run the Vice-President's polling numbers might not hold up. In addition to the fact that Biden is obviously benefiting from the same "non-candidate" factor that Clinton did before she actually entered the race, Biden's own weaknesses as a candidate and his long history of malapropisms on the campaign trail would likely come pack to haunt him. Even taking that into account, though, if Biden did enter the race he would likely have a negative impact on Clinton's campaign at least temporarily, and that's not good for her only because she's been dealing with a lot of negative news lately.