Bernie Sanders Is Giving Hillary Clinton A Contest In New Hampshire, But Nowhere Else
Another poll shows Bernie Sanders doing will in New Hampshire, but there's no evidence he's catching on anywhere else in the country.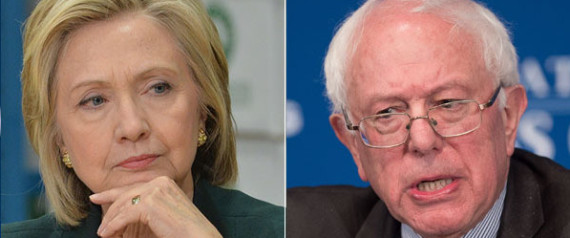 A new poll out of New Hampshire seems to confirm that Vermont Senator Bernie Sanders is giving Hillary Clinton a real fight in the Granite State, but there's little sign that he's having much impact outside of there:
A poll released Tuesday was the second in recent weeks to show Sen. Bernie Sanders (I-VT) leading former Secretary of State Hillary Clinton in the Democratic primary in New Hampshire.

The Democratic-leaning Public Polling Polling found Sanders receiving 42 percent support among Democrats in the state while Clinton received 35 percent.

None of the other four declared Democratic candidates reached double digits.

It was the second poll of New Hampshire to show Sanders with the momentum. An Aug. 12 poll from Franklin Pierce University/Boston Herald also showed the self-described socialist senator leading Clinton by 7 points.

In the latest survey, Sanders was viewed by 78 percent of voters as favorable and 12 percent unfavorable.
You can read about the PPP poll of New Hampshire, which also shows Donald Trump up big on the Republican side, but as noted it is consistent with previous polling that we've seen out of the state. Sanders began surging in the polls in New Hampshire not very long after he entered the race, but even then it seemed clear that it was prudent not to jump to too many conclusions based on that fact. The political media being what it is, of course, that didn't happen. So, when a later poll showing Sanders within only a few points of Clinton in the state was released was followed by another that showed him in the lead, many observers began wondering what this meant for Clinton's campaign as a whole. This is likely to become even more of a topic of conversation now that the RealClearPolitics average shows Sanders leading Clinton by 3.4 points. All of this is happening at the same time that Clinton's favorability numbers were dropping and the email scandal was continuing to bubble thanks in no small part to Clinton's own hamfisted response to the scandal led, of course, to all the inevitable speculation about a potential Biden candidacy notwithstanding the Vice-President's own obvious weaknesses.
When you look beyond New Hampshire, though, there still doesn't seem to be any indication that Sanders is anything other than a regional threat to Clinton whose standing in Granite State is enhanced by his long political history in neighboring Vermont. In Iowa, for example, Clinton continues to hold an impressive lead and a new poll shows little sign that Sanders is threatening her there:
Hillary Rodham Clinton holds a strong lead against her Democratic rivals in Iowa despite lingering concerns about her honesty, according to a new poll.

A survey from Suffolk University found that Mrs. Clinton has the support of 54 percent of likely Iowa caucus participants, with Senator Bernie Sanders of Vermont in second place at 20 percent. Vice President Joseph R. Biden Jr., who has not said if he is running, comes in third place with 11 percent.

The poll questioned 500 likely Democratic caucusgoers, and had a margin of sampling error of plus or minus 4 percentage points. It reveals strong loyalty to Mrs. Clinton among Democrats amid concerns about the controversy surrounding her use of a private email server as secretary of state. While most people said that the email problem did not bother them personally, 52 percent said they thought it would damage Mrs. Clinton in a general election.

"There is huge loyalty to her and they are sticking with her," said David Paleologos, director of the Suffolk University Political Research Center.
With this poll, Clinton continues to maintain a seemingly prohibitive lead in Iowa, which is noteworthy largely because of the fact that this was the state where President Obama beat her back in 2008. Yesterday, in fact, Clinton received the endorsement of former Iowa Governor Tom Vilsack and has already been endorsed by former Senator Tom Harkin. The fact that Sanders has not had nearly the impact in the Hawkeye State that he has in New Hampshire, despite the fact that Iowa's Democratic electorate is arguably one that would be more suited to his message, suggests that what we're seeing in New Hampshire has a lot to do with his regional connections to the state. Clinton is also maintain strong leads in South Carolina and Florida, as well as in the national polling, although it's worth noting that she has fallen below 50% in those national polls at least for the moment. For the most part, though, while Sanders has drawn large crowds in other parts of the country, so far he only seems to be having an impact in New Hampshire.
None of this precludes the possibility that Sanders could start having an impact elsewhere, of course, but it seems unlikely, As I've said before, it seems highly unlikely that Democrats are going to nominate a 73 year old socialist from Vermont as their Presidential candidate. This isn't 1972, and they're not going to nominate an elderly version of George McGovern. Additionally, it seems quite apparent that Sanders simply doesn't have the resources for a national campaign against someone like Clinton. His fundraising numbers, while impressive and indeed better than many of the Republican candidates have done, are nowhere near what Clinton has been able to raise or will be able to raise. Unless that starts changing, and unless we see real signs that Sanders is having the same impact outside New Hampshire that he has had in the Granite then, it's far too early to be calling him a serious threat to Clinton. Indeed, if the Democratic race ever gets to the point where there is a serious threat to Clinton's candidacy, that's the point when you'll see credible candidates like Joe Biden get in the race. They'd be the ones to benefit from a collapse on Clinton's part, not Bernie Sanders.