Hillary Clinton Continues To Dodge And Dismiss Questions About Her Private Email Server
While new information seems to come out on a daily basis, Hillary Clinton would rather that everyone think that her private email server wasn't really a very big deal.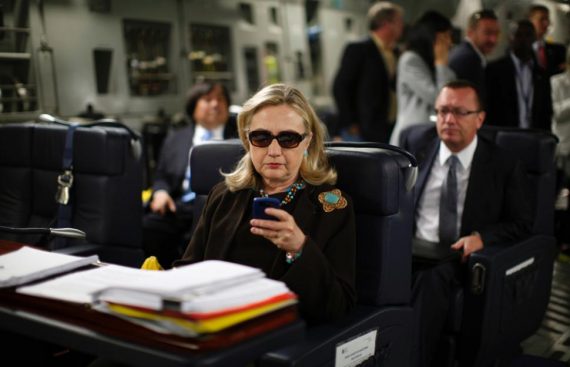 Once again facing questions about her use of a private email server while in office and how classified information was handled on that account, former Secretary of State Hillary Clinton once again dismissed many of the questions that are being raised in a press conference that many are calling 'testy':
[T]he Democratic front-runner faced another group who had waited patiently to ask her questions: the press. This time, in an empty and quiet gymnasium, Clinton grew testy as the back-and-forth with reporters became more heated and focused pointedly on her emails and her use of a private server while she served as secretary of state.

"What was supposed to be convenient has turned out to be anything but convenient," she said, reiterating that she "wants Americans to understand" that when it comes to whether or not she sent or received any classified emails, the process would be the same whether or not she had used a government account. "It has nothing to do with me and it has nothing to do with the fact that my account was personal," she said of inspectors general investigations into whether or not classified material was discovered.

"Isn't leadership about taking responsibility?" she was asked.

"I take responsibility … in retrospect this didn't turn out to be convenient at all," she said. "And I regret that this had to become such a cause celebre," reiterating that what she did was legal and she has tried to be helpful to law enforcement agencies.

"No matter what anyone tries to say, the facts are stubborn," Clinton said. "What I did was legally permitted, first and foremost. No. 2, I turned over an abundance of [emails in] an attempt to be helpful, over anything that I thought was vaguely related [to work]… and I said make them public." She acknowledged "anxiety" about it, but stated: "The facts are the facts."

The Justice Department is now investigating whether there was any improper handling of sensitive material. Clinton's campaign has said she is not the target of the probe.

But when pressed multiple times about whether she had tried to wipe her entire email server clean, Clinton was not able to answer the question.

"I don't know, I have no idea," she said. "Like with cloth or something? I don't know how it works digitally at all. I know you want to make a point, I will just repeat what I have said: in order to be cooperative as possible, we have turned over the server … we turned over everything that was work-related. Every single thing."

(…)

As she exited the gymnasium, a reporter asked her if the questions were an indication that the email controversy isn't going away, and will dog her campaign into next year.

Clinton turned around, her hands raised in the air in a shrug. "Nobody talked to me about it — other than you guys," she said, and then exited with her top aides around her.
The video of one part of Clinton's exchange with reporters is worth watching:
Notwithstanding Clinton's claim that the press is the only entity that seems to care about the email story, it seems fairly clear that the story is far more substantial than her dismissive tone would seem to suggest. The matter has already been referred to the Justice Department due to concerns about whether or not classified information was being transmitted in a manner that was forbidden by law. Shortly after that, it was reported that the FBI had been brought in to investigate the matter, a move that led Clinton to finally turn the server over to investigators after months of insisting that she would not do so. More recently, it's been reported that the number of emails that may contain classified information had already reached more than 300, that Clinton had made use of a private company that may not have been cleared to handle government information at all to back the server up at its own location, and that said backup server was kept in an unsecured location in a closest in a bathroom of the company's Colorado offices.
Throughout this whole time Clinton, and many of her supporters, have dismissed concerns regarding her private email server in much the same way as the Clintons have dismissed other questions that they have faced in the past. In yesterday's press conference and in others that she's had where this issue has come up, for example, Clinton has claimed that the only people who seem to care about this issue are Republicans on Capitol Hill and the press corps that follows her campaign around. In reality, several reporters have begun to note anecdotal reports of conversations with people who have shown up at Clinton rallies in the past several months who have said that they do find the whole episode troubling, and the fact that recent polling continues to show Clinton's favorability and trustworthiness slipping significantly while a seemingly insignificant candidate like Bernie Sanders gains on her and a new poll that shows that even Donald Trump is closing the gap with her in a hypothetical General Election matchup, would seem to indicate that this isn't the non-story that Clinton and her more loyal supporters would like to pretend that it is.
According to Politico, though, some of Clinton's allies are becoming concerned about how the campaign is handling the issue:
As Hillary Clinton faces a new round of questions about her email use as secretary of state, some longtime allies are increasingly worried that she's learned little from past scandals, and is falling back on her tendency to mount a legalistic defense that only encourages perceptions that she has something to hide.

A key concern is whether top campaign operatives new to Clinton's orbit have enough influence in crafting her response to the email controversy. A source with inside knowledge of the Clinton campaign voiced concern that the candidate and her longtime attorney David Kendall are the only ones calling the shots — and can have a tin ear when it comes to the politics, rather than simply the legal status, of the email saga.

Others have expressed dismay at how testy Clinton appears when answering questions from the press with regard to her email. A news conference on Tuesday in Las Vegas grew heated as Clinton was grilled about whether or not she had tried to wipe her email server. Some were shocked that Clinton did not have a simple answer. "I don't know, I have no idea," she said. "Like with a cloth or something?" (On twitter, her spokesman responded immediately that Kendall had said months ago that the server was empty.)

Even Clinton's staunch ally David Brock, founder of the rapid response organization Correct the Record, told POLITICO he has heard concerns from the donor class about how the barrage of headlines about criminal probes and FBI investigations are harming the campaign. He added that campaign surrogates — allies who appear on television to defend Clinton and explain the sometimes complicated facts about her email use — have sometimes done a poor job of presenting the argument to win what he deemed another wholly partisan fight.

Some Democratic strategists said their advice would have been to "get it out there, get it done with, get it behind you," by turning over everything — emails, server, thumb drives — to the Justice Department months ago to move on. Instead, it was not until last week that Clinton agreed to turn over her server to DOJ.
The Washington Post's Eugene Robinson, meanwhile, argues that, regardless of the legalities involved, Clinton's fundamental error has been one that can best described as arrogance:
Clinton was no stranger to the rules of the federal government. She had to know that if she used a State Department account, her 60,000-plus e-mails would become part of the official record. She certainly knew, without any doubt, that her political opponents would delight in rummaging through her communications. Let's be honest: Hillary and Bill Clinton do have enemies, lots of them, who show no compunction about launching unfair and vicious attacks. She must have wanted to make sure they never got the chance.

But all of that is beside the point. If you accept the job of secretary of state, you inevitably surrender some of your privacy. Any public official's work-related e-mails are the modern equivalent of the letters, memos and diaries that fill the National Archives. They tell our nation's history and belong to all of us. Even if your name is Clinton, you have no right to unilaterally decide what is included and what is not.

So I wish Hillary Clinton would be respectful enough to say, "I'm sorry. I was wrong." I wish she wouldn't insult our intelligence by claiming she only did what other secretaries of state had done. None of her predecessors, after all, went to the trouble and expense of a private e-mail server.

I wish she would explain why, after turning over to the State Department the e-mails she deemed work-related, she had the server professionally wiped clean. The explanation that she didn't want people prying into private matters such as "planning for [daughter] Chelsea's wedding . . . as well as yoga routines, family vacations, the other things you typically find in inboxes" is unconvincing. Does she have some secret yoga move she doesn't want the world to know about?

And I wish I could be sure that Clinton is now, finally, doing everything in her power to ensure that any extant e-mails are turned over to the State and Justice departments. Unfortunately, I can't. She stonewalled for so long — there's no other word for her stance — that recent pledges of openness and cooperation ring hollow.

If Clinton now has political problems because of the e-mails — or, potentially, even legal trouble — it's her own doing.
Robinson is absolutely right, of course. Even leaving aside the point that the original decision to use a private email server rather than an email address provided by the government was, at the very least, irresponsible even if it wasn't expressly forbidden by existing regulations, the way that Clinton has handled this story has only served to guarantee that it would continue to fester. Her original explanation for why she did this, that she didn't want the inconvenience of having to carry two different mobile devices, something which many employees in government and private industry do on a regular basis, quite simply strained credulity. The further revelation that the people who were making the determination as to whether or not particular emails should be turned over to State Department after she left office were people solely loyal to Clinton, rather than State Department employees, makes it difficult to believe her protestations that she wants full disclosure of all of her "work-related" correspondence. She said from the beginning that she never used her private email to transmit or receive classified information, and now it seems clear that at the very least she may have received such information or that others who worked around her who also had accounts on the server may have done so. Rather than being open about this story from the beginning, Clinton has prevaricated and dodged. Now, with the contradictions piling up behind her and the Federal Bureau of Investigation involved in the matter,  it's fairly clear that this story isn't going to go away any time soon. Indeed, when Clinton takes the stand later this year before the House Select Committee investigating the Benghazi attack, it's likely that many of the questions will center on this issue. As Robinson says, Clinton has nobody but herself and her dismissive attitude to serious questions to blame for what happens at this point.