Hillary Clinton's Favorability Hits Its Lowest Level In Years
Hillary Clinton is taking a hit in the polls, but it's unclear if that's going to matter when 2016 rolls around.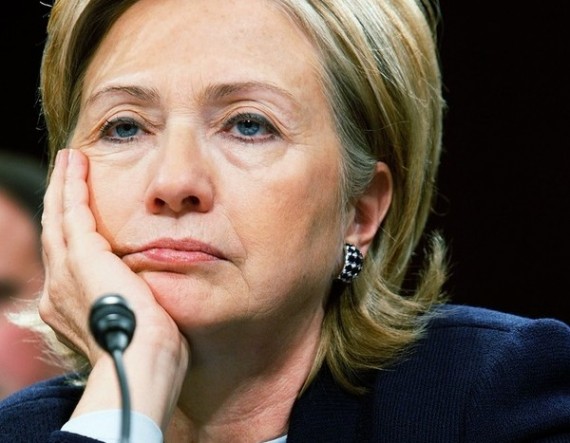 The first couple months of Hillary Clinton's 2016 Presidential campaign have arguably not gone as smoothly as she likely would have preferred. Even before she officially launched her campaign in April, the former Secretary of State was dealing with the repercussions of the rather surprising revelation that she had used a private e-mail server for all of her official correspondence while serving at Foggy Bottom. Shortly after that, a new book and companion investigations by The New York Times and other media outlets began reporting on a series of revelations regarding the dealings of the Clinton Foundation including the Foundation's  failure to report donations from foreign sources, its involvement in  a multinational deal involving a Russian uranium company, and other information that showed that the Foundation had not complied with an agreement that had been made with the Obama White House when Clinton began serving in 2009. At least initially, polling indicated very little damage to Clinton from  either the email scandal orthe allegations involving the Clinton Foundation, although it was becoming apparent that the stories were having an impact on Clinton's favorability and the extent to which Americans considered her trustworthy. Today, however, there are two new polls out showing that Clinton's favorability ratings are continuing to decline, and that could end up hurting her standing in General Election match-ups.
In a new CNN/ORC poll, for example, Clinton's unfavorable number are at their highest point since her and her husband left the White House:
More people have an unfavorable view of Democratic front-runner Hillary Clinton now than at any time since 2001, according to a new CNN/ORC poll on the 2016 race.
While Clinton remains strikingly dominant in the Democratic field, the poll shows that her numbers have dropped significantly across several key indicators since she launched her campaign in April.

A growing number of people say she is not honest and trustworthy (57%, up from 49% in March), less than half feel she cares about people like them (47%, down from 53% last July) and more now feel she does not inspire confidence (50%, up from 42% last March).

In head-to-head match-ups against top Republicans, her margin is tighter than it has been at any point in CNN/ORC's polling on the contest.

In general election match-ups, Clinton now runs about even with Rand Paul, Scott Walker and Marco Rubio, while she continues to top Bush and Ted Cruz by a significant margin.

As noted above, those shifts stem largely from a change among independents, though Republicans appear to be solidifying their support for GOP candidates while Democrats are slightly less certain about Clinton.

One feature of the race that has held even as the numbers shifted: These match-ups prompt enormous gender gaps. According to the poll, the gender gaps remain over 20 points in each of the five match-ups tested, including a whopping 34-point gender gap in Clinton's match-up with Scott Walker.

Her declining support in those general election match-ups, alongside falling favorability ratings and worsening impressions of her, suggests recent news about her actions as secretary of state may have taken a toll.
There are similar numbers in the new ABC News/Washington Post poll:
Clinton's favorability ratings are the lowest in a Post-ABC poll since April 2008, when she was running for president the first time. Today, 41 percent of Americans say she is honest and trustworthy, compared with 52 percent who say she is not — a 22-point swing in the past year.

(…)

Clinton's favorability rating has fallen steadily since she left the Obama administration in early 2013. Today, 45 percent see her positively while 49 percent see her negatively. That compares with ratings of 49 percent and 46 percent two months ago. Just 24 percent have a strongly favorable impression of her — down six points in the past two months — while 39 percent have a strongly unfavorable impression, up four points.

The decline in Clinton's ratings as a candidate who is honest and trustworthy highlights a likely vulnerability as a general-election candidate. Half of all Americans disapprove of the way she has handled questions about the Clinton Foundation, and 55 percent disapprove of how she has handled questions about her personal e-mails as secretary of state.

Meanwhile, half also disapprove of the way she has dealt with questions about the attack on a U.S. diplomatic post in Benghazi, Libya, on Sept. 11, 2012, that resulted in the deaths of four Americans, including U.S. Ambassador J. Christopher Stevens.

Majorities see the issues of the Clinton Foundation and Benghazi as fair game in the presidential election, while almost half of Americans say the e-mail issue is a legitimate topic.
The poll also shows Clinton with just a three point lead over Jeb Bush in a hypothetical General Election contest, but for some reason they either did not poll any head-to-head contests between Clinton and any of the other potential Republican candidates or they have not released those numbers yet. Nonetheless, it is worth noting that the last time ABC and The Washington Post polled a Clinton-Bush contest Clinton led Bush by twelve percentage points. In any case, what both polls are showing us is that Clinton is being hurt in at least some way by the ongoing coverage regarding issues from the recent past. As I have noted before, Clinton's previous favorability numbers were unnaturally high and it was inevitable that they would start to decline once she entered the race for President. The fact that they now generally match the partisan divide in the nation as a whole isn't entirely surprising. Additionally, it has become clear that, at least among Democrats and others inclined to support Clinton's campaign, her ethical lapses don't really seem to matter. Finally, even taking into account all of the problems Clinton has had over the past several months and the impact it has had on her poll numbers it shouldn't be forgotten that, in the end, she will be the first female Presidential nominee and she will be running against whomever  the Republicans nominate in 2016. Just as the prospect of Barack Obama becoming the first African-American President was a powerful element behind the popularity of his campaign, it's likely that the same will happen with Hillary Clinton no matter how many negative stories come out. Add to that the fact that Democrats have a strong advantage in the Electoral College that it will be difficult for the GOP to overcome, and the issues that Republicans have with young, minority, and female voters, and Clinton's position seems to be fairly strong notwithstanding these poll numbers.
At the same time, though, the fact that Clinton's favorability is turning negative and that large segments of the public are saying that she isn't trustworthy is hardly a good thing. If this were happening closer to the General Election, it would be a huge problem. As it is, while there is still plenty of time for Clinton to bounce back from this and while she does still lead in most head-to-head matches, it's still something that the campaign ought to be dealing with sooner rather than latter unless they want to have even bigger headaches on their hand than just a couple of bad polls.