Hillary Clinton's Poll Numbers Suggest Email Scandal May Have No Lasting Impact
Despite the ongoing email controversy, Hillary Clinton remains well positioned heading into 2016.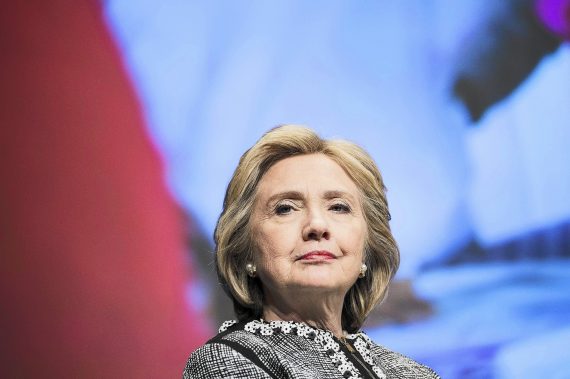 While the story about Hillary Clinton's use of a private email account continues to percolate in the political media, not the least because of Clinton's own response to questions about the entire issue, a new poll from Gallup demonstrates quite clearly why she remains the overwhelming favorite for the Democratic nomination and well positioned against her Republican opponents, and why the ongoing email "scandal" may not end up having any lasting impact:
Hillary Clinton is one of a few potential 2016 presidential candidates to have a significantly higher favorable (50%) than unfavorable (39%) rating among the American public. And the 89% of Americans who are familiar enough with Clinton to have an opinion of her is more than any other potential 2016 presidential candidate. Clinton's relatively high scores on both dimensions give her a better starting position regarding her image than other competitors would have in the 2016 U.S. presidential election.

These results are based on a March 2-4 Gallup poll of 1,522 U.S. adults, conducted just as revelations about the private email account Clinton used to conduct business while secretary of state became a major news story, but before her Tuesday press conference addressing questions about the issue.
Here's a chart showing where the candidates mentioned in the poll stand: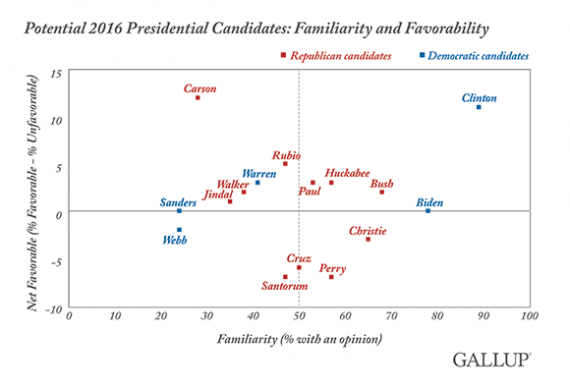 The graph plots 16 potential candidates –11 Republicans and five Democrats — on a two-dimensional chart displaying their familiarity and favorability ratings. The candidates who appear in the upper-right quadrant are in the most advantageous position at this point as they are both relatively well-known and have higher favorable than unfavorable ratings. In addition to Clinton, Republicans Jeb Bush, Mike Huckabee and Rand Paul reside in this space. However, Americans rate each of those Republicans only slightly more positively than negatively, with net favorable scores of +2 or +3, compared with Clinton's +11. And Huckabee and Paul have just slightly above average familiarity. Generally speaking, the further candidates are away from the intersecting lines, the better their image.

Candidates in the lower-right quadrant — including Chris Christie and Rick Perry — are among the better-known candidates, but Americans do not view them positively overall. Joe Biden and Ted Cruz are on the edges of this quadrant. Biden is well-known, but opinions of him are equally positive and negative, while Cruz is viewed negatively but has average familiarity. The challenge for these politicians should they run for president is to alter existing perceptions about them so they are more positive than now, or alternatively, to get the smaller group of Americans who are unfamiliar with them to get to know them and view them positively.

Americans view candidates in the upper left quadrant — including Republicans Marco Rubio, Scott Walker, Bobby Jindal, and Ben Carson and Democrat Elizabeth Warren — more positively than negatively, but these candidates have lower than average familiarity.
These numbers are largely consistent with other polling that we've seen over the past year or more that shows Clinton with both an overwhelming lead over any of the other candidates for the Democratic nomination, and with a consistently solid lead over each of her potential Republican opponents in 2016. While it is obviously far too early to put much weight on these horse race polls, they do indicate that Clinton remains in a stronger position than any other potential Presidential candidate. In the Democratic Party, she is quite simply head and shoulders above any of the other potential candidates in  a way that wasn't true in 2008, when Clinton was in the lead but even in 2007 it was clear that a candidate like Barack Obama could potentially take the nomination from her. This time, there is no Obama-like candidate in the Democratic field, and it is highly unlikely that any of the potential candidates could become that kind of candidate over the next year. Barring some kind of epic implosion or a decision on her part not to run for personal reasons, the odds that someone other than Hillary Clinton will be the Democratic nominee in 2016 are infinitesimally low.
The Washington Post's Philip Bump notes that there is potential bad news in the Gallup poll for Clinton. Specifically, as he correctly notes, Clinton's overall favorability has declined significantly since she left the State Department while there has been a smaller, but noticeable, uptick in her unfavorable numbers. As I've noted before, when Clinton was Secretary of State she was largely above politics and wasn't making public statements about controversial domestic policy issues, and thus benefiting from the image that she had been cultivating since the time she was First Lady without any of the negatives she'd experienced before. You'll note, for example, that the chart that Bump refers to in proving his point shows that her favorable numbers didn't start rising until after she was a candidate for President and, then, when she was named Secretary of State. Once she left office in 2013 and it became obvious to everyone that she was again a candidate for President, her numbers changed to reflect this fact. So, while the decline in favorability is something to keep an eye on if it continues after she enters the race for the White House, it isn't necessarily as big a problem as Bump makes it out to be, especially considering that, even after this decline is taken into account, Clinton is still better situated than her Democratic and Republican opponents.
More importantly, though, what this poll shows is not only that Clinton is viewed more favorably than any other candidate, but that she is the candidate that nearly every American has made up their mind about. Given the fact that she, along with her husband, has been part of American political life and American culture for the past twenty-two years, this isn't really very surprising. In those two decades, we've seen repeated Clinton scandals and accusations by political opponents directed at her and the former President, and that continued after Clinton became a Senator, ran for President, and became Secretary of State. To a large degree, to the extent that people have a negative opinion of Hillary Clinton they usually end up being people who have held that opinion for a long time, and the same goes for the people who view her positively. Given this, it's not all clear that the latest revelations about her use of private email as Secretary of State are going to have any real impact on her going forward. Indeed, a poll released last week after the story broke, but before Clinton's press conference earlier this week, showed that the majority of Americans were not paying much attention to the story at all. If that remains true, and assuming that there aren't any smoking guns discovered in Clinton's State Department emails when they are finally released, it's not at all clear that this latest Clinton "scandal" is going to have any more of an impact than all the others.