Hispanics Hate Trump, Love Hillary, Indifferent to Rest of Republican Field
Trump is at -51 net favorability and Clinton at +40. The rest of the field is at "Who?"
The headline of a Gallup analysis, "Hispanics Frown on Trump, but Not Rest of GOP Field," is encouraging for Republicans. The actual survey results, less so.
At first glance, it looks good for Republicans: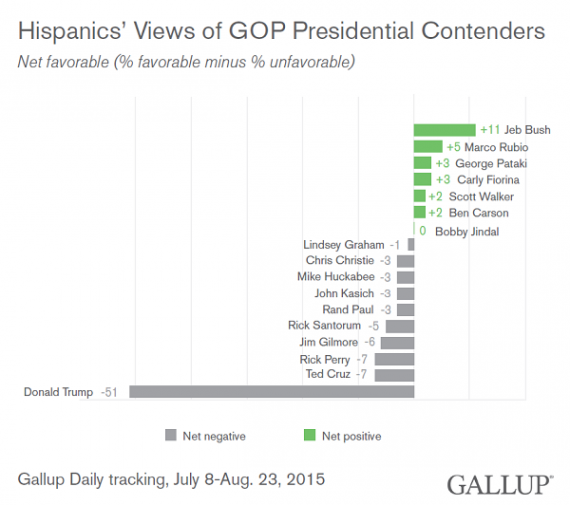 But look at the Democrats: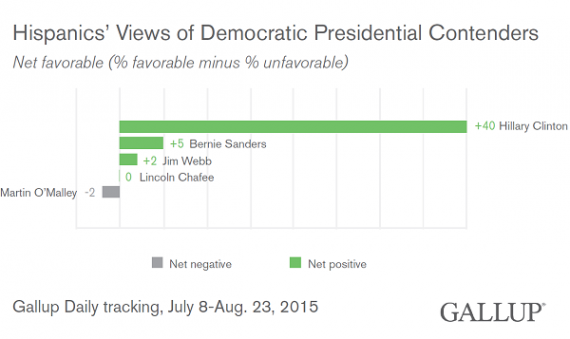 That's a rather stark advantage.
Now, granted, much of this is simply about name recognition:
Gallup began tracking the images of all the major announced candidates for president nightly in early July. Since then, 14% of the roughly 650 Hispanics interviewed have said they view Trump favorably, while 65% have viewed him unfavorably, yielding a net favorable score of -51. This separates Trump from the next-most-unpopular Republicans among Hispanics — Rick Perry (-7), Ted Cruz (-7) and Jim Gilmore (-6), who are viewed far less negatively.

Bush presents the greatest contrast to Trump. Bush's average 34% favorable and 23% unfavorable ratings among Hispanics since July give him a +11 net favorable score — the highest of any GOP candidate. The net favorable scores of Marco Rubio (+5), Carly Fiorina (+3), George Pataki (+3), Scott Walker (+2) and Ben Carson (+2) all tilt slightly positive, although none of these candidates is nearly as well-known among Hispanics as Trump and Bush.

In terms of familiarity, only Trump and Bush are recognized by a majority of Hispanics. Eight in 10 have formed an opinion of Trump and about six in 10 of Bush. Familiarity dwindles to roughly 40% for Rubio and Cruz, both Cuban-Americans, as well as for Perry and Chris Christie, but drops well below that for all the others. (See the full ratings in the tables at the end.) [emphasis added]
Regardless, the odds-on Democratic favorite is doing much better:
On the Democratic side, only Hillary Clinton is a familiar figure to a substantial segment of U.S. Hispanics. As a result, she is the only one with a sizable net favorable score. Three-quarters of Hispanics have an opinion of Clinton. With 58% viewing her favorably and 18% unfavorably, she has a net +40 favorable score. This is remarkably similar to Clinton's image among Hispanics in advance of the 2008 presidential primaries, in June 2007, when 63% viewed her favorably and 20% unfavorably.

Bernie Sanders is the next-most-recognized Democrat, known to 25% of Hispanics. Nearly as many view Sanders unfavorably as favorably, giving him a +5 net favorable score. The other Democrats — Jim Webb, Martin O'Malley and Lincoln Chafee — are each known to only 14% of Hispanics and, as a result, have even lower net favorable scores, ranging from +2 to -2.
The silver lining is that Bush is at least moving in the right direction:
Meanwhile, an interesting shift in Hispanics' ratings of Bush has occurred. His net favorable rating among Hispanics jumped from +1 in July (based on 28% viewing him favorably and 27% unfavorably) to +22 in August (41% favorable, 19% unfavorable), a significant change at a time when no other candidate's image has shown much movement. This could reflect Hispanics' support for Bush's more moderate tone on immigration — at least before he referred to the children of illegal immigrants as "anchor babies." These figures will serve as a valuable baseline to see whether the ongoing criticism of Bush for using the term "anchor babies" hurts him in the Hispanic community.
Or, it may simply be a case that all most Hispanics knew about Bush a few months ago was that (1) he was a Republican and (2) his last name was "Bush."