Republican Favorability Inexplicably Jumps, Higher than Democrats'
A new Gallup poll gives the GOP its highest favorability in years.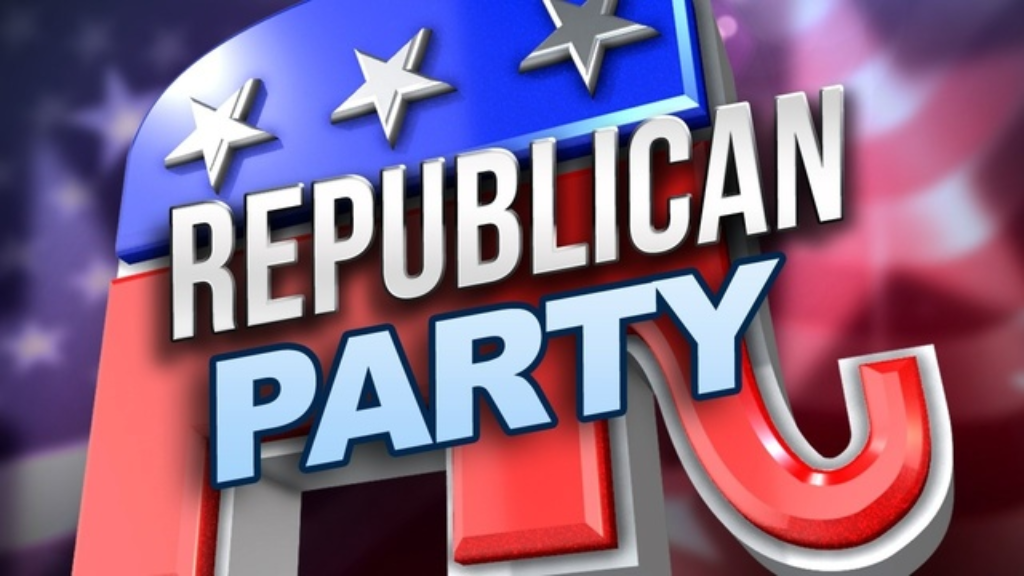 A new Gallup report, titled "Republican Party Favorability Highest in Seven Years," is getting wide coverage. From the reports lede, by Jim Norman:
Forty-five percent of Americans now have a favorable view of the Republican Party, a nine-point gain from last September's 36%. It is the party's most positive image since it registered 47% in January 2011, shortly after taking control of the House in the 2010 midterm elections. Forty-four percent give the Democratic Party a favorable rating.

The parity in Republicans' and Democrats' favorable ratings marks a change from what has generally been the case since Barack Obama's election as president in November 2008. Republicans have usually been rated less positively than Democrats over this time, with the Republican Party's favorability rating for the last decade averaging 39%, compared with the Democratic Party's 44%.
Here's their graphic showing the trendlines: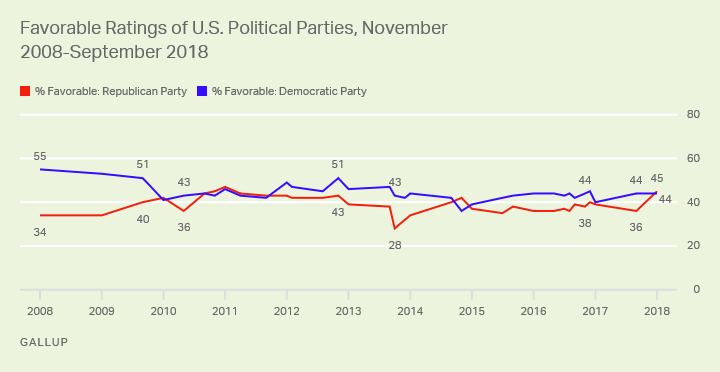 The result certainly seems like an outlier but, alas, I'm not finding other polling on party favorability per se. Still, President Trump's approval ratings are awful, sitting at minus 8.7% in the RealClearPolitics average and, interestingly, at minus 16% in the same Gallup poll that has GOP favorability up! Similarly, Democrats have a 7.5 point advantage in the RealClearPolitics average generic Congressional vote (Gallup doesn't poll on that question). It defies logic that the Republican Party has a favorability advantage over the Democrats when their President and Congressional delegation are so unpopular.
Beyond that, I can think of nothing happening in recent news reports that would have generated a bounce for the party. While the base may well be fired up about the Kavanaugh fight, the sheer sordidness of it would seem to reflect badly on the GOP for independents.
A CNN report on the poll observes,
Some could interpret this as a good sign for the Republican Party, that if their success in 2010 was predicted by higher ratings, it could forecast their holding of Congress in November.

But favorability doesn't always foretell success in non-Presidential elections. In October 2002, during President George W. Bush's first term, Democrats had a favorability rating of 58%, one of their highest ever and Republicans had a favorability of 53%, also relatively high. Despite this, Republicans gained a net of 10 seats in Congress. In-power parties usually lose seats during midterms.
But favorability only loosely translates into electoral success, especially in midterms. For one thing, all things being equal, the wealthier and older voters that make up the Republican base are more likely to vote than younger and minority voters that are the key Democratic constituencies. Perhaps more importantly, relatively few House districts are competitive and the apportionment gives Republicans an outsized advantage. The Senate, too, heavily favors the GOP in terms of representation versus national polling.