Mitt Romney's Favorability Problem Continues
Mitt Romney continues to have serious problems getting people to like him.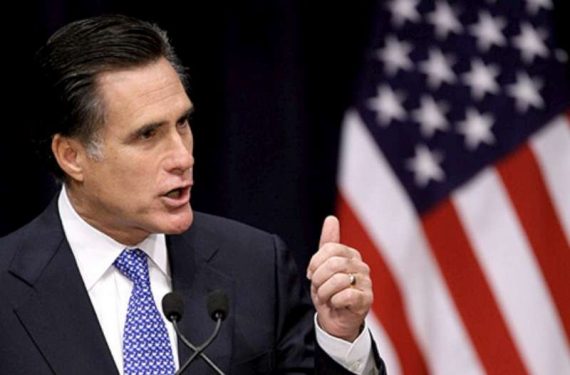 A preview release from the new ABC News/Washington Post poll shows us that Mitt Romney is still having trouble connecting with the public:
Mitt Romney's favorability ratings have stalled over the course of his campaign's bumpy summer months, with his earlier improvements as he was wrapping up the Republican nomination in the spring appearing to flat-line, according to a new Washington Post-ABC News poll.

While 40 percent of voters now say they hold a favorable opinion of the former Massachusetts governor–virtually unchanged from May–those holding negative views of Romney ticked higher in the new poll, from 45 percent to 49 percent.

Meanwhile, President Obama remained in positive territory on that measure, with 53 percent of voters reporting they hold favorable opinions of the incumbent. Only 43 percent say they feel unfavorably towards him.

Polls have generally shown a tight contest despite Obama's consistent edge on the question of personal popularity.

But a Post poll concluded just as Romney was clinching the nomination showed Romney appearing to gain ground on the president. His favorability ranking rose to a career best 41 percent, while for the first time he matched Obama among detractors, with 45 percent viewing each man unfavorably.

Romney's failure to continue to gain on Obama since then may be a sign that his image has been damaged by summer stumbles, including new attention on Romney's tax returns and an overseas trip that included well publicized gaffes.
This is an "All Adults" poll, which in some sense is rather useless just three months out from an election, but the poll report [PDF] also includes favorability numbers for Registered Voters and the numbers are better for Romney among that group. There, Obama's numbers are 49% Favorable while Romney's are 42% Favorable which, as this chart shows is both Obama's low and Romney's high since this question has been polled: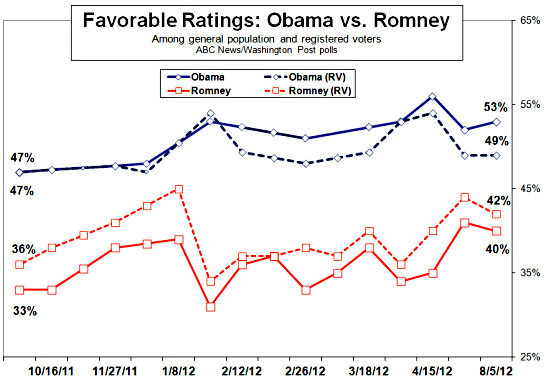 Ed Morrissey sees signs that Romney's unfavorable numbers may be peaking and, while there are signs he might be correct there when you look at the Registered Voter numbers, the fact of the matter remains that there hasn't been much movement in his Favorable number, which is just as important as what happens to the Unfavorable number. Just take a look at this chart from Pollster, which shows the average Romney's Favorable/Unfavorable numbers going back to April 10th, the day Rick Santorum dropped out of the race:
The chart going back to January and the start of the primary season looks pretty much the same. The one thing you notice here is that, notwithstanding slight variations, Romney's Favorable and Unfavorable numbers have been fairly steady since the start of the year and that his Unfavorable number has always been higher than his Favorable number. It becomes more interesting when you look at the chart going all the way back to May 2011 when the Republican race began in earnest: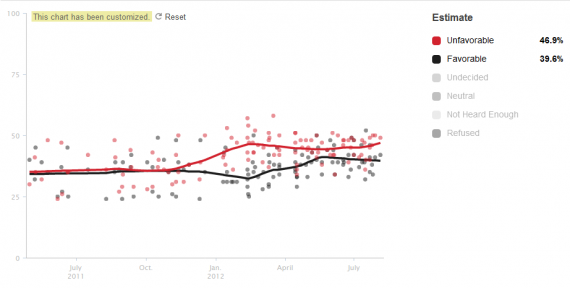 Look what happened here. Romney's favorability numbers were fairly identical for a large part of the primary season and then, around November of last year they started to separate as his Unfavorable numbers started to creep up. That, no doubt, is a reflection of the barrage of negative ads and negative commentary that was coming Romney's way from his Republican opponents. That's to be expected in a primary race, of course, everyone takes aim at the guy at the top of the race and, this time around, Romney had to deal not only with his opponents but also with the SuperPAC's that supported them. It's not at all unusual for a nominee to come out of the primary race with upside down favorability numbers.
Romney's problem is that he's spent the four months since the primary's ended letting his opponent define him with negative ads about Bain Capital and other matters, and he's played a risky game of dodge-the-question when it comes to his tax returns. While the hard numbers from the polls don't indicate that he's suffered significant damage in the favorability numbers, it does show that those numbers have essentially stayed where they were when the barrage of negative ads started. In other words, the Obama ads are reinforcing the perception the public had of Romney when the primaries ended.
To make it worse, the Romney campaign hasn't done much of anything to make a positive case for their candidate. It's true that they are somewhat hamstrung by the fact that they cannot spend any of the money that they've raised for the General Election before Romney is officially nominated by the Republican Party for President. Nonetheless, they surely have some primary money left, they must because they are running ads right now here in Virginia. Where's the positive ads that we usually see from a candidate after they win the primaries? Where's the press effort to reintroduce the candidate to the public like the one John McCain undertook in the summer of 2008? As many observers have noted, the time when the Presidential campaign essentially went on haitus until the conventions long past. The Obama campaign has been working hard to define Mitt Romney, and these numbers indicate that they are succeeding. The fact that there's been little to no push back from Boston should be of concern to Romney supporters because it indicates that they aren't exactly doing a great job right now.
There is still time for Romney to try to take control of this, of course. The announcement of his running mate and the run up to the convention are an opportunity to do just that if it's done right. So far, the signs out of the campaign don't seem to indicate that they have any kind of strategy in that regard, though, and that's a problem for Romney.
Update: Talking Points Memo notes that Romney finds him in an historically unique position:
Romney's 40 percent favorability mark represents the lowest midsummer personal popularity rating for a presumptive presidential nominee dating back to 1948. Perhaps Romney's only solace is that former President George H.W. Bush nursed a comparable 41 percent favorability rating at a similar point in 1988. Bush, of course, went on to comfortably win the presidential election that year — although he wasn't facing an incumbent.
Unfortunately for Romney, President Obama is not only the incumbent, he's also a far better campaigner than Mike Dukakis was.