Obama Leading Romney In New Polls, Extent Of Convention Bounce Is Unclear
A new round of polling has Obama in the lead and shows reasons why Romney's supporters should be concerned, but it's unclear how long any of this will last.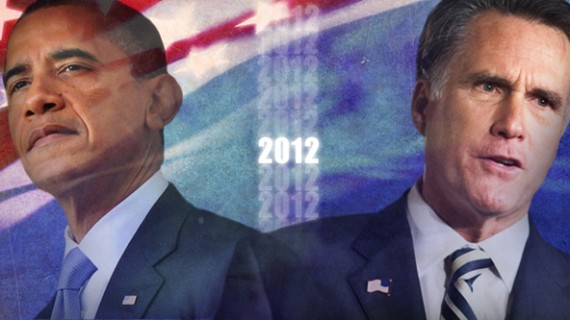 The first round of polling of the Presidential race other than the Daily Tracking Polls from Rasmussen and Gallup is out, and the verdict is still somewhat unclear. There does seem to be clear evidence that President Obama has gotten somewhat of a bounce from the Democratic National Convention and, more importantly perhaps, that Mitt Romney didn't really get any bounce at all from the Republican Convention. I've written several times since Friday about the movement in Obama's favor in the tracking polls — today, Obama's lead in the Rasmussen poll slipped from 4 points to 2 points while his lead increased to six points in the latest Gallup Poll — but it's worth keeping in mind that these polls do tend to be more volatile than the polling that we're used to seeing highlighted on CNN and other networks. As such, it's not always advisable to rely on them as anything more than indications of an overall trend. When we look at the national polling, we get a slightly murkier picture.
First up, there's a new poll from CNN/ORC that shows Obama above 50% for the first time in awhile and leading Romney by six points:
(CNN) – A new survey indicates President Barack Obama moved up four points following the Democratic National Convention last week, and now has a six point advantage over his Republican challenger Mitt Romney.

According to a CNN/ORC International Poll (PDF) released Monday, 52% of likely voters nationwide back the president, compared to 46% for Romney. Just before the convention in Charlotte, North Carolina, Obama was tied with Romney 48%-48%.

"The Democratic convention was fairly well received, particularly in comparison to the GOP meeting the previous week in Tampa," CNN Polling Director Keating Holland said.

The convention energized-at least temporarily- the Democratic base, as more Democrats (59%) than Republicans (57%) seemed to be enthusiastic about voting. This marks a turnaround from last week, when the number of Republicans who said they were extremely or very enthusiastic about voting was six points higher than for Democrats.

While the survey shows several changes coming out of the last two weeks, it's important to note that post-convention bounces have often proven to be temporary in past elections. A candidate may get a mild boost after a party gathering, but the question is whether the White House hopeful can sustain the momentum in the following weeks.

"The advantage of going second is you get the last word," an Obama campaign official told CNN reporters covering the Charlotte convention last week.
That advantage can be most clearly seen in the changes that have occurred to Mitt Romney's likability numbers. Both prior to and after the Republican convention, the former Governor seemed to be experiencing an up-tick favorability due in part, no doubt, to the generally positive press he was getting in the run-up to the convention and the impact of things such as Ann Romney's very well received speech on the first night of the GOP Convention. Polling after the Republican convention showed Romney making up significant ground in the favorability area, in fact. With the Democratic Convention behind us, though, things are quite different:
This year's Democratic event wiped away some of Romney's gains on personal qualities. The Republican nominee's favorable rating increased to 53% after the GOP convention, but fell to 48% one week later after the Democratic event. Meanwhile, Obama rose to 57% in the last week, his highest mark since 2010.

Obama also took away Romney's lead on leadership for the country's future. Now 51% of likely voters think Obama has a more optimistic vision for the country's future, compared to Romney at 41%. Last week, however, 43% said Obama was more optimistic, while 47% said the same about Romney.

Another takeaway from the two conventions was that Obama seemed to come out as the candidate with a more specific plan to help the country. Before the Republican event, 45% thought Romney was more likely to have a clear plan, while only 39% felt the same about the president. Now the two have switched places, with 45% saying Obama has a clear plan, compared 39% saying the same about Romney.
This, perhaps, may be the lasting legacy of the Democratic Convention. While there were several mis-steps in Tampa, the Republican convention had succeeded in rebooting Mitt Romney as a person and significantly impacting his likability with voters.  There is, however, a massive caveat regarding this CNN/ORC poll, digging down in the details of the poll one finds that Romney leads Obama by 14 points among self-identified independents, and yet the President is leading in the poll overall by six points. The only way that strikes me as being possible is if the poll sample is vastly oversampling the number of Democrats, or undersampling the number of Independents. So, these results may be just a little bit questionable.
In contrast with the CNN/ORC poll, we also have a new poll from ABC News and The Washington Post that shows that, among likely voters, the race isn't much different than it was prior to the two party conventions:
Last week's Democratic National Convention helped President Obama improve his standing against Republican Mitt Romney, according to a new Washington Post-ABC News poll, but did little to reduce voter concern about his handling of the economy.

The survey shows that the race remains close among likely voters, with Obama at 49 percent and Romney at 48 percent, virtually unchanged from a poll taken just before the conventions.

But among a wider sample of all registered voters, Obama holds an apparent edge, topping Romney at 50 percent to 44 percent, and has clear advantages on important issues in the campaign when compared with his rival.

The survey highlights why Obama continues to try to frame the election as a choice between himself and Romney, while Romney would like it to be a referendum on the president's record.

The poll represents the initial public reaction to the two back-to-back conventions, and the results underscore how critical get-out-the vote efforts will be to the outcome of the contest.

(…)

Obama's relative strength emerges when all voters are asked to compare the two contenders on a series of issues and attributes. On 15 items, Obama has significant leads on eight, Romney on zero. Romney also no longer has the pre-convention advantages he held on dealing with the economy and what had been his best issue, handling the federal deficit.

The president holds double-digit leads in areas of particular focus at his party's convention, including addressing women's issues (Obama leads Romney by 21 percentage points), advancing the interests of the middle class (15 points), and social issues such as abortion and same-sex marriage (11 points). Obama also has a fresh, albeit slender, lead on dealing with taxes.

Three new questions emphasize the president's advantage over Romney when it comes to personal attributes. By a margin of nearly 20 points, voters are more apt to say they would like to have Obama as a dinner guest, and the president also leads by double digits as the person voters would want to take care of them if they were sick and who they say would make a more loyal friend.

But the poll also shows how hard it is to translate any of these advantages on attributes into electoral gains. Despite a feverish effort at the Democratic convention, neither Obama nor his prominent supporters were able to reverse disapproval of the president's handling of the economy, the dominant issue in the campaign, or inspire confidence that things will pick up if he is reelected.

Compared with the survey taken before the convention, voters' assessments of Obama's job performance are essentially unchanged — and in vulnerable territory — with 48 percent approving and 50 percent disapproving. Also stubbornly unchanged is the negativity around his handling of the economy: Most voters — 53 percent — disapprove of his stewardship of the economy, and strongly negative views are almost twice as common as strongly positive ones.

For more than two years, a majority of voters have disapproved of Obama in this area. Those who disapprove overwhelmingly say it is because they think he is pursuing the wrong policies, not because his efforts need more time.

A plurality of voters, 43 percent, say the nation's economy has gotten worse since Obama took office, while fewer, 32 percent, say it has improved. The rest say it has stayed about the same. Those who see no improvement largely blame the president, although just 38 percent say they think things would be better now had Romney become president in 2009.

The rhetorically powerful "Are you better off now than you were four years ago?" question was a centerpiece of the Republican convention, and in the poll, more voters say they are worse off, rather than better, under Obama. But unlike those who see no progress for the national economy, those who view themselves as no better off since Obama became president are divided on whether they blame him for the lack of improvement.

Overall, voters split evenly between Romney and Obama when it comes to supporting small businesses, but Romney has exploitable advantages here. He has said repeatedly that he knows more about building businesses than Obama, and voters agree. About two-thirds say Romney understands what it takes to create a successful small business, while there is a split verdict on Obama. By 53 percent to 35 percent, more say government programs do more to hamper than bolster small businesses.

Obama has hammered Romney for not explaining the details of his tax and budget proposals, and 61 percent of voters say the Republican has not done enough to lay out the policies he would enact. But for the incumbent, things are hardly positive here: Six in 10 Americans agree that Romney has not done enough to provide those details. But 49 percent also say Obama hasn't done enough to specify a second-term agenda.
On balance, then, this poll suggests that the race is relatively unchanged from where it was before the convention. Back then, the topline numbers were basically in the same place they are here but President Obama held distinct advantages on most of the issues questions with the exception of jobs and the economy.
Finally, there's a third poll that has Obama leading Romney by two points among likely voters:
Mitt Romney has narrowed the gap vs. President Obama in the latest IBD/TIPP poll, which showed that the Democratic National Convention may have failed to excite single women.

Obama led 46%-44% in the September survey of registered voters after a much-wider 46%-39% advantage a month earlier. The president has consistently led his Republican rival but hasn't been able to crack 46%.

The results suggest that the Obama campaign's attempt to use the convention to boost turnout among single women was ineffective. The parade of Sandra Fluke, Lilly Ledbetter and Nancy Keenan, among other feminist speakers, did not move the needle for single women. Obama led Romney among that group 57%-30% in the latest poll, virtually identical to his 56%-29% lead in August.

"I think what the Democrats are hoping for is not that the support goes up so much as they can increase turnout among that group. Single women are a vital group for the Democrats," said Karlyn Bowman a senior fellow at the conservative American Enterprise Institute. "The reason Democrats lost control of the House in 2010 was a drop in turnout among single women."

But the poll suggests Obama has a ways to go to ensure their turnout. Just 79% of single women said they were very likely to vote vs. 94% of married women. Romney leads among married women 50%-45%.

Romney also leads among men 48%-40%, including a 57%-30% advantage among white men.
All of this leaves the RealClearPolitics Average at +3.3 in the President's favor, with a clear trend showing the President increasing his standing in the polls: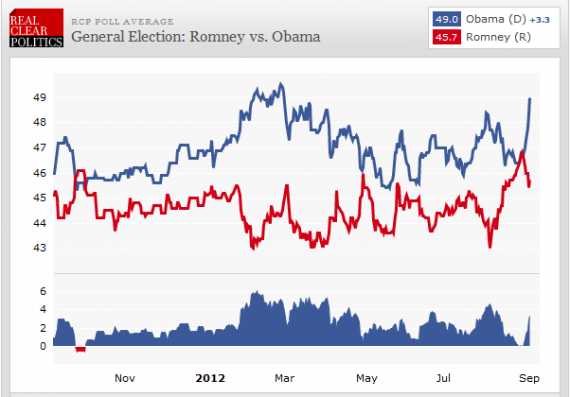 For the moment, it does indeed appear that the President has gained an advantage from the Democratic Convention and that is leading to the development of a lead in the topline numbers in pretty much every poll. For the reasons noted above, I tend to doubt that the lead is has large as that measured in the CNN/ORC poll, but there's definitely a lead there that should see itself trickle down into the state polling assuming that it lasts. That last question, of course is the one that matters, of course. The IDB/Christian Science Monitor/TIPP poll and the ABC/WaPo poll would suggest that the bounce, such as it was, will be short-lived, while other measures such as the Gallup Tracking Poll, which it is important to note measures registered rather than likely voters, suggests that the President may be on the verge of a breakout lead.
The more important question, though, is how to explain Mitt Romney's continued inability to breakthrough notwithstanding a weak economy and several months worth of weak jobs reports. Charlie Cook blames it on missteps by the Romney campaign:
The Romney campaign made the extraordinary decision to not try seriously to connect their candidate with voters on a personal level until their convention. As dubious as that decision was, they were rewarded by having a convention shortened by a day due to a hurricane, then compounded the error of waiting until the convention by putting much of what was most needed to be seen in the 8 and 9 p.m. hours, when the only viewers would be C-SPAN fans. Wow! The biographical film and the testimonials of people whose lives had been touched by Romney were powerful, necessary, and largely unseen. Instead, the Romney campaign treated them to the Clint Eastwood debacle and a serviceable speech by Sen. Marco Rubio of Florida that should have been made earlier, not chewing up precious broadcast airtime. At the 10-11 p.m. hour, abbreviated personal testimonies and the film introducing Romney's own speech—which was quite good—would have made for an extraordinary hour of television and very likely have done him a lot of good with voters.

As a result of all of this, while voters are quite open to firing Obama, they remain quite reticent about Romney. Debates can and have been critical, but they work better for candidates who need to demonstrate that they are smart and knowledgeable, tests Romney met and passed long ago; debates are tougher venues for demonstrating empathy and developing trust.

This is a very close race and one that still could go either way. But the odds of Romney capitalizing on this economy, and the opportunity it affords, seem lower than they were before the conventions. If Republicans and Romney supporters are growing nervous, they should be.
Cook gets it right, I think. I was astounded throughout the summer while the Romney campaign did next to nothing to counterattack against the PR blitz launched by the Obama campaign and supporting SuperPACS against the candidate on issues such as Bain Capital. As such, those anti-Bain were airing all over the place in swing states like Ohio and Virginia with next to nothing to counteract it coming from the opposite side. It's true that the Romney campaign was limited in some of its spending by the fact that it could not legally spend contributions designated for the General Election campaign before Romney had been officially nominated by the GOP. However, it was obvious even in June and July that the campaign still had some primary money left over because they were running a limited number of ads, the problem is that they weren't really addressing the attacks or doing anything to define the candidate. The same was true of the SuperPACs. Instead, they waited until a convention not scheduled until late August to do that and, as Cook noted and I stated at the time, they didn't do accomplish the task very well.
It's still possible that something could happen in this race that could turn things upside down. Four years ago at this time, the McCain/Palin ticket had a slight lead over Obama/Biden in the wake of the Republican Convention, for example, but that came to a quick and abrupt end when Lehman Brothers collapsed and the financial crisis began in earnest. Going back even further in history, Ronald Reagan didn't finally pull ahead of Jimmy Carter in 1980 until the candidates held their one and only debate just a week before the election. It's possible that something like this could happen to Romney. Possible, but not likely. The 2008 financial crisis was in some sense a black swan event unique to its time and place, the odds that something like it will happen again in the middle of this election strike me as unlikely. As for the debates, Cook has a point when he says that the debates typically help candidates that need to demonstrate their grasp of the issues, not enhance their likability. Nobody denies Romney is smart, but it's unclear how the debates are going to make him more likable. As things stand now, this still looks like Obama's race to lose.