Hillary Clinton Is Ethically Challenged And Hasn't Accomplished Much, Voters Don't Seem To Care
Hillary Clinton is a deeply flawed candidate who might not even make a very good President. But that doesn't matter in the race for the Democratic Nomination, and she's probably going to be the next President anyway.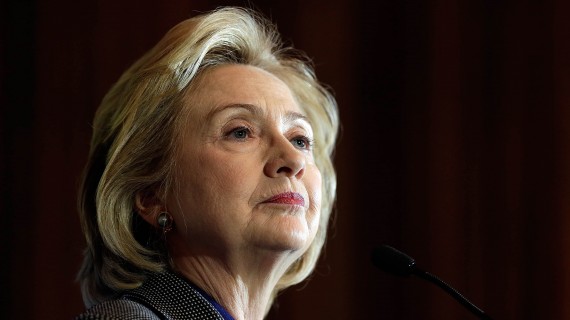 If the results of a Bloomberg Politics focus group of Iowa Democrats are any indication, Hillary Clinton is in the interesting position of being a candidate that a lot of people have doubts about but whom they'll vote for anyway:
Iowa Democrats are rallying around Hillary Clinton with pragmatic enthusiasm, acknowledging distaste and concern over some of her tactics and ethics while embracing her strengths, experience, and policies heading into the 2016 presidential election.

A focus group of 10 Democrats—five women and five men—assembled this week in Des Moines by Bloomberg Politics and Washington-based Purple Strategies was mostly willing to look past Clinton's paid speeches, her Wall Street ties, the controversy over her use of private e-mail while secretary of state, and her refusal so far to weigh in as a candidate on the Trans-Pacific Partnership trade agreement that has turned many Democrats against President Barack Obama.

Despite her perceived flaws, the group's participants indicated that they believed Clinton represents the Democrats' only hope of holding on to the White House.

Participants repeatedly praised Clinton's experience, especially on foreign policy, though none was able to name any of her accomplishments as the nation's top diplomat. Most said they're willing to live with the things about her they don't like, either because they like her on balance or don't see a viable alternative, especially with Massachusetts Senator Elizabeth Warren passing up the race.

"She's a bad mama-jama," said Kiendra, 36, a librarian. "She's a strong, competent woman. She knows what she's doing. She's not afraid to step up. She's not afraid to take advice and she's not afraid to say, 'No, I don't want to do it that way. I'm going to do it this way.'"

Kiendra rejected any suggestion that Clinton and her husband, former President Bill Clinton, think they can operate by a different set of rules from other people. "I think they just play the game well," she said.

"She's not perfect," said Charlie, 24, a graphic designer. "She's been in the eye for a long time, in the public's eye, and you're going to have some stuff on her. But she has great policies and she knows how to get stuff done."

"There's definitely some trust issues there," added Bill, 55, a chef. "But like everybody else has said, her record pretty much speaks for itself. She is eminently qualified to run this country, and I think she'd probably do a pretty good job."

Ryan, 38, an event planner, said he prefers Vermont Senator Bernie Sanders as an alternative to Clinton. "I just think that she's a career politician. I mean, I really don't see her doing anything different than what Obama did, which is promise us all these things but then be like, 'Well, I'm really not going to push it too hard.'"

Ryan said he was troubled by Clinton's response to the 2012 attack on the U.S. consulate in Benghazi, Libya. "I mean, she completely hid behind it and just didn't discuss it. And I would really like to see the next president actually be more forthright and actually be more outspoken and been like, 'Listen, we made a mistake. This is where we went wrong.' And just completely own it. But we don't have politicians like that any more."

Al, a teacher who described himself as over 65 without specifying his age, said there is something about Clinton that gives him pause. "It's hard to put my finger on it," he said. "It's just, I don't think we would get along that well." At the same time, he said, "I think she's very smart" and "I admire her. I admire her husband."
Perhaps the most interesting part of the exchange came when the participants were asked to name something that Clinton actually accomplished as Secretary of State:
While the group agreed that Clinton possessed the experience and policy positions required to be elected president, the participants were less confident when it came to naming the former secretary of state's actual accomplishments.

"I really can't name anything off the top of my head," said Ryan, the event planner.

Following a brief silence, a 22-year-old student named Amanda added, "I honestly can't say I followed along [with] everything that was going on."
If Clinton had an opponent for the Democratic nomination that had an impressive resume, say a sitting or former Governor with a solid track record of success or a Senator with a long list of legislative accomplishments, this might be a problem for her. In that sort of situation, the challenger would be able to argue that they are more experienced, more accomplished, and better suited to the job of President than someone who, after eight years in the Senate and four years as Secretary of State, leaves voters struggling to name something that she's actually accomplished. Of course, that isn't the field of challengers that Clinton faces in the 2016 race. She's dealing with people like Bernie Sanders, an admittedly long-serving legislator who is pretty much just a political gadfly, Martin O'Malley, whose time as Mayor of Baltimore and then Governor of Maryland leaves much to be desired, Lincoln Chafee, who is essentially a political nobody, and Jim Webb, a former one-term Senator. None of these candidates can credibly make a case against Clinton based on experience and accomplishments. Add in the fact that she is the wife of a very popular former President and a woman, and you have all the reasons why Hillary Clinton is a prohibitive favorite for the Democratic nomination for President.
It's no real surprise, of course, that Democrats are big fans of Hillary Clinton. The more interesting question is whether the things about her that these Iowa Democrats essentially dismiss as irrelevant — the questionable ethics, the lack of real accomplishments, etc. — will matter to that vast swath of largely independent voters that will decide the outcome of the election in states like Ohio, Virginia, and Florida. Early indications seem to be that the answer is no. Recent polling, for example, has shown little impact on Clinton's overall numbers from either the email scandal or the allegations involving the Clinton Foundation. Yes, her favorability numbers have taken a hit but that was likely to happen over the course of the campaign as a natural course. While it's still too early to say anything definitive, the head-to-head matchups between Clinton and any of her potential Republican challengers continue to show her in the lead. In no small part, this is likely due to the fact that Clinton has been around for so long that most Americans have already made up their mind about her, and new allegations aren't likely to have much of an impact on an opinion that has been forming since 1991.
Speaking specifically about the accomplishment issue, Chris Cillizza makes this point:
But is this actually a bad sign for Clinton?

Not really. While it contributes to the Republican argument that her job experience is more hollow than it seems on paper and makes for good ad fodder,  Clinton's experience, generally, is still a plus for many voters. As one focus group attendee said later in the discussion, "I mean, it's either going to be that or Scott Walker … she's not perfect, but she's been in the eye a long time."

And, not being able to name specific things politicians have done isn't that unusual for the average voters.  Quick, name something that John Kerry has done as Secretary of State. Right. Think Iowa Republicans could do much better naming significant things Jeb Bush did as governor or Marco Rubio has done in the Senate?
That last point is probably the most important one. When the General Election comes around, the Republicans are likely to be running a candidate with a resume of accomplishments not much better than Clinton's. Yes, Jeb Bush served two terms as Florida Governor, but he hasn't been in office in eight years. Ted Cruz, Marco Rubio, and Rand Paul are all first term Senators with legislative records that aren't much more impressive than Barack Obama's was in 2007. Scott Walker, Chris Christie, and John Kaisch are all sitting Governors, of course, but each of them has as many warts on their record as they do accomplishments. With these types of candidates running against her, is Clinton really going to have to worry very much about arguments about what she has and hasn't accomplished? I don't think so. Finally, it's worth remembering that Republicans tried playing the experience card in 2008 against Barack Obama, and we all know how that one turned out. I've had conversations online over the past year with several conservatives who seem convinced that this "accomplishments" issue will be fatal for Clinton. While I agree that there's pretty much nothing about her time at Foggy Bottom or in the Senate that stands out, and very little to indicate whether or not she'd made a good President, it strikes me that they are putting far too much faith in an argument that they already tried once with a candidate with a far thinner resume than Clinton's,  and failed spectacularly.