Hillary Clinton's Favorability No Longer At Unsustainably High Levels
Hillary Clinton's numbers aren't at the incredibly high levels they used to be, but they were never going to stay that high anyway.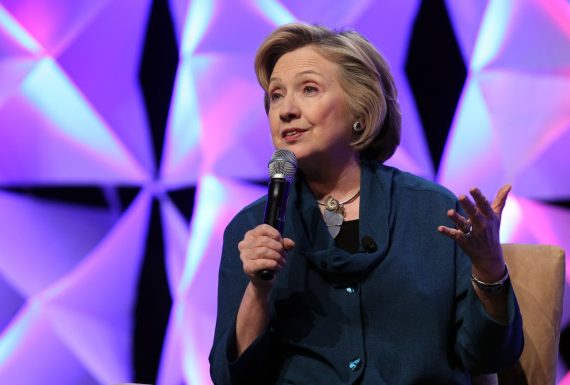 During the time that she was serving as President Obama's Secretary of State, Hillary Clinton's personal favorablity numbers were at stratospherically high levels that most politicians only dream of. Even the vast majority of self-identified Republicans had a favorable opinion of Clinton while she was in office, and it continued in the immediate period after she left office last year even in the face of the Fox News led campaign to turn the attack on the diplomatic compound into a major scandal, an effort which Fox's own Charles Krauthammer recently admitted was an utter failure. To no small degree, of course, this good will was the result of the fact that, as Secretary of State, Clinton had stayed out of the public debate on the politically charged issues that were gripping the nation during the first four years of Obama's Presidency. Additionally, Clinton's own conduct while in charge at Foggy Bottom had gone a long way toward mending some of the ill will that had surfaced during the 2008 campaign. Now that she's out of office and seemingly slowly plotting her way toward another Presidential run, though, Clinton's poll numbers have returned to Earth:
Hillary Clinton's favorability rating has hit a six-year low, according to a new Fox News poll.

At 49 percent, just under half of Americans view the former secretary of state favorably, while 45 percent see her unfavorably, the poll, released Thursday, said. This is the first time Clinton's approval rating has fallen below 50 percent in a Fox survey since April 2008 — during the Democratic presidential primaries — when 47 percent viewed her favorably.

The poll's results also mark a 7 percentage point drop within the past year for Clinton, about whose potential 2016 bid there is wide speculation. Fifty-six percent viewed the former first lady favorably in Fox News's previous poll, conducted in June 2013.

Meanwhile, President Barack Obama's approval ratings have remained consistent, as 45 percent view him favorably and 51 percent view him unfavorably. This is a 1 percentage point change from his 46/52 favorability split in 2013.
These numbers are largely consistent with other recent polls as well as a general trend that has shown Clinton's favorability decline in the time since she left office, as this chart from Huffington Post's Pollster shows: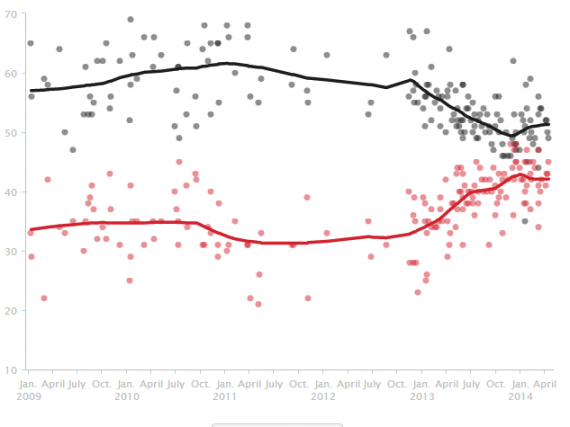 It is, of course, only natural that Clinton would see her numbers fall from the levels she was hat when she was America's chief diplomatic representative on the world stage. For one thing, as I noted above, when she held that position she was largely above the political fray.  While it may not have been hard to figure out what side of the aisle Clinton came down on when it came to issues such as the 2009 Stimulus Bill, health care reform, or same-sex marriage, the fact that she was not out there speaking publicly about them created a largely artificial bubble that allowed people to separate their opinions about Clinton from partisan battles. That's why her job approval was so high even among Republicans. Now that she's no longer in that role, speaking about controversial topics, and seemingly preparing a run for office, the veneer of non-partisanship is gone and her numbers are returning to roughly where they were prior to the time she became Secretary of State. Additionally, it's very rare for any politician to maintain very high approval or favorability numbers unless they've left office and taken on the role of elder statesman. The first President Bush saw his job approval numbers at 90% or more in the immediate wake of the Persian Gulf War, his son saw the same thing happen in the aftermath of the 9/11 attacks and the beginning of the Afghanistan War, and Barack Obama saw it after the successful SEAL Team raid that killed Osama bin Laden. It didn't last for any of them, because  those numbers were artificially high. The same is true of Hillary Clinton.
Even though Clinton's favorability numbers have dropped, she still finds herself in a better position than any of her potential 2016 opponents:
Clinton's favorability is still higher than that of her potential 2016 GOP opponents. Only 36 percent view New Jersey Gov. Chris Christie favorably, while 38 percent view him unfavorably, Fox found. Thirty-two percent view former Florida Gov. Jeb Bush favorably, while 40 percent view him unfavorably. Kentucky Sen. Rand Paul is viewed favorably by 32 percent and unfavorably by 34 percent. Texas Sen. Ted Cruz is viewed favorably by 23 percent and unfavorably by 31 percent.

Clinton also continues to lead possible primary challengers among Democratic voters: Sixty-nine percent said she is their preferred choice for the party's nomination. Vice President Joe Biden came a distant second with 14 percent. However, Christie tops the list of possible GOP candidates with only 15 percent of Republican support. Trailing closely are Bush and Paul, each of whom garnered 14 percent.
To a large degree, these disparities are due to the fact that Clinton is far better known than any of these other potential candidates, but it's still worth noting that even with more realistic favorability numbers Hillary Clinton remains the most well positioned potential Presidential candidate that we have seen in quite a long time, if ever.