Hillary Clinton Remains The Overwhelming Choice Of Democrats For 2016
If Hillary Clinton is going to have a serious challenge in 2016, the person who will do that has yet to emerge.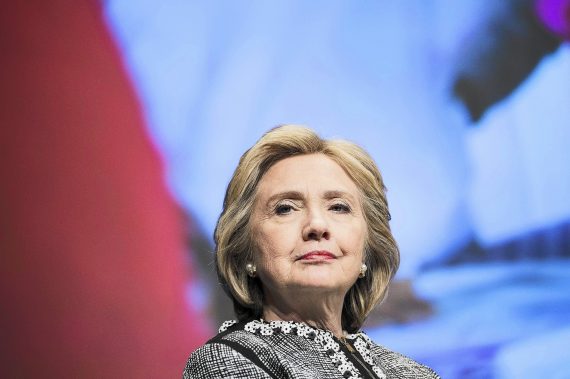 New polling from NBC News and Marist College shows Hillary Clinton blowing any potential opponents away in each of the two states where the 2016 race for President will begin:
Memo to Joe Biden, Elizabeth Warren and other liberals: Democrats are overwhelmingly ready for Hillary Clinton to run for the White House in 2016. But is the general electorate ready? Well, not as much. That's the conclusion from new NBC News/Marist polls of Iowa and New Hampshire, where Clinton crushes Vice President Biden among Democratic voters in a hypothetical matchup – 70% to 20% in Iowa, and 74% to 18% in New Hampshire. What's more, Iowa Democrats view Clinton positively by a whopping 89%-to-6% score, and New Hampshire Democrats are even more welcoming, giving her a 94%-to-4% favorable/unfavorable rating. These numbers come as liberals begin gathering on Thursday for the three-day "Netroots Nation" conference in Detroit, where Biden, Warren and other Democratic politicians will address the annual progressive conference. The NBC/Marist polls, however, did not test Warren in the hypothetical Democratic match ups. But if Clinton looks like an unbeatable juggernaut in the Democratic presidential race – if she runs, of course – she appears more vulnerable in a general-election contest. In the presidential battleground state of Iowa, Clinton is tied with Sen. Rand Paul, a Kentucky Republican (45% to 45%), and leads New Jersey Gov. Chris Christie by just one point (44% to 43%). She holds larger leads against former Florida Gov. Jeb Bush (46% to 42%, Sen. Marco Rubio, a florida Republican, (49% to 40%), Sen. Ted. Cruz, a Texas Republican (49% to 37%) and Wisconsin Gov. Scott Walker (50% to 37%). In hypothetical general-election match ups in New Hampshire, Clinton is ahead of Paul by three points (46% to 43%), Christie and Bush by five points (47% to 42%), Walker by nine points (48% to 39%) and Cruz by 13 (51% to 38%).
In a similar vein, a new Gallup poll shows Clinton as both the most well known and the most liked of all the potential Presidential candidates of either party:
More than half of the public views the former secretary of State favorably and just over a third views her unfavorably.

Gov. Chris Christie (R-N.J.), who heads to Iowa Thursday to test the 2016 waters, is among the potential GOP presidential contenders Gallup included in its survey.

Nearly two-thirds of people said they are familiar with Christie. Thirty-three percent view him favorably and 32 percent view him unfavorably.

Sixty-five percent also said they are familiar with former Gov. Jeb Bush (R-Fla.). Thirty-one percent said they view him favorably and 34 percent view him unfavorably.

The public is least familiar with Gov. Scott Walker (R-Wis.) among potential GOP candidates.

A majority of the public also said they are familiar with Sen. Rand Paul (R-Ky.), Rep. Paul Ryan (R-Wis.), Gov. Rick Perry (R-Texas) and former Gov. Mike Huckabee (R-Ark.).

Huckabee and Paul received the highest net favorability ratings with 12 percentage points and 9 percentage points, respectively.

As for Clinton's potential Democratic competitors if she runs, just over half said they are familiar with Gov. Andrew Cuomo (D-N.Y.). Thirty-eight percent said they are familiar with Sen. Elizabeth Warren (D-Mass.) with 21 percent viewing her favorably, and 17 percent viewing her unfavorably. Gov. Martin O'Malley (D-Md.) was the contender with whom people are the least familiar.

Eighty percent said they are familiar with Vice President Joe Biden, but he received a negative net favorability rating.
As usual, all of the caveats about early polling in Presidential elections apply here. We are more than two years before the General Election, and a year and a half away from the beginning of the Democratic primaries. As we've seen in past election years, many things can change between now and then. Hillary Clinton could stumble in some way that creates an opening for another candidate, for example. She could decided not to run at all, although that seems rather unlikely at this point unless there is some personal or health issue that makes such a decision necessary. Domestic or international events could change the way that Democratic voters see Clinton as a candidate and cause them to rally around someone else as an alternative. Or, there could be some unknown "X Factor" out there that changes everything that we aren't even anticipating as we set here in mid-July 2014. It's also worth noting that these poll numbers are still influenced to a significant degree by how familiar people are with the names mentioned in the poll. Given the fact that she has been a part of American political life since here husband entered the race for President in late 1991, it's fair to say that there are very few people who don't know who Hillary Clinton is. You can't say the same for Elizabeth Warren, Andrew Cuomo, or Martin O'Malley. Those of us who pay attention to politics on a regular basis know about them, of course, but that's not generally true for most Americans. That lack of familiarity will have an impact on how they do in a poll against someone who has been a part of American political life for more than two decades now.
As things stand right now, though, it seems fairly clear that there are a number of conclusions that I think we can reach about the state of the race for the Democrats. More than any other open seat race I can recall in either party since I started following Presidential campaigns, which basically dates back to the 1980 campaign, the Democrats heading into 2016 have not just an overwhelming but a seemingly prohibitive favorite. Clinton's numbers in this cycle, as many has noted before, are far better than they were at a comparative time in the 2008 cycle and her lead over her nearest opponent is far, far larger than her lead over Barack Obama was at this point in the race eight years ago. For that reason alone, it seems clear that trying to make comparisons between that race and this one don't really make any sense. Yes, it's possible that someone could emerge from the Democratic pack to pose the same challenge to Clinton that Barack Obama did in 2008. Based on the numbers right now, though, it looks even less likely than it did eight years ago and, to be honest, none of the candidates mentioned strike me as people who could light the same kind of populist fire that Obama did when he began to overtake Clinton in 2007 and heading into the actual primaries in 2008.
The second observation that one can draw from these polls is that Clinton's supposedly lackluster book tour does not seem to have hurt her very much with the general public. Throughout the month or so that Clinton has been on the road selling Hard Choices she's come under fire a number of times, most notable for comments she made about the Clinton's financial situation after President Clinton left office in 2001, comments which I covered here at OTB here and here. Her interviews on CNN and elsewhere have been endlessly parsed and criticized by pundits on all three cable news networks who have then gone on to pontificate on what these statements mean for her campaign in 2016. The RNC has even turned some of the comments into an ad that ran on cable news for some time last month. So far at least, it doesn't seam as those comments and that criticism has had much of an impact on public opinion. In addition to being yet another reminder to those of us who comment on politics regularly that what we think is significant often doesn't really mater to the people who are going to decide the 2016 election, this suggests that perhaps the public sentiment for Clinton is so high that even a few mis-steps like this are not going to hurt her. That doesn't mean she can afford to run a gaffe-filled campaign, of course, but it does suggest that she has a reservoir of goodwill, at least among Democratic voters, to draw upon that it could make it hard for any opponent to make serious inroads against her.  All of that could change, of course, but as things stand right now Hillary Clinton is in an astoundingly good position.