Hillary Clinton Keeps Committing The Same Gaffe About Her Wealth
Hillary Clinton does not come across well when she tries to play the empathy card.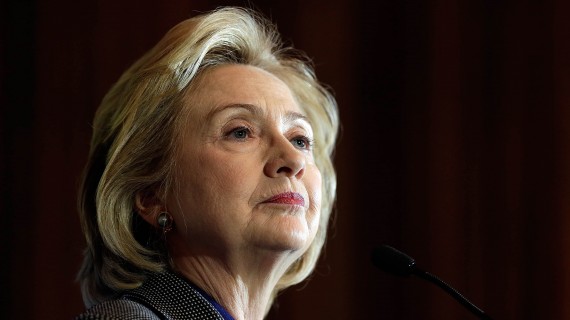 Just over a week ago, Hillary Clinton made news by describing the fact that she and her husband have earned millions of dollars in speaking fees and other income in the years since he left the White House with the comment that, at that point, they were "dead broke." The fact that this also happened to be the time when the Clintons purchase multi-million dollars homes in New York and Washington, D.C. and Hillary began to earn an annual salary in excess of $170,000 per year as a Senator meant that her comments were subjected to much-deserved derision on both sides of the political aisle. Clinton seemed to recognize that she'd made a mistake, though, given the fact that she essentially retracted the statement just days later. Now, though, the former Secretary of State has again made odd comments about her wealth that are once again raising questions about whether or not Clinton is "out of touch" with the average American:
Republicans slammed Hillary Clinton on Sunday for an interview with the British newspaper The Guardian in which she said she and her husband pay full income taxes unlike "a lot of people who are truly well off," and added that voters "don't see me as part of the problem." The interview came nearly two weeks after Clinton made unwanted headlines by telling ABC News' Diane Sawyer that she and her husband were "dead broke" when they left the White House, when asked to defend her speaking fees of more than $200,000 a pop. Clinton was asked by The Guardian how she will convince voters that she's not part of the problem at a moment when the issue of income inequality is gaining increased focus. "But they don't see me as part of the problem," she told the paper, adding, "because we pay ordinary income tax, unlike a lot of people who are truly well off, not to name names; and we've done it through dint of hard work." Clinton aides did not immediately respond to an email for comment. But Republicans quickly seized on the interview. The Republican research group America Rising blasted out a story about The Guardian quotes, with the subject line: "What?" "If Hillary is going to run for President she might be advised to take a lengthy sabbatical from her $200k per pop speaking tour and private shopping sprees at Bergdorfs to try and reconnect with what's happening back here on Earth," America Rising spokesman Tim Miller wrote in the email. Adrienne Elrod, spokeswoman for the pro-Clinton group Correct the Record, pushed back on Miller. "Secretary Clinton's point is about paying your fair share in taxes, unlike leading Republicans who try to evade tax responsibilities using offshore loopholes," she said. "Mr. Miller has selective memory if he doesn't recall reports that Mitt Romney reportedly maintained more than $30 million in the Cayman Islands." Clinton, a day after the "dead broke" comment, clarified it, reflecting her awareness that it was a needless gaffe. Several people close to Clinton said it came from a place of anger over the hundreds of thousands of dollars of legal bills the couple had faced over Republican investigations into issues like Whitewater and the Monica Lewinsky scandal. They needed help from longtime friend Terry McAuliffe securing the home they bought in Chappaqua when she first ran for the U.S. Senate from New York.
It's not surprising that Republicans are jumping all over Clinton's comments, of course. For some time now, it has been apparent that the powers-that-be on the right are engaging in a conscious effort to undermine Clinton's presumed 2016 campaign before it even starts. It has included everything from Karl Rove questioning Clinton's health to a new RNC ad that exploited Clinton's earlier remarks about 'debt." Whether they admit it publicly or not, it is obvious that Republicans see Clinton as being as much of a threat in 2016 as she appeared to be in 2008, and this campaign on the right is similar to the one that played out in 2006 and 2007. Additionally, given how the 2008 Democratic Primary played out, it seems apparent that there are some on the right who are hoping that they can generate a little intra-party spat among Democrats that would derail even only to a small degree Hillary's campaign. Added into that fact, Republican comments about issues like this tend to come across as hypocritical given their own party's tendency to nominate rich white men for President, and the influence that men like Sheldon Adelson, Ken Langone, and the Koch Brothers have on politics in the GOP.
As it turns out, though, it isn't just Republicans who are expressing some concern about the manner in which Clinton is coming across:
Some influential Democrats — including former advisers to President Obama — said in interviews last week they fear that Clinton's personal wealth and rarefied, cloistered lifestyle could jeopardize the Democratic Party's historic edge with the middle class that powered Obama's wins. "I don't know whether it's just that she's been 'Madam Secretary' for so long, but she's generating an imperial image," said Dick Harpootlian, who recently stepped down as Democratic Party chairman in South Carolina, which hosts an early presidential primary. Harpootlian, who backed Obama over Clinton in 2008 and is a longtime ally of Vice President Biden, added: "She's been living 30, going on 40 years with somebody bringing your coffee to you every morning. Is it more 'Downton Abbey' than it is America?" Multiple Obama campaign advisers — who spoke only on the condition of anonymity to avoid alienating the Clintons — said they fear Clinton's financial status could hurt her as it did Republican nominee Mitt Romney, whom Obama portrayed in 2012 as an out-of-touch plutocrat at a time of economic uncertainty. "It's going to be a massive issue for her," one Obama adviser said. "When you're somebody like the secretary of state or president of the United States or first lady, you're totally cut off [from normal activity], so your perception of the middle-class reality gets frozen in a time warp." Asked what Democrats should do, the adviser said: "Panic."
I'm not sure that panic is the appropriate emotion here. After all, as I noted above, Republicans are hardly in a position to play a populist card against Clinton with any degree of credibility, especially if they nominate someone like Jeb Bush to run against her. At the same time, though, comments like this highlight things about Clinton that could become issues heading into another President run.
Off the top, this is yet another example of the fact that Hillary Clinton is not nearly as skilled a politician or communicator as her husband. As more than one commentator has noted in the last couple weeks as the book tour has rolled out, Bill Clinton would never make mistakes like this, even on his worst day. Whatever the state of his own finances, President Clinton was always very good at putting forth an aura of empathy that at least made him seem like more of a "Regular Joe" than he was even when he ran for President the first time 1992. Hillary has never been able to do this. Granted, it's kind of hard for someone who has been First Lady, a Senator, and now Secretary of State to come across as a being able to relate to the struggles of the average American, but Hillary seems to have a lot more in common with Mitt Romney's detachment from those struggles than her husband's empathy. Comments like this also play into the general idea, whether its fair or not, that Clinton does not come across as "warm" and empathetic. For a lot of reasons, this may not hurt Hillary electorally, but it's still likely to be an issue going forward and one that the media is going to continue talking about, especially if the Democratic nomination fight ends up being more of a coronation.
Incidents like this also lay bare conflicts within the Democratic Party that are likely to lead to some kind of primary challenge to Clinton from the left. Progressives in the party have long been lamenting the ties that both Clintons have to Wall Street and the business community, their ability to raise huge amounts of money for candidates of their choosing, and what that means for the party in general. There's also been criticism that Clinton herself has not paid sufficient attention to "progressive" issues such as income inequality and the minimum wage, which is one of the reasons that many pundits on that side of the aisle have expressed a desire for someone such as Elizabeth Warren or Brian Schweitzer to mount a challenge to Clinton that would, at the very least, force her to address these issues in ways that she probably doesn't want to if the's running the "play it safe" type of campaign that a front-runner normally would. Comments like this are only likely to make those desires for an alternative even stronger.
Politico's Roger Simon gets it right this morning when he points out that Hillary needs to stop poor-mouthing:
Good for the Clintons. Neither was born into wealth; they both held low-paying jobs at one time; and they both moved up the ladder of success. That is the American dream. (As for having rich friends, well, we should all be so lucky.) But you can't both be wealthy and poor-mouth. Not if you want to be president. When ABC's Diane Sawyer recently questioned Hillary about the $5 million she had amassed by giving speeches and the $100 million Bill was now worth, Hillary nodded and said, "You have no reason to remember, but we came out of the White House not only dead broke, but in debt. We had no money when we got there, and we struggled to piece together the resources for mortgages for houses, for Chelsea's education. It was not easy." But "dead broke" people don't have $350,000 in cash to secure one mortgage and $855,000 in cash to secure another. About 50 million Americans live below the poverty line, and 47 million need food stamps; they know what dead broke looks like, and it doesn't look like the Clintons. PolitiFact.com rated Hillary's dead-broke claim as "mostly false." OK, big deal. Better to make your mistakes early than late. But you have to stop making them. On Saturday, The Guardian published an interview with Hillary Clinton in which she was asked how she will convince voters she is not part of America's "glaring income inequality" problem given her "huge personal wealth." "But they don't see me as part of the problem," Clinton said, "because we pay ordinary income tax, unlike a lot of people who are truly well off, not to name names; and we've done it through dint of hard work." She said that, according to The Guardian, with a "burst of laughter." I don't see what's so funny. Hillary Clinton has a problem here. It is time for her to fess up and admit she is, indeed, "truly well off." It is nothing to be ashamed of. Maybe she did it through the "dint of hard work" and maybe she did it because political celebrities get dollars thrown at them.
The American public is not likely to hold the fact that Hillary is "well off" against her. One need only look to the the political success that families such as Roosevelt, Kennedy, and Bush have had to see that wealth in and of itself, and even immense wealth, is generally not a reason that people will vote against you. Heck, a branch of the Rockefeller family managed to become politically successful in one of the poorest states in the nation. Even Mitt Romney doesn't provide much evidence of an antipathy toward wealth on the part voters since it was Romney's perceived lack of empathy that hurt him far more than the fact that he is worth several hundred million dollars. In the same sense, Clinton's efforts to make a family fortune estimated at $100,000,000 seem like it makes her middle class, which isn't helped when her daughter says that she just doesn't care about money (which is easy to do when you get paid $600,000 per year by NBC to do basically nothing of substance) just don't come across as credible and make her seem like a complete phony. Given the fact that she had similar problems in her 2008 run for the White House and she's had six years to think about them one would have thought she would have learned from her mistakes.