Mitt Romney's Tax Returns: Much Ado About Very Little
The reaction to the release of Mitt Romney's tax returns is about what you'd expect.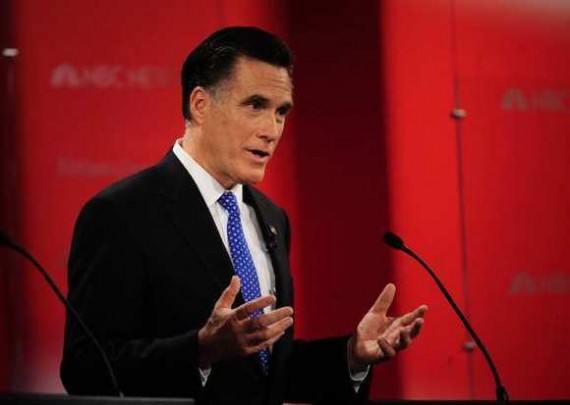 Early this morning,  Mitt Romney's campaign released his 2010 income tax return as well as an estimate for 2011 [you can find all the tax information at a webpage set up by the campaign] and they contain about what anyone who's been paying attention to the Presidential races would have expected them to contain:
Mitt Romney's campaign released details of his federal tax returns on Tuesday morning, showing that he is likely to pay a total of $6.2 million in taxes on $45 million in income over the two tax years of 2010 and 2011.

The details of the returns, confirmed by a senior campaign official, provide the most detailed view yet of his wealthy family's finances. The disclosure comes after a barrage of pressure to release his returns — which Mr. Romney has never done, even when he was elected governor of Massachusetts.

The disclosure — reported early Tuesday by The Washington Post, The Wall Street Journal and Bloomberg News — showed a vast array of investments, from a recently closed Swiss bank account to holdings in Bermuda and the Cayman Islands, all underscoring the breadth and depth of his wealth, which has become a central issue in his bid for the Republican presidential nomination.

Mr. Romney said last week that his effective tax rate was "about 15 percent," a figure lower than that of many affluent Americans. But his returns suggested that he paid an effective tax rate of nearly 14 percent.

In addition to his 2010 taxes, Mr. Romney is set to release estimates for his 2011 taxes, which he will file in April. The campaign will report that he will pay $3.2 million in taxes for 2011, for an effective tax rate of 15.4 percent. That is a slightly higher effective rate than he paid the year before, when he paid about $3 million to the Internal Revenue Service.

Mr. Romney, a Mormon, has long said that he had promised to give 10 percent of his income to his church. His tax return shows that over two years he and his wife, Ann, gave $7 million in charitable contributions, including $4.1 million to the Church of Jesus Christ of Latter-day Saints.

"I pay all the taxes that are legally required and not a dollar more," Mr. Romney said during Monday night's debate. "I don't think you want someone as the candidate for president who pays more taxes than he owes."

Mr. Romney also said that there were "no surprises" in his tax returns. Referring to the fact that nearly all of his income is taxed as capital gains at a 15 percent rate, rather than as earned income at rates of up to 35 percent, Mr. Romney questioned a proposal by Newt Gingrich, the former House speaker, to reduce capital gains taxes to zero.
Not surprisingly, most of Romney's income for the at least the past two years is investment income derived from the wealth he earned while heading Bain Capital, as well as other investments. According to the returns, the Romney's have a approximately $250 million in investments that appears to have generated a return of approximately 10% per year for the past two years, which is just slightly higher than the historical annual return from investing in the stock market which averages around 8%. The number that's grabbing the attention of pundits, of course, is the Romney's effective tax rate, which comes in at just under 14% and is significantly lower than that reported by other politicians:
Mr. Gingrich, who on Saturday won the Republican presidential primary in South Carolina, released his own tax returns last week showing that he and his wife, Callista, had an adjusted gross income of $3,162,424 from their various business ventures in 2010. They paid $994,708 in federal tax, according to the return, for an effective tax rate of 31.7 percent.

Mr. Obama and his wife, Michelle, released their tax returns in April, showing an adjusted gross income of $1,728,096 for 2010 — much of it from sales of his books "Dreams From My Father" and "The Audacity of Hope." The Obamas paid $453,770 in federal taxes, for an effective tax rate of 26.3 percent.
Given the fact that the majority of Romney's income comes from investment returns rather than regular income, this is entirely unsurprising. It's been the case for decades that the tax rate on this form of income, known as capital gains, is taxed at a lower rate than ordinary income. Presently, except for those in the lowest income tax brackets, long-term capital gains are taxed at 15% and short-term capital gains (income on investments held for less than a year) are taxed at 35%. Given the prevalence of investment income in Romney's sources of income, and the fact that his taxable income gets further reduced by things such as the deductions available for the millions of dollars in charitable contributions the Romney's have made, it's no surprise at all that his effective tax rate would be lower than someone whose primary sources of income come from  book deals and business ventures. Anyone who had a similar portfolio to Romney's regardless of the size, would have had roughly the same tax rate. Finally, there's no indication that Romney did anything but follow the tax laws here. So, anyone looking for something nefarious here is going to be sadly disappointed. Yes, Mitt Romney is a rich man, but he's hardly the first rich man who has run for the Presidency, and he'd hardly be the first rich man to sit in the White House if he won.
Rod Dreher looks at the return and raises a legitimate policy question:
The obvious question in all this is why investment income is taxed at a far lower rate than other forms of income — this, given that substantial investment income is far likelier to be something accruing to the very wealthy? Nothing personal against Mitt Romney, but how fair is it that the man made $42 million over two years, and paid taxes at half the rate of me and thee?
That raises the question of what role "fairness," as opposed to the simple goal of raising revenue in a manner that retards economic growth as little as possible, ought to play in our tax system. Obviously, a tax system that places the majority of the burden on the lowest income groups would be unfair, but it would also be bad policy because it wouldn't be designed to garner revenue in an efficient manner. A system that tried to ensure that everyone's burden was equal wouldn't necessarily be fair either, because it would benefit the highest income earners the most. Under our current system, the vast majority of the tax burden falls upon the highest income earners, a fact that has been true for decades and remained true even after the passage of the Bush Tax Cuts. Is there a possible argument for increasing taxes on that income group? Yes, but it depends on what that additional revenue will be used for and what the economic impact of higher taxes will be.
It's also worth noting that there are economic arguments in favor low rates on capital gains that have been accepted by Republicans and Democrats for decades:
Republicans have led the way in pressing for low capital gains tax rates, but they have been able to rely on a significant bloc of Democratic allies to prevent an increase and to protect the preferential treatment of money earned through investments over money earned through labor.

President Obama and leading Democrats want to allow the tax cuts passed under Bush to expire. That would raise the capital gains tax rate from 15 percent to 20 percent. But that would still be lower than the rate under President Ronald Reagan — who raised the tax in 1986.

"Capital gains . . . veers onto theology for Republicans, but it has always been a bipartisan issue," Bloomfield said.
Outside of people like Newt Gingrich who want to reduce the tax rate on capital gains to zero, a proposal which Romney pointed out last night would mean that he wouldn't have paid any taxes at all for the past two years, there aren't any serious proposals out there for making capital gains taxable at the same rate as ordinary income, and the reasons for that are pretty simple. For one thing, the assets from which capital gains are generated have already been taxes at least once as ordinary income, making additional taxes on the gains from those investments a form of double taxation. Second, it's been generally accepted on both sides of the aisle that taxing dividends at a lower rate is economically beneficial because it encourages investments that generates income, which in and of itself generates economic growth and activity. If investment income were taxed at the same rate as ordinary income, it's likely that people in Romney's position would switch their assets to forms of investment that generate lower levels of income, or into sunk assets like real estate that don't generate economic activity. There's an argument to be had about whether the rate on capital gains should be raised, but nobody is seriously suggesting that they not be given the preferential treatment that they have received for decades.
Of course, that's not going to stop Romney's returns, his wealth, or the fact that he paid exactly the amount of taxes the law requires from becoming a political issue. Even before the returns were released, the White House was already on the task of trying to tie Romney's tax returns into what will apparently be one of the themes of President Obama's State Of The Union Address:
Economic inequality is emerging as a central theme in the battle for the White House, with Obama trying to harness populist anger at Wall Street and corporations against a backdrop of chronically high unemployment. He plans to call for higher taxes on millionaires in his State of the Union address to Congress on Tuesday night, embracing an idea advanced by billionaire investor Warren Buffett and Occupy Wall Street protesters.

"The president believes that it is not fair — inherently not fair — that those who are millionaires and billionaires pay at a lower rate than average Americans who are struggling to get by," White House press secretary Jay Carney told reporters Monday. "This theme about economic insecurity for the middle class . . . is what got this president into politics. So this is a foundational belief for him, and he's happy to have that debate."
And Obama's supporters in the blogosphere seem to be absolutely giddy over the news:
Either way, all this comes as Obama is set to deliver a speech focused on extreme disparities of wealth, and on precisely the element of the tax code that enables his likely rival to pay a far lower rate than many middle class taxpayers — at a time of rising public preoccupation with inequality. As Chuck Todd put it this morning: "If Team Obama could have picked any day to have Romney release his tax return, today might have been the day they'd pick."

Romney doesn't just disagree with Obama on these fundamental issues; he personally symbolizes virtually the entire 2012 Democratic message. He is the walking embodiment of everything Dems allege is wrong with our system and the ways it's rigged in favor of the wealthy and against the middle class. Yet this is the standard bearer the GOP seems set to pick.
One could have said the same things about the standard bearer that the Democrats choose in 2004, or about the man they worshiped as the Lion Of The Senate, but all of that is (political) water under the bridge I suppose. And it's worth noting that, even under the President's own tax proposals, Mitt Romney would still end up paying a lower effective tax rate than many Americans:
Not only is this cheap class-warfare nonsense, it's also flat-out false — unless Obama has proposed at some point treating capital gains differently than income.  He has talked at times of raising the cap-gains rate from 15% to 20%, but that will still put cap-gains at "a lower rate than average Americans who are struggling to get by."  Obama's so-called "millionaire's tax" surcharge wouldn't have applied to Romney either, because that was a surcharge on income, not capital gains.  If Obama wanted to have that debate with Romney, he'd shortly be exposed as either a hypocrite or an idiot.
Or, just a political demagogue, which is exactly what all of this concentration on income inequality seems like it's all about. It's no coincidence that this is all coming up in an election year. This is the same kind of "soak the rich" mentality we've seen from Democrats before and, even when there are legitimate issues to talk about it seems like that party still can't help but drink from the same well over and over again. Raising taxes might be necessary to deal with our fiscal problems in Washington, that's a point I've conceded on more than one occasion over the past year. However, it's simply false to say that raising taxes on the rich will do anything at all about the so-called problem of "income inequality."  However, that hasn't stopped politicians from latching on to the same old tired "tax the rich" arguments as a way to win elections. Demonizing wealth and success is as old as American politics, and it looks like its going to be central to the Presidential campaign in the name of "fairness" That's pretty sad.