Taxing The Rich Won't Alleviate Income Inequality
Increasing taxes on the rich may be a fiscal policy worth talking about, but it won't make the poor richer.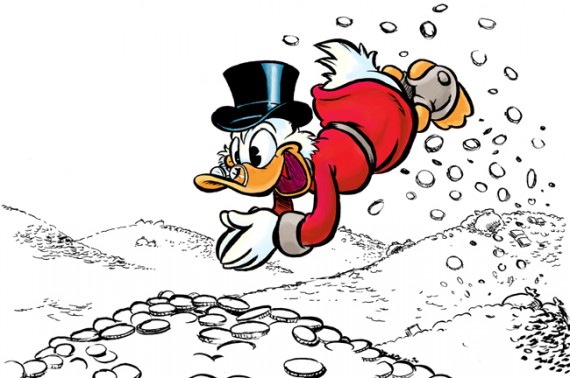 The two themes that seem to be coming out of the pundits who are sympathetic to the Occupy movement (as opposed to the movement itself, which remains a befuddled miasma of causes with no coherent message) are the twin ideas of income inequality and increasing the taxes on the "rich," as we saw in things like the so-called Buffett Rule which President Obama proposed in September, but never really bothered to turn into a concrete proposal. Accepting for the sake of argument that these are both legitimate issues, Ross Douthat reminds us this morning that taxing the rich, whatever merits it might have with respect to fiscal policy won't do anything about income inequality:
From the drum circles of Zuccotti Park to the hustings of Barack Obama's re-election push, a suddenly invigorated liberalism thinks that it has the answer to this angst: a renewed demand for higher taxes on America's richest 1 percent. And if all you care about is reducing measured income inequality, then the Occupy Wall Streeters and their Democratic admirers have it right. Tax millionaires sufficiently and you'll end up with a more equal society. The tallest poppies will be trimmed, and some of their income will find its way to someone's else pocket.

But true social mobility and broadly shared prosperity are not so easily achieved. Remember that those tax dollars, once collected, would not be disbursed with perfect effectiveness to the most deserving members of the American middle class. Instead, they would be used to buy a little more time for our failing public institutions — postponing a reckoning with unsustainable pension commitments, delaying necessary reforms in our entitlement system and propping up an educational sector whose results don't match the costs.

More spending in these areas won't necessarily buy us more mobility. The public-sector workplace has become a kind of artificial Eden, whose fortunate inhabitants enjoy solid pay and 1950s-style job security and retirement benefits, all of it paid for by their less-fortunate private-sector peers. Some on the left have convinced themselves that this "success" can lay the foundation for a broader middle-class revival. But if a bloated public sector were the blueprint for a thriving middle-class society, then the whole world would be beating a path to Greece's door.

Our entitlement system, meanwhile, is designed to redistribute wealth. But this redistribution doesn't go from the idle rich to the working poor; it goes from young to old, working-age savings to retiree consumption, middle-class parents to empty-nest seniors. The Congressional Budget Office's new report on income inequality points out that growing Medicare costs are part of the reason upper-income retirees receive a larger share of federal spending than they did 30 years ago, while working-age households with children receive "a much smaller and declining share of transfers." Absent reforms, this mismatch will only grow more pronounced: by the 2030s, Medicare recipients will receive $3 in benefits for every dollar they paid in.

Then there's the public education system, theoretically the nation's most important socioeconomic equalizer. Yet even though government spending on K-to-12 education has more than doubled since the 1970s, test scores have flatlined and the United States has fallen behind its developed-world rivals. Meanwhile, federal spending on higher education has been undercut by steadily inflating tuitions, in what increasingly looks like an academic answer to the housing bubble. (If the Occupy Wall Street dream of student loan forgiveness were fulfilled, this cycle would probably just continue.)
Douthat is largely correct here. There may be perfectly good reasons to increase taxes on higher income earners that relate to the Federal Budget deficit. Additionally, as I've said here other times, the idea that tax increases should be ruled off-the-table in negotiations over a debt deal is as absurd of an idea as the idea that defense spending or entitlements should be off the table. If we're going to get our fiscal house in order, and we need to if we want to avoid the problems that Europe is facing now at some point in our own future, then we need to have everything on the table, including comprehensive tax reform that is likely to mean that higher income earners pay more even if their rates go down. That's not ideology, it's political reality and plain old common sense because politically we're never going to be able to bring the budget under control with only spending cuts or only tax increases, it's going to take a combination of the two.
What makes for smart fiscal policy, though, doesn't necessarily do anything to deal with income inequality, or the lack of mobility that the economy has experienced in recent years. As Douthat notes, taxing the rich doesn't put money in the hands of the poor, it puts in the hands of the government, who then transfers it to any one of a number of politically favored groups. Right now, the biggest government-controlled wealth transfers go from the relatively poor young to the typically better-off retired, and that's a phenomenon that's only going to accelerate as the Baby Boomers retire. If anything, that is going increase income inequality regardless of what we do about taxes on the "rich."
Moreover, it's simply a lie that taxing the rich is going to do anything to help the poor in the long run. It's a lie built on simplistic notions of egalitarianism, the notion that people who have succeeded have done so nefariously, and the idea that there's just something wrong with being "too rich," whatever that means. It works politically for the same reason that populism and appeals to envy have always worked, and it's totally wrong. The government can't make people equal. In fact, if the Occupy Wall Street crowd were paying attention, they'd realize that it's government manipulation of the economy that has created the very inequality they complain of. And yet, they have the illusion that the solution to their perceived problems is more, and bigger, government.
Douthat suggests an alternative:
The alternative to this liberalism should not, however, be the kind of reverse class warfare currently being championed by the not-Romney candidates in the Republican field, whose flat-tax fantasies would ask working Americans to bear more of the burden for public institutions that have been failing them for years.

Rather, it should be a kind of small-government egalitarianism, which would seek to reform the government before we pour more money into it, along lines that encourage upward mobility and benefit the middle class. This would mean seeking a carefully means-tested welfare state, a less special interest-friendly tax code, and a public sector that worked for taxpayers and parents rather than the other way around.
The devil, as always, is in the details but, considering that what we've been doing for the last 40 years or so clearly isn't working perhaps it's worth looking into.