A New Gilded Age?
Thomas Piketty's Capital in the 21st Century is making quite a splash.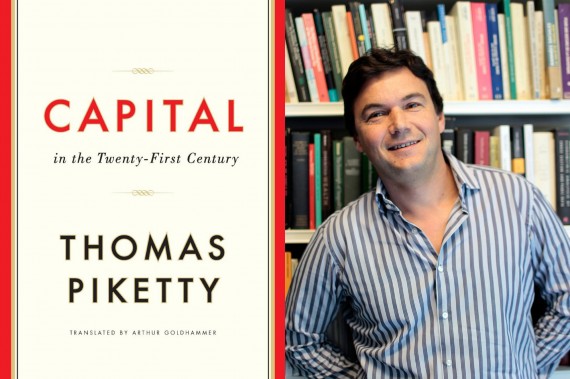 Thomas Piketty, a professor at the Paris School of Economics, is making quite a splash with the English-language publication of what Paul Krugman terms "his magnificent, sweeping meditation on inequality," Capital in the Twenty-First Century.  Indeed, Amazon is temporarily out of stock.
Krugman lavishes much praise on the author and the book for the New York Review of Books.
[H]is influence runs deep. It has become a commonplace to say that we are living in a second Gilded Age—or, as Piketty likes to put it, a second Belle Époque—defined by the incredible rise of the "one percent." But it has only become a commonplace thanks to Piketty's work. In particular, he and a few colleagues (notably Anthony Atkinson at Oxford and Emmanuel Saez at Berkeley) have pioneered statistical techniques that make it possible to track the concentration of income and wealth deep into the past—back to the early twentieth century for America and Britain, and all the way to the late eighteenth century for France.

The result has been a revolution in our understanding of long-term trends in inequality. Before this revolution, most discussions of economic disparity more or less ignored the very rich. Some economists (not to mention politicians) tried to shout down any mention of inequality at all: "Of the tendencies that are harmful to sound economics, the most seductive, and in my opinion the most poisonous, is to focus on questions of distribution," declared Robert Lucas Jr. of the University of Chicago, the most influential macroeconomist of his generation, in 2004. But even those willing to discuss inequality generally focused on the gap between the poor or the working class and the merely well-off, not the truly rich—on college graduates whose wage gains outpaced those of less-educated workers, or on the comparative good fortune of the top fifth of the population compared with the bottom four fifths, not on the rapidly rising incomes of executives and bankers.

It therefore came as a revelation when Piketty and his colleagues showed that incomes of the now famous "one percent," and of even narrower groups, are actually the big story in rising inequality. And this discovery came with a second revelation: talk of a second Gilded Age, which might have seemed like hyperbole, was nothing of the kind. In America in particular the share of national income going to the top one percent has followed a great U-shaped arc. Before World War I the one percent received around a fifth of total income in both Britain and the United States. By 1950 that share had been cut by more than half. But since 1980 the one percent has seen its income share surge again—and in the United States it's back to what it was a century ago.

[…]

Piketty has written a truly superb book. It's a work that melds grand historical sweep—when was the last time you heard an economist invoke Jane Austen and Balzac?—with painstaking data analysis. And even though Piketty mocks the economics profession for its "childish passion for mathematics," underlying his discussion is a tour de force of economic modeling, an approach that integrates the analysis of economic growth with that of the distribution of income and wealth. This is a book that will change both the way we think about society and the way we do economics. [emphases all mine-jhj]
Coming from a holder of the John Bates Clark Medal and the Nobel, that's high praise, indeed.
The central theme of the book?
The general presumption of most inequality researchers has been that earned income, usually salaries, is where all the action is, and that income from capital is neither important nor interesting. Piketty shows, however, that even today income from capital, not earnings, predominates at the top of the income distribution. He also shows that in the past—during Europe's Belle Époque and, to a lesser extent, America's Gilded Age—unequal ownership of assets, not unequal pay, was the prime driver of income disparities. And he argues that we're on our way back to that kind of society. Nor is this casual speculation on his part. For all that Capital in the Twenty-First Century is a work of principled empiricism, it is very much driven by a theoretical frame that attempts to unify discussion of economic growth and the distribution of both income and wealth. Basically, Piketty sees economic history as the story of a race between capital accumulation and other factors driving growth, mainly population growth and technological progress.
Again, Krugman finds this ground-breaking:
Capital in the Twenty-First Century is, as I hope I've made clear, an awesome work. At a time when the concentration of wealth and income in the hands of a few has resurfaced as a central political issue, Piketty doesn't just offer invaluable documentation of what is happening, with unmatched historical depth. He also offers what amounts to a unified field theory of inequality, one that integrates economic growth, the distribution of income between capital and labor, and the distribution of wealth and income among individuals into a single frame.
Now, here's the interesting twist: none of this explains what's happened in the United States.
[T]he main reason there has been a hankering for a book like this is the rise, not just of the one percent, but specifically of the American one percent. Yet that rise, it turns out, has happened for reasons that lie beyond the scope of Piketty's grand thesis.

Piketty is, of course, too good and too honest an economist to try to gloss over inconvenient facts. "US inequality in 2010," he declares, "is quantitatively as extreme as in old Europe in the first decade of the twentieth century, but the structure of that inequality is rather clearly different." Indeed, what we have seen in America and are starting to see elsewhere is something "radically new"—the rise of "supersalaries."

Capital still matters; at the very highest reaches of society, income from capital still exceeds income from wages, salaries, and bonuses. Piketty estimates that the increased inequality of capital income accounts for about a third of the overall rise in US inequality. But wage income at the top has also surged. Real wages for most US workers have increased little if at all since the early 1970s, but wages for the top one percent of earners have risen 165 percent, and wages for the top 0.1 percent have risen 362 percent.
So, what gives?
What explains this dramatic rise in earnings inequality, with the lion's share of the gains going to people at the very top? Some US economists suggest that it's driven by changes in technology. In a famous 1981 paper titled "The Economics of Superstars," the Chicago economist Sherwin Rosen argued that modern communications technology, by extending the reach of talented individuals, was creating winner-take-all markets in which a handful of exceptional individuals reap huge rewards, even if they're only modestly better at what they do than far less well paid rivals.

Piketty is unconvinced. As he notes, conservative economists love to talk about the high pay of performers of one kind or another, such as movie and sports stars, as a way of suggesting that high incomes really are deserved. But such people actually make up only a tiny fraction of the earnings elite. What one finds instead is mainly executives of one sort or another—people whose performance is, in fact, quite hard to assess or give a monetary value to.

Who determines what a corporate CEO is worth? Well, there's normally a compensation committee, appointed by the CEO himself. In effect, Piketty argues, high-level executives set their own pay, constrained by social norms rather than any sort of market discipline. And he attributes skyrocketing pay at the top to an erosion of these norms. In effect, he attributes soaring wage incomes at the top to social and political rather than strictly economic forces.
Krugman adds:
There's a lot to be said for this diagnosis, but it clearly lacks the rigor and universality of Piketty's analysis of the distribution of and returns to wealth. Also, I don't think Capital in the Twenty-First Century adequately answers the most telling criticism of the executive power hypothesis: the concentration of very high incomes in finance, where performance actually can, after a fashion, be evaluated. I didn't mention hedge fund managers idly: such people are paid based on their ability to attract clients and achieve investment returns. You can question the social value of modern finance, but the Gordon Gekkos out there are clearly good at something, and their rise can't be attributed solely to power relations, although I guess you could argue that willingness to engage in morally dubious wheeling and dealing, like willingness to flout pay norms, is encouraged by low marginal tax rates.
Still, he cuts Piketty some slack:
Even if the surge in US inequality to date has been driven mainly by wage income, capital has nonetheless been significant too. And in any case, the story looking forward is likely to be quite different. The current generation of the very rich in America may consist largely of executives rather than rentiers, people who live off accumulated capital, but these executives have heirs. And America two decades from now could be a rentier-dominated society even more unequal than Belle Époque Europe.
The remainder of the essay is a discussion of public policy options, mostly the shared preference of the two economists for redistribution via the tax system and skepticism that we'll actually see it happen to their satisfaction on either side of the Pond owing to the outsized political influence of the wealthy.
As wildly successful as the book already is, though, its nuance seems to be lost on, well, everyone who isn't a professional economist. Take this gushing column from The Guardian's Heidi Moore:
Piketty's sublimely nerdy book, packed with graphs, statistics and history, is all evidence for an immensely depressing theory: that the meritocracy of capitalism is a big, fat lie.

Piketty's research, which is immaculate, reaches back hundreds of years to establish a simple thesis: the American dream – and more broadly, the egalitarian promise of Western-style capitalism – does not, and maybe cannot, deliver on its promises. That, he writes, is because economic growth will always be smaller than the profits from any money that is invested. Economic growth is what we all benefit from, but profits from invested money accrue only to the rich.

The consequences of this are clear: those who have family fortunes are the winners, and everyone else doesn't have much of a shot of being wealthy unless they marry into or inherit money. It's Jane Austen all over again, and we've just fooled ourselves that the complicated financial system has changed a thing.

This is a deep point. Many American households, if they are lucky, will grow their wealth at the same rate as the economy. But, because the wealthy are growing their fortunes at a much faster rate, no one else can ever catch up.

Let's repeat that: no one else can ever catch up.
Except, as even Krugman readily points out, none of this is true! Indeed, most of the super wealthy class in America at least are in the finance sector. Whatever other criticisms might be made of that group, that they inherited their riches is not among them.
The discussion that Piketty and others have made possible, and that Krugman and others have helped popularize, is worth having. But it's likely to be steered in the direction of the stupid by the likes of The Guardian. That's a pity.
Hat tip: Dan Drezner