Economic Growth Slows In Final Quarter Of 2018
Economic growth slowed significantly in the fourth quarter of 2018 from where it had been earlier in the year. And it's likely to slow down even more.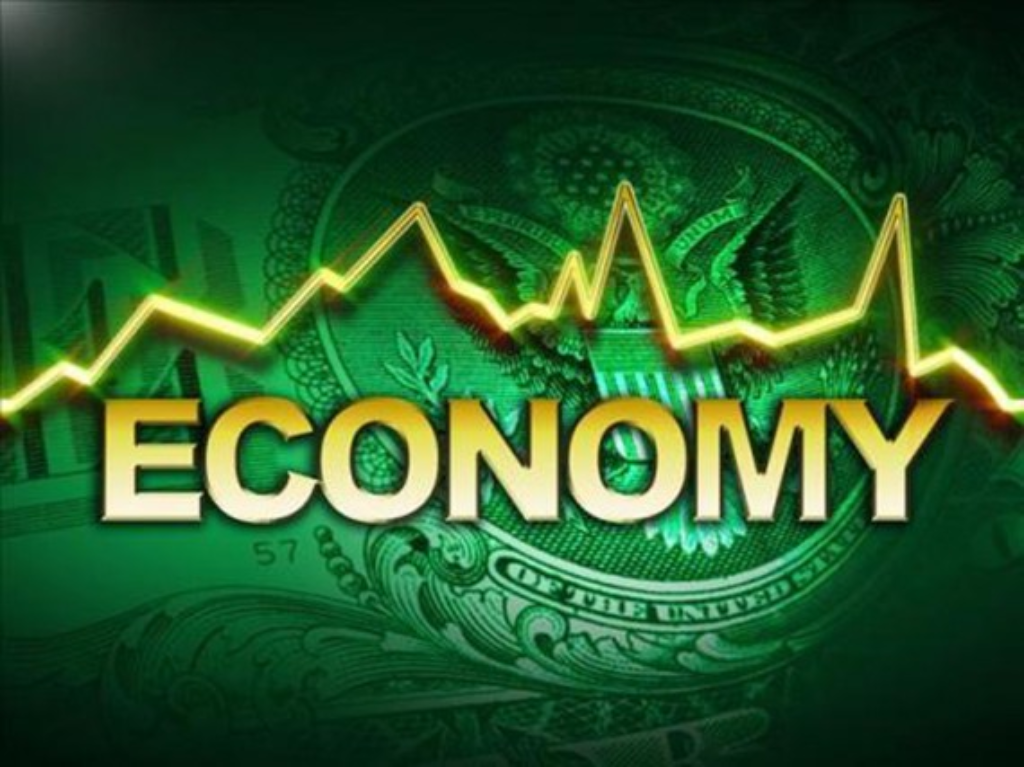 The first report on economic growth in the final quarter of 2018, which was delayed several weeks due to the government shutdown, shows that economic growth slowed significantly from earlier in the year, and fell far short of the range that Administration officials and Republicans had hoped for:
The American economy slowed at the end of 2018 — and there could be a further slowdown to come.

Gross domestic product — the broadest measure of goods and services produced in the United States — grew at a 2.6 percent annual rate in the final three months of last year, the Commerce Department said Thursday. That marks a significant slowdown from the middle of the year, when a sugar high fueled by tax cuts and government spending increases briefly pushed growth above 4 percent.

This year looks to be off to an even worse start. Many economists expect growth to drop below 2 percent in the first quarter, in part because of the partial government shutdown, which began in December and extended through most of January.

The shutdown also had another effect: It delayed the release of much government data, including the G.D.P. report itself, which came out a month later than usual. That has made it harder for forecasters and policymakers to keep tabs on the economy at what could turn out to be a pivotal moment.

It's important to keep the cooling economy in perspective. The fourth-quarter slowdown wasn't as severe as many forecasters had feared, and even with the loss of momentum late in the year, 2018 as a whole was among the best years of the decade-long recovery from the Great Recession. And most economists do not expect a recession this year, putting current expansion on track to become the longest on record.

"I think this is a slowing," said Lewis Alexander, chief United States economist for Nomura. "I don't think this is 'we're falling into an abyss.'"

Thursday's report did give President Trump some bragging rights — albeit with an asterisk.

Economic output rose 3.1 percent in the fourth quarter from a year earlier. That's a politically salient benchmark because Mr. Trump and his advisers have repeatedly promised growth of 3 percent or better, something his predecessor never achieved over a full calendar year.

Still, Mr. Trump didn't quite score a clear victory. By another commonly used method of calculating annual growth — which looks at G.D.P. over full years, not just comparing the fourth quarter of each year — the economy fell just short of that benchmark, coming in at 2.9 percent. Don't be surprised if Democrats and Republicans issue dueling news releases, each highlighting the figure that serves them best.

Whether growth hits 3 percent might matter politically, but it makes little difference economically. The difference between 2.9 percent and 3 percent growth is negligible in any one year, and, in any case, the Commerce Department will revise its fourth-quarter estimate in March.

And even if Mr. Trump hit his target in 2018, he is unlikely to repeat the feat this year, when the economy will no longer be amped up by tax cuts and government spending increases. The Federal Reserve expects growth to slow to 2.3 percent in 2019, and many economists are even more pessimistic.

The fourth-quarter slowdown wasn't as bad as some forecasters expected. Consumer spending, the bedrock of the economy, rose at a 2.6 percent rate — slower than in the middle of the year, but hardly a collapse. Exports, which slumped in the third quarter, rebounded in the fourth, suggesting that the cooling global economy isn't yet dragging down American exporters. And businesses stepped up their investment in equipment, software and research, a sign that they are still betting on the future.

"It may be that businesses are starting to see more scope for investment in R&D and technology, and obviously for the long-term that would be good news," said Joseph Song, an economist at Bank of America Merrill Lynch.

Still, Thursday's report left little doubt that the midyear surge in growth has dissipated, just as many economists predicted at the time. Tax cuts and federal spending increases provided a temporary lift, but that was offset by higher interest rates, trade tensions and a slowing global economy. And the effects of the stimulus will fade further in 2019.
The Wall Street Journal's analysis of the numbers is somewhat more optimistic, noting that while growth in the final quarter of the year was slower than it had been earlier in the year it was still fairly solid, and there are no immediate signs of a recession in the immediate future:
WASHINGTON–A year of strong economic growth in 2018 ended on a soft note, with the nation's economic output slowing from boom-like conditions at midyear.

Gross domestic product, a broad measure of the goods and services produced across the U.S., rose at a 2.6% annual rate in October through December, adjusted for seasonality and inflation, the Commerce Department said Thursday. Economists surveyed by The Wall Street Journal expected a 2.2% reading.

The 2.6% reading fell short of the 3.4% growth rate in the third quarter and 4.2% in the second. The pace of economic activity slowed as consumers reined in spending and the housing market continued to drag on growth, according to the report.

There are two ways to measure annual growth. One is to measure the nation's total output for 2018 compared with total output for 2017. by that measure–which offers a look at broader trends—the economy grew 2.9% last year, matching a rate last seen in 2015.

The second way is to measure output in the fourth quarter of 2018 versus the fourth quarter of 2017. By this measure—which gives a look at more recent trends–the economy grew 3.1% last year.

Many economists expect a more muted pace of growth in 2019 due to weaker global growth and waning effects of 2017's tax-cut boost, although the U.S. economy still has strong support from low unemployment and rising incomes. The Federal Reserve predicts 2.3% growth in 2019.

Consumer spending, which accounts for more than two-thirds of the economy, rose at an inflation-adjusted, annualized rate of 2.8% in the fourth quarter, pulling back from the third quarter when it rose at a 3.5% rate. While Americans boosted spending on big-ticket items, their spending on services and nondurable goods slowed.

The slowdown in consumer spending offset positive developments like a pickup in business investment and a rise in U.S. exports. Nonresidential fixed investment-which reflects spending on software, research and development, equipment and structures-advanced at a 6.2% rate, a pickup from a 2.5% rise in the third quarter.

Exports rose at a 1.6% rate in the fourth quarter, after a 4.9% decline in the third. The Commerce Department attributed the upturn to petroleum and capital goods exports. Still, the modest increase in exports was outpaced by the increase in imports, which rose at a 2.7% rate, making foreign trade a slight drag on growth in the fourth quarter.

The housing sector was a headwind for growth for the fourth quarter in a row as residential investment fell at a 3.5% annual pace. The decline likely reflected higher short-term interest rates and tax-code changes that diminished decades-old perks that encouraged homeownership.
As a preliminary matter, it should be remembered that the number that was released today was the initial estimate of fourth quarter growth and that we will be getting two more updates over the coming months, one in March and a final revision in April. However, while it's possible that those revisions will cause the growth number to increase somewhat, most analysts expect that the number will either stay roughly where it is right now or that it will go below the 2.6% growth number, which of course will have an impact on the final number for 2018 as well. Despite that caveat, it is clear that this initial estimate is showing us that the economy did not continue to grow at the heady rates it was over the summer, and that the future is more likely to bring us a return to the numbers we saw during President Obama's second term rather than heading higher as many in the Trump Administration are obviously hoping.
As for the numbers themselves, hile the government shutdown did start in the final weeks of the final quarter of the year, it does not appear that it had much of an impact on the economy during that period. Part of the reason for that, of course, is that the majority of the time during 2018 that the government was shut down was taken up by the period during Christmas and the start of the New Year. In addition to being a relatively short period compared to the three-month quarter as a whole, this is typically a time when many Americans take time off and during which many businesses not related to the holidays either cease or slow down operations. The one exception to that rule, of course, is the retail industry, which does not appear to have been negatively impacted by the shutdown during the period from December 22nd when the shutdown began to the end of the year.
If the shutdown is going to have any impact at all on economic growth, then, it will likely show up in the numbers for the first quarter of 2019, which we won't begin to see until May when the first estimate of those numbers is released. As a preliminary matter, though, the shutdown has caused many analysts to lower their estimates for first-quarter growth significantly, with many pegging the number well below 2% and barely above 1%. Whether that pans out remains to be seen, but it is worth noting that over the past decade or more the first quarter has tended to be significantly worse than other parts of the year. If the shutdown made that worse, then that could pull economic growth down even further.
Over at CNBC, John Harwood notes that the Trump Administration and the GOP had promised significantly better economic growth than what we saw under President Obama. What we got was something quite different:
President Donald Trump's central claim about his economic policies officially crashed into reality on Thursday.

Throughout the 2016 campaign and since, the president and his party have vowed to kick-start tepid Obama-era economic growth. Specifically, they insisted tax cuts and deregulation would return growth to its post-World War II average of 3 percent — a level, candidate Trump said derisively, that President Barack Obama became "the first president in modern history" never to reach in a single year.

New government data on Thursday morning show that Trump, too, has failed to reach the 3 percent promised land, according to one major metric. The Commerce Department's Bureau of Economic Analysis measured 2018 growth at 2.9 percent, matching the peak Obama enjoyed in 2015.

Instead of annual 2018 growth, the White House emphasized a different growth measure comparing growth from the fourth quarter of 2017 to the fourth quarter of 2018.

By that measure, the economy grew 3.1 percent. But Obama, too, reached 3 percent growth on a four-quarter basis four different times.

Where Obama failed to enjoy 3 percent annual growth was on the BEA's official annual number. His 2015 peak was 2.9 percent, like Trump's for 2018. Thursday's preliminary 2.9 percent figure could later be revised, although economist Mark Zandi of Moody's Analytics said the most likely direction would be down.

For the rest of the president's term, economic forecasters agree, that number will decline.

"2018 will be the high-water mark for growth in the Trump administration," Zandi predicted. He expects the decade-old economic expansion will shrink to 1.1 percent growth in 2020, with a better-than-even chance of recession.

(…)

Economically, that falls short of the upgrade Team Trump pledged. Politically, it demonstrates the hollowness of a core GOP campaign theme.

The theme hardly originated with Trump. Announcing his presidential candidacy in 2015, then-frontrunner Jeb Bush blamed Democratic policies for "the slowest economic recovery ever" and identified the solution as tax cuts and deregulation.

"There is not a reason in the world why we cannot grow at a rate of 4 percent of year," Bush declared.

Obama's economic advisers cited two big reasons: sluggish worker productivity and shrinking labor supply as baby boomers retire. Those factors, they argued, limited potential growth to a long-term average of 2 percent.

Trump, with characteristic grandiosity, dismissed that argument and outbid Bush. "We think it could be 5 or even 6" percent, he said.

His economic advisers remained more cautious. But they cast sustained growth of 3 percent or more, driven by new, productivity-boosting business investment, as the floor beneath their strategy for making Americans better off and protecting the federal budget.

"The foundation for the plan is 3 percent growth," budget director Mick Mulvaney told Congress. "In fact, that IS Trumponomics."

Growth ticked up in 2017 to 2.2 percent, though that rate fell below what the Congressional Budget Office had forecast before Trump's election. As the president took steps toward deregulation, Republican allies in Congress called tax cuts critical to achieving their 3 percent goal.

The tax cuts passed in December 2017. And when growth surged to 4.2 percent in the second quarter of 2018, the White House declared victory.

"We're on track to reach the highest annualized growth in 13 years," the president assured reporters.

"Remember when Obama said you need a magic wand to make that happen?" Donald Trump Jr. told Breitbart. "Well 'abracadabra,' Obama. We're doing it."

In fact, growth in a single quarter had topped 4.2 percent four different times during the Obama administration. A broad range of analysts had forecast that a deficit-financed tax-cut would stimulate short-term boost beginning in 2018.

Yet even as 3rd quarter growth slowed to 3.4 percent, White House advisers reiterated their confidence. In July, Treasury Secretary Steve Mnuchin called the U.S. "well on the path" for four to five years of sustained 3 percent growth.
To be fair, 2.9% annualized growth is fairly good for an economy that is in the tenth year of growth after the Great Recession, this is especially true given the fact that the U.S. economy has not seen annual GDP growth above 3% since 2005, which of course was just a couple years before the economy began its downward slide into what would be the worst recession since the Great Depression. Additionally, it is worth noting that 2018 was the second year in a row in which annual growth increased by more than six-tenths of one percent, which is also a fairly good indication of the state of the economy. The problem for Republicans, though, is that most of the projections they relied on when they sold their tax cut package to the public at the end of 2017 relied on the idea that the plan would spur economic growth thanks to increased corporate investment and jobs and wage growth fueled largely by corporations making use of the lower tax rates the law provides. Instead, as many analysts predicted, the tax cut package has largely led to most corporations using the savings they realized for stock buybacks rather than increased investment and hiring. This is one of the reasons why we're seeing the budget deficit soar to record levels, and why it's likely to continue to soar into the foreseeable future.