Economy Slows To A Crawl In First Quarter G.D.P. Estimate
Economic growth slowed significantly in the first three months of 2015, but it's not clear what that means going forward.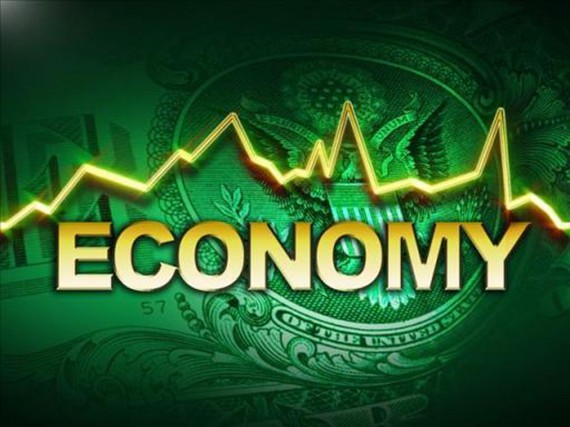 After fairly strong growth through the majority of 2015, the first release of the Gross Domestic Product numbers for the first quarter of the year showed the economy slowing to a crawl, but it's still far too early to tell if it's something we need to worry about going forward:
Confirming months of data that suggested a slowdown, the government said Wednesday that the American economy barely grew in the first quarter of 2015.

At 0.2 percent, the pace of growth was the slowest in a year, when a winter wipeout in the first quarter of 2014 prompted the economy to contract at a 2.1 percent rate.

Economists had expected a weak showing before the report. The consensus view called for a 1 percent growth rate in January, February and March, well below the 2.2 percent rate in the final three months of 2014.

"The U.S. economy stumbled badly in the first quarter," said Scott Anderson, senior vice president and chief economist at Bank of the West in San Francisco. "Modest growth in the fourth quarter of 2014 turned into virtually no growth in the first quarter of 2015."

The anemic showing was led by two areas that were especially weak: net exports and business investment.

Hurt by the stronger dollar and the lingering effects of a labor dispute that slowed activity at West Coast ports, net exports fell 7.2 percent in the first quarter, which shaved nearly a full point off the overall growth figure.

Plunging investment by businesses also weighed on the American economy, a trend some experts attribute to big cuts in spending in the energy sector, as falling oil prices prompt drillers and oil production companies to pull back on new projects.

One part of the economy that had been expected to help, the public sector, actually hurt overall growth last quarter, with state and local government expenditures falling at the steepest rate since the first quarter of 2012.

That the economy expanded at all last quarter was because of spending by consumers, although they spent at a significantly slower rate than in the second half of last year.

Consumer spending, which makes up roughly two-thirds of gross domestic product, rose 1.9 percent. That was well below the 4.4 percent gain in the fourth quarter of 2014, and was a sign that shoppers remained cautious, despite the big drop in energy prices.
The Wall Street Journal's take on the report is rather pessimistic:
WASHINGTON—The U.S. economy slowed to a crawl at the start of the year as businesses slashed investment, exports tumbled and consumers showed signs of caution, marking a return to the uneven growth that has been a hallmark of the nearly six-year economic expansion.

Gross domestic product, the broadest measure of goods and services produced across the economy, expanded at a 0.2% seasonally adjusted annual rate in the first quarter, the Commerce Department said Wednesday. The economy advanced at a 2.2% pace in the fourth quarter and 5% in the third.

Economists surveyed by The Wall Street Journal had expected growth of 1% in the first three months of this year, though many were braced for a surprise to the downside.

The first-quarter figures repeat a common pattern in recent years: one or two strong readings followed by a sharp slowdown. First-quarter GDP growth had averaged 0.6% since 2010 and 2.9% for all other quarters. That has worked out to moderate overall expansion but no growth breakout.

"This is another quarterly number which confirms the long-term slow-growth thesis, but there are good odds we get a bit of a bounce later in the year from stabilized business spending and the housing markets, which are setting up quite promising," Guy LeBas, chief fixed-income strategist at Janney Montgomery Scott, said in a note to clients.

The latest reading on the economy arrives in the middle of a two-day Federal Reserve meeting where policy makers will weigh the latest data against plans to start raising short-term interest rates. No action is expected from the Fed on Wednesday, but investors will look for clues on the timing for the first rate increase since 2006 in a policy statement due at 2 p.m. Eastern time.

Last year, economists pinned much of the blame for a bad first quarter—GDP shrank 2.1%—on unusually harsh weather. This year, multiple factors appear to be at work, including another bout of blizzards, disruptions at West Coast ports, the stronger dollar's effect on exports and the impact of cheaper oil.

Better weather, a return to normal at port terminals and steadying investment could boost growth later this year.

"We expect the economy will rebound in [the second quarter] and beyond, similar to last year," said Michelle Girard, economist at RBS Securities.

But not all the factors behind the slowdown appear temporary. A stronger dollar and cheaper oil could persist, keeping exports and energy-sector investment at bay.

As well, rising inventories kept the U.S. economy out of recession, contributing 0.74 percentage point to GDP in the first quarter. A second-quarter repeat is unlikely.

Joseph LaVorgna, chief U.S. economist at Deutsche Bank, said producers probably will allow inventory positions to run off rather than building them up even more. "This tells us that current-quarter growth is likely to run around 2.5%, not the 4% snapback we had previously been anticipating," he said.

U.S. households will have to pick up spending to help the economy grow. Wednesday's report showed consumer spending, which accounts for more than two-thirds of economic output, decelerated to a 1.9% pace in the first quarter, down from 4.4% growth in the fourth quarter.

Rather than using savings from cheaper gasoline to buy more goods and services, Americans have been setting money aside for a rainy day. The personal saving rate at 5.5% in the first quarter was the highest since 2012. The figure was 4.6% in the fourth quarter.

Another key driver of the economy, business spending, also has faltered of late. Nonresidential fixed investment—which reflects spending on software, research and development, equipment and structures—retreated at a 3.4% rate, compared with a 4.7% rise in the fourth quarter.

Energy companies in particular are feeling the effects of cheaper oil. Business investment in structures fell 23.1%, led by a 48.7% contraction for mining sector spending on shafts and wells, Commerce said.

A stronger dollar, meanwhile, has made domestically produced goods more expensive overseas and foreign products cheaper inside the U.S. Combined with disruptions at West Coast ports, trade was constrained. In the first quarter, exports fell at a 7.2% rate, compared with 4.5% growth in the fourth quarter. Imports rose 1.8%, compared with 10.4% in the fourth quarter.
The general consensus among economists is that there will be a bounce back from this apparent downturn, but that it's unlikely to be as strong as the growth we saw in 2014 after a first quarter in which the economy actually shrank due in large part to an unusually harsh and severe winter. Weather played a role in these figures as well, of course, but it doesn't seems as if the responsibility for the slower growth can be solely attributed to the weather this time. For one thing, the winter of 2015, while severe in isolated instances, was not nearly as severe as what the Midwest, Plains, and Northeast faced during the winter of 2014. For another, as noted above, there are also a number of other factors that clearly seem to be having an impact on slower economic growth. Some of these, such as a stronger dollar and lower energy prices, admittedly have a good side to them but they also tend to drag down economic growth. This is especially true in the energy sector, which has seen layoffs and well shutdowns in Texas and North Dakota as the price of oil has dived on world markets. The slowdown was also predictable to some extent based on other economic statistics that have been released over the past several months, including the monthly jobs reports, all of which indicated that the economy was slowing down during the first three months of the year.
Now that we're fully into the 2016 Presidential campaign, of course, economic statistics such as GDP growth and the jobs report will likely be getting more attention than they normally would. If it's true that the economy is slowing down, for example, then that will likely have an impact on the President's approval ratings and, by extension, public opinion about the Democratic Party. Additionally, you can expect Republicans to cherry pick economic data such as this to support their argument that the recovery that we've seen in the economy under President Obama has been weak at best, an assertion that is at least somewhat supported both by the fact that GDP growth since the Great Recession has been slower than it has been after previous economic downturns and by the fact that there are still millions of people who are either unemployed or underemployed, and millions more that have left the labor force altogether.
As Philip Bump notes, though, it's far too early to tell how big an impact these numbers will have on the race going forward. For one thing, today's release is only a first estimate that will be updated twice more over the next two months. While it's not likely that these revisions will report back a number that is significantly different from what was reported today, it's at least possible that the picture will look a bit rosier than it does today. Secondly, there's no reason to expect that the economy will remain this sluggish for the rest of 2015. We bounced back from last year's first quarter meltdown, and there will likely be a similar, if smaller, bounce this time. Six months from now, we could be looking at much different picture economically. Finally, the connection between poll numbers and economic figures isn't a very straightforward one. Voters tend to vote based more on how they feel personally rather than what the GDP growth, unemployment, or stock exchange numbers might say. What that means, of course, is that even if the economic news is "good" the incumbent party can still find itself in trouble if voters perceive that their own economic position is insecure. One indication of that, arguably, can be found in the fact that consumers seem to be saving rather than spending at the moment.
Notwithstanding all of that, these numbers are going to become important going forward because they are going to shape the messages we see from the candidates, and of course those messages themselves can play a strong role in enhancing or diminishing the economic security of the voting public.