Hillary Clinton Wants You To Know She Was Down With The Stuggle
Apparently, things were tougher in Chappaqua, New York and on D.C.'s Embassy Row than we ever imagined.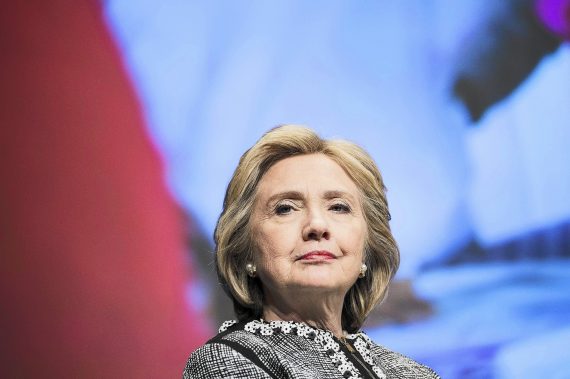 Last night, Hillary Clinton essentially kicked off the book tour for her new book Hard Choices with an interview with ABC News's Diane Sawyer. Even before the interview had aired, though, it was making news thanks to a clip released by ABC in which Clinton talks the criticism that both she and former President Clinton have received for the high-dollar speaking fees they have earned in the decade and a half since leaving the White House. In doing so, however, she made what can only be called the first gaffe of her not-yet-really-a-campaign campaign:
Hillary Clinton defended the millions of dollars she and her husband, former President Bill Clinton, have earned giving paid speeches since leaving public office in an exclusive interview with ABC's Diane Sawyer ahead of Tuesday's release of her new memoir, "Hard Choices." "We came out of the White House not only dead broke, but in debt," Clinton told Sawyer, referring to the hefty legal fees incurred during their White House years. "We had no money when we got there, and we struggled to, you know, piece together the resources for mortgages, for houses, for Chelsea's education. You know, it was not easy." She added, "Bill has worked really hard — and it's been amazing to me — he's worked very hard. First of all, we had to pay off all our debts, which was, you know, he had to make double the money because of obviously taxes and then pay off the debts and get us houses and take care of family members." Hillary Clinton's individual speaking fees reportedly average $200,000 per appearance. "Let me put it this way," Clinton told Sawyer. "I thought making speeches for money was a much better thing than getting connected with any one group or company as so many people who leave public life do."
Here's the video:
Now, it's true that the Clinton's had debt when leaving the White House, much of it related to the legal problems that they faced throughout Bill Clinton's Presidency, including, of course, the long legal struggle that began when a certain intern delivered pizza to the Oval Office. However, the idea that Bill and Hillary were struggling financially comes across as nothing other than an absurd attempt by Clinton to make it seem as though she's can relate to middle class Americans when its obvious to anyone that the Clinton family lives a life that most Americans could only dream about. Even before they left the White House, the Clinton's had purchased their $1.7 million home in Chappaqua, New York and a $2.85 million home in Washington, D.C. In addition those speaking fees that Clinton is defending, their income included Bill's pension as a former President which amounted to roughly $161,000 per year in 2001, Clinton's book My Life for which he received a $12 million advance,  Hillary's own book Living History for which she received an $8 million advance, and, of course, Hillary's salary as a United States Senator, which started out at $145.100 per year when she entered the Senate in January 2001 (source).
That may not all add up to Mitt Romney levels of income and wealth, but it's hardly "struggling" either. Indeed, as a general rule, when you're talking about paying f'or "houses" in the plural, it's best not to talk about struggling, especially if you're running for public office.
Obviously, this is hardly the most important issue that may come up regarding Hillary Clinton if she does run for President in 2016. However, it's a fairly apt demonstration of many of the same issues that plagued her and her campaign in 2008, and which are still likely to be an issue in 2016. Unlike her husband in 1992 and throughout his Presidency and post-Presidency, and unlike Barack Obama in 2008, Clinton quite simply does not come across as relatable, empathetic, or someone who can relate to the struggles of the average American. Trying to project an image like that in such an awkward and, in the end, absurd manner is also a demonstration of the fact that Clinton is not nearly as good a campaigner as her husband was, something which makes one wonder what kind of President she'd end up being.
The whole thing comes across as contrived and phony, and completely tone deaf.  You're not struggling if you're pulling in more than $200,00 per year before speaking fees,  getting six and seven figure book advances and six figure speaking fees, all while traveling regularly in the same circles as the elite of Hollywood, New York City, and Washington, D.C. So, no, Hillary, you didn't struggle. And it was kind of silly for you to try to pretend you did.