Barbara Bush, Wife And Mother Of Presidents, Dies At 92
Barbara Bush, only the second woman in history to be the wife and mother of a U.S. President, has died at the age of 92.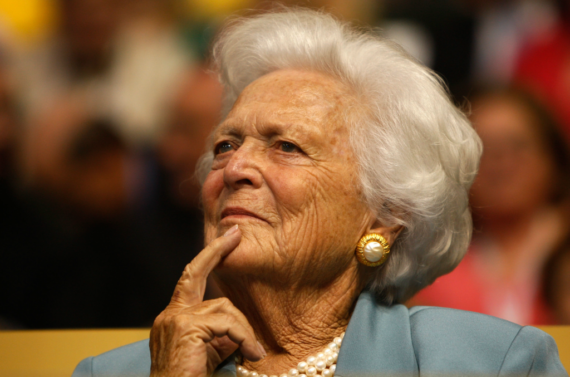 Barbara Bush, only the second woman in American history who was the wife and mother of U.S. Presidents and the only woman in American history to be alive for both Presidencies, has died at the age of 92:
Barbara Bush, the widely admired wife of one president and the fiercely loyal mother of another, died Tuesday evening. She was 92.

Jim McGrath, a family spokesman, announced the death in a statement posted to Twitter.

On Sunday, the office of her husband, former President George Bush, issued a statement saying that after consulting her family and her doctors, Mrs. Bush had "decided not to seek additional medical treatment and will instead focus on comfort care."

The Bushes had celebrated their 73rd wedding anniversary in January, making them the longest-married couple in presidential history.

Mrs. Bush had been hospitalized with pneumonia in December 2013. She underwent surgery for a perforated ulcer in 2008 and had heart surgery four months later.

As the wife of the 41st president and the mother of the 43rd, George W. Bush, Mrs. Bush was only the second woman in American history to see a son of hers follow his father to the White House. (Abigail Adams, wife of John Adams and mother of John Quincy Adams, was the first.)

Another son, Jeb, the governor of Florida from 1999 to 2007, was an unsuccessful candidate for the Republican presidential nomination in 2016.

During that campaign, he was repeatedly derided in personal terms by the eventual nominee and now president, Donald J. Trump, prompting Mrs. Bush, who was never shy about expressing her views, to lash back, suggesting in television interviews that Mr. Trump was a misogynist and a hatemonger.

"He's said terrible things about women, terrible things about the military," Mrs. Bush told CNN. "I don't understand why people are for him."

Dedicated to her family and largely indifferent to glamour, Mrs. Bush played down her role in her husband's political success. But she was a shrewd and valuable ally, becoming a sought-after speaker in at least four national campaigns: in 1980, when Mr. Bush was chosen to be Ronald Reagan's running mate; in 1984, when the two ran for re-election; in 1988, when Mr. Bush campaigned for president; and in 1992, when he sought re-election.

She stepped into another presidential campaign in 2000, that of her son George, then the governor of Texas. She appeared at fund-raisers and met voters in New Hampshire and other states on his behalf as he rolled to the Republican presidential nomination.

She was clearly a political asset. A 1999 poll found that 63 percent of Americans had a favorable opinion of her and that only 3 percent had an unfavorable one.

While first lady, from January 1989 to January 1993, Mrs. Bush generally refused to talk publicly about contentious issues, particularly when her opinion was said to differ from her husband's.

"I'm not against it or for it," she said of the Equal Rights Amendment in 1989. "I'm not talking about it. I want equal rights for women, men, everybody."

There were rumors that she favored abortion rights, but she made it clear that she supported her husband and would not say whether she was comfortable with his anti-abortion stand.

She was vocal, however, in championing causes of her choosing. Literacy was one, and so was civil rights; she had been an early supporter of the movement.

And she could be combative in news interviews, sometimes yanking off her glasses and tartly chastising reporters when she thought they were being overly aggressive.

(…)

Mrs. Bush enjoyed a favorable public image throughout her years as first lady. In one respect she benefited from comparisons with her predecessor, Nancy Reagan, whom many perceived, rightly or wrongly, as remote, icy and overly style-conscious.

By contrast, Mrs. Bush was regarded as unpretentious, a woman who could wear fake pearls, enjoy takeout tacos, walk the dog in her bathrobe and make fun of herself. Perhaps adding to her appeal, she conformed to the popular view of an old-fashioned grandmother, with her white hair and matronly figure; though she was almost a year younger than her husband, many thought she looked much older.

"What not everyone always understood is that Barbara revealed as much as she wanted to but seldom more," Donnie Radcliffe wrote in a 1989 biography, "Simply Barbara Bush: A Portrait of America's Candid First Lady." "She came into the White House with a dexterity at manipulating her image, and she wasn't above playing off her own outspoken style against Nancy Reagan's reluctance and often inability to express herself."

"A less popular political wife," Ms. Radcliffe added, "might have seemed calculating."

Part of Mrs. Bush's popularity stemmed from her penchant for self-deprecation. Soon after moving into the White House, she said, "My mail tells me a lot of fat, white-haired, wrinkled ladies are tickled pink."

She would do anything asked of her to help the Bush administration, she said, but she drew a line: "I won't dye my hair, change my wardrobe or lose weight." Even so, as first lady she was known to wear designer clothes and have her hair styled.

For all her joking about herself, she also confessed that she had felt like crying after Jane Pauley told her on the "Today" show, "Mrs. Bush, people say George is a man of the '80s and you're a woman of the '40s."

Mrs. Bush often insisted that she stayed out of her husband's concerns. But few who knew her believed that she would ever hesitate to tell Mr. Bush her views.

"You have to have influence," she said in 1992. "When you've been married 47 years, if you don't have any influence, then I really think you're in deep trouble."

The substance of that influence remained largely invisible to the public eye, however, making her one of the few first ladies of her era to escape serious criticism. When Mrs. Reagan raised more than $1 million in tax-deductible contributions in 1981 to redecorate the White House living quarters, there was a public outcry. When the Bushes' friends raised almost $200,000 to spruce up the vice-presidential house the same year, there was hardly a stir.

"I got away with murder," Mrs. Bush said shortly before her husband's inauguration.

(…)

She was born Barbara Pierce on June 8, 1925, at a maternity hospital in New York City run by the Salvation Army principally for unwed mothers. The family obstetrician practiced there one month a year, and that month happened to be June. She was the third child of the former Pauline Robinson and Marvin Pierce. Her father was in the publishing business and eventually became president of the McCall publishing company. Her mother, the daughter of an Ohio Supreme Court justice, was active in civic affairs in Rye, N.Y., the New York City suburb where the family lived.

One of Mrs. Bush's ancestors was Franklin Pierce, the 14th president of the United States.

Barbara was brought up in considerable affluence. She attended the public Milton School and the private Rye Country Day School and, along with her contemporaries, suffered through dancing classes, which she never forgot. "I was 5 feet 8 inches at the age of 12, and it certainly bothered the boys," she recalled.

Her final two years of high school were spent at Ashley Hall, a boarding school in Charleston, S.C. A classmate once described it as a place where "being bad meant taking off your hat and gloves when you got out of sight of the school."

She met George Bush in 1941 at a Christmas dance at the Round Hill Country Club in Greenwich, Conn. George had grown up in Greenwich, a son of Prescott S. Bush, a Wall Street executive and a future United States senator from Connecticut, and the former Dorothy Walker. At the time, he was a senior at Phillips Academy in Andover, Mass. They began corresponding.

After graduating in 1942, Mr. Bush enlisted in the Navy and trained as a pilot. The next year, he was assigned to a torpedo squadron in the Pacific and piloted a Grumman Avenger. On one combat mission, in 1944, he was shot down and rescued by a submarine. Barbara did not hear from him for a month.

After enrolling at Smith College but before entering the freshman class, she shocked her mother by spending the summer working in a nuts-and-bolts factory.

She and Mr. Bush, on leave from the Navy, married in Rye on Jan. 6, 1945; the bride, not yet 20, had dropped out of Smith at the beginning of her sophomore year. "The truth is, I just wasn't interested," she said in interviews. "I was just interested in George."

They honeymooned in Sea Island, Ga., and spent nine months at military bases in Michigan, Maine and Virginia before Mr. Bush was discharged and entered Yale. In New Haven, where the couple moved, their first son, George, was born in 1946.

After Mr. Bush's graduation, in 1948, the family left for Texas, where Mr. Bush, with the help of a family friend, had taken a job as an equipment clerk in the oil industry. For a time, in Odessa, Tex., the family lived in one half of a house; the other half was used as a brothel. Within a year they were sent to California. A daughter, Pauline (known as Robin), was born there in 1949 but died of leukemia before her fourth birthday.

The California sojourn was brief; the Bushes soon returned to Texas — first to Midland, where they bought a house in a neighborhood known as Easter Egg Row because the houses were all painted in pastel colors, and later to Houston. By the time the Bushes reached the White House, they had moved 26 times.

In Texas, four more children were born: Jeb (John Ellis) in 1953, Neil Mallon in 1955, Marvin Pierce in 1956 and Dorothy Walker in 1959. Only George and Jeb went into politics; Neil and Marvin became businessmen, and Dorothy Bush Koch became a philanthropist.

Mrs. Bush's children survive her, as do her husband, 17 grandchildren and seven great-grandchildren.

Every summer, while Mr. Bush was engaged in oil deals and raising investment money, Mrs. Bush and the children drove to the Bush family compound in Kennebunkport, Me.

On her first trip there, Mrs. Bush discovered that the hotel where she had made reservations along the way would not accommodate two black family employees who were accompanying her and the children. The employees said they would find another place. But Mrs. Bush refused to split up the group and found other accommodations. On becoming first lady, she insisted that her press secretary be black — a first for that position.

The family moved to Washington in 1966, when Mr. Bush, after an unsuccessful run for the Senate in 1964, was elected to the House of Representatives from Texas' Seventh Congressional District, which includes parts of Houston. He served two terms and mounted a failed second campaign for the Senate.

(emphasis mine)
More from The Washington Post:
Barbara Bush, who was the wife of one president and the mother of another and whose embrace of her image as America's warmhearted grandmother belied her influence and mettle, died April 17. She was 92.

The office of her husband, former president George H.W. Bush, issued a statement Tuesday evening announcing her death but did not disclose the cause. Mrs. Bush was reportedly battling chronic obstructive pulmonary disease and congestive heart failure. Her family announced two days earlier that she had "decided not to seek additional medical treatment" after recent hospitalizations amid her "failing health."

As the matriarch of one of America's political dynasties, Mrs. Bush spent a half century in the public eye. She was portrayed as the consummate wife and homemaker as her husband rose from Texas oilman to commander in chief. They had six children, the eldest of whom, George W. Bush, became president. Their eldest daughter, Robin, died at age 3 of leukemia, a tragedy that had a profound impact on the family.

Her husband served two terms as vice president under Ronald Reagan and then one as president, from 1989 to 1993. On his watch, the Cold War ended, and the nation and its allies achieved a swift and crushing victory over Iraq in the Persian Gulf War — before a faltering economy largely doomed his reelection prospects.

George W. Bush, a former governor of Texas, was president from 2001 to 2009, and after the terrorist attacks of Sept. 11, 2001, he led the country into long-lasting wars in Afghanistan and Iraq and the rumblings of the Great Recession.

"Barbara Bush was a fabulous First Lady and a woman unlike any other who brought levity, love, and literacy to millions," her eldest son said in a statement. "To us, she was so much more. Mom kept us on our toes and kept us laughing until the end."

Only Abigail Adams, whose husband, John Adams, and son John Quincy Adams served as the second and sixth presidents, respectively, of the United States, shared Mrs. Bush's distinction of being the wife and mother of commanders in chief.

Another Bush son, Jeb, served two terms as Florida governor before unsuccessfully seeking the Republican nomination for president in 2016.

Mrs. Bush was proud of her family's achievements but expressed reservations — especially as Jeb Bush mounted his White House bid — about whether it was healthy in a democracy for one family to accumulate so much power.

In a "Today" show interview, she called Jeb Bush "by far the best-qualified man." But "there are a lot of great families, and it's not just four families or whatever. There are other people out there that are very qualified," she remarked, adding — with her characteristic bluntness — that "we've had enough Bushes."

But once her son entered the race, she was 100 percent in — and she did not mince words about her distaste for his primary opponent, businessman Donald Trump. In a joint interview with Jeb before the New Hampshire primary, she unflinchingly stated that it was "incomprehensible" to her that anyone would vote for Trump, particularly women, in light of his abusive comments about them.

(…)

A relatively unknown national figure until her husband became vice president, Mrs. Bush was comfortable as a backstage force, maintaining stability during her family's more than two dozen moves before entering the vice president's official residence in 1981.

Within the Bush clan, she was known as "the enforcer."

"She may be a lot of people's grandmother," Jeb Bush told Newsday in 1990 when asked about his mother's soothing, even matronly persona as first lady, "but she was our drill sergeant when we were growing up."

By her account, she had evolved from a shy, socially "square" 16-year-old schoolgirl smitten at the sight of her 17-year-old future husband at a Christmas dance in Greenwich, Conn. At 19, she left her elite women's college — Smith — to marry him.

Within a few years, they would leave behind their lives of wealth and privilege in the Northeast as George H.W. Bush sought his fortune as a Texas oilman before winning a congressional seat in 1966. Mrs. Bush accompanied him across the country and around the world as he served as U.N. ambassador, leader of the Republican National Committee, U.S. envoy to China and director of the CIA before becoming Reagan's running mate.

According to Peter and Rochelle Schweizer's 2004 book, "The Bushes: Portrait of a Dynasty," Mrs. Bush for years maintained and meticulously curated a network of tens of thousands of contacts and friends that she saved on index cards for social and fundraising reasons. By the time the Bushes got to the White House and automated the card file, they had a Christmas card list in excess of 10,000 names.

As a political spouse, she contrasted sharply with her predecessor as first lady, Nancy Reagan, who had at times generated unwanted attention with her lavish spending, designer clothes and intrusions into her husband's administration. Mrs. Bush presented herself as the antithesis of glamour and excess. She endeared herself to many with her droll frankness, boasting about her trademark triple-strand faux pearls and joking about her prematurely white hair.

The two wives were formidable women, protective of their husbands, and their relationship during the Reagan administration was noticeably icy. The Bushes were seldom invited to the Reagan White House's family quarters.

As first lady, Mrs. Bush established the nonprofit Barbara Bush Foundation for Family Literacy, to which she donated nearly $800,000 in after-tax proceeds from her best-selling "Millie's Book" (1990), which channeled the voice of her pet dog.

She also encouraged people to volunteer at homeless shelters and Head Start projects, and she promoted AIDS awareness when the disease was still highly stigmatized and misunderstood.

In 1989, she made front-page headlines when she visited Grandma's House, a pediatric AIDS care center in the District, and cradled an infant patient at a time when many people mistakenly believed the disease could be contracted through mere proximity to the virus.

She attended in 1990 the funeral of Ryan White, the teenager who had fought to return to public school in Indiana after he contracted the AIDS virus through a blood transfusion. (Her husband signed into law what is now the Ryan White HIV/AIDS Program to help provide services for people with the disease, but AIDS advocates have regarded the program as inadequately funded for years.)

Mrs. Bush sat on the board of the historically black Morehouse College in Atlanta and was reported to have played a role in the selection of her friend Louis W. Sullivan, the president of Morehouse's medical school, to lead the Department of Health and Human Services.

(…)

The White House staff adopted a nickname bestowed on her by her children — the "Silver Fox" — and took care not to cross her. She was known to stare down aides she thought were not performing up to task for her husband.

In one incident, Mrs. Bush put Craig Fuller, chief of staff to then-Vice President Bush, on notice after friends and supporters complained that he was not returning their calls. As she watched him sift through a stack of messages, she snapped, within her husband's earshot, "Keep looking. . . . You'll find a couple from me."

During four years as first lady, Mrs. Bush consistently ranked among the nation's most-admired women, with high poll numbers that contrasted with her husband's tumbling ratings. During the 1992 election, she was often deployed by the Bush campaign as a surrogate to humanize a president not known for charisma or the common touch.

She was, many commentators agreed, his most valuable asset in a race against then-Arkansas Gov. Bill Clinton, an agile campaigner who pounded Bush on the economy, and wild card candidate H. Ross Perot, a Texas billionaire running as an independent.

"She had grit and grace, brains and beauty," Clinton said in a statement after her death, noting that he sometimes visited the Bushes at their family retreat in Kennebunkport, Maine. "Barbara joked that George and I spent so much time together I had become almost a member of the family, the 'black sheep' that had gone astray."

Mrs. Bush generally managed to avoid the sorts of intrigues and uproars that perturbed her predecessor as first lady and her eventual successor, Hillary Clinton, a lawyer and activist, who promised to be a partner in her husband's public life and memorably defended her career by remarking, "I suppose I could have stayed home and baked cookies and had teas."

In her no-nonsense way, Mrs. Bush rejected the idea of the election being a referendum on dramatic generational change and pushed back against polls that said she was better liked by the electorate than her husband.

"Nobody is jealous of me," she told The Washington Post. "I mean, look at me. Who would be? It's easy to like me. They like George, and they respect him. But he has to say no to people because he has to do what's right for the country, and that's hard."

(…)

Mrs. Bush generated a flash of controversy when Wellesley College, the women's school in Massachusetts, invited her to speak at its 1990 commencement. Some students protested, saying the first lady, who had dropped out of college to marry and who had risen to prominence through the accomplishments of her husband, did not represent the type of career woman the college sought to educate.

At the commencement, Mrs. Bush told the graduates to "cherish your human connections: your relationships with family and friends." She memorably added: "Somewhere out in this audience may even be someone who will one day follow in my footsteps, and preside over the White House as the president's spouse, and I wish him well."

(…)

In her final years, Barbara Bush lived in the home she and her husband built in Houston and largely stayed out of the spotlight. In 2009, she sat for an interview with Fox News on the occasion of the 20th anniversary of the George Bush Presidential Library in College Station, Tex.

"Well, it was a wonderful life that he's had and I've shared," Mrs. Bush said wistfully, recalling her time with her husband in Washington and China and even the car that first took them to West Texas. "We've had a great life."
As I noted above, Mrs. Bush is only the second woman to be both the wife and mother of an American President. The first, of course, was the Abigal Adams, who was the wife of John Adams, America's 2nd President, and the mother of John Quincy Adams, the 6th President. Unlike Adams, though, Mrs. Bush is the only woman (so far at least) to have been alive for the Presidency of both her husband and her son. Abigail Adams died in 1818, six years before her son would be elected in the hotly contested Election of 1824, and her husband died two years later in 1826 on the same day as his successor and one-time political ally turned enemy turned friend Thomas Jefferson. Thus, Mrs. Bush will for now at least go down in history with the distinction of being the only person to see their spouse and child serve as President of the United States.
There's much more in both obituaries at their respective links and more words of tribute will no doubt come in the days to come from friends, family, and people who knew and loved her. Perhaps the best thing that can be said about Mrs. Bush, though, is that notwithstanding that she was the matriarch of an exceedingly wealthy family she projected the image, and lived the life, of someone who was open and accessible to all kinds of people. The fact that she largely stayed out of the political side of her husband's Presidency, and that of her son's, meant that she was able to forge relationships that transcended politics and political labels and, in at least one respect, laid the groundwork for her husband's future friendship with the man who had beat him in his run for re-election. Several years after the 1992 election, when the Clinton family came to the White House for the President-Elect's first visit, Hillary Clinton spoke fondly of the warm reception they received from the Bush's and from Mrs. Bush in particular, especially toward their then young daughter Chelsea. It would be some 23 years later, of course, that the former Presidents Bush and Clinton would join together for projects such as aiding the victims of the Tsunami in Indonesia in 2004. That led to the unusual but refreshing friendship between two former adversaries that led President Clinton to often refer to himself amusingly as the "black sheep" of the Bush family.
There really isn't much more to say beyond what's already been written, and what will be said in tribute regarding Barbara Bush in the coming days, of course, except to say that the best measure of a person is the family and the legacy that they leave behind, and in that respect Barbara Pierce Bush did everything she could with the 92 years she had in her life, and much more. Rest in peace.
Update: Shortly after I posted this, historian Michael Beschloss posted this on Twitter, and it reminds me that Mrs. Bush and the former President Bush had been married 73 years, making their marriage the longest lasting Presidential marriage in American history:
Barbara Bush (1925-2018) and George Bush at their wedding, 1945: pic.twitter.com/VvooYcbTNj

— Michael Beschloss (@BeschlossDC) April 17, 2018
And here's another photo from that same day in 1945:
Here is another nice one ! pic.twitter.com/ByXQEA5U8E

— Tom McManus (@tmmcm) April 17, 2018
Update #2: Former President George W. Bush issued the following statement through his Presidential Library:
Statement by President George W. Bush on the passing of Mrs. Barbara Bush: https://t.co/PwYs9SHwo3 pic.twitter.com/FZMcRwv0Ve

— George W. Bush Presidential Center (@TheBushCenter) April 18, 2018
Former Florida Governor and Presidential candidate Jeb Bush posted this on Facebook:
And former President Bill Clinton issued this statement:
Barbara Bush was a remarkable woman. She had grit & grace, brains & beauty. She was fierce & feisty in support of her family & friends, her country & her causes. She showed us what an honest, vibrant, full life looks like. Hillary and I mourn her passing and bless her memory.

— Bill Clinton (@BillClinton) April 17, 2018
And here's a more complete statement from the Clintons:
Clintons on Barbara Bush pic.twitter.com/7QQi26zoqY

— Steve Kopack (@SteveKopack) April 18, 2018
Finally, here is a statement issued by former President George H.W. Bush:
Herewith a statement from former President @GeorgeHWBush. pic.twitter.com/USSq5RkD4g

— Jim McGrath (@jgm41) April 18, 2018