Voter's Words For Hillary Clinton: "Liar," Dishonest," "Untrustworthy"
Hillary Clinton has a bit of a public image problem, but it's not clear if that will hurt her politically.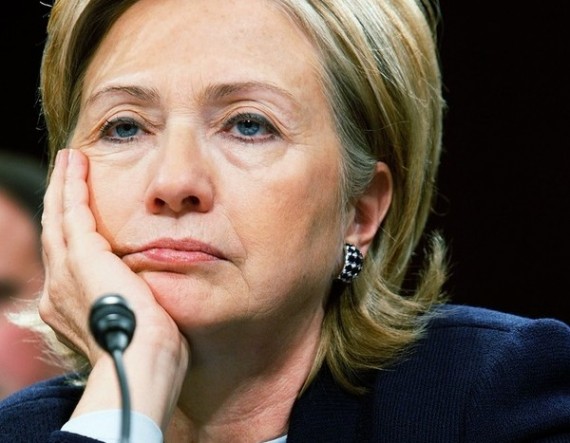 The new Quinnipiac poll of the national Democratic field had good news for Hillary Clinton in its top-line number in that it continued to show her leading Bernie Sanders and the rest of the field by a comfortable margin. Hidden in the results, though, is other news that is potentially not so good for former Secretary of State:
"Crook," "weak," "joke" are just a few of the words that voters said when Quinnipiac University asked them the first word that pops into their heads when they think of Hillary Clinton, Donald Trump and Jeb Bush.

Quinnipiac asked 1,563 voters and reported only the words that were said at least five times.

So what do voters really think of the 2016 presidential frontrunners? Here are the answer

Hillary Clinton – 'Liar'

Clinton can't shake the reputation that she's hiding something.

The word "liar" was mentioned 178 times in association with Hillary Clinton. Some of the other top words voters said to describe the former Secretary of State were "dishonest," "untrustworthy," and "criminal."

The two issues the GOP argues why Clinton's unfit to hold office – "Benghazi" and "email" – topped the list as well. Also, her husband's first name, Bill, came up 56 times by voters.

The poll shows Clinton is still leading among Democratic voters, but is down from 55 percent in late July to 45 percent today, with Bernie Sanders gaining on her. 34 percent of voters say Clinton is honest and trustworthy.
To be fair, the poll also showed that voters associate negative words with many of the other Presidential candidates as well. The words that came up most frequently in response to Jeb Bush, for example, include "family," "weak," "brother," and "dynasty." For Donald Trump, the words that poll respondents most frequently include "arrogant," "blowhard," "idiot," and "clown." Additionally, for all three candidates there were also positive attributes cited by poll respondents in response to the question. However, the results for Clinton seem especially concerning for her campaign given the direction that her poll numbers have been going this summer, especially considering that the same poll shows 51% of respondents have an unfavorable opinion of her while only 39% have a positive opinion.
For several months now, we have seen Clinton's favorability numbers plummet while voters began expressing doubts about her trustworthiness. While it was always to be expected that she would see those numbers fall from the stratospheric level they were at when she was Secretary of State, the fact that they have slipped into negative territory is something that ought to be of concern to any political candidate. Clinton has also seen her poll numbers drop nationally, and most especially in New Hampshire, and while some of that was to be expected as the race for the Democratic nomination became competitive the fact that it is correlated with the drop in her favorability numbers likely isn't coincidental, nor is the fact that all of this has coincided with the ongoing coverage of the issues surrounding Clinton's use of a private email server while Secretary of State and her rather bad response to questions about that story.
None of this is to say that Clinton is doomed, of course, she continues to lead the Democratic field nationally, as well as in Iowa, South Carolina and Florida. She has a massive fundraising advantage that none of the Democrats currently in the race can possibly match, and which even Vice-President Biden would struggle to match if he were to enter the race. She continues to lead her perspective Republican opponents in head-to-head matchup polls, and today NBC News reported that Clinton has secured the support of 440 Democratic superdelegates, which represents more than half of the superdelegates in the party and one-fifth of the number of overall delegates she will need to win the nomination.
Notwithstanding all of that, though, it seems clear that Clinton's trustworthiness problem is one that the campaign will have to deal with going forward:
In an era of declining confidence in government, it's not unusual that voters would find a politician less than honest. But the striking reality is that, for Clinton, a lack of trust is the first thing many think of.

"Anyone running for president — that is a pretty fundamental quality you need," said Democratic pollster Fred Yang, who is also part of the bipartisan team that produces polls for NBC News and The Wall Street Journal.

Interviews with pollsters suggest Clinton has a long way to go to restore her standing among voters, but that it can be done. A perception of untrustworthiness can be difficult to overcome, especially when it's so pervasive. But Clinton does have other strengths to build on, according to recent polls: Voters admire her leadership, and women believe she cares about them.

"The dichotomy is hard to figure out," said Tim Malloy, the assistant director of the Quinnipiac University Polling Institute. "The numbers show that people don't think she's particularly honest or trustworthy. But the numbers also show that she's in charge, she's a leader."

(…)

Many Clinton supporters were struck by the defensive, legalistic tone she has taken in discussing the email controversy, leading many people to believe she had something to hide. Her shift this week from blaming Republican attacks for her problems, to taking responsibility herself, seemed a clear attempt to remedy that perception.

Nonetheless, one of the more troubling aspects of Clinton's honesty-driven slide in the polls is her strikingly low numbers among white voters. Some Democrats had hoped Clinton's candidacy could reverse Obama-era losses among whites, particularly white women. But crosstabs provided by Quinnipiac upon POLITICO's request indicate Clinton faces steep challenges there, too.

Among all whites, only 26 percent said Clinton is honest and trustworthy. Just 3-in-10 white women said she is honest and trustworthy — including only 34 percent of white women with a college degree, a constituency crucial to repairing Democrats' numbers among whites.

White Democrats lack confidence in Clinton: Only 3-in-5 consider her honest and trustworthy. Her ratings are woeful among white independents: Only 21percent said she's honest.

Young white voters are also a big challenge: Just 22 percent said Clinton is honest and trustworthy, versus 73 percent who said she isn't.

Clinton's husband, former President Bill Clinton, won 44 percent of white voters in his 1996 reelection campaign, according to exit polls, en route to capturing 49 percent of the vote overall in a three-way race with then-Sen. Robert Dole (R-Kan.) and independent Ross Perot. By 2012, when Obama bested Mitt Romney, the Democrat's share of the white vote had tumbled to 39 percent.\
Trustworthiness is an important quality in a political candidate, especially in a Presidential candidate where voters are generally voting for someone based less on their positions on specific policy issues and more on their general impression of the candidate's qualities as a leader. A candidate that voter's don't trust is going to have to tough time convincing marginal voters to support them, at least in the abstract. At the same, though, it's worth remembering that these campaigns are not run in a vacuum. Clinton is coming to this with two decades of national political baggage. To a large degree, most Americans seem to have made her mind up about her long ago and the fact that her favorability numbers are so low isn't all that unusual since she was in roughly the same position eight years ago and nearly won the Democratic nomination. While she still has those same problems this time around, she doesn't face nearly the same kind of opposition from the rest of the Democratic field that she did in 2008. Bernie Sanders may be doing well in New Hampshire, but there's no evidence he can mount a real national campaign and it seems unlikely that Democrats would nominate someone like him. Vice-President Biden, meanwhile, seems to be garnering attention right now mostly because he is pondering getting into the race, but it's hard to see how he becomes a serious contender for the nomination. As for the General Election, we're simply too far out to make any predictions in that regard, but the likelihood of Republicans shooting themselves in the foot even if Clinton is the nominee shouldn't be discounted.
Clinton's credibility problems are a serious problem going forward, and they're likely to dog her even if she does ultimately win the Presidency. It's hardly a fatal flaw, though, and Republicans shouldn't take solace in them.