Private Email Servers And Hillary Clinton's Judgment, Or Lack Thereof
Hillary Clinton's own campaign admits she "didn't think it through" when she decided to use a private email server as Secretary of State.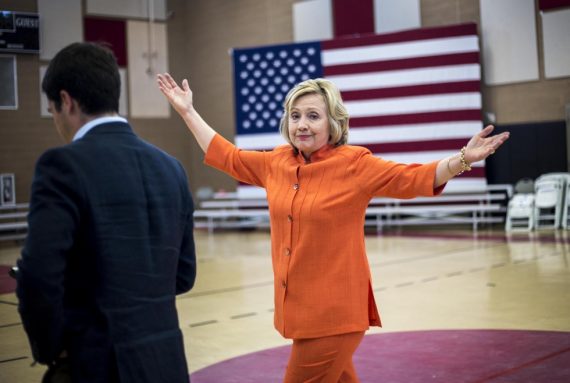 Hillary Clinton's campaign continues with it's hamfisted response to the ongoing questions regarding the former Secretary of State's use of a personal email server while in office, this time in the form of an interview with the campaign's chief communications person in which the excuse given seemed to undermine one of the central messages of Clinton's campaign for the Presidency:
When it comes to using a private server for her e-mails when she was secretary of state, Hillary Clinton "didn't really think it through," according to her communications director.

"I've encountered this a lot in politics where people think that the answer is a lot more complicated than it really is," Jennifer Palmieri told With All Due Respect co-host John Heilemann in an interview on Wednesday. "She's answered this many times and she did have her own e-mail account. Others had done it before and it was just more convenient and she kept it like that, and she didn't really—that's the thing, she didn't really think it through."

"She has said, had she, she would have done it differently," Palmieri added.

Palmieri's interview comes a day after the Democratic presidential front-runner faced a barrage of questions during a tense news conference in the Las Vegas area about her server, which she says was recently turned over to the FBI. When pressed about whether she wiped the server clean, Clinton replied, "What, like with a cloth or something?" She added, "I don't know how it works digitally at all."

After Palmieri was pressed on what exactly Clinton ordered to be done with the e-mails, she offered a similar response to the candidate's, throwing in a reference to the so-called Deflategate professional football controversy.

"To be deleted and beyond that I don't know and beyond that I don't understand—this is like, everyone's an expert on inflating footballs and now everybody's an expert on wiping servers. Like, I don't know how that all works," Palmieri said.
Palmeiri's response to the question about whether or not the server was wiped is, of course, as absurd as the one that Clinton gave in response to a similar question just  day before during a press conference At that time, you'll recall, Clinton was asked whether she had asked for the server to be wiped, or whether she was even aware that it was going to be wiped. Rather than actually answering the question, Clinton continued her apparent strategy of dismissing the story entirely by making a joke and asking reporter Ed Henry, who had asked the question, whether she had meant if she wiped "with a cloth" and then going on to feign ignorance regarding any of the technological aspects of what might happened. Several days before, Clinton had referred to the email story in a similarly joking manner when she talked about her campaign's new Snapchat account and it's ability to make messages disappear automatically. I will grant that Clinton is not a computer expert, and that she's from a generation that isn't necessarily as familiar with technology as younger people are. That being said, I don't believe that Clinton is so ignorant of technology that she has no idea what it means to "wipe" a server as opposed to simply deleting specific emails or files. Moreover, the fact that Clinton's own attorney has already stated that the server was wiped belies her claim that she has no idea what happened, unless one believes the implausible tale that Clinton's attorney is ordering things done without consulting his client.
Beyond the absurd dismissiveness of Palmeiri's response to the question, though, it strikes me that what she actually said tends to undermine what most people had seen as the Clinton campaign's biggest selling points, namely the candidate's preparedness to make the important decisions required of a President. On it's face the answer that Clinton decided to use a private email server, notwithstanding the fact that anyone in her position should have anticipated the problems that would arise especially if and when she ran for President, because "she didn't think it through" is even more silly than Clinton's original justification for the decision that she didn't want to use more than one mobile device. From the beginning of this campaign, and indeed, reaching all the way back to Clinton's first campaign for President, one of the former Secretary of State's overriding themes has been that she would be ready to be President because she has a record of 'making the tough decisions.' Leaving aside the fact that there was little in her record in 2008 to substantiate this claim, and not very much this time around either, this proved to be a compelling argument for her supporters, as evidence by the effectiveness of the "3am phone call" ad that attacked then Senator Obama for his apparent lack of preparedness. Palmieri saying that Clinton "didn't think things through" when the decided to start using a private email server rather than the State Department's system doesn't exactly say very much for her judgment skills in that instance in particular, or in general.
In the long run, it's still not clear that this email story will matter very much to Clinton's campaign. In the short term at least, it does seem to be hurting her to some extent, though. A new round of polls from Quinnipiac, for example, shows her trailing several Republicans in important battlegrounds states and her favorability numbers continuing to look bad compared to pretty much any other candidate in the race except Donald Trump. At the same time, though, Clinton has the advantage of facing a opponents both in her own party and on the other side of the aisle that are as deeply flawed as she is, if not more so. By the time we get to the actual election, it may well turn out that voters won't care so much about all of this, and that's certainly their choice. That doesn't mean it's not relevant, though, especially to the extent that this decision to evade government email servers seems to demonstrate the Clinton's historic penchant for secrecy and protecting their own interests above all else. That, combined with a person who is prone to make bad judgments like the one she did in this case or to "not think it through" to use Palmieri's phrase, doesn't strike me as something that would make a good President.