Bernie Sanders Closing On Hillary In Iowa According To New Poll
A new poll shows Bernie Sanders gaining traction outside of New Hampshire for the first time.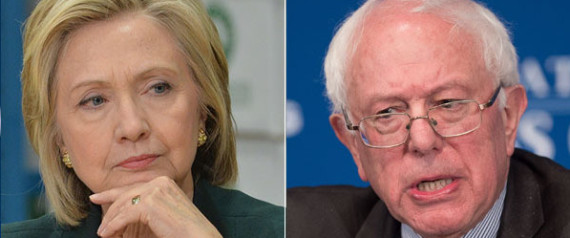 In addition to showing Donald Trump and Ben Carson leading the Republican field in the Hawkeye State, the new Des Moines Register poll also shows something we have not seen yet in the Democratic race in Iowa, Bernie Sanders is closing in on Hillary:
Vermont Sen. Bernie Sanders is rapidly closing the gap with former Secretary of State Hillary Clinton, but she still maintains a solid lead in Iowa's Democratic caucuses, according to a poll released Saturday.

Clinton, the Democratic frontrunner and establishment favorite, is drawing 37 percent of the vote. Sanders earns 30 percent of the vote. Vice President Joe Biden, who is still wavering on making a run, earns 14 percent. This is the first time Clinton has fallen short of a majority in the Iowa poll, conducted by pollster Ann Selzer for the Des Moines Register and Bloomberg, this year.

"This feels like 2008 all over again," Selzer told the paper, referring to then-Sen. Barack Obama's remarkable victory over Clinton in the caucuses then. In January, Clinton led Sanders by more than 50 percentage points and he drew just 5 percent of the vote.

Without Biden in the contest, Clinton's support jumps to 43 percent and Sanders' climbs to 35 percent. The three other Democrats running for the presidency — former Maryland Gov. Martin O'Malley, former Virginia Sen. Jim Webb and former Rhode Island Gov. Lincoln Chafee — all fail to earn even five percent of the vote.

Clinton remains broadly popular with Democratic regulars in the state. Seventy-seven percent of likely Democratic caucus-goers have a favorable opinion of her, and only 19 percent have an unfavorable opinion. Those numbers peaked at 88 percent favorability and 10 percent unfavorable in June. Only 13 percent said they could never support her in the caucus. Sixty-one percent said controversies surrounding her use of a private e-mail server while working as Secretary of State were "not important." And two-thirds are "mostly confident" Clinton would win a general election.
The approval numbers for Sanders are just as high as Clinton, which is a change from earlier in the yer when his approval numbers in Iowa were below 40 percent, but the difference is that he has much, much lower negative numbers than Clinton at the moment. To a large degree, of course, this is because he hasn't had the same problems that Clinton has had over the past several months, and also because he hasn't really been the target of any negative attacks or campaigning by his opponents other that suggestions by Clinton surrogates such as Missouri Senator Claire McCaskill that Sanders is too far to the left for the nation as a whole and would not be a good General Election candidate. Obviously, if Sanders continues his current high standing in the polls the relatively silence of his opponents is likely to change. What impact that might have on public opinion remains to be seen.
This polls is obviously raising a lot of eyebrows among the political observers. The fact that it came from the Des Moines Register, whose polling inside Iowa is generally very highly regarded, gives it a lot of weight right out of the box. It's the fact that it's showing Sanders surging outside of New Hampshire for the first time, though, is what's really interesting. Before now, Sanders surge in the polls, which most recently put him ahead of Clinton in the Granite State, has been limited to a state that is both political peculiar at times and right next door to Sanders' home state of Vermont, where he has served as Mayor of Burlington, Congressman, and Senator for more than thirty years now. Now, though, it looks like Sanders is having an impact outside of his home area, although it's worth noting that he still has not made much of an impact in polling on the national level, or in South Carolina or Florida. If the Sanders thing is for real, though, then we should expect to see him rising in the polls elsewhere as time goes on.
Notwithstanding these numbers, it's worth noting that Clinton still seems to be doing well in Iowa. Every poll taken prior to the one released last night has shown her leading by double digits and Sanders barely making an impact and she still has a 21.8 point lead in the polling average. It's entirely possible that the Des Moines Register poll is an outlier and that Sanders' strength is being exaggerated. We'll have to wait for additional polling to see if that's the case. At the same time, though, it's hard to deny what the polling does show. While Clinton still seems to overwhelmingly likely to be the Democratic nominee, the ongoing reports about her use of a private email server, as well as the way she has handled questions about that issue to date, is having a real impact on her campaign. If it continues, that speculation about Joe Biden entering the race may turn out to be more than just musings by political pundits during the summer silly season.