Trump and Carson Lead Early Iowa Polling
Two candidates with no experience in elected office are leading the Republican field.
Two candidates with no experience in elected office are leading the Republican field.
Bloomberg Politics ("Ben Carson Edging Close to Front-Runner Trump in Latest Iowa Poll"):
Retired neurosurgeon Ben Carson has emerged as a leading Republican presidential candidate in Iowa and is closing in on frontrunner Donald Trump in the state that hosts the first 2016 nomination balloting contest.

The latest Bloomberg Politics/Des Moines Register Iowa Poll shows billionaire Trump with the support of 23 percent of likely Republican caucus participants, followed by Carson at 18 percent. When first and second choices are combined, Carson is tied with Trump.

Trump finds himself in a vastly better position than when the previous Iowa Poll was taken. He has become a credible presidential candidate to many likely Republican caucus-goers. The real estate mogul is rated favorably by 61 percent and unfavorably by 35 percent, an almost complete reversal since the Iowa Poll in May. He finds his highest ratings among those planning to attend the caucuses for the first time (69 percent) and limited-government Tea Party activists (73 percent). Just 29 percent say they could never vote for him, a number cut in half since May.
That puts both of them way ahead of any of the other candidates: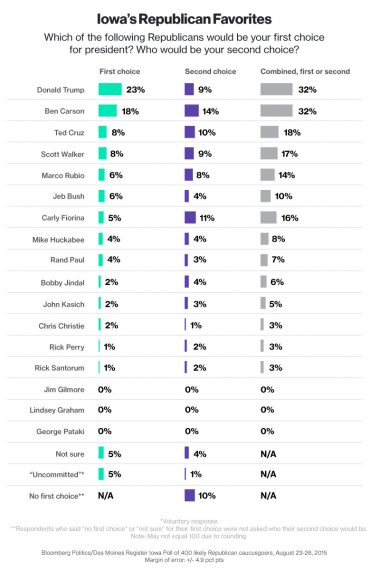 The usual caveats apply: It's absurdly early in the process. It's next to impossible to poll a caucus state. Iowa is incredibly unrepresentative of the rest of the country and its caucuses rarely go to the eventual nominee.
Still, it's notable that the two candidates leading the race are non-politicians. The field features lots of people traditionally qualified for the presidency. Nine current or former governors. Five current or former US Senators. But none of them are the first choice of more than 8 percent or the combined first or second choice of more than 18 percent of likely caucus participants. Indeed, the other traditionally unqualified candidate, failed HP executive Carly Fiorina, is beating most of them.
"Trump and Carson, one bombastic and the other sometimes soft-spoken, could hardly be more different in their outward presentations," said J. Ann Selzer, president of West Des Moines-based Selzer & Co., which conducted the poll. "Yet they're both finding traction because they don't seem like politicians and there's a strong demand for that right now."
While perhaps cherry picked, the anecdotal reporting supports this interpretation as well:
"I'm sick and tired of the political class," said Lisa Pilch, 54, a middle school physical education teacher leaning toward Carson who lives in Springville, Iowa. "I just like his tone and think he's someone who could pull us together, rather than the polarization we have right now. He has a lot of wisdom, even if he doesn't have political savviness."

[…]

"He's got a no-nonsense approach," said Patrick Messmore, 32, a construction equipment sales manager who lives near Grundy Center and plans to back Trump. "His history as a businessman is potentially a good change for our country, so that we don't just have another life-time politician taking over as president."
I still can't fathom the party ultimately nominating either Trump or Carson. Their act will likely wear thin pretty soon. Further, the more traditional candidates are having trouble differentiating themselves right now with Trump getting so much attention. Still, aside from the Ross Perot boomlet in 1992, I can't recall anything like this.