Ben Carson Passes Donald Trump In New Iowa Polls
Two new Iowa polls show Ben Carson passing Donald Trump in the Hawkeye State, but that's not necessarily good news for Republicans.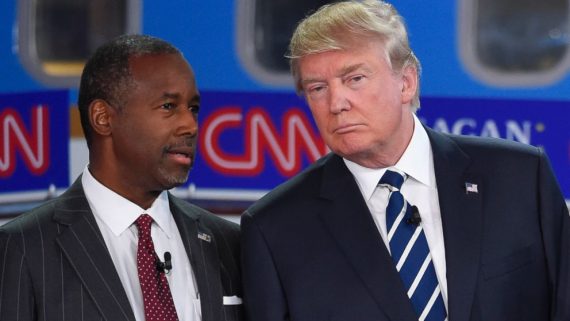 Two new polls out of Iowa suggest the possibility that Donald Trump's dominance in the polls may be waning to some extent at least in the home of what will be the first contest of the 2016 race for the White House. After three months in which Trump dominated pretty much every credible poll of the Republican race at both the national and state levels, we now see retired neurosurgeon Ben Carson surging past him in a state where Carson's appeal to evangelicals could prove to be a benefit for him, and a problem for Trump.
The first sign came yesterday in a new poll from Quinnipiac University that showed Carson surging to an eight point lead in a crowded Republican field:
Ben Carson has surged past Donald Trump in Iowa, according to a Quinnipiac University poll of likely Republican caucus participants out Thursday.

The retired neurosurgeon leads the Republican field with 28 percent, while Trump has fallen behind with 20 percent. A September survey had Trump at 27 percent, and Carson at 21 percent.

Also scoring a boost — Florida Sen. Marco Rubio, who comes in third with 13 percent, after attracting only 5 percent support in last month's poll. Following Rubio in the most recent survey is Texas Sen. Ted Cruz with 10 percent, Kentucky Sen. Rand Paul with 6 percent, and Carly Fiorina and former Florida Gov. Jeb Bush, both with 5 percent. All other candidates are under 3 percent.

The strong showing from Carson, who has gotten accolades for his debate performance and campaign style despite tossing out some inflammatory comments about Muslims and mass shootings, comes in part from his support from women, who back Carson 33 percent to Trump's 13 percent.

Carson also has "almost unheard of" favorability numbers according to Peter A. Brown, assistant director of the Quinnipiac University Poll.

"Those who know Carson seem to like him. He has an almost unheard of 84/10 percent favorability rating among likely Republican caucus-goers, compared to Trump's 53/43 percent rating. To borrow the line from Madison Avenue, 'Almost no one doesn't like Ben Carson,'" Brown said.

While Carson and Trump have been jockeying for support from evangelical voters, Carson received 36 percent of the vote from white, evangelical Christians — more than double Trump's 17 percent.

And while Trump may sit toward the top of the poll, 30 percent of voters said they "would definitely not support" the businessman. Bush comes in second as a no-support candidate with 21 percent.

A candidate who shares their values is most important to 28 percent of caucus-goers; 23 percent think being honest and trustworthy is key.
When yesterday's poll came out, it was largely drowned out by the coverage of Hillary Clinton's testimony before the House Benghazi Committee and many observers wondered if it was indicative of a new trend or an outlier that would end having to be ignored. That question was seemingly answered this morning in the form of a poll from Bloomberg News and The Des Moines Register that puts Carson nine points ahead of Trump and firmly atop the field in the Hawkeye State:
Ben Carson has a nine percentage-point lead on Donald Trump in Iowa, according to a new Bloomberg Politics/Des Moines Register poll out Friday.

In the poll — the second this week to find the retired neurosurgeon moving ahead of the billionaire real estate mogul — Carson leads with 28 percent of likely Republican caucus goers, followed by Trump at 19 percent. Carson is up 10 percentage points since August, when the poll was last taken, while Trump has dropped 4 percentage points.

Texas Sen. Ted Cruz comes in third with 10 percent, Florida Sen. Marco Rubio has 9 percent and former Florida Gov. Jeb Bush and Kentucky Sen. Rand Paul each had 5 percent.

Carson does well among Iowa's most conservative constituencies: A third of the state's critical evangelical Christian voting bloc chose Carson in October's poll, up from 21 percent in August. He is also leading among self-described backers of the tea party, with a similar level level of support.

Nor does it seem Carson's comments about Muslims have harmed his support in Iowa. On NBC's "Meet the Press" in September, Carson said he would "not advocate that we put a Muslim in charge of this nation" — and he fended off days of critical press coverage. But according to Friday's poll, more than two-thirds of likely Iowa GOP caucus goers believe a Muslim should not be president.

"His standing has improved in every way pollsters traditionally measure," J. Ann Selzer, president of West Des Moines-based Selzer & Co., which conducted the poll, told Bloomberg. "This might be a wake-up for Donald Trump."
These are the first two polls to be taken in Iowa in nearly a month. In the last poll, conducted by NBC News and The Wall Street Journal, Trump was leading the field with 24% and Carson was in second place at 19%. A month before that, the last Des Moines Register poll showed Trump in the lead with 23% and Carson in second place at 18%. So what we clearly see here is a reversal of fortunes for both candidates, with Carson clearly rising while Trump falls, seemingly at least in part because he hasn't gone over very well with Iowa's evangelical and religiously conservative voters. Now, thanks to these recent polls, the RealClearPolitics average for Iowa puts Carson in first place at 25% and Trump in second at 21.7%. Below them, there is no other candidate in double digits and instead we have Marco Rubio at 9.3%, Ted Cruz at 8.7%, Jeb Bush at what has to be a disappointing for his supporters 5.7% in a tie with Carly Fiorina, Rand Paul at an even 5.0%, Bobby Jindal performing better than his national polling at 3.7%, and every other candidate averaging 3.5% or worse.
The obvious question these polls will raise, of course, is whether or not this is the beginning of the end of Donald Trump's dominance of the Republican race for President. While this question has been asked before, and many have predicted that it would happen, several times over the past three and half months, it's at least a legitimate question to raise this time. For the first time since mid-July we have polls showing Donald Trump not only dropping, which has happened before, but also losing first place to another candidate. Given the fact that Trump frequently cite the fact that he is leading in "all the polls" in his campaign and press appearances, this does tend to at least put some of a damper on the air of inevitability that his campaign has quite obviously been pushing for some time now. Additionally, the fact that Trump has at least for the moment fallen behind in the first contest of the 2016 cycle does make one wonder if this might indicate that his act has worn stale with Republican voters.
At the same time, though, there are plenty of reasons to be skeptical about what these polls out of Iowa might mean for the race as a whole.
The first caveat, obviously, that these are only two polls out of one state and that they don't necessarily indicate anything about the race at the nationwide level or in the other early primary states. As I noted earlier this week, Trump not only continues to lead in the national polling but he seems to have recovered from his September slump and started rising again. Trump also continues to lead in other early primary states such as New Hampshire, South Carolina, and Florida. As we've seen before, what happens in Iowa often bears little resemblance to what happens in other early primary states, so until there are signs that Trump is starting to slip elsewhere it would be premature to say that this slip in Iowa is the beginning of a significant nationwide trend.
Additionally, it's worth keeping in mind is exactly the kind of state that someone like Ben Carson might be able to succeed in during a Presidential race. The combination of a caucus system that favors small groups of committed voters over more casual ones and the fact that the Iowa Republican Party is heavily dominated by conservative evangelical voters creates a favorable ground for the kind of candidate like Carson that appeals to a small segment of voters, but whose supporters are deeply committed enough to do what it takes to organize for a caucus. Because of this, Iowa has historically given Republicans some odd results in Presidential years. Of the five times since 1976 that the Iowa Caucuses have been contested, for example, Iowa voters have only backed the eventual Republican nominee three times, and one of those was in 1996 when Bob Dole from neighboring Kansas was on the ballot. In other years, Iowa Republicans have given near wins to such eclectic candidates as Pat Robertson (1988), Pat Buchanan (1996), Mike Huckabee (2008), and Rick Santorum (2012), none of of whom went on to do very well in the subsequent primaries in the years that I ran. (Source) Given all of this, the fact that Carson is surging in Iowa isn't necessarily all that relevant.
Finally, of course, it's worth noting that the replacement of Donald Trump on the top of the GOP field with Ben Carson, even if it is only in Iowa for the time being, isn't necessarily a good thing. While Carson may be popular with the Republican base right now, he is hardly any more of a credible or rational candidate nor is he someone who should be taken any more seriously than Trump. This is, after all, a man with some rather obvious gaps in his knowledge regarding how government works. He has a long  history of inflammatory rhetoric that most recently appeared to include the suggestion that Holocaust victims were partly to blame for their fate and the suggestion that the Department of Education should be turned into some kind of monitor to weed out "political bias" in higher education.  Given all of this, the prospect of Ben Carson at the top of the field should be as concerning as the fact that Donald Trump is currently there. The only real difference between the two seems to be the fact that Carson is not inclined to the kind of attacks, vulgarity, and ostentatiousness that has been Trump's style since long before he entered the Presidential race. In other words, Republicans may end up replacing one flake at the top of the field with another one who may be different in style but is just as empty in substance.