Republicans May End Up Being Stuck With Trump Whether They Like It Or Not
Whether they like it or not, it's becoming quite apparent that Republicans may have to get used to the idea that Donald Trump really could be their nominee next year.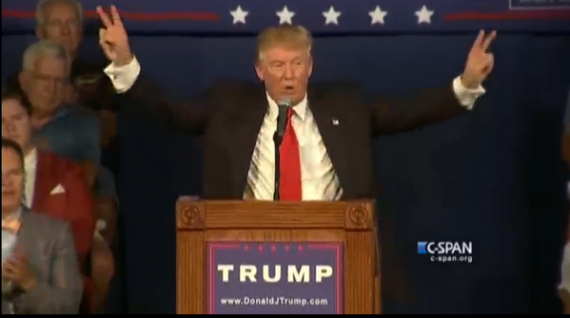 Another new poll shows Donald Trump leading the Republican field, a position he has been in for over three months now, and perhaps more importantly for the race going forward, the poll also shows that Republicans are increasingly seeing Trump as their party's inevitable nominee:
Donald Trump leads the Republican presidential field in the latest ABC News/Washington Post poll, not only in vote preferences but in expectations as well — a remarkable feat for the non-politician who's surprised the GOP establishment with his staying power as well as his support.

Trump has leveled off with backing from 32 percent of Republicans and Republican-leaning independents who are registered to vote, easily enough to retain his frontrunner status. Fellow outsider Ben Carson follows with 22 percent, also flat this month after sharp summertime gains.

Notably, even more leaned Republicans — 42 percent — say they expect Trump to win the GOP nomination for president. And given a list of six potential nominees, 43 percent pick Trump as having the best chance to win the general election just more than a year from now.

Trump also fares well on many key attributes. Nearly half of leaned Republicans — 47 percent — view him as the strongest leader; 39 percent think he'd be best able to handle immigration; 32 percent feel he is closest to them on the issues; and 29 percent say he "best understands the problems of people like you." In each case he leads the other top-five contenders for the nomination, Carson, Marco Rubio, Jeb Bush, Ted Cruz and Carly Fiorina.

Trump has weaknesses nonetheless. More view Carson as the most honest and trustworthy (33 percent vs. 21 percent for Trump), and Trump trails Bush in having the best experience (31 vs. 23 percent). While 19 percent say Trump has the best personality and temperament to serve effectively as president, that compares with a similar 24 percent for Carson.

(…)

For all the campaigning under way, the overall race for the GOP nomination looks to be on pause, with essentially no change in candidate support since last month. That reflects a loss of momentum for Trump and Carson alike. Still, among their opponents only Rubio cracks the double digits, and just barely, with 10 percent.

%In addition to his appeal to anti-immigration Republicans, Trump's candidacy is very much bolstered by desire in the party for a political outsider. Republicans and Republican-leaning independents by 57-39 percent say they're looking for someone from outside the political establishment rather than someone with political experience – drastically different from the 21-76 percent division on this issue among leaned Democrats. And Trump wins 41 percent support from registered leaned Republicans looking for an outsider, vs. 18 percent from those who prefer political experience.

Trump also continues to garner greater support among less educated potential voters — 46 percent among those who haven't gone beyond high school, vs. 23 percent among those who've attended college. And he's still more popular among men than women, with 37 vs. 27 percent. Indeed white men without a college degree (leaned Republicans overwhelmingly are white) are among his strongest groups in voter preference and on issues and attributes alike.

Trump also does particularly well among leaned Republicans who oppose the Trans-Pacific Partnership, a trade agreement he, too, opposes. He's backed by 45 percent of its critics vs. 21 percent of its supporters.

Further, Trump is maintaining his support among groups where it might not be expected — for example, he's backed by a third of evangelical white Protestants, "very" conservative leaned Republicans and Southerners alike. He has 36 percent support in non-urban areas, vs. 24 percent in cities.
In the actual horse race poll, Trump is back to numbers he hasn't seen since just before the second Republican debate, suggesting that not only has his slide since then stopped, but that it may have begin to reverse itself. Trump earns the support of 32% of self-identified Republicans in the poll, followed by Ben Carson at 22% and Florida Senator Marco Rubio at 10%. These are the only candidates in double digits in the poll. After Rubio, Jeb Bush clocks in at 7%, Ted Cruz is at 6%, Carly Fiorina is at 5%, Mike Huckabee and Chris Christie are at 3%, Rand Paul and John Kasich are at 2%, and every other candidate is at 1% or lower. Factoring this into the RealClearPolitics poll average, Trump is now leading at 27.2% and Carson is average 21.3%, with no other candidate averaging in the double digits at this time. Excluding online polling, Pollster's average has Trump at 28.6% and Carson at 22%, again with no other candidate averaging in the double digits. What's important to note about both poll averages, though, isn't so much the numbers themselves but the trend that you can see in the charts at each site which show Trump clearly dipping in the wake of the last debate, but now rising and seemingly on course to resume the course he had been on since he started leading in the polls at the beginning of July. As I noted yesterday in looking at a larger batch of polls, it seems rather clear that Trump's decline was a brief one and that there doesn't seem to be much of anything that he going to knock him out of his spot at the top of the Republican field no matter how much party insiders and pundits might wish otherwise.
All of this leads to the obvious question, is it time for Republicans to admit that the likelihood of Donald Trump accepting the Republican nomination for President in Cleveland next June much higher than they would like it to be, and much higher than they might wish it to be?
Philip Bump is among those who thinks that Trump's lead is one that still seems "temporary," but he admits that the numbers are starting to indicate otherwise:
One of the more unusual aspects of Donald Trump's three-plus months at the top of the Republican presidential field is that to so many, myself included, it still seems like it's only temporary. A number of people who spend a lot of time looking at the numbers have, since he took the lead in July, written about the various reasons why his lead would be temporary — again, myself included. People who rely on poll data were saying, in some sense, "I'm going with the numbers in my gut."

But the real numbers, including those in a new Washington Post-ABC News poll, support the idea that Trump will continue to lead and that he could win the nomination.

There's the top-line number, of course, which shows Trump with a lead over the rest of the field. Nearly a third of Republican voters pick Trump as their candidate, followed by 22 percent who choose Ben Carson. As we noted last week, those two share a base of support, meaning that if one were to drop out,the other could and probably would pick up much of his support. In other words: Trump has some room to grow.
The other factor that Bump notes is the one that this new ABC News/Post poll, the fact that Republicans seem to be increasingly seeing Trump as the person who will ultimately win the nomination regardless of who they end up supporting, and that they seem to be having much more positive views of Trump as a candidate. These numbers are important because they tell us at least a little bit about what the people who aren't backing Trump right now think about him and how they will react as the number of candidates in the race drops and voting actually begins. Even taking the numbers we have at face value right now, the overwhelming majority of self-identified Republicans continue to support candidates other than Donald Trump. The majority of those candidates aren't likely to be in the race for much longer, though, and at some point those supporters will have to find another candidate. What we don't know, and won't really know until it happens, is whether those supporters will jump to Trump or whether they will coalesce around whomever might end up being the anti-Trump candidate(s) as the race goes on. If it's the former, then Trump's support will only to continue to grow and the likelihood of him being the nominee will only increase. If it's the latter, then eventually Trump's advantages in the race, created largely by the fact that he's the biggest fish in a crowded pond, while start to disappear. What these numbers seem to suggest is that many Republicans, if not yet a majority, are open to the idea of eventually supporting Trump as the process moves on. If that happens, then Republicans may find themselves stuck with Trump whether they want him or not.
Peter Suderman notes that none of this is escaping the attention of party insiders or conservative pundits, who are in the process of mounting campaigns to derail Trump. As Suderman puts it, though, it may be these party elites who are missing the message that the rise of Trump is sending:
[W]hat does it signal that so much much of the Republican party's voter base has so enthusiastically supported a non-conservative for this long, and that Trump has now become a serious contender for its nomination? From this one might reasonably conclude that being a conservative may not be an essential requirement for the Republican party's presidential candidate.

And what that, in turn, suggests is that the GOP of 2015 is not a party that is particularly driven by ideological or policy commitments, but instead is motivated in large part by vacuous, reactionary Trumpism. GOP elites may be trying to rescue the Republican party from Donald Trump, but what if there's nothing left to save?

Elites themselves bear some responsibility here. What happened to the GOP happened long before Trump's campaign, in part because its elected leaders in Congress and elsewhere allowed and even encouraged it, harnessing the base's untempered enthusiasms to their own purposes over the years. It is more than a little bit ironic that the party's establishment is now attacking Trump for doing roughly the same thing.

Trump isn't the cause of the Republican party's troubles so much as their avatar and spokesperson. And the Republican party's Trump problem isn't Trump so much as it is the Republican party itself.
Suderman is largely correct here. As I've said before, Trump's appeal is largely rooted in the same forces that brought the Tea Party to such a prominent place inside the Republican Party in such a short period of time, even if Trump isn't himself a Tea Party candidate per se. In both cases, we have an appeal to populist nostrums regarding immigration, international trade, foreign policy and other issues that quite frankly are nowhere close to being rooted in reality as anyone who actually follows these issues understands it. Yes, it's a completely substance-free campaign that relies more on Trump's ability to insult people and get the media to do his bidding than anything else, but it's working and there's no sign that will change any time soon. Indeed, every time that Trump's downfall has been predicted, whether it's been after his comments about John McCain's military service,  his attacks on Fox News host Megyn Kelly, or his attacks on Carly Fiorina's appearance, the predictions have turned out wrong. Most recently, the fact that Trump's poll numbers were declining the wake of the second debate led many to predict the beginning of the end. That now proves to have been a premature call. Now, there are many thinking that this week's controversy in which he has goaded Jeb Bush into a public fight over President George W. Bush's actions before and after the September 11th attacks, many are making the same predictions. Perhaps it will happen, but if all that we've seen since July when I said it wouldn't be easy for Republicans to get rid of Trump is any indication, you're going to lose money if you bet on the downfall of Donald Trump.
Many conservative pundits, and many of Trump's opponents have tried to attack Trump by pointing out his past positions on issues, or even his current stance, which don't really coincide with what you might call conservative orthodoxy. As I've pointed out before, though, Trump would not be succeeding in the polls right now, and sustaining his lead for some 100 days now, if he weren't saying things that many Republican voters agree with. The fact that many of those opposed to him find what he and his supporters are saying to be distasteful on a whole host of issues is really more a reflection of the fact that the party has lost control of the populist wing of the GOP that manifested itself as the Tea Party, and that what we're seeing here isn't necessarily all that different from the type of electorate that both Richard Nixon and George Wallace tapped into more than forty-five years ago. Trump is indeed appealing to the worst aspects of American politics, but at least for the time being it's working and if that continues to happen then Republicans are going to have a real problem on their hand when June 2016 rolls around and it's time to crown a nominee in Cleveland.